Friday, 8 December 2017
Shield has been a leading force among PPE suppliers across Europe for many years, known for their affordable, high-quality safety gloves and disposable workwear. If you're unfamiliar with this versatile brand, read on to discover why, no matter the situation, Shield has a suitable hand safety solution.
Monday, 27 November 2017
Hand Safe is a brand known for its high performing disposable examination gloves. The Hand Safe range includes a variety of durable single-use latex, vinyl and nitrile examination gloves, including sterile, non-sterile, powdered and powder-free gloves. Tough but amazingly soft and flexible, Hand Safe gloves not only offer reliable protection, but are also remarkably comfortable. Whether you're looking for gloves for use in health and social care settings, for food manufacturing, handling or service, or just for general use in the home, you're likely to find the glove that you need in the Hand Safe range. Here's all you need to know about Hand Safe examination gloves.
Monday, 20 November 2017
Some tasks are just too risky to undertake without proper hand protection. Luckily, MCR Safety - a personal protective equipment (PPE) industry leader for more than 40 years - has got you covered. With their long-standing reputation for producing standard-setting safety gloves, glasses and garments that achieve exceptional results in safety tests, you can be confident that you've got the protection that you need when you choose MCR Safety Gloves. Here are five MCR Safety gloves for applications where only the best protection will do.
Monday, 20 November 2017
Mechanix Wear has a long-standing reputation for creating high-quality work gloves to protect hard-working hands. Each glove in the Mechanix Wear range is engineered for maximum protection and durability, without compromising on dexterity and comfort. So, whether you're doing home improvement or automotive repair, operating heavy machinery or working on a construction site, Mechanix Wear has a glove suited to the task at hand. Read on to find out what makes Mechanix Wear an industry leader.
Thursday, 16 November 2017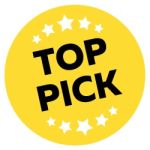 If you've been browsing our site recently, you may have noticed the appearance of a new symbol on some of our products. We sell over a thousand different models of safety gloves here at SafetyGloves.co.uk, and only the select few receive this endorsement. Read on to find out exactly what that means.
Wednesday, 15 November 2017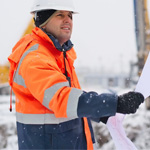 Most people don't enjoy the cold weather, but often times getting out on a cold day is unavoidable. This is especially true for those who work outside, as the work site isn't always going to wait until the weather is warm and sunny. For these purposes, insulated work gloves are a must, providing you with the dexterity, comfort and protection you need to get the job done. Read on to learn about some of the best insulated work gloves we have to offer.
Thursday, 9 November 2017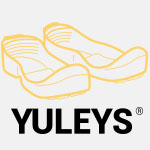 Compared to the disposable overshoes that are currently used across all sorts of industries, reusable YULEYS overshoes are more cost-effective, efficient and safe. Learn how YULEYS can improve your business with our short infographic.
Thursday, 20 July 2017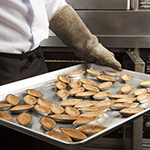 Burns: we're all familiar with them, and we all understand why we need to avoid them. Despite this, they remain one of the most common kitchen injuries, and one that we seem to be unable to cut out of our lives. Whether your kitchen at home is equipped with traditional oven mitts, heat-resistant pads, or you prefer the old-fashioned tea towel method, there has to be a better way. Luckily, there is. Oven gloves with fingers provide you with more dexterity and better control than traditional mitts, providing you with the best protection possible. Read on, and take a loot at some of our favourites.
Thursday, 22 June 2017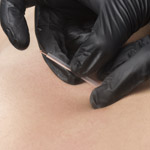 Often, a glove that claims to be needlestick resistant may have a poor puncture resistance rating, causing confusion for our customers. How can a glove be expected to stop something as sharp as a hypodermic needle if it fails to hold its own against standard puncture hazards? Read our guide to find out.
Tuesday, 23 May 2017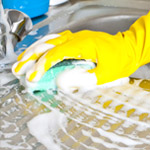 Nobody likes to do it, but when the time comes, we all know household cleaning needs to be done. If you're going to do it, you may as well do it right, and keep yourself well protected in the process. As the authority on all types of gloves, we at SafetyGloves.co.uk have compiled a list of some of our favourites: tried, tested and trusted to help you get the job done as quickly and safely as possible. These gloves have worked time and time again for us, so we're sure they'll be able to do the same for you.