Top 5 Grip Gloves
Tuesday, 23 June 2015 | Admin
This week at Safety Gloves we have compiled our list of Top Five Grip Gloves to help make buying your Grip Work Gloves online an easier, more seamless process!
This list is by no means exhaustive, however it will give a snapshot of the top 5 most popular grip work gloves available to order online at Safety Gloves. Read on for further information.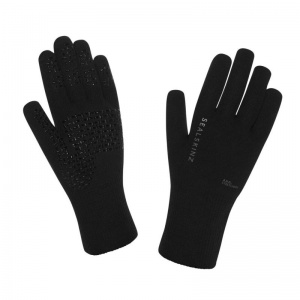 Providing a high level of protection, the SealSkinz Ultra Grip Gloves are made from close fitting material that provides excellent dexterity and warmth while still remaining breathable. The featured SealSkinz Stretch Dry Technology is 100% waterproof (ideal for kayaking) while still being breathable and stretching to fit the hand without compromising on comfort.
It can provide excellent grip in both wet and dry conditions, so no matter the element you need to protect your hands from, the SealSkinz Ultra Grip Gloves help you to get the job done. These gloves are the ne plus ultra of the grip gloves world, providing great grip no matter what the situation is.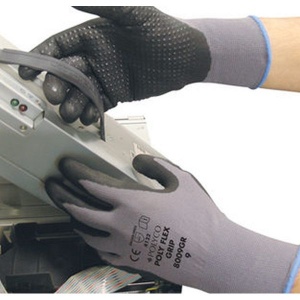 The Polyco Polyflex Grip Safety Gloves are a seamless nylon glove with a foamed nitrile dot palm coating. The Polyco Polyflex Grip Safety Gloves are designed to protect against abrasions, scratches and dirt — all while providing excellent levels of grip.
The nitrile grip dots on the palm of the Polyco Polyflex Grip Safety Gloves offer excellent grip in extremely wet and oily conditions, making it perfect for industries such as automotive, engineering and manufacture alongside other industries such as component handling where having proper grip while working is integral.
The combination of seamless nylon glove liner material, the comfort and dexterity, durability and testing ensures these gloves perform well (and go a long way to explaining why it is in our top five gripper work gloves list!)

The Dickies Heavy Duty Super Grip Impact Safety Gloves feature Duraclad reinforcement over the thumb, making the construction of this glove being 8 times more durable than that of traditional leather. These gloves are the ideal product for combining protection with grip, keeping your hands protected in perilous situations.
Kong technology sets these gloves apart, and developed by the Gas and Oil committee to provide the highest level of safety and protection to workers, Kong technology features Kong metacarpal protection that provides an 80% impact absorption to the area, with a Kong patent pending finger protection to give the user peace of mind during wear with a 76.4% impact absorption, and a complete fingertip protection alongside an impressive 90% impact absorption.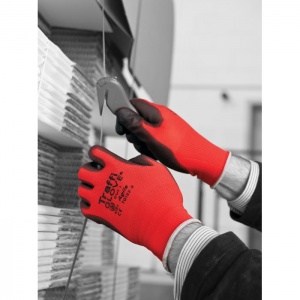 The TraffiGlove TG122 Agile Polyurethane Cut Level 1 Handling Gloves are flexible and lightweight, ideal for use in dry conditions. They provide excellent dexterity, and a generous cuff length and a close, comfortable fit to ensure the gloves do not restrict the hands.
Absolutely ideal for electronics, fine product assembly work, precision handling tasks, maintenance, light engineering, automotive, transport and construction. The TraffiGlove TG122 are an inexpensive alternative to other grip gloves that won't let you down.

The Polyco Grip It Oil C5 Gloves offer the wearer a high level of grip and dexterity, making it the ideal choice for automotive and construction. Crafted from high performance materials, the Polyco Grip It Oil C5 is a seamless knitted cut resistant glove liner with a dual nitrile coating. Comfort features like the elasticated wrist and robust construction prolong your gloves life expectancy and generally make them more pleasant to wear.
The Top Five Grip Gloves blog is only a small selection of the safety gloves available to order online. To find out more information about these gloves, please visit the rest of our website, where we have gloves for myriad industries across all sectors. If you require any assistance or information about our range of Grip Gloves, simply contact our helpful customer care team on 020 7501 1104 for further assistance.