Our Top 5 Portwest Gloves
Saturday, 12 September 2020 | Sean
Portwest have gloves for every industry, with their affordable, high-quality products offering superb protection against a range of risks. Cold, heat, chemicals and cuts, no matter what your hazard, Portwest have got your back. If you've decided that you want to purchase some of your own Portwest Gloves, then you've come to the right place.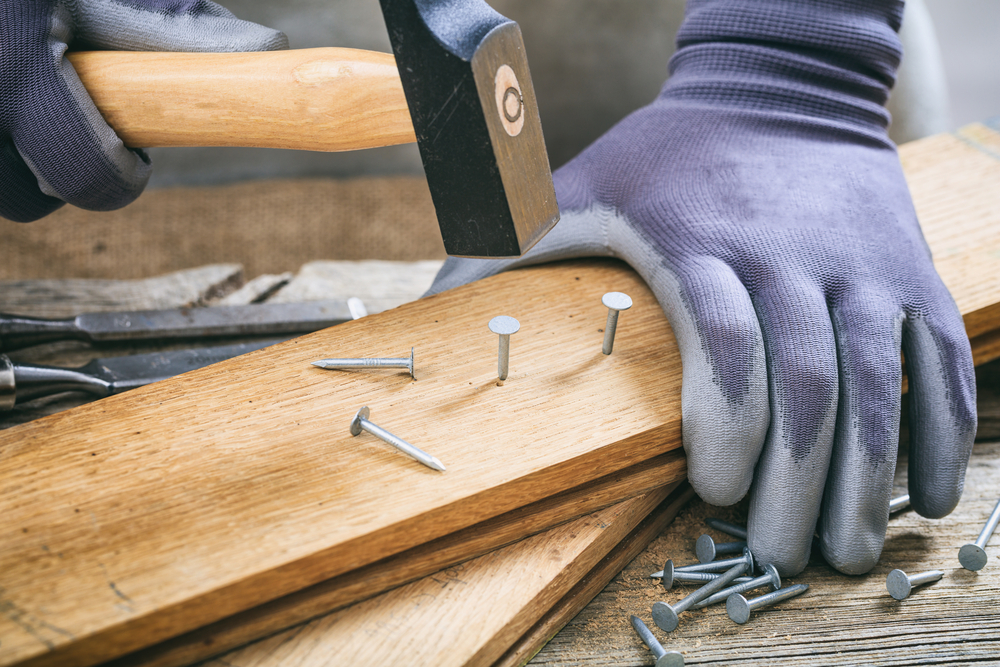 Portwest sell gloves for every industry
We have a wide and comprehensive range of Portwest's best gloves, making sure that the glove that's perfect for you will be available. With over 200 gloves in our Portwest range along, we recognise that it might not be the easiest task finding the right pair. We've narrowed our selection down into our Top 5 Portwest Gloves, helping you to reach your decision.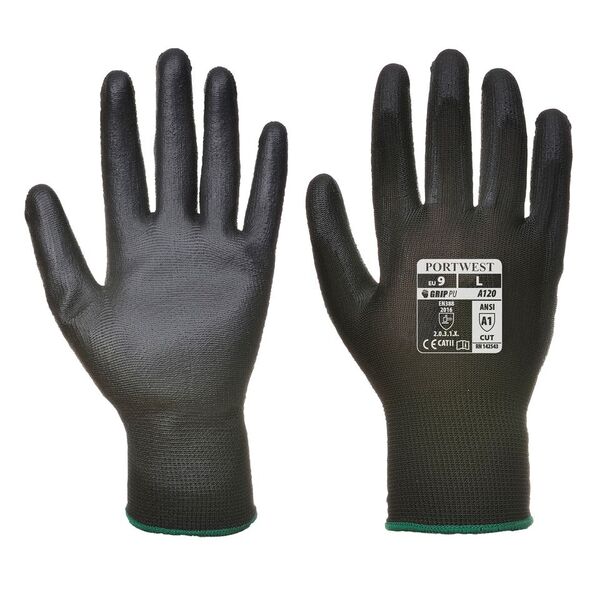 The Best Portwest Gloves for All-Round Use
Our most popular Portwest Gloves are the Portwest Black PU Palm Gloves A120BK. With the Portwest A120 Gloves, what you see is what you get, with their dexterous and grippy design proving perfect for tactile handling tasks. Good mechanical protection offers a bit of protection to your hands, while their high abrasion resistance ensures longevity.
This mechanical protection is supported by an extremely flexible liner, which lets you handle machinery and grip tools with no bother at all. The extremely thin liner fits comfortably over your hands and acts like a second skin, meaning that you feel totally in control of the items that you are holding. These gloves are affordable too, which is perfect for businesses with a large workforce.
Key Features: Exceptional flexibility and grip; extremely affordable price; thin design ideal for handling.
Shop Now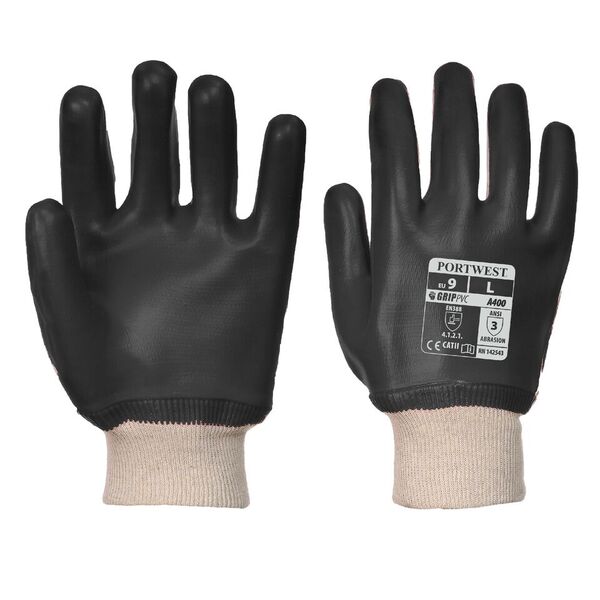 The Best Portwest Gloves for Oil-Resistance
Moving on to oil, the gloves that instantly stand out are the Portwest Oil-Resistant PVC Black Gloves A400BK. These gloves use a tough PVC coating that stays grippy even in greasy conditions, while their cotton interior liner means that your hands stay comfortable throughout your shift.
Despite this, the gloves offer superb abrasion resistance, meaning that they can provide both safety and longevity. This means that the gloves are well recommended for a range of tasks, including those found in oil and gas, engineering, mechanics and utilities.
Key Features: PVC coating offers superb oil resistance; come at an extremely affordable price; flexible design provides you with grip.
Shop Now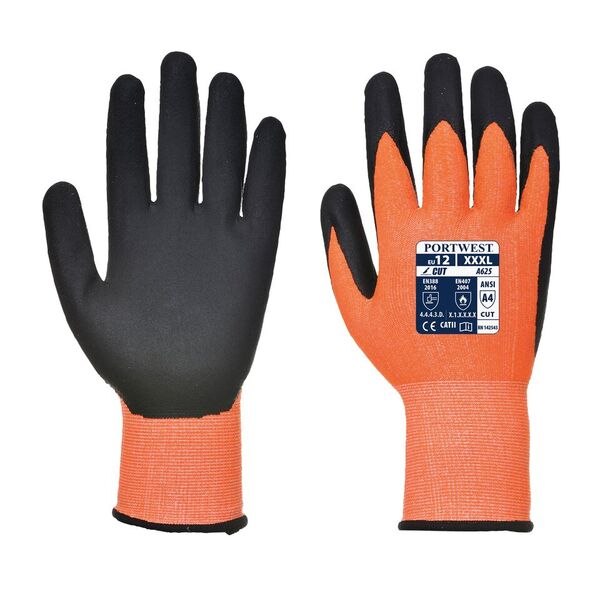 The Best Portwest Gloves for Heat and Cut Resistance
The Portwest Hi-Vis Cut-Resistant Orange and Black Gloves A625O8 offer the perfect combination of mechanical, cut and heat protection. Their HPPE and glass fibre liner offers fantastic 100°C heat protection, with the flexibility of the gloves allowing you to handle hot materials with ease. As the liner contains glass fibres, it means that the gloves protect your hands against glass.
This makes the gloves ideal for most extreme environments, with their versatile design proving suitable in industries as diverse as glass handling, metal handling, warehousing and packaging. Finally, the 13 gauge liner ensures flexibility too, helping you to handle tactile and tricky items.
Key Features: HPPE liner offers strong heat and cut resistance; hi-vis liner perfect for dark conditions; flexible design ideal for handling materials.
Shop Now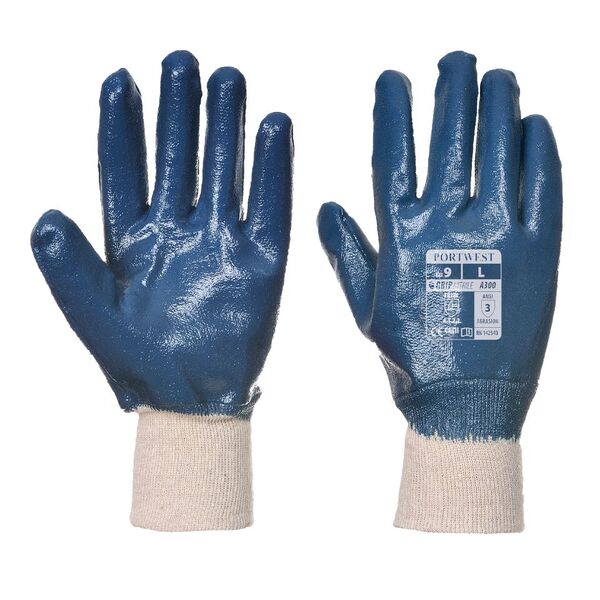 The Best Portwest Gloves for Heavy Duty Handling
While Portwest love their lightweight, grippy handling gloves, they don't hold back when it comes to their heavyweight range. The Portwest Nitrile Knitwrist Handling Gloves A300 provide superb mechanical protection, with their thick coating offering good resistance to water, oil and grease. Good all round protection ensures that your hands stay safe, while the grippy nature is perfect for tougher handling tasks.
These gloves excel in tougher mechanical tasks, proving suitable for oil and gas, rigging, mechanics and more. Despite their heavy duty design they do provide good dexterity, meaning that you can grip items without too much trouble at all.
Key Features: Oil, water and grease resistance; highly grippy for handling materials; good protection keeps the hands safe.
Shop Now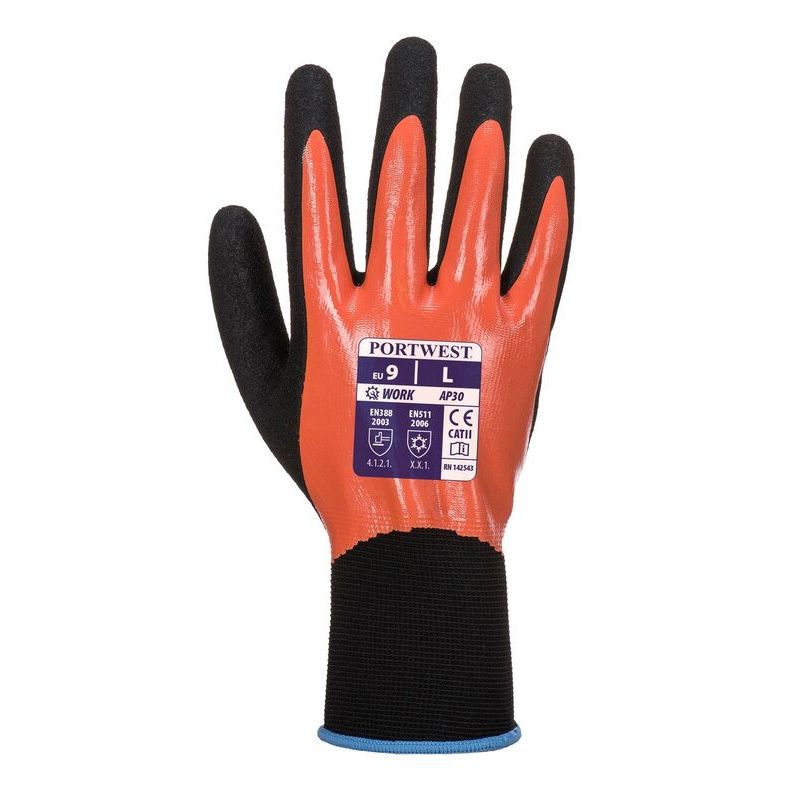 The Best Portwest Gloves for Water Protection
Finally, our range of Portwest Gloves would not be complete if it wasn't for the Portwest Nitrile Foam Coated Waterproof Handling Gloves AP30. These are fully coated gloves that offer total protection against water, while their ergonomic design means that you can handle items all day long without your hands feeling the fatigue.
EN 511 tested to water permeation, you can have peace of mind that when you use these gloves, your hands will stay try. A fully elasticated band will keep the gloves secure and comfortable too, while the flexible nature is ideal for tricky handling. These gloves are perfect for building, utilities, maintenance and more.
Key Features: Total protection against water; good protection against mechanical risks; high flexibility for handling.
Shop Now
Choosing my Portwest Gloves
Portwest have a wide selection available, and it can be difficult finding the gloves that are best suited to you. Hopefully, this blog will give you a bit of an idea about the kind of gloves that would suit you. For more ideas, you can visit our Portwest Gloves page, or our History of Portwest Article.
Have any questions, or anything to add? Tell us in the comments below, or find us on Facebook and Twitter!