Our Top 7 Briers Gardening Gloves 2020
Wednesday, 15 April 2020
Briers are a leading supplier of gardening gloves. They really do offer it all, whether you're after cut-resistant gardening gloves for weeding, waterproof gloves for draining a pond or some floral patterned gloves that add a touch of class and style to your gardening, Briers have got you covered. With a range this big it's hard to know which Briers gloves you should choose, so we've taken the steps to find our favourite Briers gloves for the summer ahead and put them in this short easy-to-read guide.
Our Top 7 Briers Gardening Gloves
We're proud to have such a large selection of Briers gloves available to you. Briers offer such a versatile range of gloves that we can promise that the perfect gardening glove is out there for you. It doesn't matter if you're after some children's gardening gloves to keep the little ones busy, or some thorn-resistant gloves for pruning those roses, we've got your back.
Click on any of the seven below to move down to the glove of your choice. Alternatively, scroll down and view the seven gloves in full.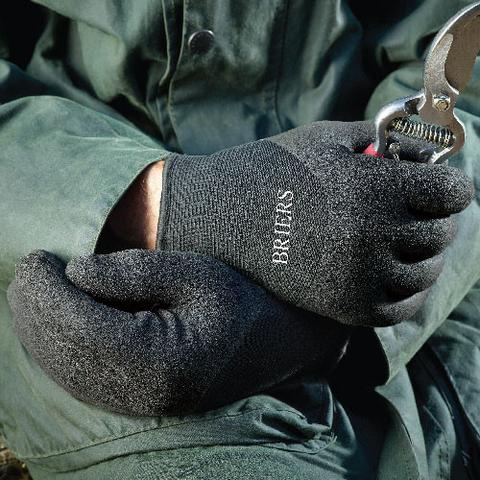 Our Best All-Round, All-weather Briers Gloves
The first on our list are what we would recommend for your average gardener; whether it's pulling weeds, working in wet weather, pruning roses or planting bulbs, the Briers Ultimate Warmth Thermal Gardening Gloves should do the trick. The secret to their success is combining a nitrile coating with high dexterity, as this allows you to tackle tricky gardening tasks while protecting yourself against a range of medium level threats. If this protection and dexterity isn't enough, these gloves can protect you from the cold and wet during more harsh seasons.
Key Points: Protect against thorns, shrubbery and more; thermal and waterproof; dexterous for more tactile tasks; the perfect gloves for the average gardener.
Shop Now
Our Best Briers Gloves
Hopefully, this list has giving you a better understanding of the types of gloves that Briers offer, as well as some of the top gloves in our range. To view our full range, please see our Briers Gardening Gloves category, and for more gardening gloves please see our Gardening Gloves category.
Have any questions, or anything to add? Tell us in the comments below, or find us on Facebook and Twitter!