Green Nitrile Gloves
Perfect for use in laboratory and medical applications, Green Nitrile Gloves offer a high level of visibility and a great level of protection to keep hands safe and reduce contamination risks. With a huge selection from top brands, you're sure to find a glove that's perfect for your needs. If you have any questions about any of the gloves featured, please contact our customer service team on 020 7501 1104.
If you're looking for nitrile-coated gloves for grip, take a look at our range of Reusable Nitrile Gloves.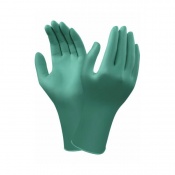 Price is per box of 100 disposable gloves
Splash resistant against hazardous chemicals
Powder-free nitrile gloves for versatile use
Rolled beaded cuff for more secure wear
| | | |
| --- | --- | --- |
| | | This product has been discontinued. Please contact our team for details of the latest release. |
---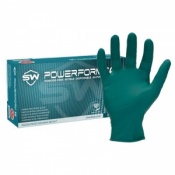 Price is per box of 100 disposable gloves
Powder-free nitrile gloves for versatile use
Suitable for wet and oily handling
Certified by the Skin Health Alliance
| | | |
| --- | --- | --- |
| | | In stock now |
---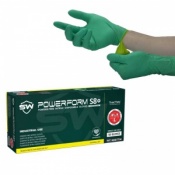 Price is per box of 50 disposable gloves
Dual layer gloves with high density pyramid grip pattern
Made using TouchTek for minimal skin irritation
Certified by the Skin Health Alliance
| | | |
| --- | --- | --- |
| | | Currently unavailable. Please check back soon |
---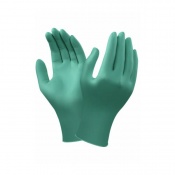 Price is per box of 100 disposable gloves
Splash resistant against hazardous chemicals
Powder-free nitrile gloves for versatile use
Suitable for use with food
| | | |
| --- | --- | --- |
| | | Currently unavailable. Please check back soon |
---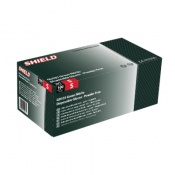 Price is for one dispenser of 100 gloves
Textured palm for enhanced grip
Vibrant green coloured gloves
Available in three sizes to fit most users
| | | |
| --- | --- | --- |
| | | Currently unavailable. Please check back soon |
---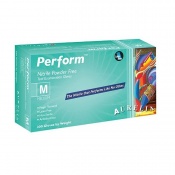 Price is per box of 200 gloves
Teal green nitrile gloves for strength and protection
Combines flexibility, comfort and sensitivity in one glove
Offer a higher level of protection compared to latex or vinyl
| | | |
| --- | --- | --- |
| | | This product has been discontinued. Please contact our team for details of the latest release. |
---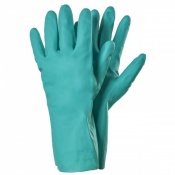 Pair of chemical-resistant nitrile work gloves
Suitable for petrochemical work or food preparation
Waterproof for use in wet environments
EN 374 rated for chemical and microorganism resistance
| | | |
| --- | --- | --- |
| | | In stock now |