Methyl Ethyl Ketone (MEK) Resistant Gloves
Methyl Ethyl Ketone (also known as MEK and butanone) is an organic compound. A colourless ketone, it's commonly used as an industrial solvent in processes involving gums and resins, and can be found in most dry erase markers. Here you will find a wide range of MEK resistant gloves suitable for protecting hands against this dangerous chemical.
Please note that the level of resistance to the chemical varies from glove to glove, so be sure to check to see which glove is most suitable for your needs. If you have any questions, don't hesitate to contact our customer service team.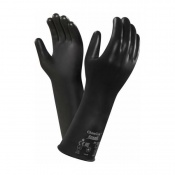 Price is per pair of gauntlet gloves
Chemical resistance without compromise to dexterity
Antistatic and free from latex proteins for improved safety
Protects against aliphatic, halogenated, and aromatic hydrocarbons
| | | |
| --- | --- | --- |
| | | In stock now |
---
Price is per pack of 12 pairs
For those working with chemicals
Offers longer and higher levels of protection
Tested and certified according to EN 374-3
| | | |
| --- | --- | --- |
| | | In stock now |
---
Price is per pack of 12 pairs
For those working with chemicals
Offers longer and higher levels of protection
Certified according to EN 374-3
| | | |
| --- | --- | --- |
| | | In stock now |
---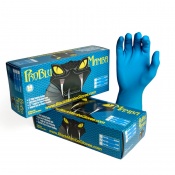 Price is per box of 50 gloves
Heavy duty latex gloves suitable for ketones
14 mil-thick professional latex
EZ Glide donning system for easy use
| | | |
| --- | --- | --- |
| | | Currently unavailable due to COVID-19 supply chain delays. Please check back soon |
---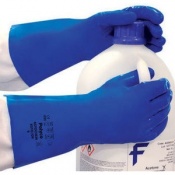 Price is per pair
Excellent resistance to Ketones, including MEK, Acetone and aromatics
Good abrasion for durable protection
Anatomical shape for comfort and flexibility
| | | |
| --- | --- | --- |
| | | In stock now |
---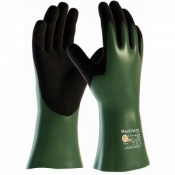 Price is per pair
For those working with chemicals
Offers longer and higher levels of protection
Tested and certified according to EN 374-3
| | | |
| --- | --- | --- |
| | | In stock now |
---
Price is per pair (Special offer on selected sizes)
Provides exceptional protection against solvents and ketones
Anatomical design for comfort during use
Ideal for ink and paint manufacture
| | | |
| --- | --- | --- |
| | | In stock now |
---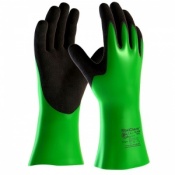 Price is per pair of gauntlet gloves
Offers resistance against oils, liquids and chemicals
Ideal for outdoor, pharmaceutical and industrial work
Designed at 35cm long to protect fingertips to elbows
| | | |
| --- | --- | --- |
| | | In stock now |
---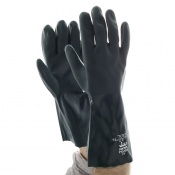 Price is per pair
Resistant against a variety of chemicals
Excellent abrasion and tear resistance
Granular finish for enhanced grip
| | | |
| --- | --- | --- |
| | | This product has been discontinued. Please contact our team for details of the latest release. |
---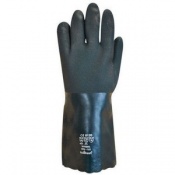 Price is per pair
Double dipped PVC gloves
Protects against strong acids, alkalis, oils and grease
Comfortable fleecy liner
| | | |
| --- | --- | --- |
| | | In stock now |
---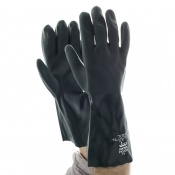 Price is per pair
Resistant against a variety of chemicals
Excellent abrasion and tear resistance
Granular finish for enhanced grip
| | | |
| --- | --- | --- |
| | | In stock now |
---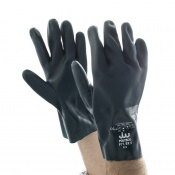 Price is per pair
Resistant against a variety of chemicals
Granular finish for enhanced grip
Comfortable cotton knitted liner
| | | |
| --- | --- | --- |
| | | Currently unavailable due to COVID-19 supply chain delays. Please check back soon |