Methylene Chloride Gloves
Methylene Chloride (also known as Dichloromethane or DCM) is an organic compound commonly used as a solvent. It is often used as a paint stripper and degreaser, and is also used to decaffeinate tea and coffee. Here you will find a wide range of methylene chloride gloves suitable for protecting hands against this harmful chemical.
Please note that the level of resistance to the chemical varies from glove to glove, so be sure to check to see which glove is most suitable for your needs. If you have any questions, don't hesitate to contact our customer service team.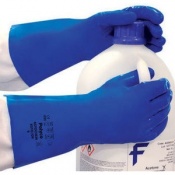 Price is per pair
Excellent resistance to Ketones, including MEK, Acetone and aromatics
Good abrasion for durable protection
Anatomical shape for comfort and flexibility
| | | |
| --- | --- | --- |
| | | In stock now |