Orange Nitrile Gloves
Ideal for industries and environments where high visibility is a must, Orange Nitrile Gloves are ideal for use by mechanics and engineers. Offering great durability and a reduced risk of reaction compared with latex, they're great for keeping hands clean and safe. With a selection of gloves from top brands, there's something for just about every need. If you have any questions about any of the gloves featured, please contact our customer service team on 020 7501 1104.
If you're looking for nitrile-coated gloves for grip, take a look at our range of Reusable Nitrile Gloves.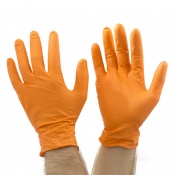 Price is per box of 100 gloves
Disposable nitrile gloves with tyre-tread grip
Ultra-flexible and strong for safer use
Chemical resistant and powder-free
| | | |
| --- | --- | --- |
| | | Currently unavailable. Please check back soon |
---
Price is per 100 gloves
Antistatic and free from powder
Extended cuff for additional wrist protection
Bright orange colour visible in low-light environments
| | | |
| --- | --- | --- |
| | | Currently unavailable. Please check back soon |
---
Price is per dispenser of gloves
Ideal for food industry, chemical processing and more
Strong, tear-resistant disposable nitrile gloves
Diamond-textured surface for excellent grip
| | | |
| --- | --- | --- |
| | | In stock now |
---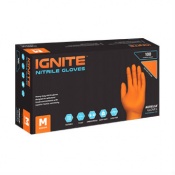 Price is per box of 100 gloves (Medium/Large) or 90 gloves (Extra Large/XX-Large)
Non-sterile ambidextrous gloves with beaded cuffs
Double-sided diamond texture for improved gripping and handling
Long-lasting durability for safety during examinations
| | | |
| --- | --- | --- |
| | | This product has been discontinued. Please contact our team for details of the latest release. |
---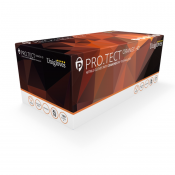 Powder-Free Nitrile Gloves ideal for reducing contamination
Thick and strong, the gloves are extremely dexterous
Diamond textured pattern enhances grip
Price shown is per box containing 100 gloves
| | | |
| --- | --- | --- |
| | | Currently unavailable. Please check back soon |
---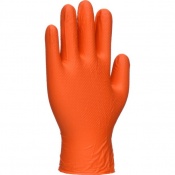 Extra strong disposable gloves with high level of grip
Ideal for auto repair, construction, manufacturing and more
Silicone free design is three times as strong as other nitrile gloves
Price is per box of 100 gloves
| | | |
| --- | --- | --- |
| | | Currently unavailable. Please check back soon |
---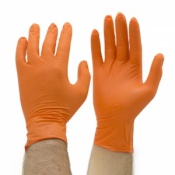 Price is per box of 100 gloves
Orange nitrile gloves for high visibility
6mm thick patented Nitrex polymer for chemical resistance
Grip Rite finish for extra grip
| | | |
| --- | --- | --- |
| | | Currently unavailable. Please check back soon |
---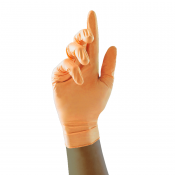 Soft nitrile material provides comfort, sensitivity and dexterity
Special InnoScent inner coating produces subtle citrus and peppermint aromas
Micro textured grip on palm and fingers ideal for precise handling
Price shown is per box containing 100 gloves
| | | |
| --- | --- | --- |
| | | Currently unavailable. Please check back soon |
---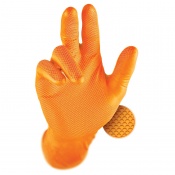 Orange semi-disposable nitrile grip gloves (pack of 50 gloves)
Ideal for automotive engineering industries, domestic cleaning and more
Constructed from durable 100% NBR (Nitrile Butadiene Rubber)
Resistant to oil, brake fluid, hydrogen peroxide and more
| | | |
| --- | --- | --- |
| | | Currently unavailable. Please check back soon |
---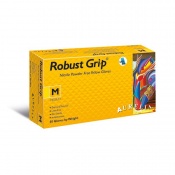 Price is per box of 50 gloves (Special offer on selected sizes)
Powder-free nitrile gloves for versatile use
Diamond texture for enhanced grip
Latex-free ambidextrous gloves
| | | |
| --- | --- | --- |
| | | This product has been discontinued. Please contact our team for details of the latest release. |