Best Cut Resistant Level 3 Gloves
Friday, 7 August 2015
Safety gloves that have been designed to protect against the dangers of cuts are rated against the EN 338 standard. These are a set of tests designed to gauge how much protection against sharp objects gloves have and this in turn deems for which applications they are suitable. To reach cut resistance level 3, these gloves have to withstand 5 cuts with a moving blade.
Gloves rated at cut resistance level 3 are typically designed for handling sharp objects and for handling objects with sharp edges. They are not advised for industries working with blades or for use with glass/picking up very sharp items. Because there are so many cut resistant level 3 gloves on the market, we here at Safety Gloves have put together a list of the best cut resistant gloves on sale from us.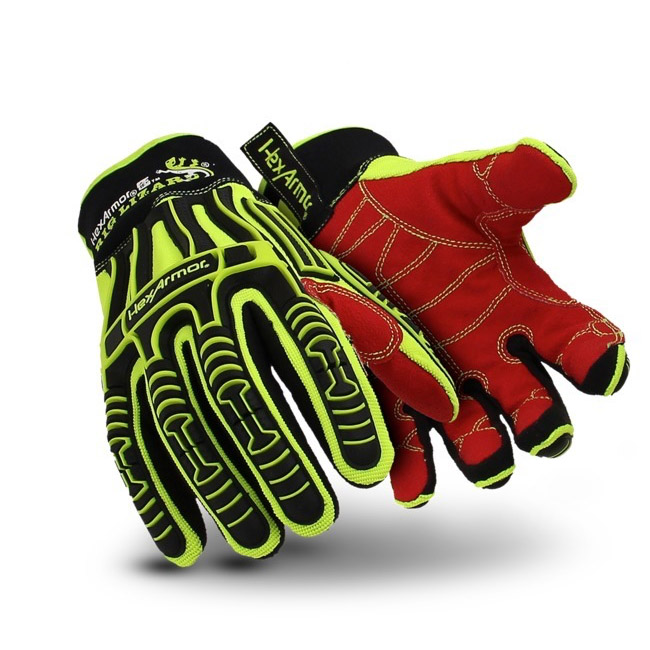 While these gloves are mostly designed to protect against abrasions, the HexArmor Rig Lizard 2021 Hi Vis Impact Protect Mechanics Gloves offer a good level of cut resistance. They're made with visibility in mind; the design on the front is in dayglow green not just as a fashion statement. This makes them great for working in the dark where there is a risk of being hit accidentally, for example in a warehouse or by the side of the road.
The slip-on/slip-off airprene cuff adds to the glove's comfort; it makes it much more breathable and hugely reduces the risk of unpleasant sweaty palms.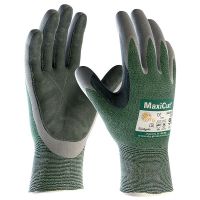 These gloves have a fantastic combination of oil resistance and protection. This makes them perfect for working in auto shops and on railways, where there's a chance you'll come across something sharp and a guarantee that you'll come across oil.
The MaxiCut Resistant Level 3 Oil Gloves is also incredibly comfortable to wear. The glove is shaped to mimic the shape of a resting hand, rather than a generic hand shape. This helps reduce hand fatigue as your hand isn't forcing the glove into a particular shape at any one time.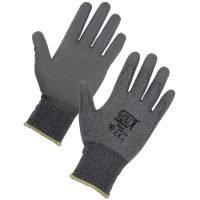 The Supertouch Deflector 3 Gloves are made to be as light and as flexible as possible, making them great for wearing throughout the day. Alongside the tough, cut resistant yarn construction of these gloves there's also a PU palm, which helps increase grip and durability.
This makes them perfect for use in transportation and shipping, where you'll be on your feet and in a pair of gloves for a long period of time.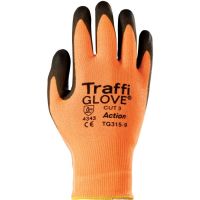 These are ideal gloves for use in dry conditions thanks to their tight and comfortable fit and a breathable polyurethane coating to the fingertips, which gives the gloves extra grip in dry conditions. This also helps prevent dirt penetrating the glove, making it last longer.
Because of the extra dexterity the tight fit offers, the TraffiGlove TG315 Action Polyurethane Cut Level 3 Handling Gloves are great for general handling tasks where there might be some sharp edges to boxes.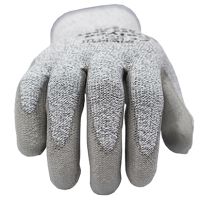 These gloves feature a seamless knitted upper made from Dyneema technology. These give a great level of cut resistance, and the polyurethane palm coating adds an extra level of dexterity and also helps force oils and liquids away from the glove's surface, making it great for both dry and wet conditions.
The knitted elastic cuff helps keep dirt out; perfect for dusty environments. The Polyco Dyflex Cut Resistant Gloves are great for glazing, waste management and warehousing, among other things.
We hope that this list has helped make your purchasing decision easier, however if you'd like to see more cut resistant level 3 gloves, head on over to Safety Gloves and check out our full range of Level 3 Cut Resistant Gloves.
Price is per pair
Impact protection on knuckles and back of hand
Enhanced oil resistant grip
Ideal for mining, oil applications, mechanics and maintenance

Available now

Price is per pair
Cut resistant
Combines cut protection with comfort
Offers oil grip, flexibility and dexterity

Available now

Price is per pair
High tear and abrasion resistance
Coating protects the palm and fingertips
Polyurethane coating provides excellent grip in dry conditions

Available now

Price is per pair
High level of cut, abrasion and tear resistance
High level of grip and dexterity even in oil or grease
Ideal for assembly and manufacturing

Available now