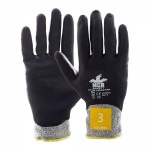 Price is per pair
Nitrile foam coating gives great grip in wet, dry and oily conditions
Ideal for protecting against medium cut risks
Great for automotive, glass industries and more
Available now
---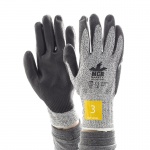 Price is per pair
PU coating provides great abrasion resistance and sensitivty
Ideal for protecting against medium cut risks
Great for automotive, glass industries and more
Available now
---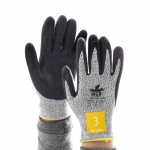 Price is per pair
Nitrile foam coating gives great grip in wet, dry and oily conditions
Ideal for protecting against medium cut risks
Great for automotive, glass industries and more
Available now
---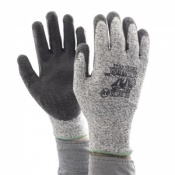 Price is per pair
Up to 15 times stronger than steel
Light, comfortable and breathable
Suitable for a variety of industries
Available now
---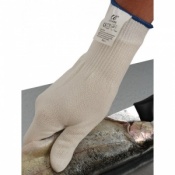 Price is per glove
Extremely cut resistant composite yarn
Can be used on its own or as a protective liner
Tested for use with food
Available now
---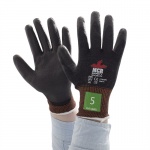 Price is per pair
Made from cut resistant Kevlar
PU coating gives high level of sensitivity and touch
Additional steel improves durability
Available now
---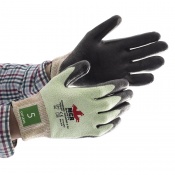 Price is per pair
Lightweight Dyneema enables natural hand movement
Polyurethane coating gives improved sense of touch
Great for automotive, glass industries and more
Available now
---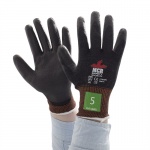 Price is per pair
Made from cut resistant Kevlar
Nitrile foam coating gives great grip in dry, wet and oily conditions
Additional steel improves durability
Available now
---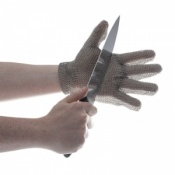 Price is per glove
Chainmail glove to be used within the food industry.
100% stainless steel with a fastening strap
Ideal for Oyster Shucking, when using knives or cutting and/or punching tools.
Available now
---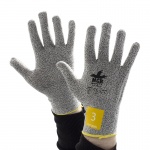 Price is per pair
Uncoated design provides exceptional sensitivity
Ideal for protecting against medium cut risks
Great for automotive, glass industries and more
Available now
---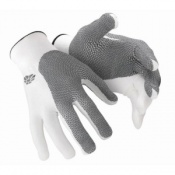 Price is for a single glove only
SuperFabric plating protects against sharp objects
Coretek fibre keeps hands cool
Superior protection against cuts and abrasions.
Available now
---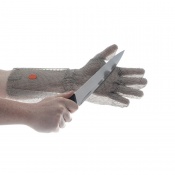 Price is per glove
Chainmail glove to be used when in contact with food
Provides user with cut and puncture protection alongside longer cuff for arm protection
100% stainless steel with a fastening strap
Available now
---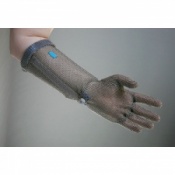 Price is per glove
Chainmail glove with cuff protection; ideal for the butchery industry
Provides user with cut and puncture protection alongside longer cuff for arm protection
100% stainless steel with a fastening strap
Available now
---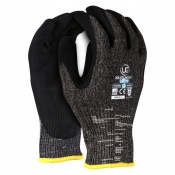 Price is per pair
Maximum cut resistance ratings
Four yarn blend liner for comfort in use
Sandy nitrile coating for excellent grip
Available now
---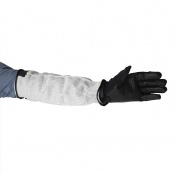 Supplied as a single 35cm (14") sleeve
Level 5 cut resistance for greater protection
Manufactured from lightweight Dyneema material
One size fits most design with elasticated cuff
Available now
---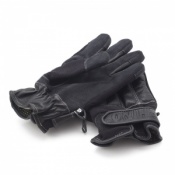 Price is per pair
Designed with police and security staff in mind
Anti-Slash, Anti-Puncture, Anti-Tear & Anti-Abrasion
Available with or without knuckle protection
Available now
---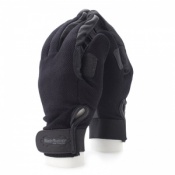 Price is per pair
Uses top grade cowhide leather with Dyneema lining
Stiched with

Dupont

Kevlar to provide increased protection
Anti-slash and puncture resistant
Available now
---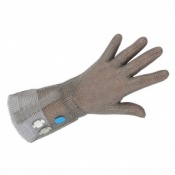 Price is per glove
Chainmail glove to be used when in contact with food
Provides user with cut and puncture protection
Ideal when using knives or cutting and/or punching tools
Available now
---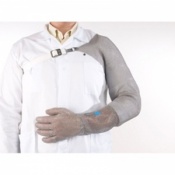 Price is per glove
Metal mesh glove with sleeve and patented stainless steel spring strap
Offers complete protection of the hand and arm up to the shoulder
Ideal for butchery, meat & poultry processing and food activities involving cutting tools
Available now
---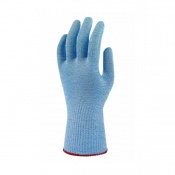 Price is per pair
Non-absorbent material
Level 5 cut-resistance
Safe for contact with food
Available now
---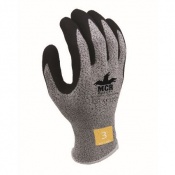 Price is per pair
Latex foam coating gives great grip in wet and dry conditions
Ideal for protecting against medium cut risks
Great for automotive, glass industries and more
Available now
---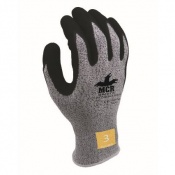 Price is per pair
Sandy nitrile coating gives improved abrasion resistance
Ideal for protecting against medium cut risks
Great for metal fabrication, glass industries and more
Available now
---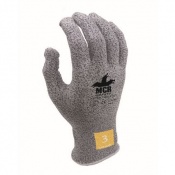 Price is per pair
Dotted palm for improved grip in dry conditions
Ideal for protecting against medium cut risks
Great for logistics, warehousing and more
Available now
---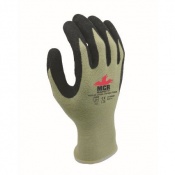 Price is per pair
Nitrile foam coating gives great grip in wet, dry and oily conditions
Made with genuine Kevlar – five times stronger than steel
Great for automotive, glass industries and more
Available now
---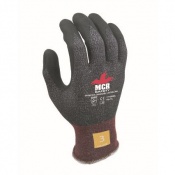 Price is per pair
Tough Dyneema for durable use
Nitrile air coating gives great grip in dry, wet and oily conditions
Great for automotive, glass industries and more
Available now
---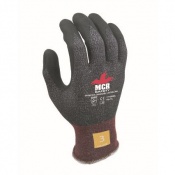 Price is per pair
Tough Dyneema for durable use
PU coating gives great grip in dry, wet and oily conditions
Great for automotive, glass industries and more
Available now
---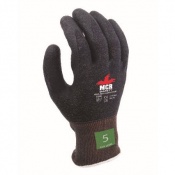 Price is per pair
Made from cut resistant Kevlar
Latex foam coating for great wet and dry grip
Additional steel improves durability
Available now
---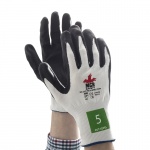 Price is per pair
Incredibly lightweight gloves for increased ease of use
Skin tight fit provides very high touch sensitivity
Nitrile foam coating gives great grip in dry, wet and oily conditions
Available now
---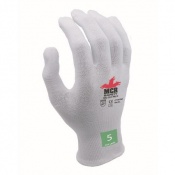 Price is per pair
Incredibly lightweight gloves for increased ease of use
Skin tight fit provides very high touch sensitivity
Uncoated design provides sensitivity and dexterity
Available now
---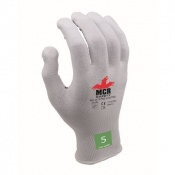 Price is per pair
Incredibly lightweight gloves for increased ease of use
Skin tight fit provides very high touch sensitivity
Dotted nitrile palm provides fantastic grip in dry conditions
Available now
---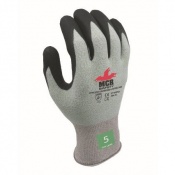 Price is per pair
Lightweight Dyneema enables natural hand movement
Nitrile air coating provides great grip in dry, wet and oily conditions
Great for automotive, glass industries and more
Available now
---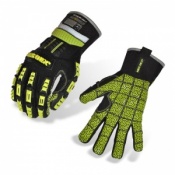 Price is per pair
Heavy duty impact protection
Reinforced at thumb crotch
Silicon palm grip
Available now
---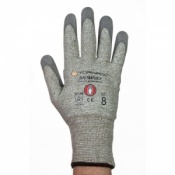 Price is per pair
Highest level of cut resistance
Ideal for high risk handling applications
Polyurethane palm coating for improved grip
Available now