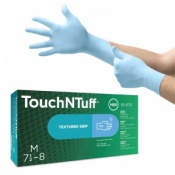 Price is per box of 100 disposable gloves
Splash resistant against hazardous chemicals
Powder-free nitrile gloves for versatile use
Rolled beaded cuff for more secure wear
| | | |
| --- | --- | --- |
| | | In stock now |
---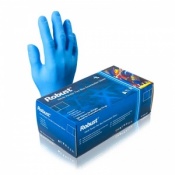 Price is per box of 100 gloves
Blue nitrile construction for added protection and support
Can resist forces up to 6 Newtons
Ambidextrous gloves
| | | |
| --- | --- | --- |
| | | In stock now |
---
Super strong disposable gloves for mechanical, chemical and automotive use
Offer three times the chemical resistance of latex and vinyl
Made to grip and protect with high sensitivity and dexterity
Price is per box of 100 gloves
| | | |
| --- | --- | --- |
| | | In stock now |
---
Black semi-disposable nitrile grip gloves (pack of 50 gloves)
Ideal for automotive engineering industries, domestic cleaning & more
Constructed from durable 100% NBR (Nitrile Butadiene Rubber)
Resistant to oil, brake fluid, hydrogen peroxide and more
| | | |
| --- | --- | --- |
| | | In stock now |
---
Price is per dispenser of 100 gloves
Latex and powder-free design reduces irritation and reaction
Synthetic nitrile offers excellent tear and puncture resistance
High dexterity is perfect for tattoo artists and mechanics
| | | |
| --- | --- | --- |
| | | In stock now |
---
Biodegradable, powder-free and disposable nitrile gloves
Designed for chemical, tattooing, cosmetics and painting tasks
Special focus on grip, strength and sensitivity
Supplied in a pack of 100 disposable gloves
| | | |
| --- | --- | --- |
| | | In stock now |
---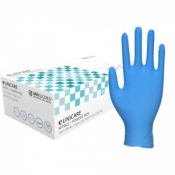 Price is per dispenser of 100 gloves
Ambidextrous nitrile gloves for general hygiene, food preparation and medical use
Textured surface gives better grip
Supplied in dispenser box for easy access
| | | |
| --- | --- | --- |
| | | In stock now |
---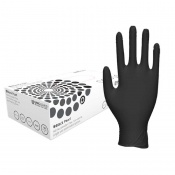 Nitrile gloves designed for healthcare and food preparation
Disposable and powder free for reduced cross-contamination
Ideal for handling certain chemicals and foodstuffs
Price shown is per box of 100 gloves
| | | |
| --- | --- | --- |
| | | In stock now |
When you are dealing with a highly sensitive task, for example performing medical or scientific examinations, it is important that you prevent contamination as much as possible. The Safety Gloves range of Powder-Free Gloves are ideal for ensuring this, releasing fewer contaminating particles than powdered equivalents. Powder-Free Gloves are suitable for everyone from doctors, nurses, surgeons, and scientists to beauticians, hairdressers, and animal handlers.
Our range of Powder-Free Gloves includes gloves that are manufactured from many different materials including latex gloves and nitrile gloves. This gives you a wider choice of products and allows you to select the gloves that best meet your needs. Each pair of gloves is designed to be close fitting, ensuring that you can get a good level of dexterity that is perfect for intricate work that requires fine motor skills.
To provide you with the best level of choice, the majority of our Powder-Free Gloves are available in a range of sizes. Ensuring that you have gloves that fit properly is essential for getting the best level of motion possible and preventing rips and tears in the gloves while in use.
At Safety Gloves we strive to provide the best level of customer service in all of our transactions. To ensure this, we have a dedicated and knowledgeable customer care team that are waiting to answer any questions you might have. For more information on our Powder-Free Gloves please contact us on 020 7501 1104 or via the "Contact Us" page.