Top 5 Cold-Resistant Gloves 2023
18 January 2023
Cold weather is never far away, so you'll need to prepare your hands from the worst of the change. Cold-resistant gloves come in all shapes and sizes; some use a palm coating to provide grip in slippery conditions, others have a full liner that prevents water from reaching your skin, and the rest have a focus on flexibility and dexterity for carrying items in and out of a freezer.
Here at SafetyGloves.co.uk, we've made sure that we stock them all. To help you refine and make an informed choice, we've collated what we believe are Our Best Cold-Resistant Gloves. With winter on the way, we hope that this blog will ensure that you keep warm through the entire season.
Cold-Resistant Gloves: What Am I Looking For?
The two things that you need to take into consideration before purchase is what you are using the gloves for, and what level of protection you need. For example, if you are handling frozen food, then using a dexterous grippy glove might be the best choice. Alternatively, if you are working outdoors in freezing sub-zero weather, a thick and durable pair of gloves might be the option for you.
The second thing you need to be aware of is EN 511, which tests a gloves resistance to air cold, contact cold and water. For the first two, a level between 1 and 4 will be awarded, with level 4 being the best and level 1 being the lowest. For water, a level between 0 and 1 will be awarded, with level 1 meaning that a glove is waterproof and level 0 meaning that it isn't.
Our Top 5 Cold-Resistant Thermal Gloves
Now that we've got to grips with the different standards and glove types, it is time to choose the gloves for you. To make it a little easier we've narrowed it down by type and task, ensuring that you can quickly find the pair of thermal gloves that's best for your industry. Without further ado, we begin with our best selling cold-resistant gloves.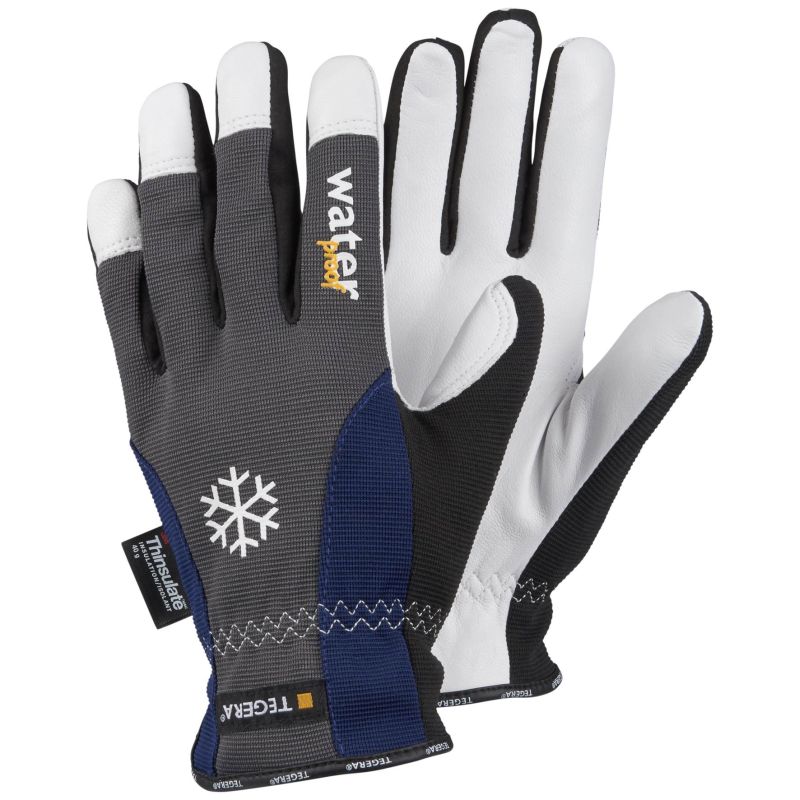 Our Best All Round Cold-Resistant Work Gloves
The Ejendals Tegera 295 Waterproof Thermal Work Gloves are some of our best selling thermal gloves, and when you consider their -30°C contact cold-resistance, totally waterproof Thinsulate lining, grippy palm and high dexterity, it isn't hard to see why. These gloves are the ultimate Winter gloves, and because of their waterproof and thermal properties they are as suitable for indoor freezer work as they are outdoor work such as DIY or mucking out a stables. You can use these gloves anywhere and everywhere, safe in the knowledge that your hands will stay safe, warm and dry.
Key Industries: General use; freezer; cold store; utilities; DIY; mucking out; building; construction; utilities; warehousing.
Key Features: -30°C cold-resistance; totally waterproof coating; high dexterity; exceptional grip; mechanically protective.
Shop Now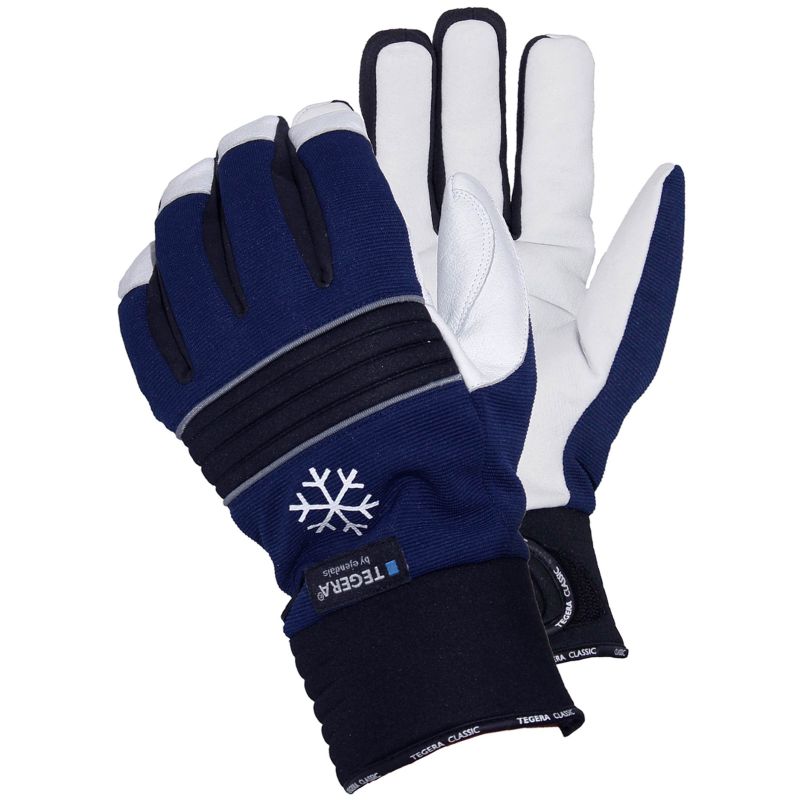 Our Best Thick Cold-Resistant Work Gloves
While the 295 Gloves are warm and dry, they don't provide too much thickness. A thicker pair of gloves can provide further mechanical resistance and are better suited to long outdoor tasks, which is why the Ejendals Tegera 297 Insulated Work Gloves are perfect for forestry, hunting, gardening, utilities and other time consuming activities. With a thicker coating, comes more durability, as evidenced by a customer base that includes cyclists, quad bikers and climbers. Ultimately, these gloves offer the same waterproof, -30°C coating as the 295's, only with a thicker coat.
Key Industries: Utilities; forestry; gardening; hunting; cycling; walking; maintenance.
Key Features: -30°C cold-resistance; totally waterproof coating; thicker liner for durability; thicker liner for longer warmth.
Shop Now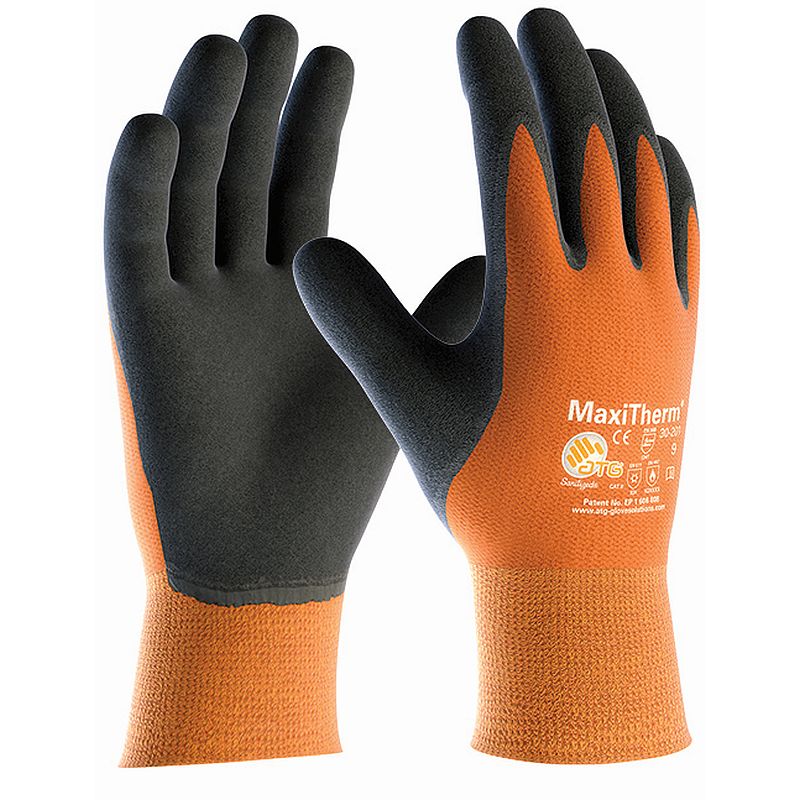 Our Best Cold-Resistant Work Gloves for Tough Manual Work
If you work in an industry that has a tough impact on your hands, then you'll require gloves that offer not just cold-resistance, but the ability to protect against things like cuts and tears. The MaxiTherm Palm-Coated Thermal Gloves 30-201 are -10°C thermal PPE gloves that are as durable as they are warm. Perfect for tougher industries like mechanics, engineering, oil and gas, building and more, these gloves provide the mechanical protection that other thermal gloves do not.
Key Industries: Building; engineering; mechanics; maintenance; transportation; oil and gas; machinist; warehousing.
Key Features: -10°C cold-resistance; water-resistant; heat-resistant; high in dexterity; high in grip; mechanically strong.
Shop Now
Our Best Cold-Resistant Work Gloves for Freezers
Flexitog are well known for their quality thermal workwear, so we couldn't mention cold-resistant work gloves without mentioning their name. The Flexitog Lightweight High Grip Thermal Freezer Gloves FG630 are build for freezers, with their thick patented hallowfibre insulation offering exceptional sub-zero protection and their grippy palms allowing you to get to grips to handling materials and operating folklift trucks. A knuckle guard protects your hands too, which makes these a popular choice in freezing industrial environments.
Key Industries: Freezers; cold stores; extreme sub-zero work; forklift truck driving; utilities.
Key Features: Hallowfibre insulation for -30°C resistance; honeycomb pattern for high grip; gauntlet cuff prevents draughts.
Shop Now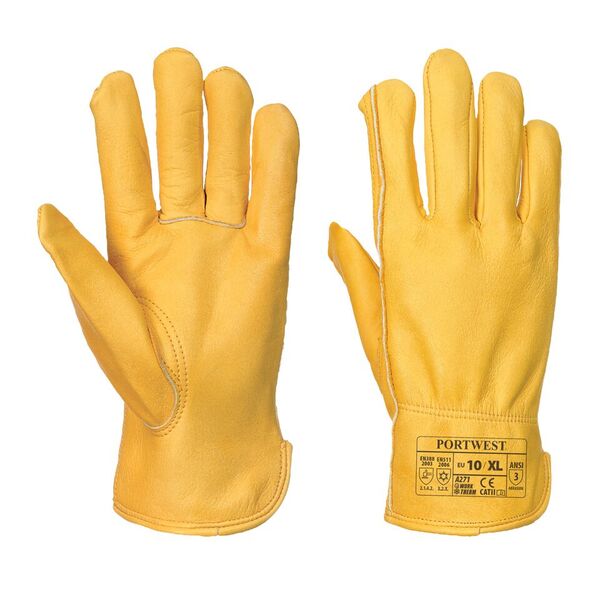 Our Best Cold-Resistant Work Gloves for Driving
For any driver, the cold weather can quickly become a pain. If you drive professionally for haulage firms, as a warehouse operative or as a delivery driver, then the Portwest Leather Thermal Lined Driver Gloves A271 are ideal for you. Their thick Insulatex coating ensures outstanding warmth, while good flexibility means that you can use them for operating machinery without too much trouble.
Key Industries: Forklift driving; lorry driving; machinery operation; haulage driving; warehouse operative.
Key Features: Insulated lining for impressive warmth; high grip ideal for gripping tools; leather coat is stylish; flexible and agile.
Shop Now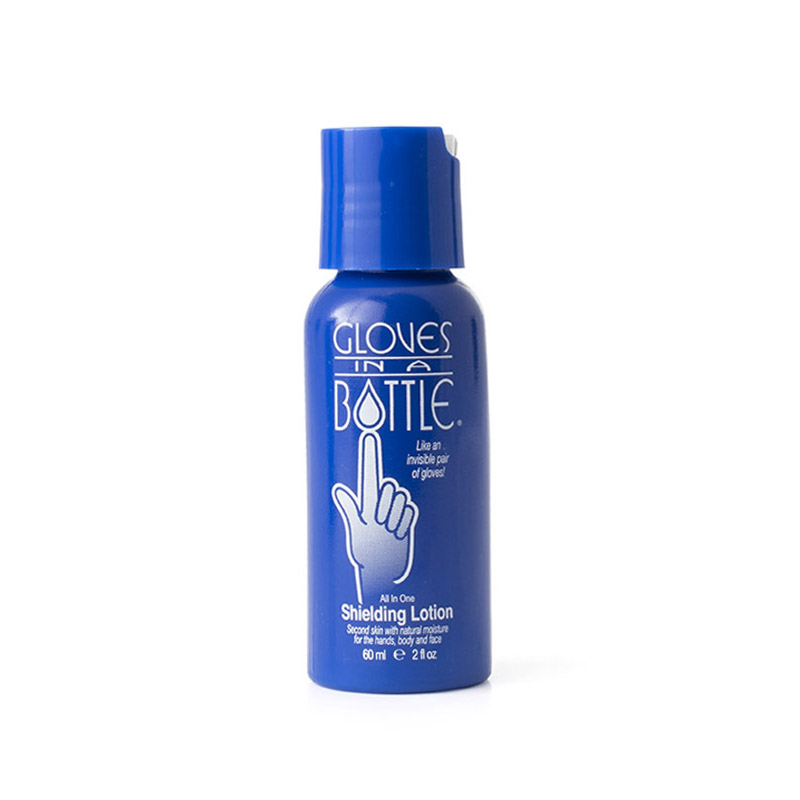 Our Best Product for Dry Hands
We would like to end by showing you the Gloves in a Bottle Hand Lotion. Ideal for environments handling irritant chemicals, this handy little lotion protects and soothes dry, irritated skin after over washing. Creating a barrier between the skin and harmful solutions (forming a protective 'glove' over your skin), this cream eradicates the need to constantly clean your hands, relieving pain and discomfort.
Key Industries: Medical professions, nursing, dermatology, gardening and agriculture, mechanics and more
Key Features: Four hour protection, water-resistant, suitable for various skin conditions, quick absorbing, handbag-size lotion
Shop Now
Prepare for Winter with Thermal Gloves Now!
Winter might be a couple of months away, but the seasons are already starting to change and there's already a little chill in the air. If you're still struggling to find the gloves for you, then you can take a look at the below categories for some further inspiration.
Have any questions, or anything to add? Tell us in the comments below, or find us on Facebook and Twitter!
Shop Our Best Cold-Resistant Gloves
Fully waterproof and insulated gloves for cold work
Enables high flexibility, ideal for gripping and handling tools
Designed to be durable and withstand harsh, cold conditions
Price is per pair of gloves

| | | |
| --- | --- | --- |
| | | In stock now |

Pair of waterproof Thinsulate lined winter work gloves
Ideal for outdoor work in the cold and rain
Thinsulate lining ensures hands stay warm all day long
Goatskin leather is soft, supple and highly grippy

| | | |
| --- | --- | --- |
| | | In stock now |

Cold-resistant gloves for winter and cold environments
Palm coating protects hands against heat and tears
Ideal for handling tasks in extreme conditions
Price is per pair of gloves

| | | |
| --- | --- | --- |
| | | In stock now |

Pair of thermal polyester gloves
Suitable for cold stores, freezers, and outdoor winter work
PU honeycomb palm significantly improves grip
Designed with high levels of contact cold resistance

| | | |
| --- | --- | --- |
| | | In stock now |

Insulatex lining provides excellent cold protection
Cow split leather coat provides mechanical resistance
Highly flexible making them ideal for more tactile applications
Price shown is per pair of gloves

| | | |
| --- | --- | --- |
| | | In stock now |