Glove-Related Contact Dermatitis and How to Prevent It
Wednesday, 20 June 2018 | Admin
Proper use of safety gloves is vital to work safety across an incredible variety of industries. From construction to hairdressing and plumbing to horticulture, gloving provides the first line of defence against mechanical, chemical, environmental and other hazards. Without the provision of the right hand protection, the risk to the employee goes up, and costs to the employer dramatically increase.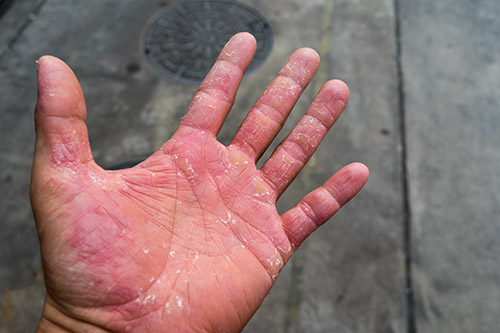 Glove use can cause contact dermatitis in some people
Unfortunately, there are some cases where wearing safety gloves can also bring negative consequences. Glove-related contact dermatitis (also known as glove-induced contact dermatitis) arises when the skin reacts to chemicals used in the manufacture of safety gloves.
What is Dermatitis?
Dermatitis is something of a catch-all term for the irritation and inflammation of the skin, and includes common conditions such as eczema. Dermatitis is typically classified according to one of two categories:
Irritant contact dermatitis - Manifests itself as dry, itchy, irritated patches on the skin around the area of the contact. It is usually caused by an irritant chemical used in the production of the glove. It may also have a variety of other causes, including exposure to acids, alkalis, detergents, friction, soaps, solvents and water. This is a non-allergenic reaction.
Allergic contact dermatitis - Develops as an itchy rash (sometimes with small blisters), beginning up to two days after contact. It is caused by contact with accelerators and certain other chemicals that are used in the production of latex and non-latex protective gloves.
Either type can cause signficant pain and irritation to workers, in some cases making it impossible for them to do their work altogether. There are even cases of employees taking legal action against employers after having contracted work-related dermatitis.
How to prevent Glove-Related Contact Dermatitis?
This presents a tricky problem for employers – how best to protect your workforce's hands without causing the small percentage who are likely to be at risk of dermatitis undue discomfort or pain. In some roles, not wearing gloves is simply not an option – whether for hygienic or physical reasons – and so an alternate solution must be sought. Luckily, manufacturers are beginning to respond to this need, with Uvex in particular offering a range of clinically-tested, dermatologically-approved work gloves for industrial applications.
proDerm Approval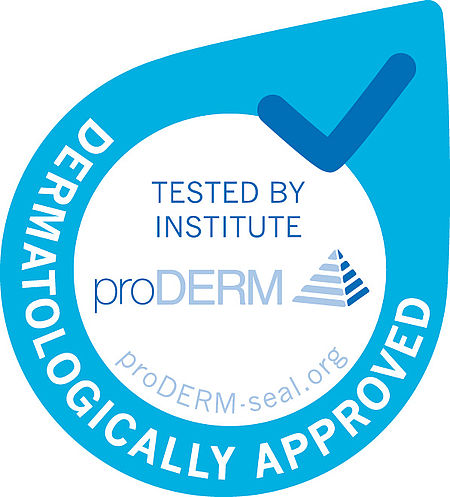 With its manufacturing base in Germany, Uvex have sought the unparalleled expertise of the proDerm Institute for Applied Dermatological Research GmbH in Hamburg in developing their skin-friendly products. Following rigorous testing procedures, several Uvex models achieved the coveted proDerm seal for skin tolerance, including:
Simply look for the proDerm seal of approval, proudly displayed on the front of the glove, and you can be sure that you are wearing gloves that won't irritate your hands.
Gloves in a Bottle
An alternative is to coat your hands with Gloves in a Bottle. This skin-friendly, breathable lotion acts as a protective layer over the skin, allowing you to wear your normal work gloves without fear of irritation. If you've already developed a skin condition such as dermatitis or psoriasis, Gloves in a Bottle can also help you, by protecting the inflamed skin and stimulating the production of natural oils to encourage healing.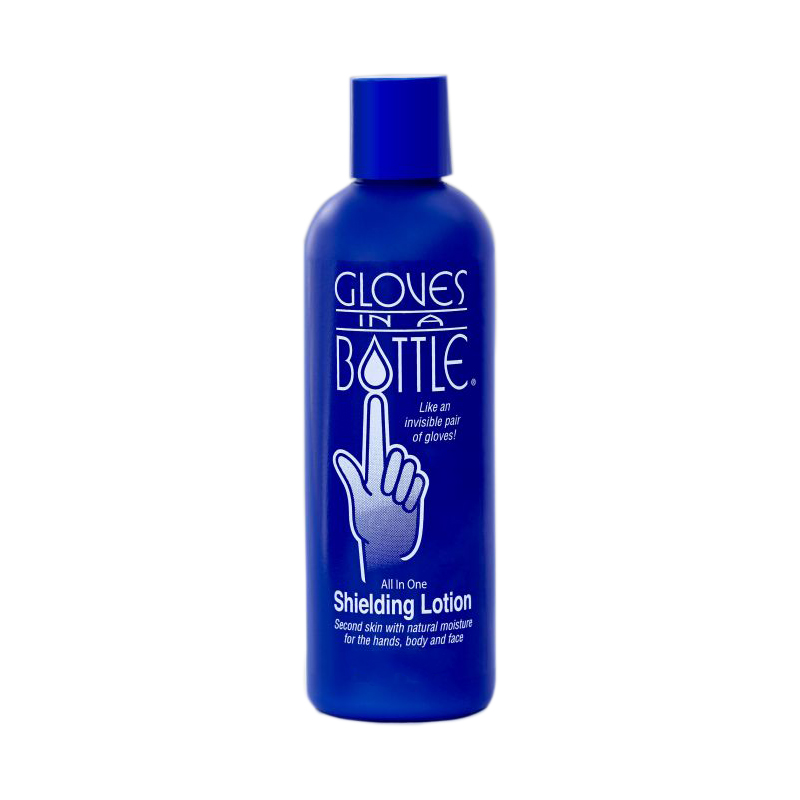 Protection without Irritation
The Uvex proDerm range meets the same high standards of mechanical protection, comfort and flexibility that you have come to expect from your everyday work gloves, but they are constructed without the irritants that cause dermatitis. If you or somebody you employ suffers from glove-related contact dermatitis, the proDerm range may be the perfect solution for you – comprising a versatile set of work gloves with a large variety of properties and features, you're likely to be able to find the perfect model for your specific application.
Do you suffer from skin irritation and need to use work gloves? Get in touch with us via the comments below or on our Facebook and Twitter pages. Browse the full Uvex proDerm range today!