What Are Oven Gloves?
27 July 2020 | Eugene
Many of us feel that a tea towel or cloth is all that we need to retrieve a hot pan from the oven, but for professional kitchens and cooking enthusiasts, this simply won't cut it. Oven gloves are gloves designed to be used to handle hot items, perfect for people working in the food industry and also for other businesses that utilise ovens. Naturally, they're usually used to get things in and out of ovens either at home or in professional kitchens, but it doesn't end there.
However, oven gloves aren't just used to get dinner out of the oven. Many labs use high-temperature oven gloves to help with their experiments, and to protect against very high temperatures. Some oven and heat resistant gloves can even resist contact with temperatures of up to 500°C!
What Kinds of Oven Gloves are there?
There are two main shapes that oven gloves take: gloves and mitts. We'll provide a short breakdown of their pros and cons:
Gloves - This shape of oven glove is usually referred to as an "oven glove with fingers". Predictably, this style of oven glove features five dedicated fingers, providing a great deal more dexterity than the traditional oven glove design. This makes them perfect for handling hot items with complex shapes and for performing intricate tasks with hot objects.
Mitts - This is commonly known as the traditional oven glove design, and provides general protection that doesn't allow for individual finger movement. These are much more limited in what they can safely and securely hold, however, because they are less complex a design they can provide a higher temperature resistance than some gloves with fingers.
How Do Oven Gloves Work?
Oven gloves are made from materials that provide a low conduction of heat, preventing the heat transferring through the glove to your hand. This is also why a wet oven glove will not work as well as a dry one. While you'd think that keeping the glove cool by wetting it with cold water would make it work better, in fact water conducts heat very well, and will allow the heat to permeate through the fibres of the glove straight to your hand.
Which Materials Are Oven Gloves Made From?
Oven gloves can be made with a range of different materials, each providing a different level of resistance and flexibility. Some cheaper oven gloves are only made from cotton, which will prevent some heat from getting top your hand, but isn't reliable for hotter pans and longer periods of contact. Other cotton gloves have an extra layer in them to increase the heat protection, but will still fall short of more advanced materials.
Some more advanced gloves are made from Teflon or Kevlar, which can significantly increase the amount of heat the glove can protect against. These gloves are often found in more advanced environments, such as laboratories, industrial kitchen and fabrication plants.
Can't I Just Use A Tea Towel?
Lots of people have made a habit of using a tea towel to pick up hot items off of hobs and out of ovens. While a tea towel can protect your hand slightly, there are several problems with them. For one, a tea towel is more likely to be wet than an oven glove, and as we know water won't stop heat at all.
Also, because you have to fold a tea towel to provide the necessary protection, there is high chance that your hand will slip. Slips like this in the kitchen will mean you'll risk seriously burning yourself due to the limited dexterity a tea towel provides. For a professional, an oven glove is always the right choice.
Best Oven Gloves with Fingers
Oven gloves with fingers are also our first choice, as they provide plenty of heat resistance for most kitchens, and allow you more dexterity than oven mitts. This can help prevent accidents, give you a better grip, and make picking up objects and opening doors a great deal easier. Here are a couple of our favourites: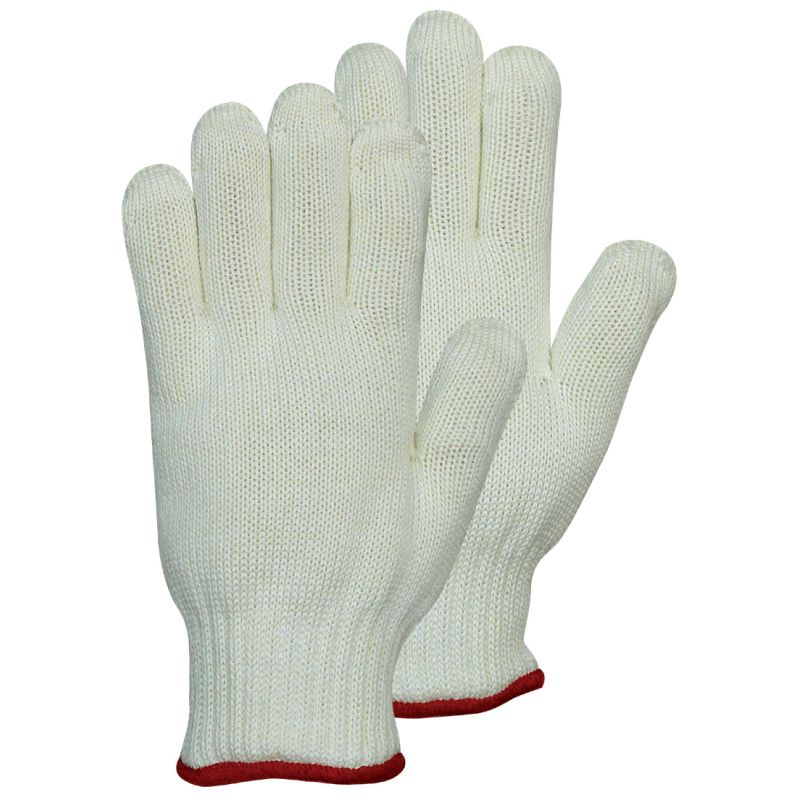 Coolskin Heat Resistant Oven Gloves 375
These are some of our most popular oven gloves, and they're constantly receiving high praise from our customers. The Coolskin Heat Resistant Oven Gloves 375 are comfortable, flexible and feature that five-finger design that puts them head and shoulders above the standard oven glove design. They provide excellent protection from dry contact heat, and can protect against contact heat up to 250°C, which is more than enough for standard kitchen environments. Recommended for everything from catering to the casual home cook, these gloves are also available in a Mid Length Gauntlet version to provide protection up your forearms.
Key Features: Five-finger design for maximum dexterity and grip; available in a regular glove or mid length gauntlet version
Shop Now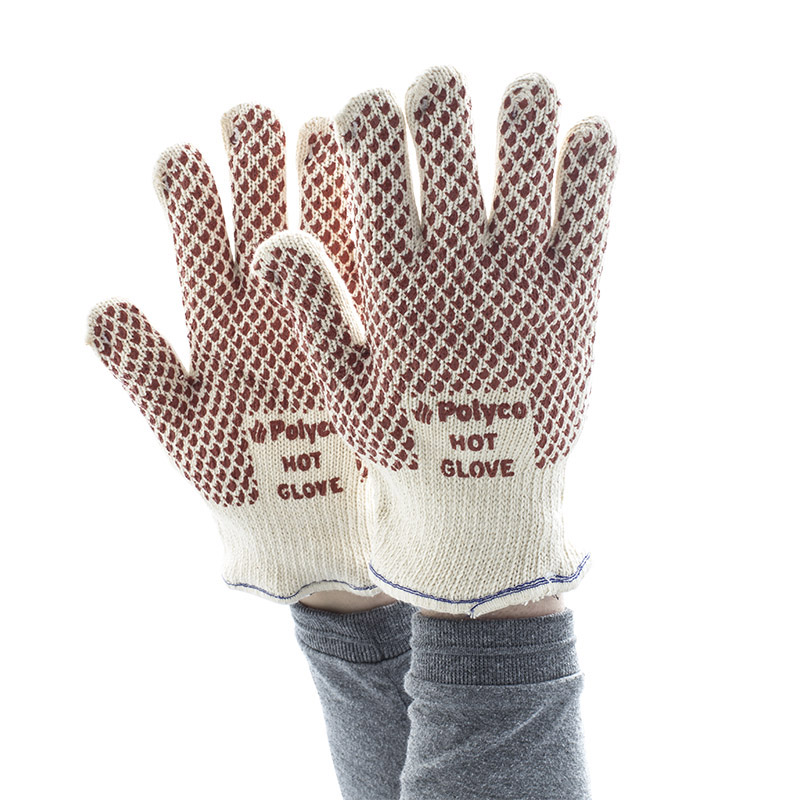 Polyco Hot Glove Heat Resistant Gloves
Besides protecting you from heat, the most important feature of an oven glove is the grip it provides you on hot objects. The Polyco Hot Glove Heat Resistant Gloves are designed to provide great grip along with 250°C contact heat resistance, giving you full control over your hot pans, dishes and pots. Ambidextrous to allow quick donning when when needed, this pair of gloves feature a nitrile grip pattern to provide a sure hold, and are made with double-layered cotton for extra protection and durability. Extremely affordable for their quality, these gloves are a perfect option for caterers and high-turnover kitchens.
Key features: Made with a nitrile grip pattern to provide a sure hold on hot objects; durable and cost-effective for professional kitchens
Shop Now
Best Oven Mitts
While oven gloves with fingers are becoming more and more popular in the domestic and professional cooking worlds, some people will always prefer the classics. For this reason, we've picked a pair of our favourite classic oven mitts to showcase, providing all the protection you need for home cooking and baking.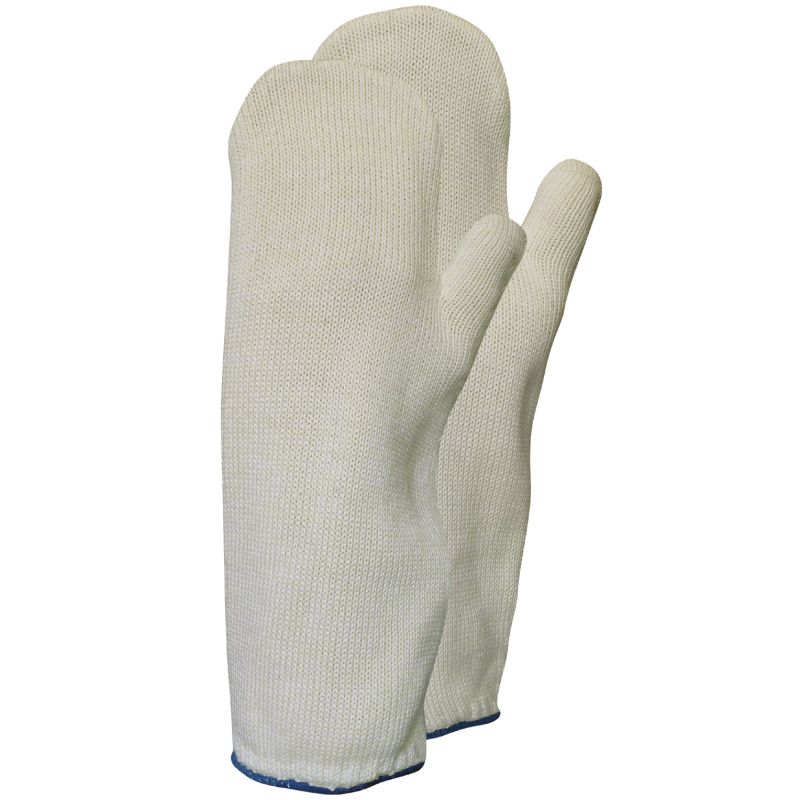 Coolskin Heat Resistant Oven Mitts 375 MTX
The oven mitt version of the five-finger oven gloves mentioned above, the Coolskin Heat Resistant Oven Mitts 375 MTX are an ideal option for the baker or cook looking to keep it classic. These gloves provide the same contact heat resistance up to 250°C, and are made with Aramid 1313 fibre, providing a heat and flame resistance to keep you safe in the kitchen. These gloves are supplied in one size, and are meant to be worn with a generous, loose fit for comfort and ease of use.
Key Features: Classic oven mitt version of the Coolskin 375 Gloves; designed for comfort and ease of use
Shop Now
Stay Safe in the Kitchen
Whatever style of oven glove you prefer, a purpose-built heat resistant glove will always be safer and more convenient than the tea towel method. Oven gloves with fingers will provide you with a bit more dexterity, but you'll still see plenty of top-quality chefs, cooks and bakers that swear by their classic oven mitts. If you'd like to take a look around to see the full range of gloves to protect you in the kitchen, you can browse our Heat Resistant Gloves section, packed with plenty of options that can protect you from any heat hazards you'll come up against.
Have any questions about our oven gloves, or anything to add? Tell us in the comments below, or find us on Facebook and Twitter!
Price is per pair
Meta Aramid fibre ensures heat resistance up to 250°C
Perfect for use in domestic and professional environments
Designed to last for years, the gloves are machine washable

| | | |
| --- | --- | --- |
| | | In stock now |

Pair of EN 388 mechanical and contact heat resistant gloves
Provides protection up to 250°C when handling material
Double layered cotton enhances comfort and protection
Raised nitrile grip pattern enhances grip for safe handling

| | | |
| --- | --- | --- |
| | | In stock now |

Supplied as a pair of mittens
Oven mitts with 250°C contact heat protection
Nomex fibre for high protection and comfort
Retain heat protection for up to 20 washes

| | | |
| --- | --- | --- |
| | | In stock now |