Powdered Vs Powder-Free Gloves: The Facts
Thursday, 28 November 2019
Choosing the right disposable gloves for your industry is difficult enough, you already have to make a choice between colour, material and brand, but when it comes to whether you want the gloves powdered or not can leave a lot of people stumped. Most people don't even know what the powder is, never mind why it's there or what it does. But, for some industries it's crucial you make the right choice, so it's important that you know what you're talking about.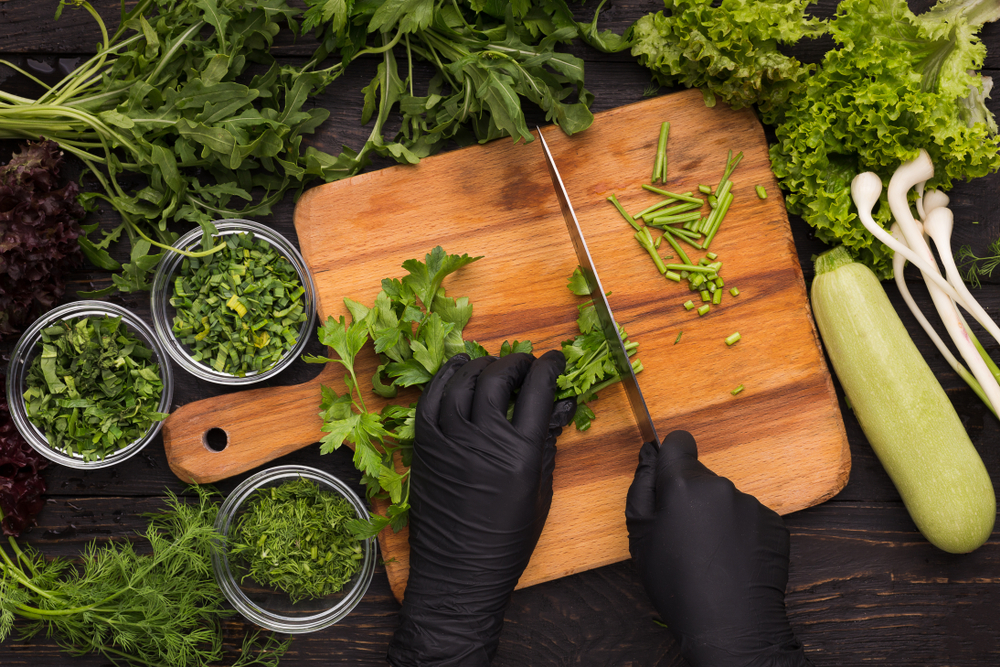 Powdered vs Powder-Free Gloves: The Facts
Well never fear, help is at hand. We've created this handy little guide, giving you the ins and outs of disposable gloves and what kind you need to buy. Hopefully, by the end, you'll be ready to buy your first pair of powdered or non-powdered disposable work gloves.
Powdered vs Powder-Free
What Are Powdered Gloves?
Disposable gloves are extremely thin gloves that are generally made from latex, vinyl or nitrile. Sometimes these gloves are powdered. The powder is generally made from cornstarch, and serves multiple purposes which includes easy donning, improving grip and reducing sweat and moisture inside of the gloves.
It was their easy-donning nature that made powdered gloves a top choice in the healthcare industries, where fast action could be the difference between life and death. Since reports started to spread of contact dermatitis developing after use of powdered gloves, scientists started to develop new methods of creating powder-free disposable gloves. The new method isn't fantastic either, as non-powdered gloves tend to be chlorinated in their manufacturing process.
Head to head
| Quality | Powdered Gloves | Non-Powdered Gloves |
| --- | --- | --- |
| Versatility | ★★★☆☆ | ★★★★★ |
| Easy Donning | ★★★★★ | ★★★★☆ |
| Grip | ★★★★☆ | ★★★☆☆ |
| Affordability | ★★★★★ | ★★★★☆ |
| Skin Health | ★★★☆☆ | ★★★★☆ |
| Comfort | ★★★★★ | ★★★★☆ |
| Strength | ★★★☆☆ | ★★★★★ |
Analysis
Powdered Gloves
It's a bit of a mis-truth that powdered gloves cause dermatitis; it is generally ONLY latex gloves that are known to do this, while nitrile and vinyl gloves usually don't result in any irritability. Powder can increase the chances of latex causing a bad reaction on your skin, so it's the two factors working in unison rather than the powder specifically being a problem. Powdered gloves also tend to be more grippy and more affordable than their non-powdered counterparts, with an easy manufacturing process helping to reduce costs.
On the downside it is recommended that you repeatedly wash your hands during use, and even if you wash your hands thoroughly, cornstarch can still remain. The gloves struggle with versatility because you don't want to contaminate food with cornstarch, and the poorer strength isn't great for the tougher industries. They are fantastically comfortable, with the moisture-wicking powder preventing your hands from overheating and sweating which can make the gloves easy to don, which is why non-powdered gloves have been popular in the healthcare industries since the early 80s.
Recommended For: Health care industries; busy environments, quick cleaning.
Non-Powdered Gloves
Non-powdered gloves are less likely to lead to skin irritation, but they have been chlorinated in their manufacturing process which means that they aren't perfect either. They are a little more expensive, harder to don, and you need completely dry hands to actually get them on your hands quickly. However, you aren't left with residue on your hands, which is a plus for anyone in the food industries.
They tend to be stronger too, which is because of the tougher processes involved in the manufacturing of the gloves. Due to this, we would probably recommend non-powdered gloves tougher tasks such as in mechanics, or for double-donning to prevent your reusable gloves from contamination, dirt and grease.
Recommended For: Food industries; mechanics; hair and beauty; lab work.
Which Should I Buy?
Powdered gloves we would generally recommend for the health care industries, busier environments and for janitorial work. Powder-free gloves are better suited for use with food, tough industries such as mechanics, and for tasks such as hairdressing. Below are two of our top selling powdered and powder-free gloves, that we feel showcase the advantages of each.
Extremely easy to don
Latex-free to reduce irritation
Medical grade
High quality polyvinyl chloride
Compliant to chemicals
Beaded cuff
Suitable for laboratories

Extremely strong for disposable gloves
Superb versatility suitable for many industries
Suitable for chemicals, food and more
Friendly on the skin to reduce irritability
Resist oil during use
Suitable for double donning over resuable gloves
Specially designed for improved grip
Choose the Gloves for your Industry
Glove choice matters. Whether you're after powder-free or powdered disposable gloves, choosing the right gloves for the job could make all the difference at work. To see our wider range, check out our Vinyl, Latex and Nitrile Disposable Gloves categories.
If you have any questions, you can either comment below or find us on Facebook and Twitter!