Blog
Tuesday, 6 November 2018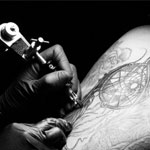 Tattooing is all about skill, fine detail and artistic expression – but before all that comes in to play, the right equipment is needed to get the job done. The best tattoo gloves are essentially medical-grade examination gloves that help to ensure the artist is protected from fluids, but what makes a great pair of tattoo gloves, and what should you be looking for? We've had our experts at SafetyGloves.co.uk provide a short breakdown, along with some suggestions that have served our customers well.
Friday, 2 November 2018
Once the temperatures begin to drop, outside work quickly becomes a lot more challenging than it is in the warmer months. Whether you work in outdoor construction or carpentry, forestry, landscaping, or fishing, you know how important it is to keep your body warm and comfortable throughout the day. If you follow these few basic guidelines that we've prepared, you can keep your body in optimal condition even in freezing weather.
Thursday, 18 October 2018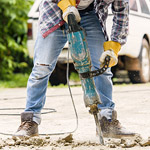 If you work with concrete breakers, hammer drills, chipping hammers, chainsaws and any other piece of equipment that causes high energy vibration, you're at risk of developing Hand Arm Vibration Syndrome (HAVS). Initially known as Vibration White Finger (VWF), the government have estimated that there are up to 288,000 suffers in the UK alone. This article explains the dangers of HAVS, demonstrating who should be concerned, and what steps you can take to prevent it.
Tuesday, 2 October 2018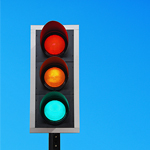 You may be familiar with the old TraffiSafe System, a simple colour-coordinated cut-resistant measuring system that allowed users to easily identify what colour gloves meet what level cut-resistance. Unfortunately, all good things must come to an end, and the old standard, EN 388:2003, has been replaced with a new standard, EN 388:2016, meaning that a new TraffiSafe System is required. This short guide explains how the TraffiSafe System has been revised, ensuring that you aren't lost when it comes to cut protection.
Thursday, 27 September 2018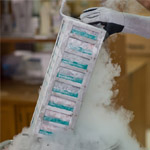 Winter is fast approaching and if you work outdoors, you'll want to start thinking about getting in some new gloves for winter. The cold can leave you unproductive as your hands and fingers can become painful and freeze up. The extreme cold can do much worse, and start to cause frostbite if you're left open to the elements for too long. We have a wide range of gloves that are well suited to extreme cold conditions, so we've created this list of Our Best Gloves for the Extreme Cold.
Thursday, 13 September 2018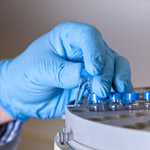 Blue disposable gloves are common throughout the healthcare and food professions. Their lighter appearance is ideal for spotting dirt or contamination, while their aesthetic appearance is less threatening than a darker glove which is ideal for a healthcare environment. Ranging from latex to nitrile to vinyl, we have a wide range of blue disposable gloves suitable for a wide range of industries. Taking into account things such durability, flexibility, and appearance, we have collated this list of gloves that we believe are Our Best Blue Disposable Gloves.
Monday, 13 August 2018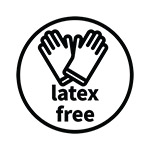 Latex has been a popular disposable glove material for decades because it offers high elasticity and superior grip, and is suitable for use in the food and healthcare professions. However, latex has also been known to cause allergies and bad reactions in up to 10% of glove users, which has led to an increase in vinyl and nitrile disposable gloves. In case you're wondering what the Best Latex-Free Disposable Gloves are, we've created this list of all the gloves that we believe deserve your attention.
Thursday, 26 July 2018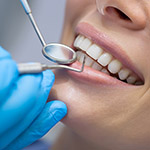 Dentistry gloves must prevent harmful bacteria from passing between the dentist and the patient, therefore the dentist has a vital role in selecting the right dentistry gloves for the job. Getting the choice wrong could lead to switching the gloves more often than necessary, and the last thing you want during a dentistry procedure is for the gloves to break during use. We stock a wide range of medical standard gloves here at Safety Gloves so we've compiled this list of Our Best Dentist Gloves to help you choose the best for you.
Thursday, 26 July 2018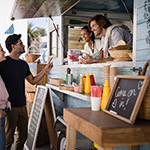 Street food is in, and with it a whole bunch of trendy, young hipsters are taking to food vans, rib shacks, butchers and grills in their bid to be the next hot spot in artisan eateries. Chance is you know somewhere selling the latest in authentic street food and whether you're selling curry down Brick Lane or grilling meat in a festival food truck, you're going to want to look the part, so we've created this guide to show you How to Look Cool When Preparing Food.
Wednesday, 25 July 2018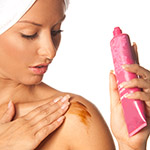 Whether you're looking for protective gloves to use at home, or want to stock up on fake tanning gloves for your salon, here at SafetyGloves.co.uk we've got you covered. Our broad range of gloves is suitable for virtually any activity, and fake tanning is no exception. Read on to find out what our top suggestions for the Best Fake Tan Nitrile Gloves are and what it is that made us fall in love with them.
Page 1 of 17 (161 Posts)