Our Best Gloves for the Extreme Cold
Thursday, 27 September 2018
Winter is fast approaching and if you work outdoors, you'll want to start thinking about getting in some new gloves for winter. The cold can leave you unproductive as your hands and fingers can become painful and freeze up. The extreme cold can do much worse, and start to cause frostbite if you're left open to the elements for too long. Thankfully, we have a wide range of gloves that are well suited to extreme cold conditions, so whether you work in a controlled, freezer based environment, or want to buy some new gloves for when the nights draw in, we have you covered.
Remember the cold isn't worth risking, a lapse in judgement, or a hole in your glove fingertips can leave you seriously or even permanently injured. Exploring different factors such as use, style, and mechanical protection, we've asked our experts for some advice on what they think are the gloves that are best suited to cold conditions. They have come back with this list of Our Best Gloves for the Extreme Cold.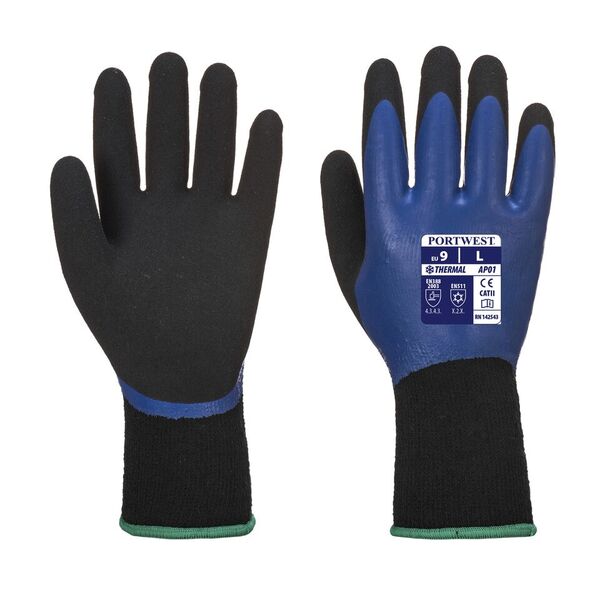 Portwest Thermal Dual Latex Acrylic Gloves AP01
These gloves are lightweight and flexible, meaning that they are perfect for handling materials particularly during freezer work. Don't be fooled into thinking that the the Portwest Thermal Dual Latex Acrylic Gloves AP01 lack the thermal qualities of others on our list however, as they achieve the highest EN 511 score of level 4, meaning that they can protect against temperatures that drop as low as - 30°C. Their dual latex coating provides a waterproof finish, while protecting the hands from moderate risks.
Key Features: Provide level 4 EN 511 contact cold resistance; dual latex coat offers resistance to water; offers strong resistance against a range of mechanical risks.
Shop Now
Don't Risk Frostbite
Freezing cold temperatures don't take long to start causing damage. A damaged glove isn't enough to protect you from the cold, which is why it's crucial to purchase a reliable, durable and thermal pair of gloves. If you want to browse further, then why not check out our Freezer Gloves, our Cold Store Gloves, our Cold Weather Gloves or our Gloves for Cold Environments. You're bound to find the gloves for you!
Have any questions, or anything to add? Tell us in the comments below, or find us on Facebook and Twitter!
Brushed acrylic liner offers thermal capabilities
Dual latex coating ensures superior grip
Waterproof design ideal for wet conditions
Price shown is per pair of gloves

| | | |
| --- | --- | --- |
| | | In stock now |

Taslan back offers enhanced dexterity and reduces hand fatigue
IFX technology keeps user warm at all times
Ergonomically designed for increased comfort
Price shown is per pair of gloves

| | | |
| --- | --- | --- |
| | | In stock now |

Price is per pair of gloves
Keeps hands warm, dry, and protected from abrasions
PVC coating resists salts and chemicals with excellent grip
Fluorescent orange colour for identification and working outdoors

| | | |
| --- | --- | --- |
| | | In stock now |

Price is per pair of gloves
Protects against extreme cold temperatures as low as -20°C
Gauntlet provides full protection to the forearm
Internal waterproof layer keeps hands dry in wet working conditions

| | | |
| --- | --- | --- |
| | | In stock now |

Fully waterproof and insulated gloves for cold work
Enables high flexibility, ideal for gripping and handling tools
Designed to be durable and withstand harsh, cold conditions
Price is per pair of gloves

| | | |
| --- | --- | --- |
| | | In stock now |