How To Stay Warm Working Outside in Winter
2 November 2018
Once the temperatures begin to drop, outside work quickly becomes a lot more challenging than it is in the warmer months. Whether you work in outdoor construction or carpentry, forestry, landscaping, or fishing, you know how important it is to keep your body warm and comfortable throughout the day. If you follow these few basic guidelines that we've prepared, you can keep your body in optimal condition even in freezing weather.
Layer Up
There's no doubt that the best thing you can do to beat the cold is dressing appropriately. Your body loses most of its heat through your neck, with the head and feet as close seconds, so wearing a warm hat, wrapping your neck and carefully picking out your work shoes is paramount for staying warm. It's also important to choose the right fabrics that trap heat easily, while allowing sweat to evaporate: we recommend wool, polyester fleece and polypropylene, and advise you to avoid goose down and cotton.
To maximise your comfort when working outside in the cold, you should take advantage of the benefits a good layering system has to offer. It starts with a wicking layer and ends with a waterproof shell.
Wicking layer: the layer closest to your skin should be able to remove moisture from the skin and transfer it to the next layer. Excellent options include synthetic or polypropylene long johns, tops and socks.
Light insulating layer: continue with the first insulating layer. This can be either a thin wool sweater or a light fleece.
Heavy insulating layer: the purpose of insulation is to trap as much heat as possible in the body, without causing you to sweat. A heavier fleece or wool sweater is a great option to keep you warm.
Windproof and waterproof shell: the outermost layer protects your body from various weather conditions, from wind to rain and wet snow. Find a soft garment made of treated fabric that stops wind and water.
Protect the Hands
Once you're all bundled up, and feel warm and comfortable, go ahead and take care of your hands. The right choice of cold-resistant gloves heavily depends on the type of work you'll be doing. Is it important that your gloves are cut or puncture resistant? Do you expect to need waterproof protection? What about dexterity?
Your work gloves should first and foremost be able to provide the degree of protection you need to perform your tasks safely and undisturbed. Once you're certain that your chosen pair is a good fit for your job, make sure they offer good insulation and protection against cold as well. Here at SafetyGloves.co.uk we stock a broad range of thermal and waterproof gloves, winter work gloves and even freezer gloves.
Our Top Picks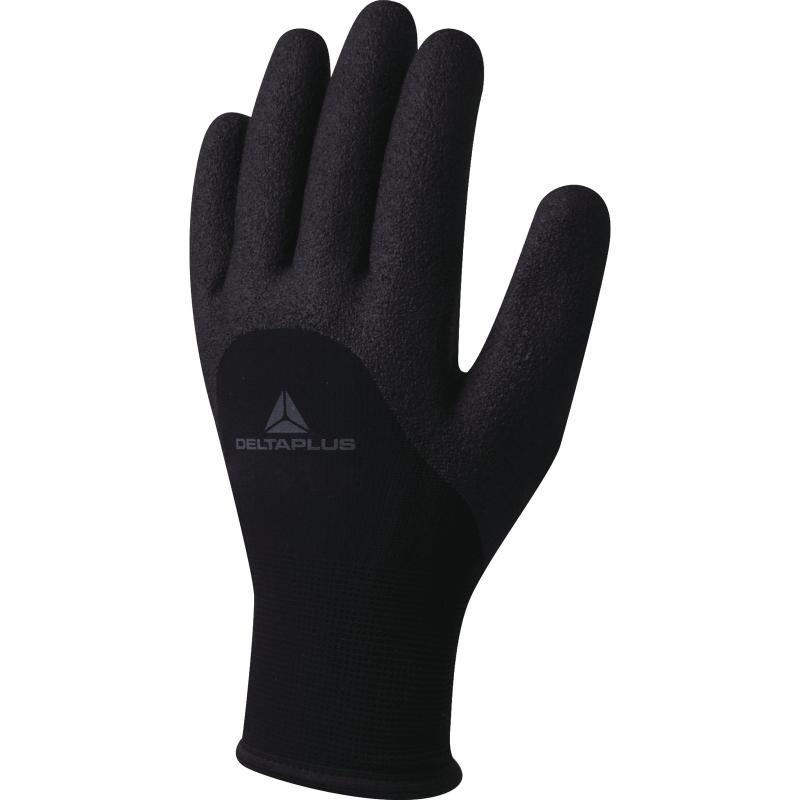 Excellent flexibility and dexterity
The Delta Plus Hercule VV750 Thermal Nitrile Coated Work Gloves are perfectly dexterous and suitable even for fine handling. Their inside acrylic support keeps hands warm in cold conditions, while the three-quarter coating ensures full protection of fingers against cold and water. The outside polyamide support provides high flexibility, making these cold-resistant gloves suitable for virtually any task at hand.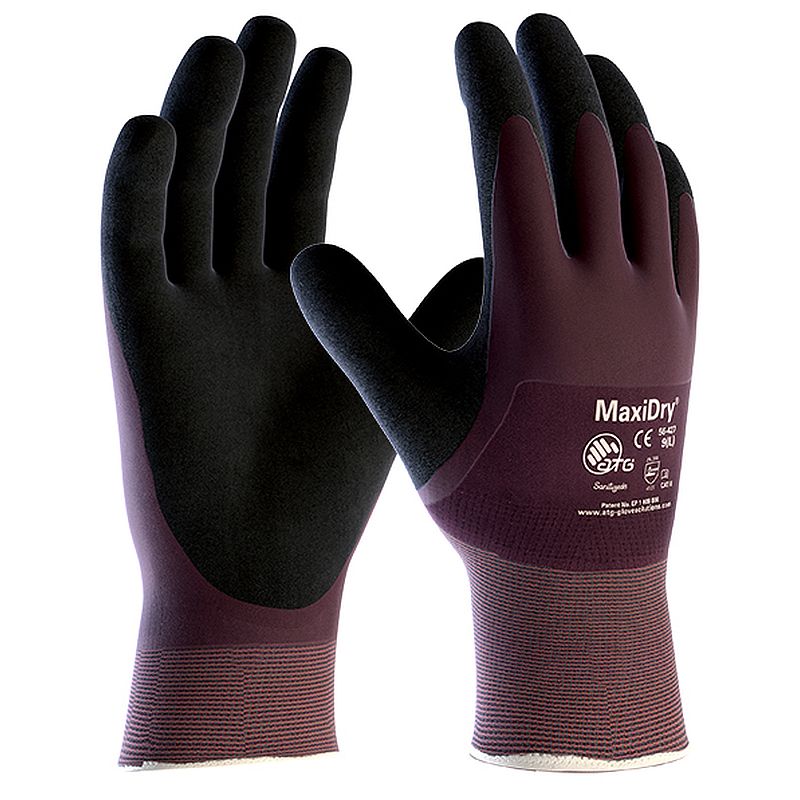 Cold and water resistant construction
The MaxiDry Zero Thermal Gloves 56-451 are liquid-repellent gloves with incorporated thermal resistance. They keep moisture away from your skin, ensuring your hands remain warm, have high thermal insulation properties, super soft and flexible coating, and optimised grip delivered through the ultra-soft coating. These water- and cold-resistant gloves are perfect for all types of outdoor work, especially tasks that involve contact with cold water or ice.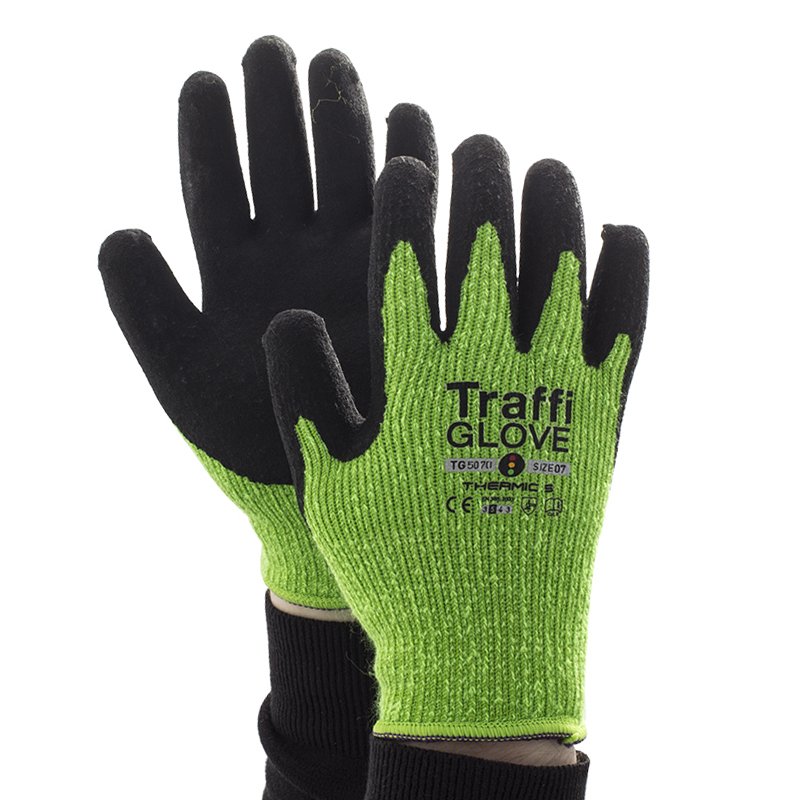 Maximum level of cut resistance
The TraffiGlove TG5070 Thermic Cut Level 5 Safety Gloves offer excellent protection in cold conditions, as well as maximum levels of cut and tear resistance, along with very high abrasion and puncture resistance. This makes them ideal for the riskier outdoor tasks, such as scaffolding, construction, and carpentry. Moreover, their tactile C-Dura Coating gives them extra durability and grip in wet conditions, enabling you to work with ease.
Fuel Your Body
Being active in cold weather burns a lot more calories than working in normal conditions, so it's best to take in your calories steadily over the day. Approximately fifty percent of your nutritional intake should be from carbohydrates, as this will give you the quick boost of energy that you need to carry on. Don't cut back on fat either, as cheese, butter and even nuts can be highly valuable for helping you keep your body warm.
When temperatures drop, we often tend to forget about the importance of drinking plenty of water. It's understandable not to feel as thirsty as you do when working in hot weather, but it's still important to stay hydrated even when working outside in the cold. Avoid drinks with caffeine (such as coffee or soft drinks), but a cup of hot herbal tea is always a good idea.
Extra Tips and Tricks
We live in the 21th century, so there's really no need for you to stay limited to the few ancient tips mentioned above. Warm clothes, high-quality winter gloves and proper nutrition are a good starting point, but there's more you can do to stay warm. Hotteeze, the long-lasting, self-adhesive heat pads are designed to help you warm up almost instantly, and enjoy soothing warmth for hours.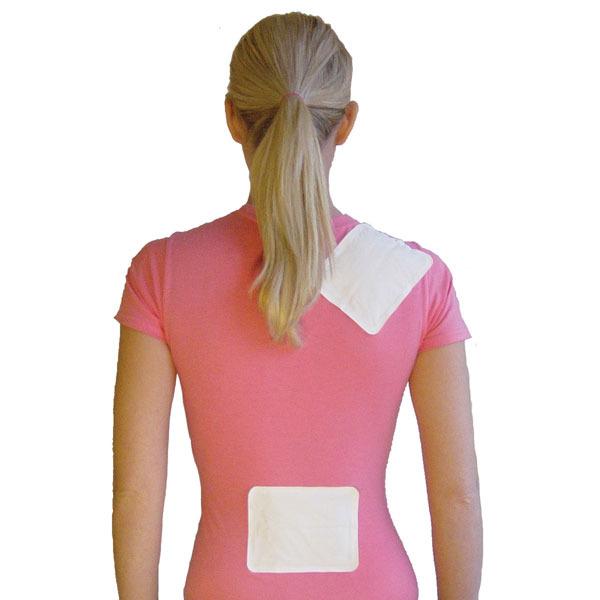 We stock a range of different styles that will fit your needs perfectly. Choose from:
Hotteeze Hand Warmer: great solution if your favourite pair of safety gloves is not as cold-resistant as you would want. You can place the heating pad inside the glove and enjoy warmth without having to get new gloves. Also available in a pack of 10.
Hotteeze Heat Pad: larger pads can be used on any part of the body to provide comforting heat for up to 12 hours. Also available in a pack of 10.
Have any questions, or anything to add? Tell us in the comments below, or find us on Facebook and Twitter!
Price is per pair of gloves
Inside acrylic support keeps hands warm in cold conditions
Outside polyamide support provides high flexibility
Highly dexterous and suitable even for fine handling

| | | |
| --- | --- | --- |
| | | In stock now |

Thermal and waterproof gloves suitable for temperatures as low as -30°C
Protect hands against cold, water, oil, heat, abrasion and tears
Comfort, grip and flexibility ideal for many indoor and outdoor industries
Price is per pair of gloves

| | | |
| --- | --- | --- |
| | | In stock now |

Cold weather work gloves with high cut resistance
X-dura latex palms offer fantastic grip and protection
Single layer design retains dexterity for precise work
Brushed acrylic liner for lasting warmth and comfort

| | | |
| --- | --- | --- |
| | | In stock now |

Fast-acting, easy-to-use hand warmer
Ideal for placing inside your safety gloves to stay warm
Provides warmth for up to 10 hours
Ultra-thin and odourless for discreet use

| | | |
| --- | --- | --- |
| | | In stock now |

Easy-to-apply self-adhesive heat pad
Ideal for working outdoors or in cold environments
Ultra-light and odourless for discreet warming
Eco-friendly and easily disposed after use

| | | |
| --- | --- | --- |
| | | In stock now |