What Are Food Preparation Gloves?
Wednesday, 15 July 2015 | Eugene
Anyone who has worked in a kitchen environment knows that there are plenty of risks, whether in terms of food hygiene or worker safety. To combat the majority of these risks, the most important piece of equipment in your kitchen is the right pair of gloves, so making the right choice is a crucial part of outfitting yourself and your employees. In this article, we'll break down the important aspects of kitchen gloves, and answer the question: What Are Food Preparation Gloves?
What kinds of Food Preparation Gloves Are There?
There are three main kinds of food preparation gloves:
Disposable Gloves
These are designed to be worn and removed frequently, and are usually made out of nitrile, latex or vinyl – each offering its own benefits. Nitrile is the strongest, but will fall apart quickly when cut. Latex is the most common, but is unsuitable for those with latex allergies. Finally, vinyl provides more dexterity, but is usually not strong enough for long periods of use. You can browse some of our top disposable food handling gloves here.
Heat Resistant Gloves
These gloves protect you from heat hazards in the kitchen, and usually take the form of oven gloves. These are used to handle hot items such as baking trays straight from the oven and are designed to protect you against burns. Click here to view some of our best oven gloves.
Cut Resistant Gloves
Frequently made from chainmail, these gloves protect you from cuts. These are extremely useful when cutting large quantities of meat or produce, and are imperative where sharp blades are used in fast-paced kitchens. Browse some of our best gloves for kitchen cut resistance here.
When Should I Wear Food Preparation Gloves?
There is no clear consensus on whether or not disposable food preparation gloves should be worn completely throughout the food preparation process. However, there are several key points in the food preparation process where they provide a significant boost to your kitchen's hygiene:
Serving Customers – In kitchen environments where workers will also have to deal with customers, gloves are a must. Money will often change hands in these scenarios, which is a key culprit in the spread of germs and bacteria. One such point is serving food to customers. When handling food and packing for the customer, wearing the right easy-donning pair of disposables is crucial.
Cuts or Injuries – If a kitchen worker has any sort of cut or dressing on their hand, wearing of gloves is imperative. Wearing a glove reduces the risk of the dressing falling off, and also prevents any blood leaking out of the dressing and into the food they are working with.
Cutting Meat – When butchering meat or shucking an oyster you should wear a chainmail glove. This reduces the chance of causing serious injury to yourself during a demanding cutting routine.
Handling Hot Items – Predictably, handling hot items requires the use of a heat resistant glove. This will help to prevent burn injuries and dropped pans, and will be much more reliable than the tea towel method.
How Often Should I Change My Gloves?
In any kitchen environment, you should change your disposable gloves regularly. When working with customers, you should remove your glove after handling food, and before handling money, and replace it with a new one each time. When working in the kitchen, you should also change your gloves regularly, especially when going from dealing with raw food to cooked food.
Remember to wash your hands before you put gloves on and after you take them off. Gloves should never be used as an alternative to hand washing.
Our Top Food Preparation Gloves
To help you make the best choice for you, we've had our glove experts at SafetyGloves.co.uk pick their favourite gloves for food preparation. Whether you're looking to boost hygiene or protect your hands, we're confident these are the best gloves for the job.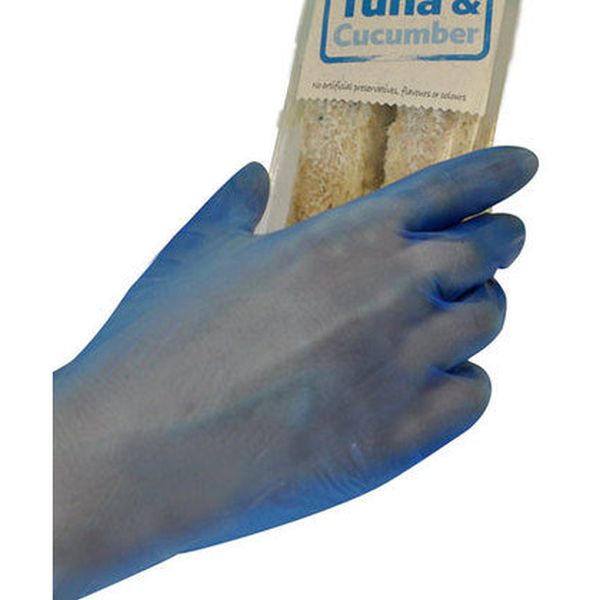 Our Best Disposable Food Preparation Gloves
Polyco Bodyguards GL843 Blue Vinyl Disposable Gloves
Made from vinyl for maximum dexterity and fine touch sensitivity, the Polyco Bodyguards GL843 Blue Vinyl Disposable Gloves are perfectly suited to a variety of kitchen tasks. With a rolled cuff to prevent liquid rollback, these powder-free gloves can be easily applied and removed as needed, making them perfect for a demanding kitchen environment. They're coloured blue for easy differentiation from food products, and are some of the most reliable kitchen disposable around.
Glove highlight: Reliable, easy-donning glove for fast-paced kitchen environments
Shop Now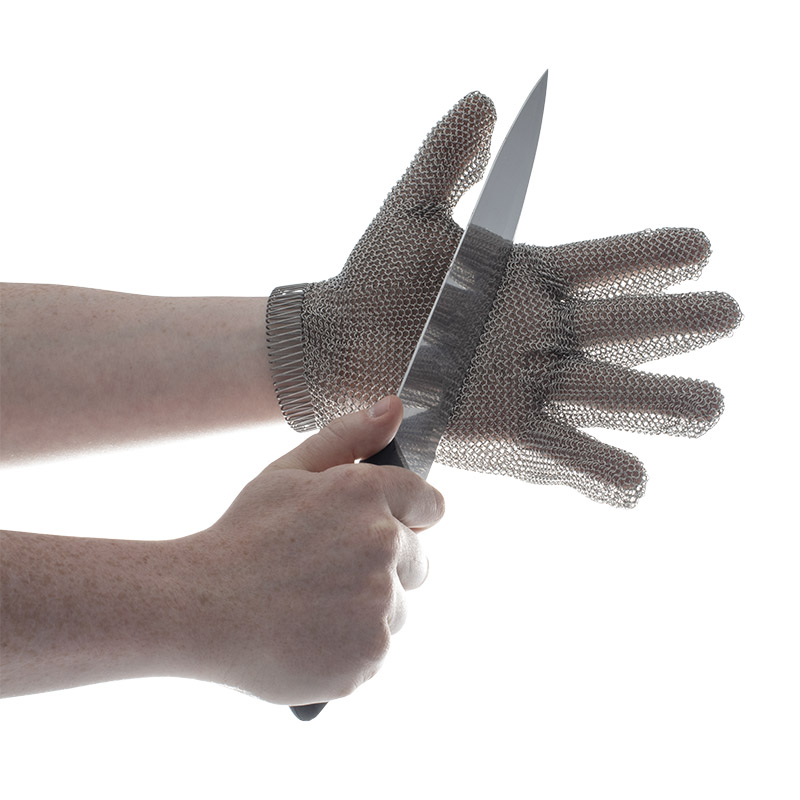 Our Best Cut Resistant Glove for Kitchens
Honeywell Chainexium Chainmail Oyster Gloves 2533003-R0302
With a 100% stainless steel construction, the Honeywell Chainexium Chainmail Oyster Gloves 2533003-R0302 ensure tough protection from cutting hazards, making them ideal for butchering and oyster shucking. These gloves are the perfect choice when dealing with cutting or punching tools, providing a high level of safety and peace of mind in kitchen environments.
Glove highlight: Made with 100% stainless steel chainmail for maximum cut resistance in the kitchen
Shop Now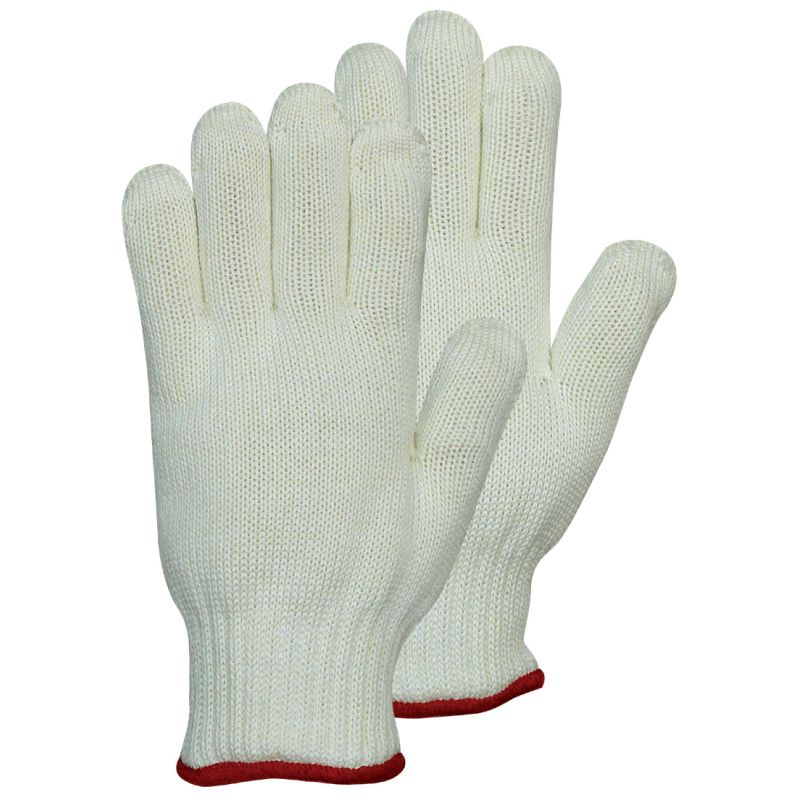 Our Best Heat Resistant Kitchen Gloves
Coolskin Heat Resistant Oven Gloves 375
The Coolskin Heat Resistant Oven Gloves 375 are comfortable, flexible and feature that five-finger design that puts them head and shoulders above the standard oven glove design. They provide excellent protection from dry contact heat, and can protect against contact heat up to 250°C, which is more than enough for most kitchens. Versatile for almost any professional kitchens, these gloves are also available in a Mid Length Gauntlet version to provide protection up your forearms.
Glove highlight: Five-finger design for maximum dexterity and grip with heat resistance up to 250°C
Shop Now
Stay Prepared in the Kitchen
Choosing the right gloves for your kitchen doesn't have to be complicated, and the right choice can end up saving you both time and money. We're confident that our expert glove picks will get the job done in the kitchen, but if you're still not convinced, you can browse our entire range of Food Preparation Gloves to see everything we have to offer.
Have any questions about our oven gloves, or anything to add? Tell us in the comments below, or find us on Facebook and Twitter!
Price is per glove
Chainmail glove to be used within the food industry.
100% stainless steel with a fastening strap
Ideal for Oyster Shucking, when using knives or cutting and/or punching tools.

| | | |
| --- | --- | --- |
| | | In stock now |

Price is per dispenser of 100 gloves
Ideal for clinical, automotive and food processing use
Made from high quality Polyvinyl Chloride for extra tough design
Free of latex and powder for maximum wearer comfort

| | | |
| --- | --- | --- |
| | | In stock now |