Chainsaw Safety Gloves - Everything You Need to Know to Pick the Perfect Pair
24 September 2015
It almost goes without saying that if you are using a machine designed to make light work of chopping down trees, you do not want to get your hands in the way if you can avoid it. We have an extensive range of Chainsaw Gloves that are suitable for budding amateurs and professional tree surgeons alike.
Choosing the right pair can seem confusing. With that in mind, our aim is to give you all the necessary technical know-how to make an informed decision as to which gloves are best for you. We've put a selection of products together with an in-depth guide beneath to make selection the right pair of gloves for your environment and application easy.
Our Top Summer Chainsaw Gloves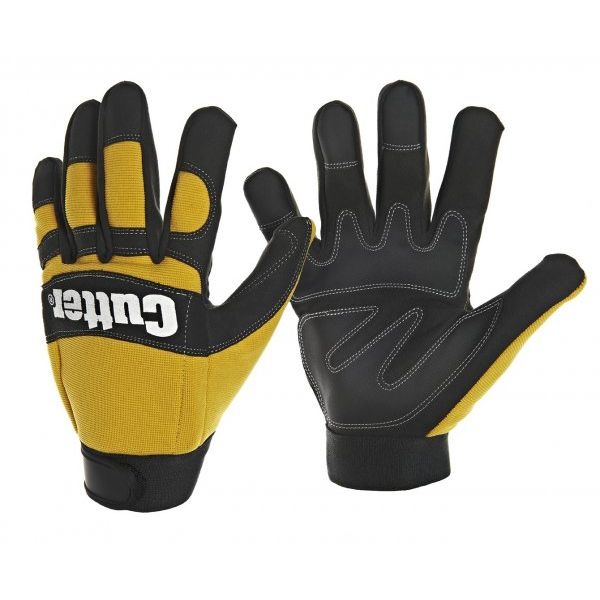 Due to the nature of the work, a lot of professional grade tree surgery has to wait until the summer months. This means soaring temperatures and sweaty hands. Cutter CW600 Amara Synthetic Leather Men's Professional Summer Chainsaw Work Gloves are manufactured with breathable spandex to make holding and operating your saw during the summer a breeze.
What We Love:
Manufactured with highly breathable material to let perspiration exit naturally
Cutter are a mainstay brand in the manufacture of highly protective chainsaw PPE and gloves
Reinforced PVC patches on the palms, thumbs and fingers
14 layers of cut-resistant material on the left hand enhance leverage side safety
Our Choice For: Tree surgeons, horticulturalists and amateurs alike using chainsaws during the summer months
Our Choice for High Visibility Application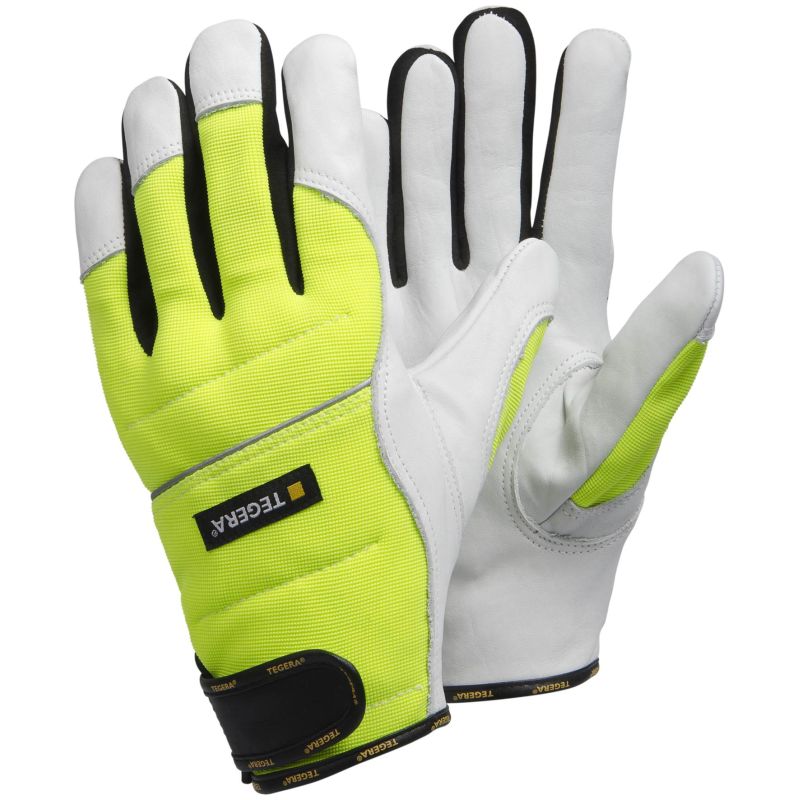 If you're operating a chainsaw on-site, or you're working above or around colleagues, you need to make sure your entire outfit enables them to see where you are and exactly what you're doing. Ejendals Tegera 951 Chainsaw Gloves are our choice for use in environments that require you to be safe and seen at all times.
What We Love:
Easy to see yellow high-visibility design ensures you're visible at all times
The perfect choice for use on-site and in busy workplace environments
Pre-curved fingers allow you to safely grasp your saw with maximum dexterity
Incredible flexible material means you never feel constricted or restrained
Our Choice For: Anyone working in high-traffic environments like on-site or above colleagues
Our Best Waterproof Chainsaw Safety Gloves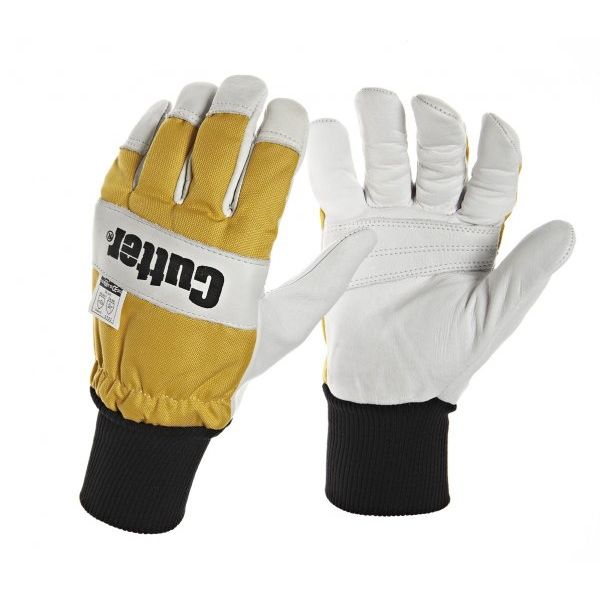 Work doesn't stop just because it's raining. Provided you're not too high up, you're going to eventually work in wet and nasty weather environments. Ensure your wardrobe is adequately equipped for when you have to, with Cutter CW400 Leather Waterproof Men's Chainsaw Gloves.
What We Love:
Waterproof material allows you to continue working despite wet weather conditions
Chainsaw certified in line with EN 381-7
Left hand is manufactured with 14 layers of cut-proof material
Knitted using a blend of premium-quality Cordura and leather
Our Choice For: Wet weather applications where the operation of a chainsaw is necessary
Our Favourite Multifunctional Chainsaw Gloves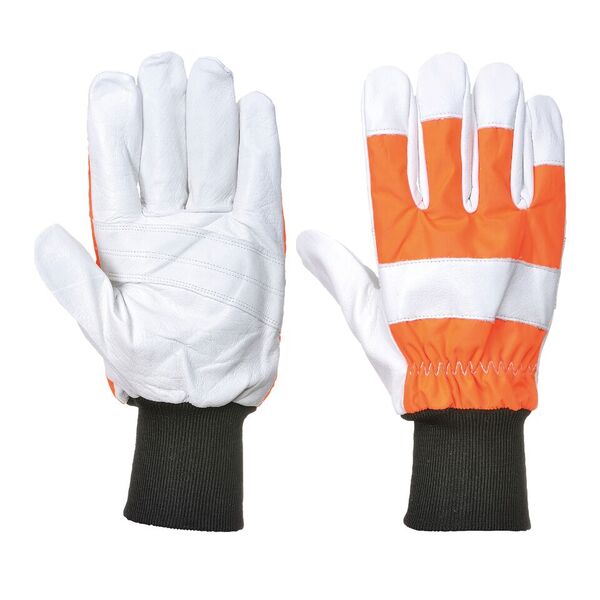 Working with a chainsaw often means a range of other hazardous activities come along with your workload. Portwest A290 Leather Chainsaw Protection Gloves are a pair of EN 388 certified chainsaw safety gloves with incredible functionality for use on building and construction sites. Unlike other chainsaw gloves, Portwest A290 Gloves are manufactured using leather, meaning they are perfect for use during manual labour activities like construction and building site work.
What We Love:
Certified under EN 388 for mechanical hazard protection when handling sharp and abrasive material
High abrasion resistance means the exterior material lasts longer
Comfortable inner liner is ideal for highly tactile and rigorous applications
EN 381-7 protection in the left hand makes for safe chainsaw handling
Our Choice For: Sites where the user is required to handle potential hazardous material as part of their workload
Our Number One Chainsaw SAfety Sleeves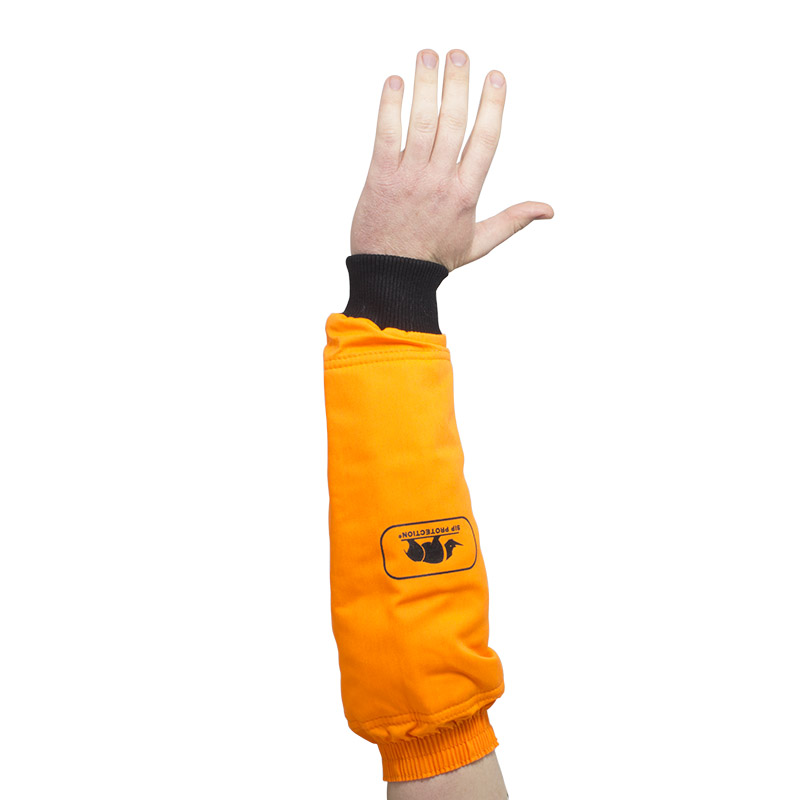 Sometimes it's not enough to simply protect your hands. When operating a chainsaw, you need to know that every exposed part of your body is protected against harm. The use of a pair of SIP Protection Chainsaw Sleeves with Black Cuff ensures both of your arms are protected against damage from a chainsaw blade.
What We Love:
Sold in pairs to provide protection to both arms, not just the left
360 degree safety for the wrist, forearm and elbow areas
High visibility design ensures you're safe and seen whatever you're up to
Six layers of chainsaw protective inlay shield both arms for harm
Our Choice For: Everyone! Anyone operating a chainsaw with safety gloves should also be wearing a protective sleeve
What Information Do I Need Before Purchasing Chainsaw Gloves?
Chainsaw gloves need to be strong and durable without any loss of dexterity. This is what we recommend to look for in a chainsaw glove:
Leather – naturally tear-resistant and suitable for heavy-duty work, more leather means more protection when it comes to chainsaw and forestry gloves. Leather also maintains a high level of grip in wet conditions to reduce the chance of accidents.
Chainsaw Lining – this often features in the left hand or sometimes in both and is designed to slow or stop the chainsaw by tangling within the chain should it come in to contact.
Kevlar – normally used as stitching to reinforce joints and seams, Kevlar has more than twice the tensile strength of nylon or polyester with less elasticity.
Hydrophobic – meaning scared of water. Many chainsaw gloves are now treated hydrophobically to ensure they repel water and oil.
Now for the more technical parts...
EN Standards – What and Why?
Here at Safety Gloves we are big on EN standards and you will see them mentioned a lot throughout our site.
Essentially, EN standards are a type of quality assurance given by the European Union. To gain an EN rating an item must be rigorously tested and ratified by one of three European Standardisation Organisations (ESOs): CEN, CENELEC or ETSI.
These three bodies are deemed to have the required technical knowledge and impartiality to test products accurately, measuring anything from safety gloves to fertilizers. EN ratings are important as they offer a clear comparison between similar products with a guarantee that they have all been independently tested to the same standards.
When picking a pair of chainsaw safety gloves there are three main EN standards to bear in mind: EN 381-7, EN 388 and EN 420.
EN 381-7
This is by far the most important EN standard applicable to chainsaw gloves because it is designed solely to test suitability for use with chainsaws. EN 381 covers chainsaw clothing as a whole, with -7 referring to gloves. Each glove is tested by being put in contact with a moving chainsaw at different speeds until it cuts, which then gains the glove a classification. The different classifications are shown below:
| Test Class | Rating (metres per second) |
| --- | --- |
| Class 1 | 16 m/s chain speed |
| Class 2 | 20 m/s chain speed |
| Class 3 | 24 m/s chain speed |
| Class 4 | 28 m/s chain speed |
The higher the class, the better the protection offered. Chainsaw protection gloves must carry the EN 381-7 standard mark to show that they are EU approved and have undergone the necessary tests.
*Please note these tests are performed in a controlled environment by industry experts, do not attempt to recreate them at home.*
EN 388
Another standard to look out for is EN 388. These tests assess a gloves' physical resistance to common mechanical hazards, namely abrasion resistance, cut resistance, puncture resistance and tear resistance. Chainsaw gloves tend to be used in harsh environments so it is crucial that they are durable enough to withstand general wear and tear – an EN 388 rating provides this peace of mind.
Abrasion Resistance
Resistance to abrasion is an key facet of chainsaw gloves. Sawdust and chippings that come into contact with the gloves can cause them to deteriorate over time so it is important for the gloves to be able to withstand the prolonged friction. Abrasion resistance is measured on a scale of 1 to 4 by taking a sample glove and seeing how many cycles (abrasion by sandpaper under a stipulated pressure) is required to abrade the glove.
Cut Resistance
Cut resistance allows you to handle sharp objects without risking injury to your hands. EN 388 measures cut resistance on a scale between 1 and 5 by determining how many continuous cycles are needed to cut through the exterior of the sample glove.
Tear Resistance
Resistance to tearing is another important factor for chainsaw gloves as chainsaws do not cut like a knife but rather rip and tear when in contact with material. Tear resistance is measured on a scale between 1 and 4 by finding the amount of force that is necessary (in Newton's) to tear the glove.
Puncture Resistance
To measure puncture resistance, the amount of force required to penetrate the glove with a standard sized point is measured. Please be aware that the highest level of puncture resistance may not protect against very sharp points such as glass or needles — please check the individual product pages for more information.
The table below shows a summary of the tests and possible scores within the EN-388 standards:
Test
Performance Level
1
2
3
4
5
Abrasion Resistance (Cycles)
100
500
2000
8000
N/A
Blade Cut Resistance (Factor)
1.2
2.5
5
10
20
Tear Resistance (Newton's)
10
25
50
75
N/A
Puncture Resistance (Newton's)
20
60
100

150

N/A
EN 420
The final EN standard to bear in mind is EN 420. This covers basic requirements in terms of safety and construction, for example:
The gloves themselves should not impose a risk or cause injury
The pH of the gloves should be as close as possible to neutral
Where the gloves are leather, the pH should be between 3.5 and 9.5
Specifically states any substances used that may cause allergies
EN 420 also ensures the gloves are also sized according to an agreed European common hand size, so that there are no discrepancies occurring between different brands or different styles. The sizing is explained in the description of each product.
With all this information in mind, we hope our guide has allowed you to make an informed decision as to which pair of chainsaw safety gloves are right for you. If you would like to get in contact with us, please leave a comment below, or get in touch via Twitter or Facebook! If you would like to see more chainsaw safety gloves, please click here to see our full selection.