Our Best Washing Up Gloves 2021
Thursday, 10 December 2020 | Admin
All too often, the washing up gloves you find in supermarkets are far too short, which can cause water or detergents to infiltrate your gloves and irritate your skin. Thankfully, we're here to show you where you can buy a pair of long gloves perfect for washing up. Read on to find out what Our Best Washing Up Gloves are and what they can do for you!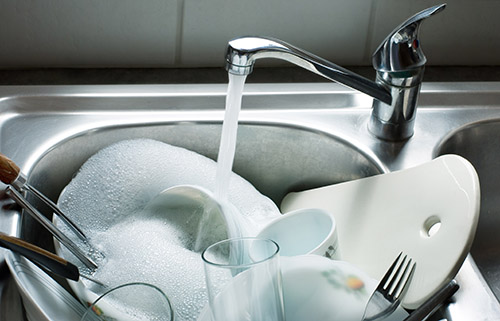 So What are Our Best Washing Up Gloves?
These gloves are highly popular for their purpose, so it'll probably come as no surprise to some of you that our top pick is the Polyco Deep Sink Extra Long Rubber Washing Up Gloves! Designed to prevent the ingress of water, these gloves are perfect for those whose skin is easily irritated – or those who simply want additional hand protection in the kitchen!
Why Are the Long Washing Up Gloves Our Favourites?
We've all been there: performing that daily gruelling task that is washing up, only to find that you've reached too far into the sink and your slightly-too-short gloves have filled with water. Thankfully the Polyco Washing Up Gloves are an easy and effective solution to this issue. As they are 38cm in length, the gloves are an excellent way of ensuring your hands and arms remain protected while you wash pots, pans and dishes.
Prevents Irritation
When water gets in your gloves, this tends to cause additional chafing and friction from wet hands, which can in turn increase your risk of skin irritation or damage. Ensure these problems are a thing of the past with the Polyco Deep Sink Washing Up Gloves!
Flock-Lined Design
Not only are these Polyco Deep Sink Gloves extra long in design, but they also feature a flock lining for increased comfort. This makes it easier for you to don and doff the gloves, meaning that when you finish washing up for the evening you're truly finished; gone are the days when you have to work for five extra minutes to remove your gloves! The lining also helps to absorb perspiration so you can remain comfortable for longer periods of time.
Slip-Resistant Pattern
Protect your hands and prevent slips while washing up
All too often, gloves can reduce your grip on objects, causing plates and cutlery to fall to the floor and even break if you aren't careful. The Polyco Long Armed Rubber Gloves feature a slip-resistant pattern across the palms to improve your grip on objects – even when your hands are submerged in water. This prevents breakages and speeds up the process!
Perfect for Household and Professional Use
These Extra Long Rubber Gloves are so good that we actually recommend them for both household and professional use. Whether it's to tackle the never-ending pile of dishes in your own kitchen each evening or you work as a dishwasher at a restaurant, these gloves are the perfect solution. They're so good we even use them in the office!
For a task that you perform every day, it's important that you remain comfortable. Our Deep Sink Extra Long Rubber Washing Up Gloves are designed to ensure this daily chore is as pleasant as it can be.
Who are the Polyco Deep Sink Washing Up Gloves For?
Quite simply: you! We all have to wash dishes, but there's no reason to struggle through this process anymore. These long washing up gloves are perfect if you have a deep sink filled with water and a daunting task ahead of you. Whether you're washing household dishes, you work in a restaurant, or you're a janitor, these gloves are the perfect solution to your needs.
Washing Up Gloves at SafetyGloves.co.uk
At SafetyGloves.co.uk, we're always concerned about your hand safety – whether you're using a chainsaw or washing up. If these gloves aren't quite what you're looking for, we stock a wide range of Washing Up Gloves that might be more suited to your needs. We even have the latex-free Supertouch Nitrile N15 Latex-Free Washing Up Gloves if you have a skin sensitivity to latex.
Have any questions or anything to add? Let us know in the comments below, or find us on Facebook and Twitter!
Price is per pair of gloves
Ideal for household applications like washing dishes
Latex-free to help prevent allergic reactions
Protects against infiltration of water to keep hands dry

| | | |
| --- | --- | --- |
| | | In stock now |

Price is per pair
Long gloves are ideal for washing up and kitchen work
Protects against hot water and detergents
Slip-resistant palm pattern prevent dishes from slipping out of hands

| | | |
| --- | --- | --- |
| | | In stock now |