Our Best Washing Up Gloves 2023
8 January 2023
All too often, the Washing Up Gloves you find in supermarkets are far too short, meaning water and detergent slowly infiltrate the glove, leaving a dampness that can irritate your skin. Thankfully, we're here to showcase a selection of Our Best Washing Up Gloves designed to make doing the dishes a breeze.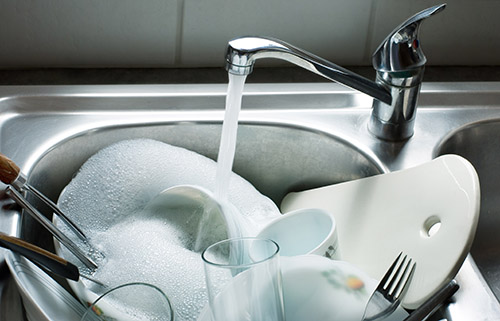 Our Most Popular Selling Washing Up Gloves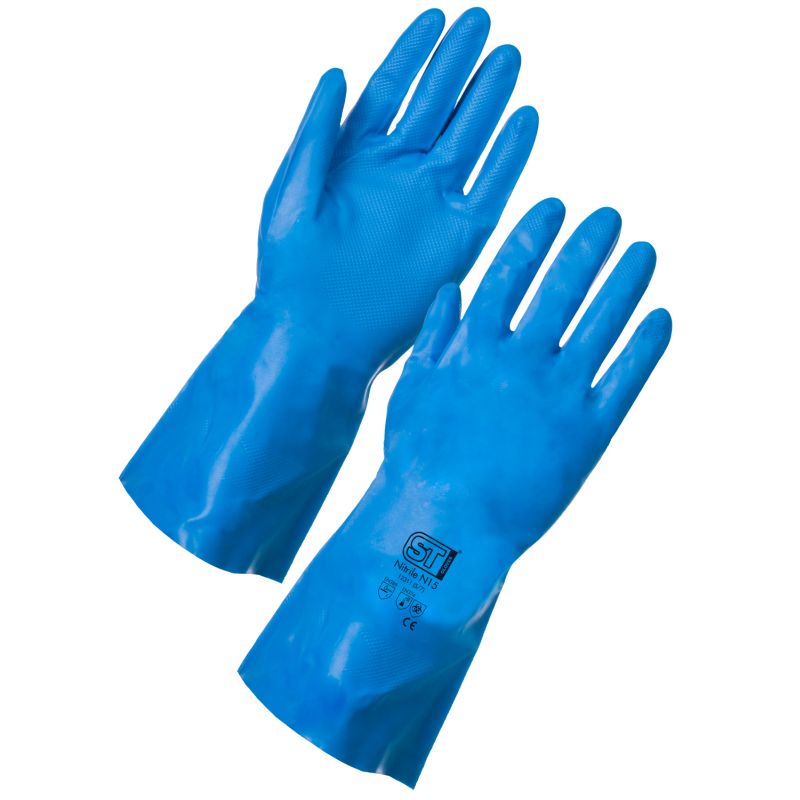 By far our most popular washing up gloves, Supertouch Nitrile N15 Latex-Free Washing Up Gloves are an inexpensive, latex-free pair of highly protective washing up gloves. Designed with reduced irritation in mind, Supertouch Nitrile Gloves come in five different sizes and two different colours, all of which are tried and tested by our customers.
What We Love:
Our most popular washing up gloves are tried, tested and reviewed by our customers
The ideal pair of inexpensive household washing up gloves
Guard against water infiltration without compromising on comfort and ease of application
Our Pick For: Those after a tried, tested and loved pair of washing up gloves
Our Favourite Extended Arm Washing Up Gloves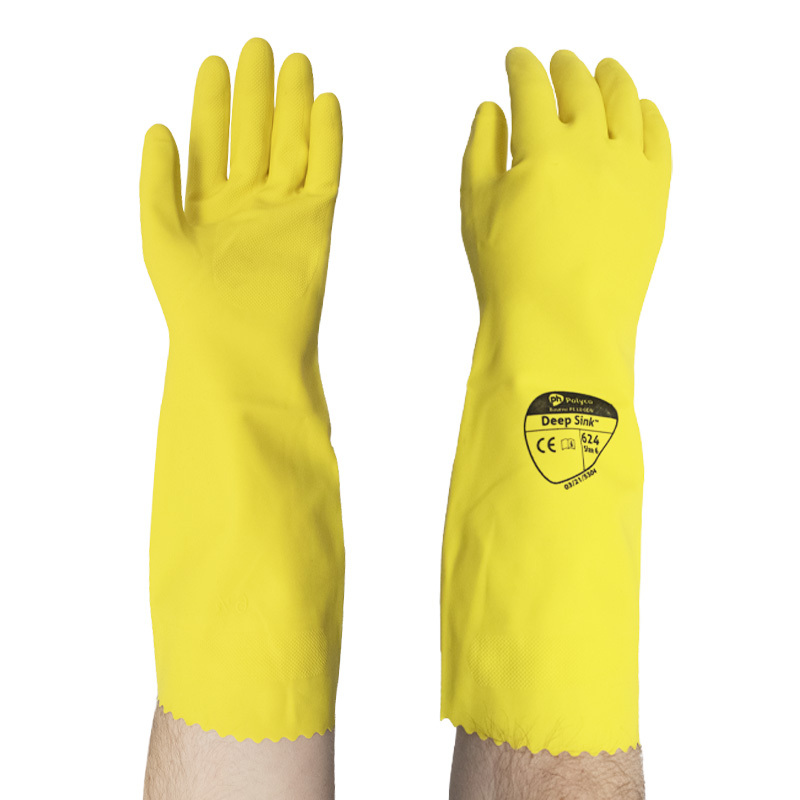 If you have a deep sink at home or at work, water can easily enter your gloves as your hands are forced to get lower in the sink. Polyco Deep Sink Extra Long Rubber Washing Up Gloves are specifically designed with an extended cuff to prevent excess moisture entering the glove and causing irritation.
What We Love:
Extended cuff prevents water entering the glove at the wrist
Longer design guards against hot water and detergents
Our choice for people with skin conditions like eczema and dermatitis
Slip-resistant palm pattern grants a better grip on cutlery and plates
Our Pick For: Washing up in deep sinks or those with skin irritation conditions like eczema or dermatitis
Our Best Rubber Washing Up Gloves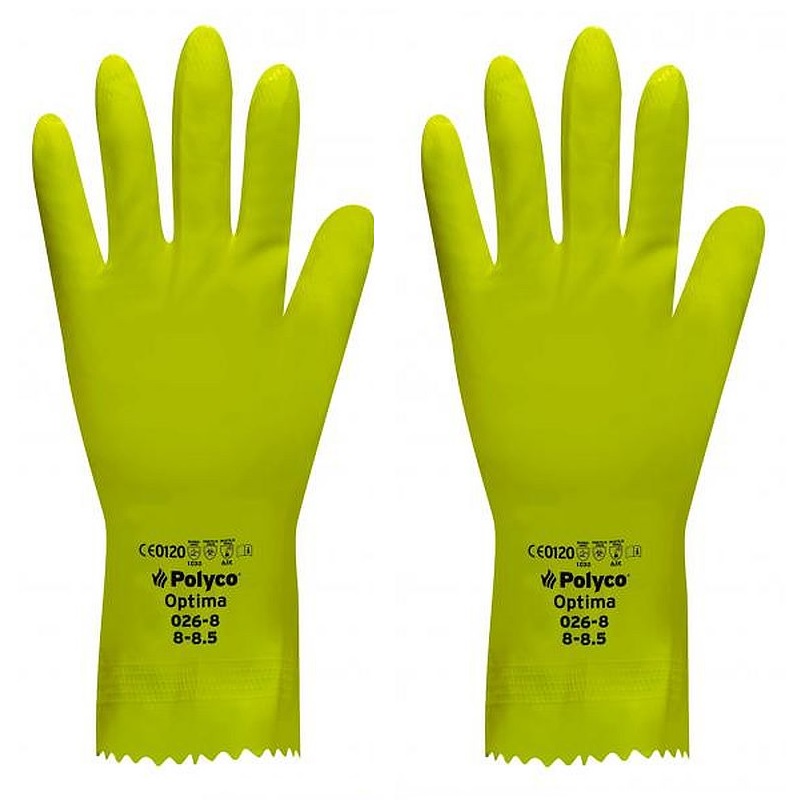 Washing up gloves are manufactured from a variety of different materials, including latex, nitrile and rubber. For those of you that prefer rubber gloves, Polyco Optima Rubber Chemical Resistant Gloves are our glove of choice. Available in five different colours, they're highly resistant to chemicals and have a texture palm and fingers to make picking up cutlery and plates look easy.
What We Love:
Available in five different colours (Yellow, Red, Pink, Green and Blue)
Sold in bulk quantities, aimed at professional cleaners and kitchen staff
Slip resistant palm pattern makes picking up objects in the sink easy
Incredibly easy to apply and remove
Our Choice For: Busy kitchens where washing up is non-stop
Our Top Pick for Bulk Purchasing Washing Gloves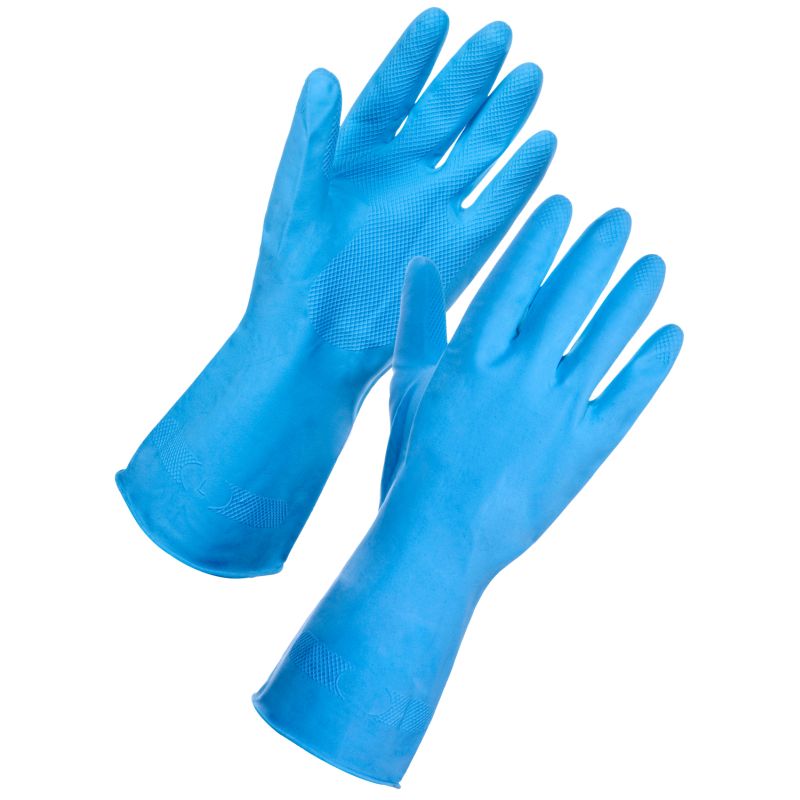 If you're a professional or you're purchasing on behalf of a company or business, you're going to want to buy in bulk to keep costs down. Supertouch Household Latex Gloves are our most cost-effective way of purchasing gloves that do a professional grade job for a fraction of the price.
What We Love:
The perfect solution for professional cleaners and companies
Available in five different colours (Blue, Green, Red, Yellow and Pink)
Tough and flexible design is perfect for hard cleaning tasks
Our Choice For: Departments bulk-purchasing gloves for large, industrial kitchens and businesses
Why Are these Washing Up Gloves Our Favourites?
We've all been there: performing that daily gruelling task that is washing up, only to find that you've reached too far into the sink and your slightly-too-short gloves have filled with water. The above selection of gloves all bring something different to the table, allowing you to wash pans, pots, dishes and cutlery without worrying about water and detergent ruining your skin underneath.
Prevents Irritation and Skin Damage
When water gets in your gloves, this tends to cause additional chafing and friction from wet hands, which can in turn increase your risk of skin irritation or damage. Throw away your cheap and poorly equipped washing up gloves and ensure these problems are a thing of the past with our carefully selection range of professional standard washing up gloves.
Slip-Resistant Pattern
All too often, gloves can reduce your grip on objects, causing plates and cutlery to fall to the floor and even break if you aren't careful. Every pair in our selection features a slip-resistant pattern at either the palm, fingers, fingertips or all three, to improve your grip on objects, even when your hands are submerged in water. This prevents breakages and speeds up the process!
Perfect for Household and Professional Use
There isn't a single pair in our selection that we wouldn't recommend for both household and industrial use. Whether it's to tackle the never-ending pile of dishes in your own kitchen each evening or you work as a dishwasher at a restaurant, these gloves are the perfect solution. They're so good we even use them in the office!
Washing Up Gloves at SafetyGloves.co.uk
At SafetyGloves.co.uk, we're always concerned about your hand safety – whether you're using a chainsaw or washing up. If these gloves aren't quite what you're looking for, we stock a wide range of Washing Up Gloves that might be more suited to your needs.
Have any questions or anything to add? Let us know in the comments below, or find us on Facebook and Twitter!