Honeywell Gloves
Honeywell
produce several highly protective work gloves which are designed for specialised applications in the food industry including butchery and oyster shucking. Featuring an extremely resistant chainmail construction, these gloves provide excellent cut and puncture protection, and are suitable for professional use.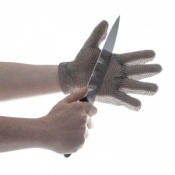 Price is per glove
Chainmail glove to be used within the food industry.
100% stainless steel with a fastening strap
Ideal for Oyster Shucking, when using knives or cutting and/or punching tools.
| | | |
| --- | --- | --- |
| | | In stock now |
---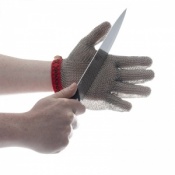 Price is per glove
Chainmesh glove with excellent cut and puncture protection
Hardwearing nylon strap for improved glove life
Fully reversible for left or right hand use
| | | |
| --- | --- | --- |
| | | In stock now |
---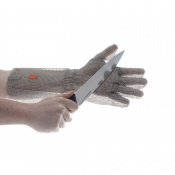 Price is per glove
Chainmail glove to be used when in contact with food
Provides user with cut and puncture protection alongside longer cuff for arm protection
100% stainless steel with a fastening strap
| | | |
| --- | --- | --- |
| | | In stock now |
---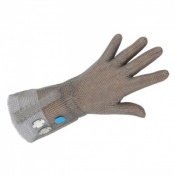 Price is per glove
Chainmail glove to be used when in contact with food
Provides user with cut and puncture protection
Ideal when using knives or cutting and/or punching tools
| | | |
| --- | --- | --- |
| | | Available, dispatched within 1-2 days |
---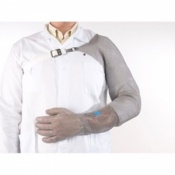 Price is per glove
Metal mesh glove with sleeve and patented stainless steel spring strap
Offers complete protection of the hand and arm up to the shoulder
Ideal for butchery, meat & poultry processing and food activities involving cutting tools
| | | |
| --- | --- | --- |
| | | Available, dispatched within 1-2 days |
---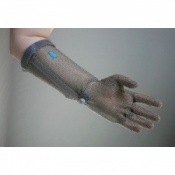 Price is per glove
Chainmail glove with cuff protection; ideal for the butchery industry
Provides user with cut and puncture protection alongside longer cuff for arm protection
100% stainless steel with a fastening strap
| | | |
| --- | --- | --- |
| | | In stock now |
---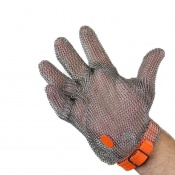 Price is per glove
Chainmesh glove with cut and puncture protection
Notched plastic strap for improved safety
Fully reversible to fit the left or right hand
| | | |
| --- | --- | --- |
| | | Available, dispatched within 1-2 days |