Cut Resistance Standards: EN388 vs ANSI
20 June 2019
A lot of our time at SafetyGloves.co.uk is spent trying to source gloves that offer the best protection for your hands. Whether you're looking for resistance to cuts, abrasion, heat, punctures or chemicals, we strive to present the best collection available. In order to be the best, we need gloves that can prove what we say, and one way to do that is through different certified standards.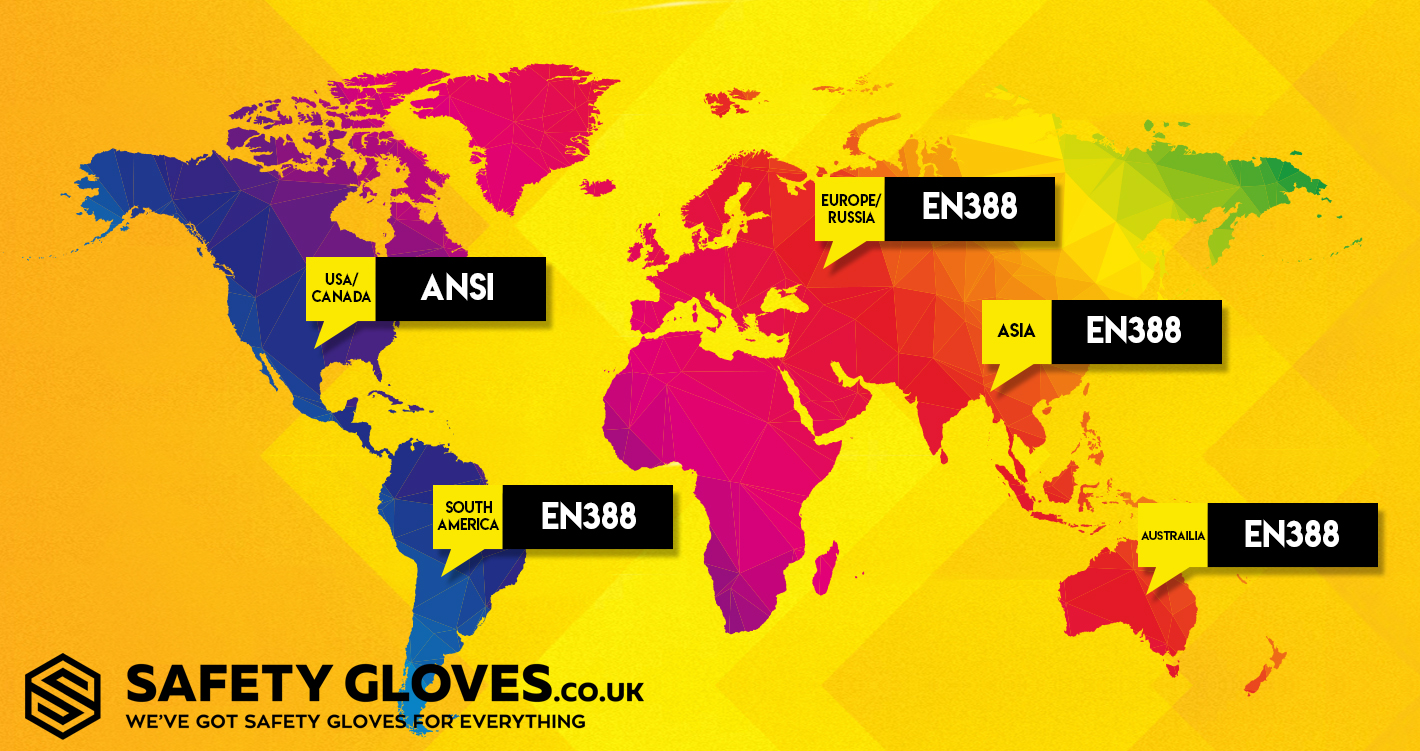 Most countries use EN 388, aside from the United States and Canada that use ANSI
EN standards are easily the most recognisable standards on any pair of work gloves, but often you'll find other numbers too. ANSI standards, which can be found by looking for the letters "ANSI" on the gloves, are the United States' equivalent of the European Union's EN Standards. Confusingly, there aren't any parallels between the two standards, so we've created this guide to help you get your head around the difference.
What Is ANSI?
ANSI stands for the American National Standards Institute, who oversee the development of consensus standards for products, services processes, systems and personnel in the United States. As a result, you'll often find that most of the safety gloves that we sell have also been tested under ANSI standards. Without ANSI accreditation, gloves would have no proof to call themselves cut or heat resistant without breaking the law in the United States.
ANSI can measure abrasion, cuts, heat and more – similar to the standards in the UK. Here we're most concerned with cuts, with ANSI ratings stretched between A1 at the bottom and A7 for the most cut resistant gloves.
What Is EN 388?
EN 388 is the European version of ANSI. With EN 388 a glove will be rated between 0 and 4 on abrasion, tears and punctures, and between 0 and 5 on cuts. Things became a little more confusing in 2016, when the standard was updated to include ISO cut resistance, a new way of measuring a gloves resistance to cuts which was represented by levels between A and F. EN 388 and ANSI are why we trust gloves, as they prove to what at extent a glove can protect you against different risks.
Why Are These Standards Confusing?
These standards can be confusing because of two reasons: firstly, both are often represented on the gloves at the same time; secondly, the two standards don't actually correspond with each other, meaning that drawing parallels between them is difficult.
As a result, it's easy to presume that a glove is or isn't cut resistant based off one of the scores, and it's also easy to get the two confused. To give more of a visual demonstration, we've created the below chart to demonstrate how the different standards line up.
EN 388:2003 Vs EN388:2016 VS ANSI Cut Resistance
The most difficult thing about the difference in standards is that they don't correspond with one another. A Level 1 under the old EN 388:2003 standard is not the same as a Level A1 under the American ANSI standard. In the chart below, you can see how the different levels roughly correspond with one another.
| EN 388:2003 | EN 388:2016 | ANSI Cut Resistance |
| --- | --- | --- |
| Level 1 | Level A or Level B | |
| Level 2 | Level A or Level B | |
| Level 3 | Level B | Level A1 |
| Level 4 | Level B and Level C | Level A2 |
| Level 5 | Level C and Level D | Level A2 |
| Level 5 | Level C and Level D | Level A3 |
| Level 5 | Level E | Level A4 |
| Level 5 | Level F | Level A5 |
| | | Level A6 |
| | | Level A7 |
What Does this Guide Mean?
This guide is designed to show you the parallels between the old EN 388 standard, the new EN 388 standard and the American ANSI cut resistance standard. Although the levels don't align entirely, you can use this as a rough estimate to the difference in cut resistance levels between the two.
Things to Look Out For
Under the old EN 388 standard, Level 5 cut resistance spans four cut resistance levels under the new standard. There is a difference between a low Level 5 rating and a high Level 5 rating, so it's worth finding out what the gloves achieved under the new EN 388:2016 standard if possible. Even then, from this graph you can see that a Level F under the new standard is still some distance away from the Level A7 found at the top of the ANSI Cut Resistance levels.
What Does This Mean in Practice?
All of our Portwest range come with the ANSI standards on the back of the gloves. So for example, the Portwest Level 5 Cut Resistant PU Coated Gloves A622GR received an ANSI score of A3, however they received a cut level resistance of Level 5 under EN 388:2003 and Level C under EN 388:2016. You can locate the ANSI cut resistance level to the right of the label, and the EN standard to the left of the label.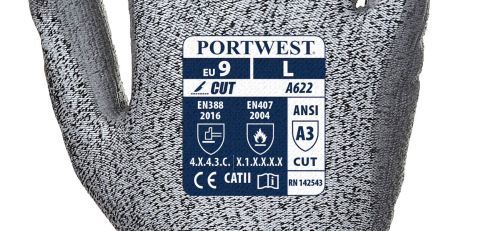 The A3 to the right is the ANSI result, and the Level X and Level C to the left is the EN 388 cut resistance level
What Does This Mean When Buying My Safety Gloves?
As long as you remember that there isn't equivalence between the two (or three) scores, then there isn't too much to worry about. Generally, if you're in the UK or the EU, you want to stick to EN 388, and if you're in the United States then you want to stick to ANSI. For more information you can visit our EN 388 Explained blog, and for our range of cut-resistant gloves you can visit our Cut Resistance Gloves category.
Please note that the table is for guidance purposes only, and we recommend that you consult official regulatory guidelines.
If you have any questions, or anything to add tell us in the comments below, or find us on Facebook and Twitter!