Our Best Waterproof Thermal Work Gloves
Thursday, 12 July 2018
Thermal Gloves and Waterproof Gloves are well suited to many different environments, but sometimes a glove needs to have both qualities. That is why here at SafetyGloves.co.uk, we've taken the time to source thermal waterproof gloves from across the globe. When working in winter you can be met with harsh winds and rain, and when working with water the temperature only has to be a few degrees above zero to cause serious health conditions.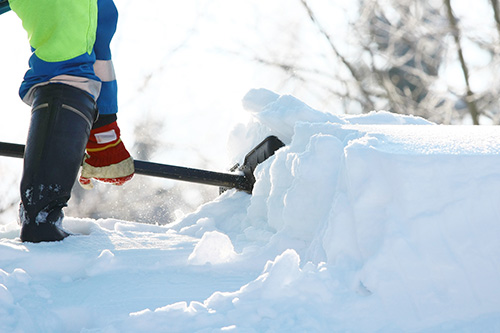 Thermal waterproof gloves are perfect for wintry conditions
Our range of thermal waterproof gloves can boost productivity, prevent frostbite and keep hands warm when you need it most. Taking into account cold resistance, glove material, dexterity and price, we've compiled this list of Our Best Thermal Waterproof Work Gloves so that you know which gloves to buy for next winter. So go ahead and have a read, we've tried to make the list as varied as possible so that as many different qualities as possible are considered.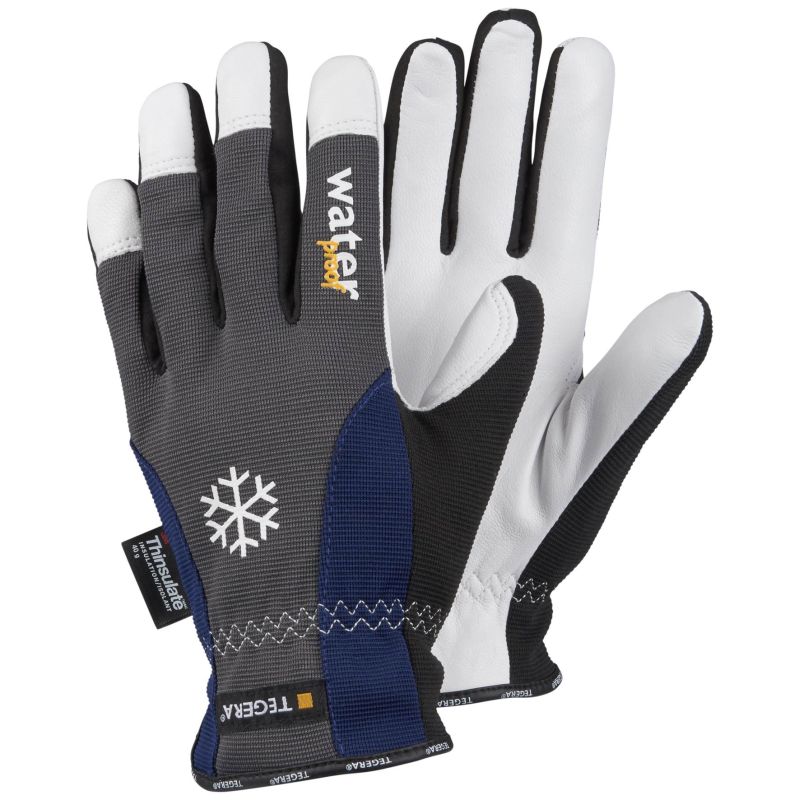 Ejendals Tegera 29
5 Thermal Waterproof Work Gloves
The Ejendals Tegera 295 Waterproof Thermal Work Gloves are simply some of the best pairs of gloves on the market, combining exceptional cold and water resistance with high dexterity. Their lining is called Thinsulate, a combination of a thin lining and exceptional insulation, helping to ensure that the gloves can withstand temperatures as low as -30°C.
Furthermore they offer total waterproof capabilities. This isn't an exaggeration either, as the gloves can be lowered into a bucket of water for up to 30 minutes and you still won't feel a drop of water. Sensitive, dexterous, mechanically strong and cold resistant, these gloves are number one in the thermal waterproof category.
Key Features: Goatskin leather protects from mechanical risks; can withstand freezing temperatures and cold water; offers flexibility and sensitivity ideal for handling.
Shop Now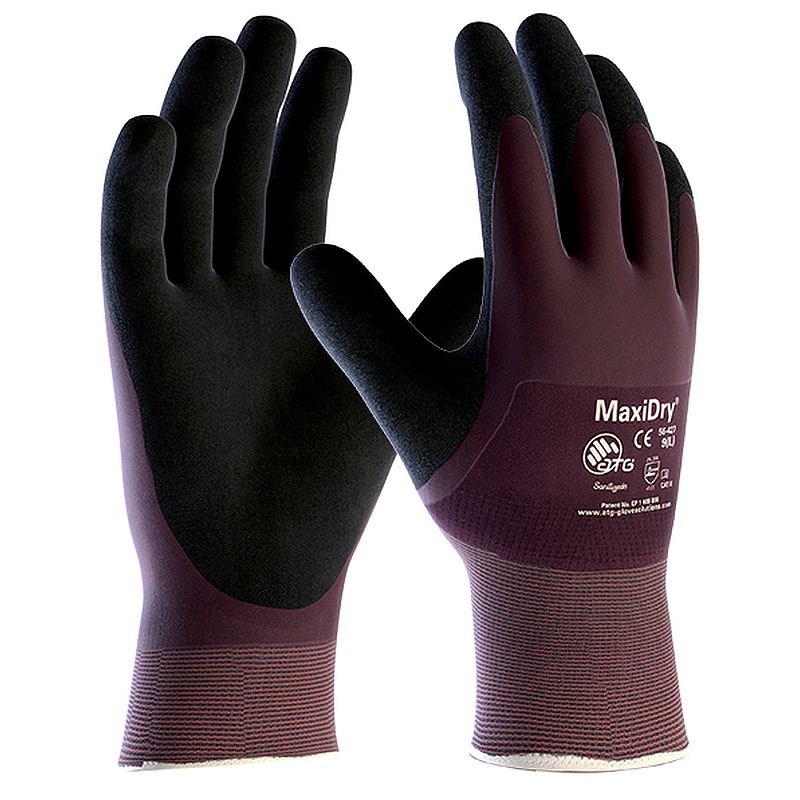 MaxiDry Zero Thermal Gloves 56-451
Incorporating exceptional thermal resistance with high liquid repellence, the MaxiDry Zero Thermal Gloves 56-451 make our list because of their reliance on excellent, innovative and brand new technology. By using MaxiDry's THERMtech platform, these gloves manage to combine high dexterity and a total waterproof design with thermal resistance of temperatures going down to -30°C (-22°F). Certified skin safe these gloves suit anyone with sensitive hands or anyone who requires total control, as optimised grip and a super flexible coating ensure comfortable use during general handling.
Key Features: THERMtech platform offers exceptional water and cold resistance; synthetic coating offers outstanding grip and mechanical protection; soft design ensures enhanced comfort.
Shop Now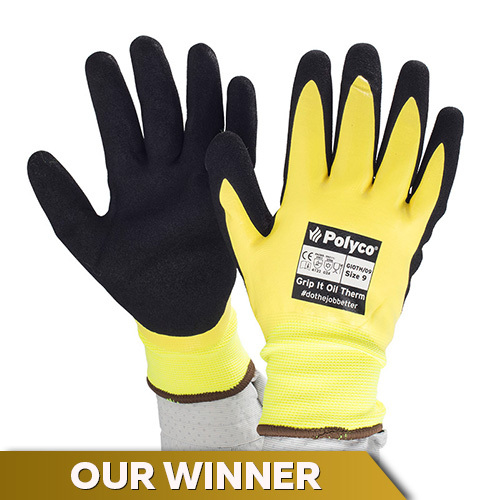 Polyco Grip It Oil Therm Hi-Vis Waterproof Gioth Gloves
If you work in oil, you'll be aware that risks are posed by slippery conditions, liquids, and intense and adverse temperatures depending on your workplace. A double nitrile coating means that the Polyco Grip It Oil Therm Hi-Vis Waterproof GIOTH Gloves protect well from the infiltration of liquids while special microfoam bubbles infused with thermal coating keep hands warm when in cold conditions. A soft liner ensures long-lasting comfort, while the unique hi-vis design makes the gloves perfect for dimly lit, cold and wet conditions during winter.
Key Features: Double nitrile coating layer resists most liquids; microfoam coating ensures hands stay warm; hi-vis design ideal for dark, wet working conditions.
Shop Now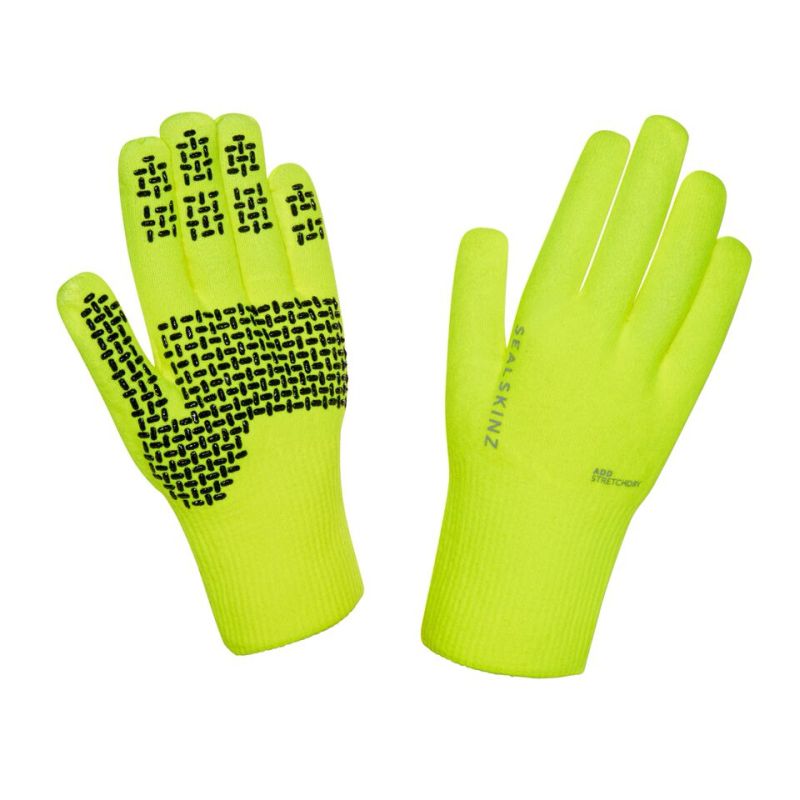 SealSkinz Ultra Grip Hi Vis Gloves 121161701701
We could not create a top 5 list of our best thermal waterproof gloves without including SealSkinz, and no SealSkinz glove offers as much versatility and protection as the SealSkinz Ultra Grip Hi Vis Gloves 121161701701. As usual with SealSkinz, the Ultra Hi Vis Gloves use StretchDry technology that features Hydrophilic membranes that block water from entering the gloves and allow perspiration to leave the gloves in order to keep the hands feeling fresh. With a dotted palm for grip and the close fitting stretch knit liner proving to be an effective barrier against wind, these gloves are exceptional when used in challenging weather scenarios.
Key Features: StretchDry technology prevents liquid from entering the glove; super strong material is ideal for harsh weather conditions; acts as a barrier between water, wind and the skin.
Shop Now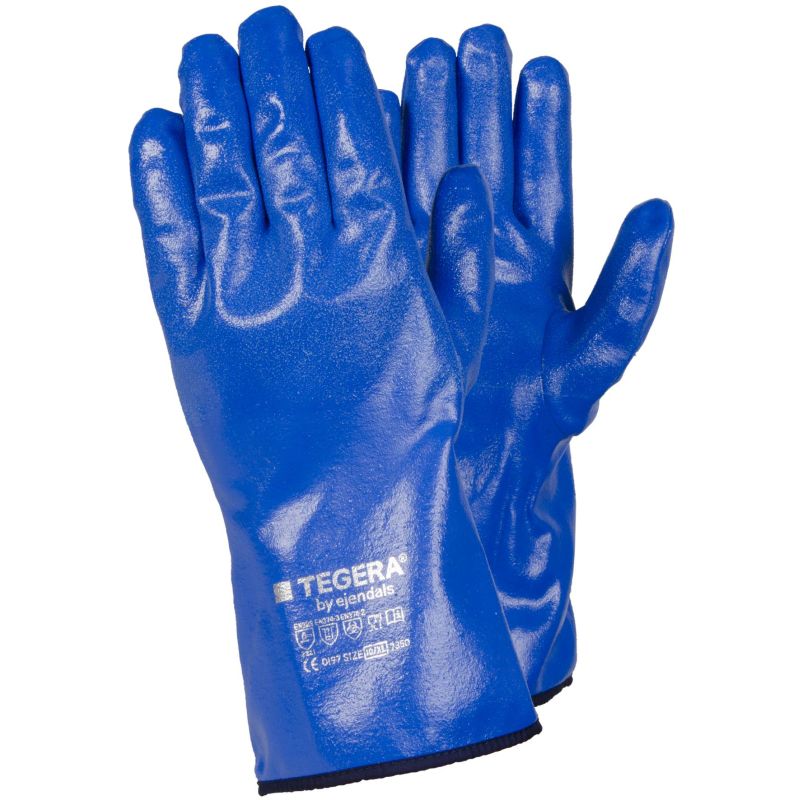 Ejendals Tegera 7350 Insulated Nitrile Chemical Resistant Gloves
A little bit different to the other gloves on our list, the Ejendals Tegera 7350 Insulated Nitrile Chemical Resistant Gloves offer protection against risks that include chemicals, dirt, water, fats, oils and adverse temperatures. They are no ordinary chemical-resistant gloves, and their versatility within the chemical industry means that they protect against most of the risks faced by workers when at work. They feature high all round mechanical protection, are suitable for use with foods, oils and chemicals, and are well suited to use in any laboratory or chemical plant.
Key Features: Offers protection against chemicals, dirt, water, fats and cold temperatures; offer excellent all round mechanical protection; extra long design ensures protection across most of the forearm.
Stay Warm, Safe and Dry This Winter
These are our five top thermal waterproof gloves, however have a wide range of Thermal Waterproof Gloves on our website. We also have a range of Thermal Gloves and a range of Waterproof Gloves if you want to narrow your search further.
Have any questions, or anything to add? Tell us in the comments below, or find us on Facebook and Twitter!
Fully waterproof and insulated gloves for cold work
Enables high flexibility, ideal for gripping and handling tools
Designed to be durable and withstand harsh, cold conditions
Price is per pair of gloves

| | | |
| --- | --- | --- |
| | | In stock now |

Thermal and waterproof gloves suitable for temperatures as low as -30°C
Protect hands against cold, water, oil, heat, abrasion and tears
Comfort, grip and flexibility ideal for many indoor and outdoor industries
Price is per pair of gloves

| | | |
| --- | --- | --- |
| | | In stock now |

Offers excellent dexterity and freedom of movement
Infused with microfoam bubbles for improved grip
Ideal for use in cold, wet and oily conditions
Price is per pair

| | | |
| --- | --- | --- |
| | | In stock now |

Price is per pair
Dotted palm and fingers provides an excellent grip in wet and dry weather
Hi vis colour for working in dark/foggy conditions where increased awareness is required
SealSkinz StretchDry technology is 100% waterproof whilst still being breathable and stretches to fit the hand comfortably

| | | |
| --- | --- | --- |
| | | In stock now |

Price is per pair
Approved for foodstuff handling
Winter-lined with fleece for use in cold environments
Suitable for petrochemical and marine work

| | | |
| --- | --- | --- |
| | | In stock now |