Our Best Waterproof Thermal Work Gloves
Thursday, 12 July 2018
Thermal Gloves and Waterproof Gloves are well suited to many different environments, but sometimes a glove needs to have both qualities. That is why here at SafetyGloves.co.uk, we've taken the time to source thermal waterproof gloves from across the globe. When working in winter you can be met with harsh winds and rain, and when working with water the temperature only has to be a few degrees above zero to cause serious health conditions.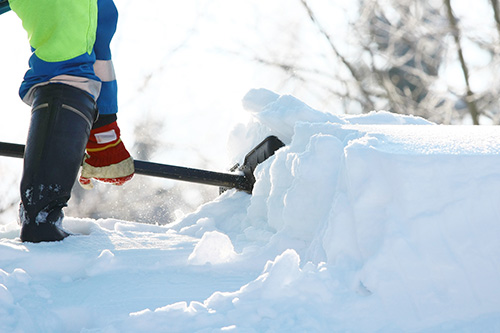 Thermal waterproof gloves are perfect for wintry conditions
Our range of thermal waterproof gloves can boost productivity, prevent frostbite and keep hands warm when you need it most. Taking into account cold resistance, glove material, dexterity and price, we've compiled this list of Our Best Thermal Waterproof Work Gloves so that you know which gloves to buy for next winter. So go ahead and have a read, we've tried to make the list as varied as possible so that as many different qualities as possible are considered.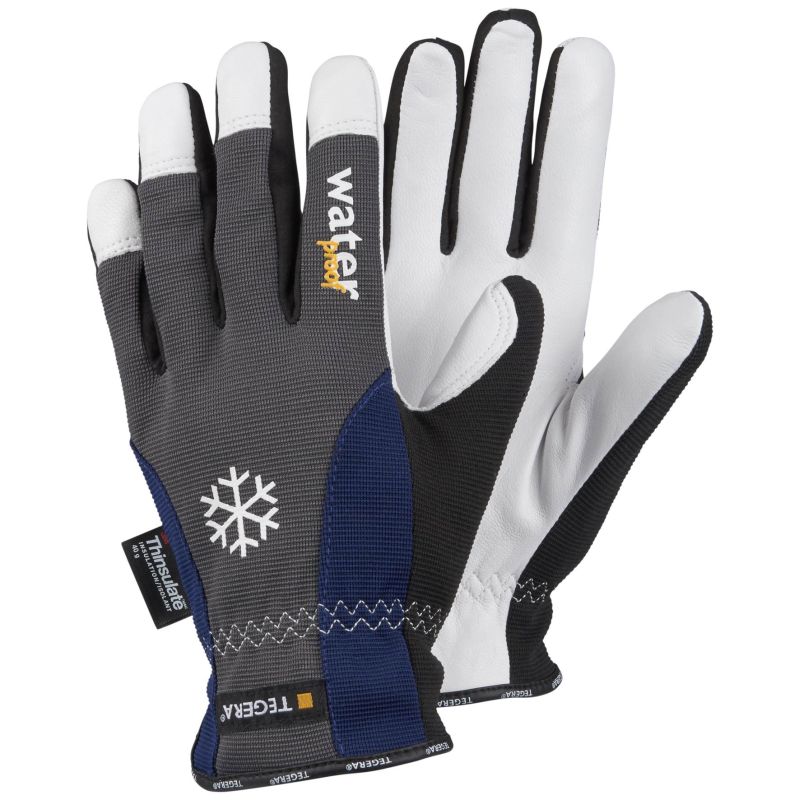 Ejendals Tegera 29
5 Thermal Waterproof Work Gloves
The Ejendals Tegera 295 Waterproof Thermal Work Gloves are simply some of the best pairs of gloves on the market, combining exceptional cold and water resistance with high dexterity. Their lining is called Thinsulate, a combination of a thin lining and exceptional insulation, helping to ensure that the gloves can withstand temperatures as low as -30°C.
Furthermore they offer total waterproof capabilities. This isn't an exaggeration either, as the gloves can be lowered into a bucket of water for up to 30 minutes and you still won't feel a drop of water. Sensitive, dexterous, mechanically strong and cold resistant, these gloves are number one in the thermal waterproof category.
Key Features: Goatskin leather protects from mechanical risks; can withstand freezing temperatures and cold water; offers flexibility and sensitivity ideal for handling.
Shop Now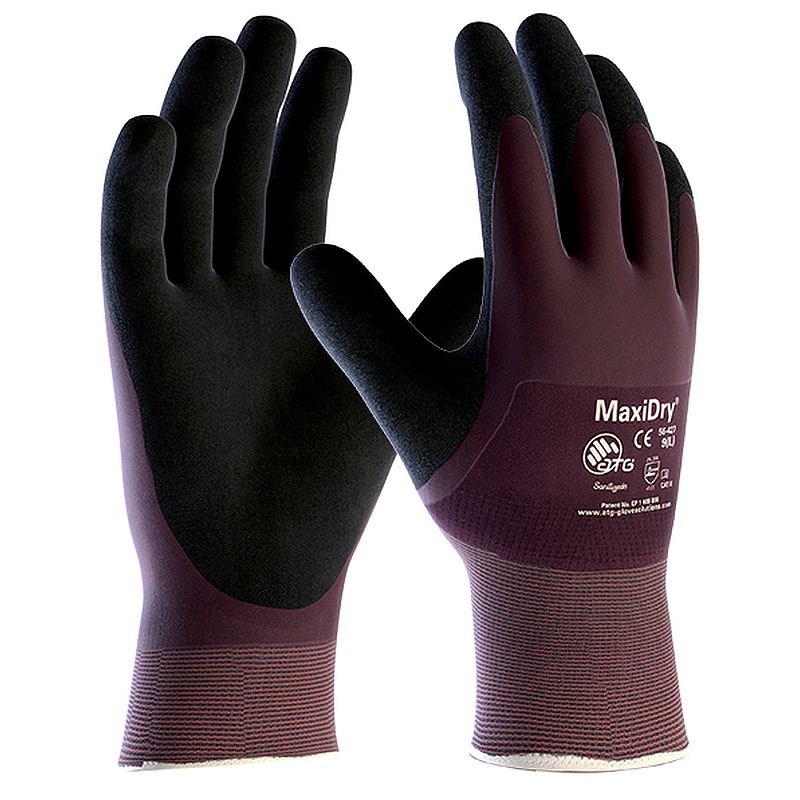 MaxiDry Zero Thermal Gloves 56-451
Incorporating exceptional thermal resistance with high liquid repellence, the MaxiDry Zero Thermal Gloves 56-451 make our list because of their reliance on excellent, innovative and brand new technology. By using MaxiDry's THERMtech platform, these gloves manage to combine high dexterity and a total waterproof design with thermal resistance of temperatures going down to -30°C (-22°F). Certified skin safe these gloves suit anyone with sensitive hands or anyone who requires total control, as optimised grip and a super flexible coating ensure comfortable use during general handling.
Key Features: THERMtech platform offers exceptional water and cold resistance; synthetic coating offers outstanding grip and mechanical protection; soft design ensures enhanced comfort.
Shop Now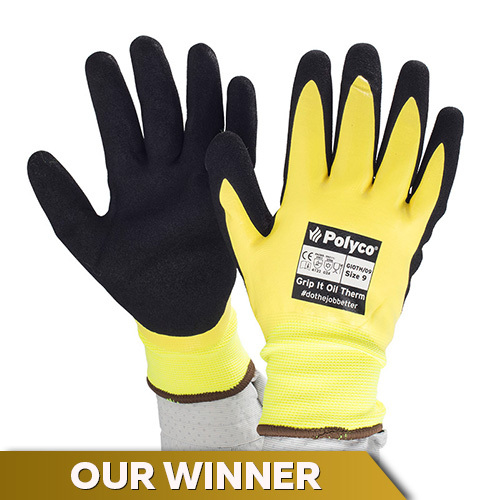 Polyco Grip It Oil Therm Hi-Vis Waterproof Gioth Gloves
If you work in oil, you'll be aware that risks are posed by slippery conditions, liquids, and intense and adverse temperatures depending on your workplace. A double nitrile coating means that the Polyco Grip It Oil Therm Hi-Vis Waterproof GIOTH Gloves protect well from the infiltration of liquids while special microfoam bubbles infused with thermal coating keep hands warm when in cold conditions. A soft liner ensures long-lasting comfort, while the unique hi-vis design makes the gloves perfect for dimly lit, cold and wet conditions during winter.
Key Features: Double nitrile coating layer resists most liquids; microfoam coating ensures hands stay warm; hi-vis design ideal for dark, wet working conditions.
Shop Now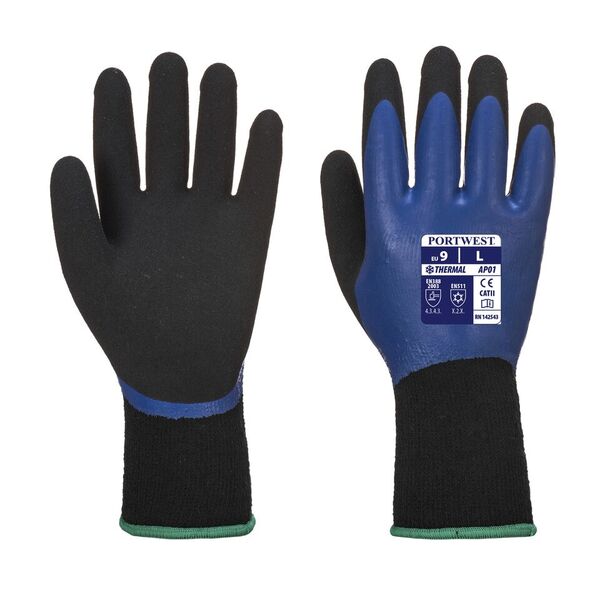 Portwest Thermal Dual Latex Acrylic Gloves AP01
The Portwest Thermal Dual Latex Acrylic Gloves AP01 are outstanding for cold weather, with level 4 contact cold resistance meaning that you can handle -50°C materials without your fingers feeling the pinch. Their double latex layer prevents a single drop of water from passing through the gloves, while also providing the grip needed for tricky tasks at work. Despite all this cold and water resistance, the gloves are fairly dexterous with a 13 gauge liner, perfect for a wide range of handling jobs.
Key Features: Double latex coating for a waterproof design; designed to resist freezing temperatures; offers strong dexterity.
Shop Now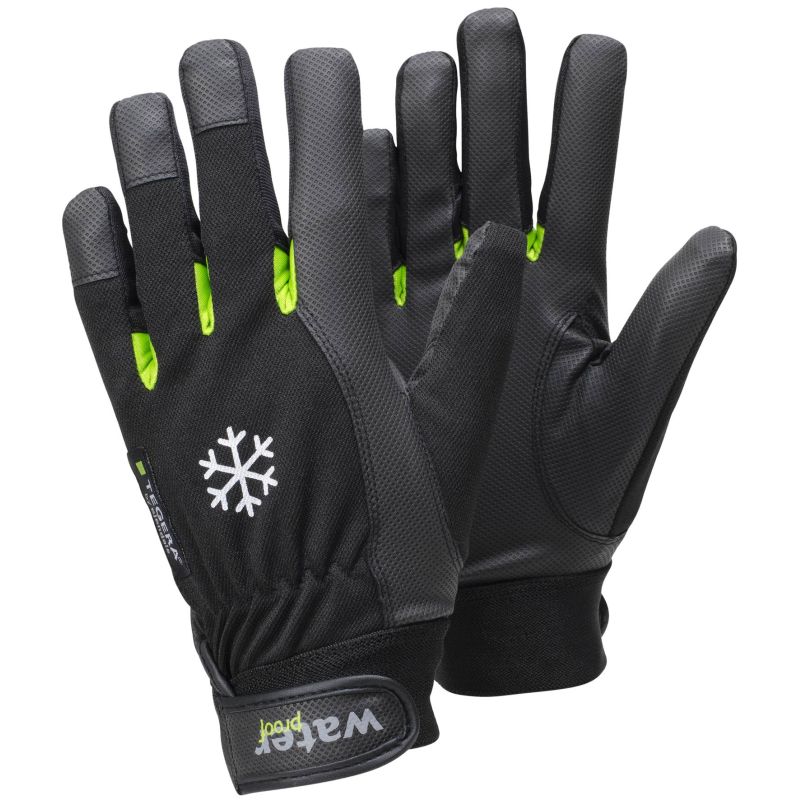 Ejendals Tegera 517 Insulated Waterproof Precision Work Gloves
The penultimate option on our list are the highly popular Ejendals Tegera 517 Insulated Waterproof Precision Work Gloves offering a unique combination of -10°C temperature resistance, complete water protection, style, flexibility and a little mechanical protection too. These gloves are as suitable for a cyclist as they are for outdoor work, with their contemporary black and hi-vis yellow liner providing an impressive level of resistance to knocks and scrapes. It's their dexterity and sensitivity that really makes these gloves stand out though, offering enough dexterity that you can handle the most tricky of items; don't believe us? Take a look at our Dexterity Test!
Key Features: Offer excellent resistance to the cold; are completely waterproof; are stylish to wear; offer superb dexterity.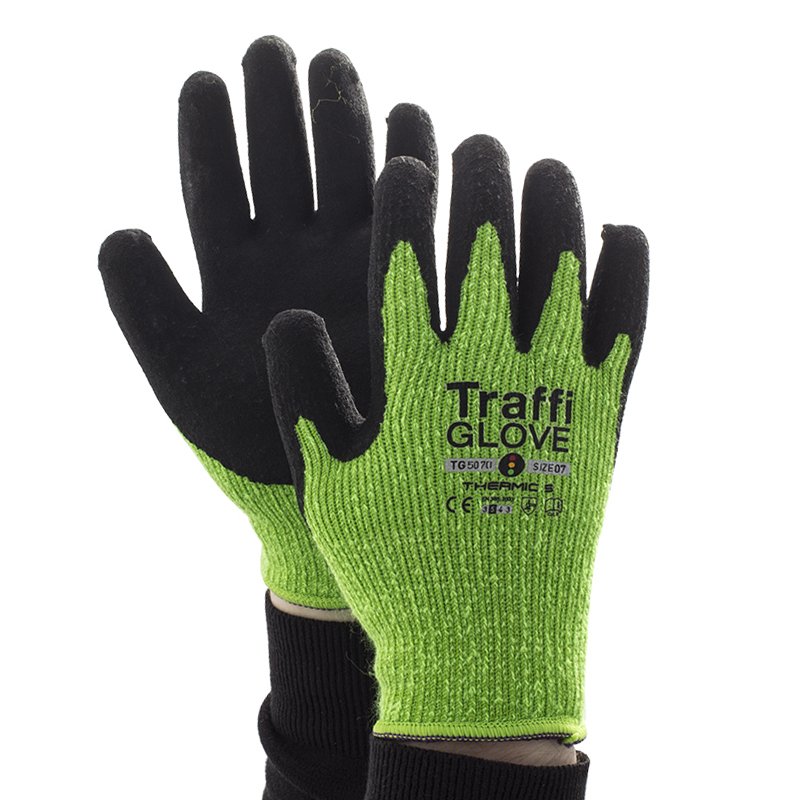 TraffiGlove TG5070 Thermic Cut Level 5 Safety Gloves
TraffiGlove are famous across the country for their simplified stance on the cut rating system, and we couldn't make a top 5 thermal waterproof list without including the countries favourite range. The TraffiGlove TG5070 Thermic Cut Level 5 Safety Gloves are at the high end of the TraffiGlove system, offering exceptional level 5 cut resistance, combined with -10°C temperature resistance, and they are waterproof too. These gloves are top picks in the scaffolding, building, engineering industries, particularly when those tasks are outdoors in cold, wintry weather.
Key Features: Outstanding level 5 cut resistance, superb dexterity for handling items; offer total resistance to water and the cold.
Stay Warm, Safe and Dry This Winter
These are our five top thermal waterproof gloves, however have a wide range of Thermal Waterproof Gloves on our website. We also have a range of Thermal Gloves and a range of Waterproof Gloves if you want to narrow your search further.
Have any questions, or anything to add? Tell us in the comments below, or find us on Facebook and Twitter!
Fully waterproof and insulated gloves for cold work
Enables high flexibility, ideal for gripping and handling tools
Designed to be durable and withstand harsh, cold conditions
Price is per pair of gloves

| | | |
| --- | --- | --- |
| | | In stock now |

Thermal and waterproof gloves suitable for temperatures as low as -30°C
Protect hands against cold, water, oil, heat, abrasion and tears
Comfort, grip and flexibility ideal for many indoor and outdoor industries
Price is per pair of gloves

| | | |
| --- | --- | --- |
| | | In stock now |

Offers excellent dexterity and freedom of movement
Infused with microfoam bubbles for improved grip
Ideal for use in cold, wet and oily conditions
Price is per pair

| | | |
| --- | --- | --- |
| | | In stock now |

Price is per pair
Dotted palm and fingers provides an excellent grip in wet and dry weather
Hi vis colour for working in dark/foggy conditions where increased awareness is required
SealSkinz StretchDry technology is 100% waterproof whilst still being breathable and stretches to fit the hand comfortably

| | | |
| --- | --- | --- |
| | | This product has been discontinued. Please contact our team for details of the latest release. |

Price is per pair
Approved for foodstuff handling
Winter-lined with fleece for use in cold environments
Suitable for petrochemical and marine work

| | | |
| --- | --- | --- |
| | | In stock now |