Our Best Dentist Gloves 2022
Thursday, 2 December 2021 | Admin
Dentistry gloves must prevent harmful bacteria from passing between the dentist and the patient, therefore the dentist has a vital role in selecting the right dentistry gloves for the job. Getting the choice wrong could lead to switching the gloves more often than necessary, and the last thing you want during a dentistry procedure is for the gloves to break during use.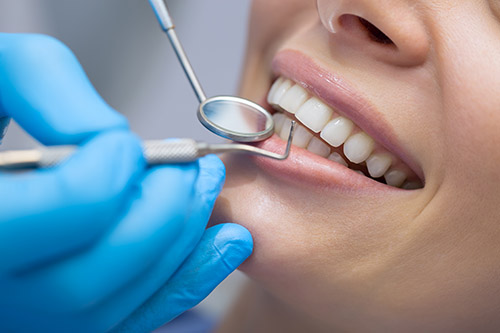 Dentistry gloves are designed to prevent cross-contamination
We stock a wide range of medical standard gloves here at Safety Gloves, and we understand the need for simplicity when it comes to choosing the right dentistry gloves when there is such a large number available. So taking into account things such as longevity, durability, tensile strength and dexterity, we've compiled this list of Our Best Dentist Gloves so that you aren't stuck for choice when it comes to your hands.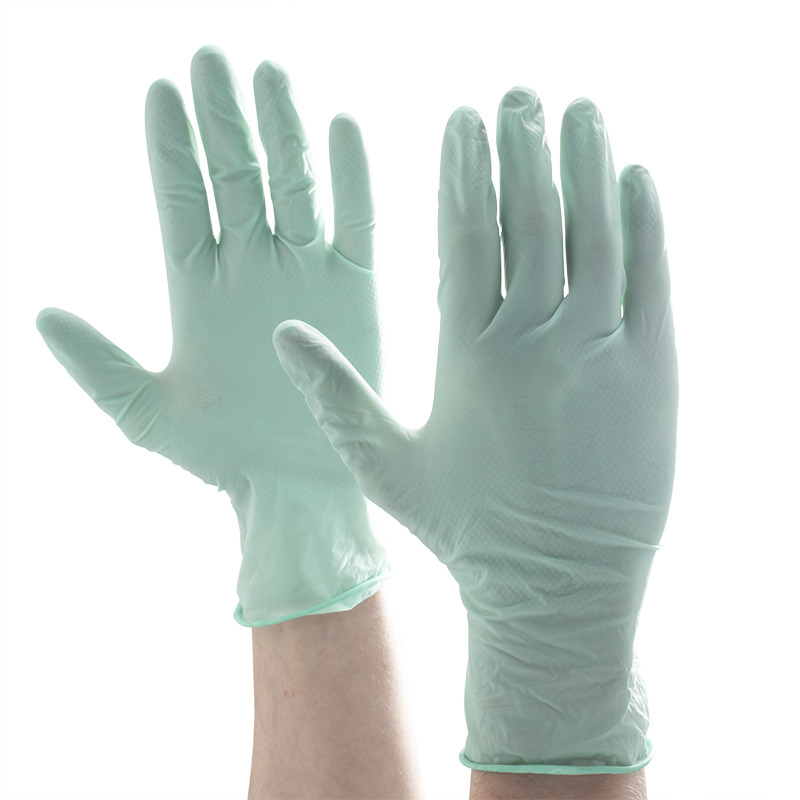 Aurelia Refresh Medical Grade Latex Gloves 99225-9
A lot of people are nervous when they visit the dentist, and with the thought of a stranger fiddling with your teeth, it's not hard to see why. The Aurelia Refresh Medical Grade Latex Gloves 99225-9 come with a subtle peppermint scent, which is designed to immediately put the patient at ease, while the honeycomb texture provides the two things a dentist wants most: grip and longevity. Supplied in a highly visible light blue, these non-sterile disposable gloves achieve a AQL of 1.5, meaning that it takes a lot for them to leak liquids.
Key Features: Supplied in boxes of 100 gloves; come with a subtle peppermint scent that eases patient; tough honeycomb texture and latex liner ensures longevity.
Shop Now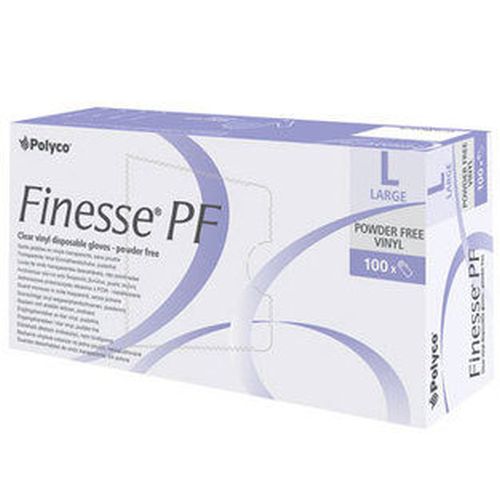 Polyco Finesse Powder Free Clear Vinyl Disposable GLoves MPF25
The Polyco Finesse Powder Free Clear Vinyl Disposable Gloves MPF25 are designed to beat what healthcare professionals battle most: medical contamination. Their high-quality synthetic stretch vinyl is powder-free, meaning that the patient on the end of the gloves doesn't receive any contamination from the gloves either. Their fantastic dexterity and sensitivity supported by the second skin feel make these a popular choice among dentists, especially as they perform some of the most intricate and tactile tasks in healthcare.
Key features: Supplied in a box of 100 gloves; offers exceptional protection against medical contamination; provides top levels of dexterity ideal for intricate tasks.
Shop Now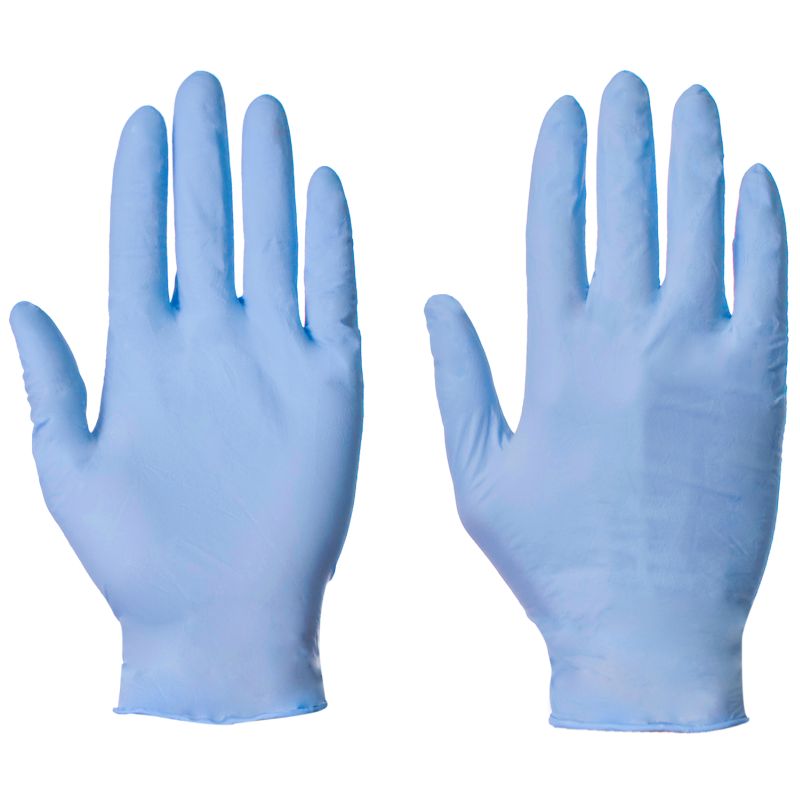 Supertouch Powderfree Nitrile Gloves 1261/1269/1267
Two of the most important things to consider when choosing your dentist gloves are strength and dexterity. There aren't many gloves that combine the two quite like the Supertouch Powderfree Nitrile Gloves, which use a tough nitrile liner to offer long-lasting strength. They conform to EN 455 making them well suited to a medical environment, while the latex and powder-free construction is perfect for users who may suffer from allergies.
Key features: Supplied in a box of 100 gloves; conforms to EN 455; uses a tough nitrile coating to provide longevity.
Shop Now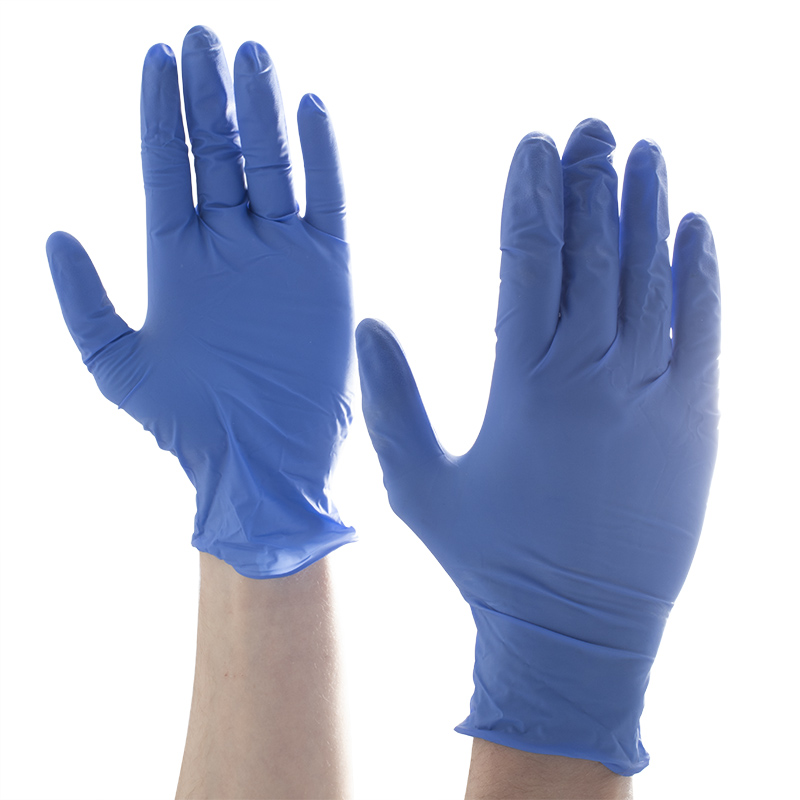 Aurelia Robust 9.0 Medical Grade Nitrile Gloves 96895-9
The reason why Aurelia make our list twice is because they consistently produce exceptional disposable gloves that excel in a profession such as dentistry. The Aurelia Robust 9.0 Medical Grade Nitrile Gloves 96895-9 can resist from forces of up to 9 neutrons while their AQL level of 1.5 prevents liquids from seeping through the gloves. Their professional blue design and easy-fitting construction is perfect in an industry such as dentistry, especially where you don't want your gloves to break.
Key features: Supplied in a box of 100 gloves; super tough design offers high longevity; easy to don and doff making them perfect for dentistry.
Shop Now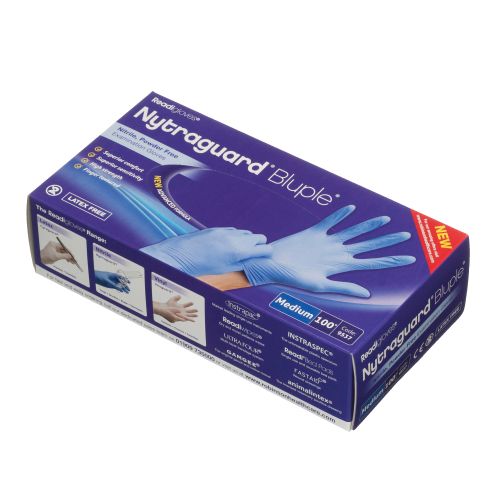 Readigloves Nytraguard Bluple Nitrile Gloves
Using the most innovative technology to provide high performance in hand care across the medical and healthcare industries, the Readigloves Nytraguard Bluple Nitrile Gloves use synthetic materials to combine dexterity, sensitivity and high tensile strength. The main material is acrylonitrile butadiene, which is ideal for those who suffer from latex allergies, while also offering excellent long-lasting durability. The high technological design also ensures that the gloves are not designed with microscopic holes, meaning that even during highly tactile and dexterous tasks, the patient will not be contaminated.
Key features: Supplied in a box of 100 or 200 gloves; ensures users will not be contaminated or suffer from an allergic reaction; offers long-lasting durability.
Shop Now
Keep You and Your Patient Safe
If you're a dentist then it's important to choose the right glove, because a wrong move could leave you constantly changing your gloves or leaving your patient at risk of contamination. If you haven't found the gloves you like here, have a look at our Dentist Gloves range, where you're sure to find the gloves suited to you.
Have any questions, or anything to add? Tell us in the comments below, or find us on Facebook and Twitter!
Price is per box of 100 gloves
Green coloured gloves with a subtle peppermint scent
Honeycomb texture for a secure grip
Ambidextrous for full dexterity on either hand

| | | |
| --- | --- | --- |
| | | This product has been discontinued. Please contact our team for details of the latest release. |

Price is per box of 100 disposable gloves
Ideal for use in pharmaceuticals, salons and clinics
PF powder-free design reduces contamination risk
Also suitable for food contact

| | | |
| --- | --- | --- |
| | | In stock now |

Price is per pack of 100 gloves
Ideal for clinical, automotives, engineering and food processing use
Medical grade and powder-free for skin health
Stronger construction ideal for extended use

| | | |
| --- | --- | --- |
| | | In stock now |

Price is per box of 100 gloves
Blue nitrile construction for added protection and support
Can resist forces up to 9 Newtons
Blue/purple coloured ambidextrous gloves

| | | |
| --- | --- | --- |
| | | In stock now |

Available in boxes of 100 or 200 gloves
Designed for medical and healthcare applications
Thinner and more dexterous than most vinyl gloves
Textured finger tips for increased grip

| | | |
| --- | --- | --- |
| | | In stock now |