Best Food Preparation Gloves
Tuesday, 21 July 2015 | John
Food preparation gloves are designed to make preparing food as safe and as hygienic as possible, helping to avoid conditions such as salmonella and food poisoning. Because of how vital safety and hygiene are to food preparation, we know how important it is that you find the right glove for your needs. Here are the five best food preparation gloves available from us at Safety Gloves.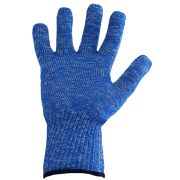 This glove is designed to make butchering meat by hand as safe as possible. The yarn is highly cut resistant thanks to Dyneema technology, which is 15 times stronger than steel while still being incredibly lightweight. Because professional butchering knives are much sharper than the knives you'd use at home, the risk of serious injury is much higher. The extra protection offered by Bladeshades is paramount to ensure a safe working environment when you are dealing with knives and, despite what you may think about knitted gloves, these gloves have a very low linting lining that gives great hygiene control and makes them suitable for dealing with food.
Shop Now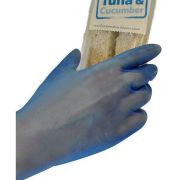 These gloves are perfect for preventing food contamination while stacking food on shelves. They are incredibly lightweight and contain no latex, which makes them ideal for those with a latex allergy. These are suitable for use with all foods except fatty foods for short but frequent contact with foodstuffs, which also makes them great for serving food at a bakery.
Shop Now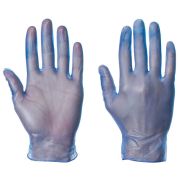 These gloves are available in a variety of colours, making them perfect for distinguishing between different uses in the kitchen, for example for handling raw meat, poultry and vegetables. This goes a long way towards preventing cross-contamination and helping your kitchen stay as hygienic as possible. The corn starch powdered lining makes the gloves easy to put on and take off and is certified GMO-free, which ensures the most natural and safest lining possible.
Shop Now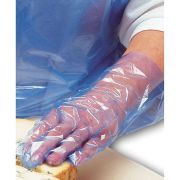 The longer sleeve on the Polyco Bodyguards Digit Polythene Disposable Gloves are great for further reducing the risk of food becoming contaminated, and the gloves also feature a textured surface which helps improve grip and reduces the chance of any spillages or accidents happening. These gloves are suitable for all food categories for short term repeated contact.
Shop Now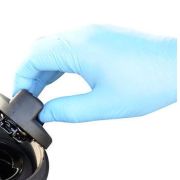 The nitrile construction of these gloves makes them incredibly strong; stronger than vinyl, rubber or latex. Because of this they are fantastic in wet or oily conditions, making them great for preparing food. And even with this extra strength they have fantastic sensitivity to touch. These gloves are also lightly powdered, which alongside making the gloves easier to put on and take off also helps absorb moisture. This helps stop the inside of the glove becoming too sweaty. Their textured fingertips give them additional grip and dexterity, and the beaded cuff gives the gloves additional reinforcement while also helping to prevent liquid roll-back.
Shop Now
We hope this selection helps make your purchasing choice easier, but if you'd like to see a wider variety of food preparation gloves you can always head over to Safety Gloves and check out our full range of Food Preparation Gloves.
Price is per single glove
Food approved safety gloves for domestic and professional use
Use of Dyneema technology for uncompromised dexterity
Available in black, blue, red or white

| | | |
| --- | --- | --- |
| | | In stock now |

Price is per dispenser of 100 gloves
Powder free vinyl disposable gloves
Food contact approved
Rolled cuff for additional protection

| | | |
| --- | --- | --- |
| | | Currently unavailable. Please check back soon |

Supplied in packs of 100 gloves
Food contact approved disposable gloves
Powder free reducing risk of contamination
Textured surface for improved grip
Latex Free

| | | |
| --- | --- | --- |
| | | Currently unavailable. Please check back soon |

Price is per box of 100 gloves
Ideal for use in pharmaceuticals, laboratories and kitchens
Protects from dirt contamination
Also suitable for food contact

| | | |
| --- | --- | --- |
| | | Currently unavailable. Please check back soon |