Best Welding Gloves 2023
14 August 2023
From construction, to engineering and automotive, welding is a huge part of many industries, but it can also be incredibly dangerous. Wearing a pair of gloves that protects your hands without getting in the way of your work is essential.
We've put together this Best Welding Gloves guide to make finding the the right pair a little easier. They're some of our bestselling gloves, tried, tested and loved by our customers.
What Does this Guide Cover?
Best Overall Welding Gloves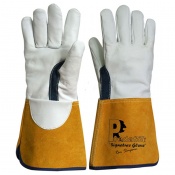 Pair of premium quality goat-hide welding gloves
Resistant to contact with 100°C material
Extra wide cuff to easily fit over garments
KEVLAR stitching protects against abrasions, scratches and cuts
| | | |
| --- | --- | --- |
| | | In stock now |
Editor's Verdict: Our bestselling welding gloves, the Predator Pred6 Prestige TIG Gloves offer high levels of resistance to burning and molten splashes for versatile welding protection. Made of goat hide leather with Kevlar stitching, they're really tough, while remaining supple and flexible enough for more intricate work. They also feature long flared cuffs which easily fit over your sleeves for more complete protection.
Customer's Verdict: "These gloves are well made, durable and provide a good balance of dexterity and protection. A very good choice if you are doing a bit of fitting up/fabrication whilst welding as the gloves have a bit more protection. Am currently using them to TIG weld schd. 40 Carbon pipe. Recommended." - ★★★★★ Robin
Best Welding Gauntlets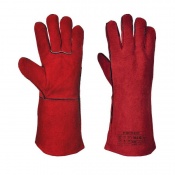 Ideal for metal handling and welding applications
Offers resistance to contact temperatures of 250°C
Strong all round mechanical protection
Price shown is per pair of gauntlets
| | | |
| --- | --- | --- |
| | | In stock now |
Editor's Verdict: Although a lot of the welding gloves on this list are classified as gauntlets, these Portwest Gauntlets are the only pair able to withstand contact temperatures up to a huge 250°C. They're graded against EN welding standards as type A gloves, making them suitable for MIG welding and more dangerous welding tasks. With their soft cotton lining, they'll keep your hands comfortable and protected too.
Customer's Verdict: "The gloves I bought are of an excellent quality at an exceptionally reasonable price. The service from the company is also top draw" - ★★★★★ Nick
Best Arc Flash Gloves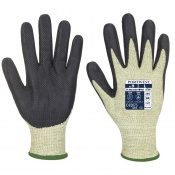 Arc flash gloves with heat, cut, abrasion and tear resistance
Ideal for arc welding, mechanics and heat resistant required work
Flame resistant neoprene allows for excellent grip
Price is per pair of gloves
| | | |
| --- | --- | --- |
| | | In stock now |
Editor's Verdict: Arc flash is incredibly dangerous, so wearing the right protection while arc welding is essential. These Portwest Arc Flash Welding Gloves are lined with highly protective aramid fibres to offer a contact heat resistance up to 100°C and an Arc Rating (ATPV) of 9.5cal/cm2. They also boast high levels of mechanical resistance and are coated in neoprene for the most secure grip.
Best TIG Welding Gloves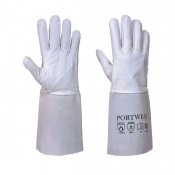 Well suited for type B welding (Tig Welding)
Goatskin construction offers high dexterity
Stitched with para-aramid fibres for heat resistance
Price shown is per pair of gauntlets
| | | |
| --- | --- | --- |
| | | In stock now |
Editor's Verdict: When it comes to TIG welding, you need gloves that protect your hands while retaining dexterity and fine motor skills. The Portwest A520 Gloves have a much closer-fitting design than classic gauntlet gloves, prioritising flexibility over bulky shielding. Nevertheless the supple and tough goatskin build is stitched with heat-resistant para-aramid fibres to resist burning and molten splash. With extended cuffs, they shield your wrists and lower forearms too.
Customer's Verdict: "Super feel with these gloves, makes welding a joy." - ★★★★★ Robert
Best Welding Gloves for Women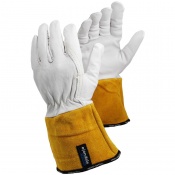 Price is per pair
Withstands contact heat up to 100°C
Good fingertip sensitivity for fine handling
Suitable for welding and assembly
| | | |
| --- | --- | --- |
| | | In stock now |
Editor's Verdict: While many welding gloves are supplied in a single size or just a few sizes, the Ejendals 130A Gloves are available in six sizes from Extra Small (Size 6) to XX-Large (Size 7), making them suitable for men and women, plus a wide range of hands sizes. The right fit is no good without the right protection, but that's no issue with the Tegera Gauntlets. They're graded and recommended for TIG welding and boast high levels of molten splash and contact heat resistance.
Customer's Verdict: "Excellent Welding Gloves for Women - I searched high and low to find the right size welding gloves. Most suppliers only offer the large gloves suitable for men's size hands. These are absolutely perfect and well made, too. I am really happy with this purchase!" - ★★★★★ Helen
Safety Standards of Welding Gloves
The welding gloves you choose will depend on the heat levels, materials and tools involved. Finding the most appropriate pair for you is made easier with safety standards. Whether you're MIG, TIG or arc welding, safety comes first.
What Do the Standards Mean?
The two most standards that you want to take note while purchasing are EN 407 and EN 12477. EN 407 certifies a glove resistance to heat, molten metal, burning and flames, while EN 12477 certifies if a glove is suitable for welding. If you are arc welding, ASTM F2675 should also be considered, which measures protection against electric arc.
EN 407
A glove will be given a score between 0 and 4 on six different factors with 4 being the highest level of resistance and 0 being the lowest level of resistance. The six different factors that a glove is tested to are Burning, Contact Heat, Convective Heat, Radiant Heat, Molten Metal (Small Splashes), Molten Metal (Large Splashes).
EN 12477
If a glove is certified to EN 12477 it means that it is suitable for welding. A glove that meets this standards will either be awarded Type A or Type B.
Type A refers to gloves that tend to be for higher welding risk jobs where higher levels of heat resistance are required, however they tend to offer a little less dexterity. Alternatively, Type B welding gloves tend to be for lower risk welding tasks such as TIG welding, and come with a higher level of dexterity.
ASTM F267
This standard determines the protection levels of the gloves against electric arcs by measuring the level of thermal energy present before and after electric arc exposure. The result is shown as ATPV (Arc Thermal Performance Value)/cm². The higher this figure is, the greater the level of protection in the event of arc exposure.
Choose the Right Welding Gloves
The gloves above are some of our favourites, tried and tested for welding, but we understand if you're still not sure. Why not have a look at some of our other welding glove categories, we're sure you'll find a pair for you.
Have any questions about welding gloves or anything to add? Tell us in the comments below, or find us on Facebook and Twitter!