Best Chemical Resistant Gloves 2023
21 July 2015 | John
Chemical resistant gloves are designed to help make handling and using chemicals as safe as possible. Because of the inherent dangers present when dealing with dangerous chemicals, we know how vital it is that you have the best possible protection. There's a lot of choice on the market with regards to chemically resistant gloves and with each one claiming to be the "best chemical resistant glove", how do you choose? To help you out here are the best 5 chemical resistant gloves available from us at Safety Gloves.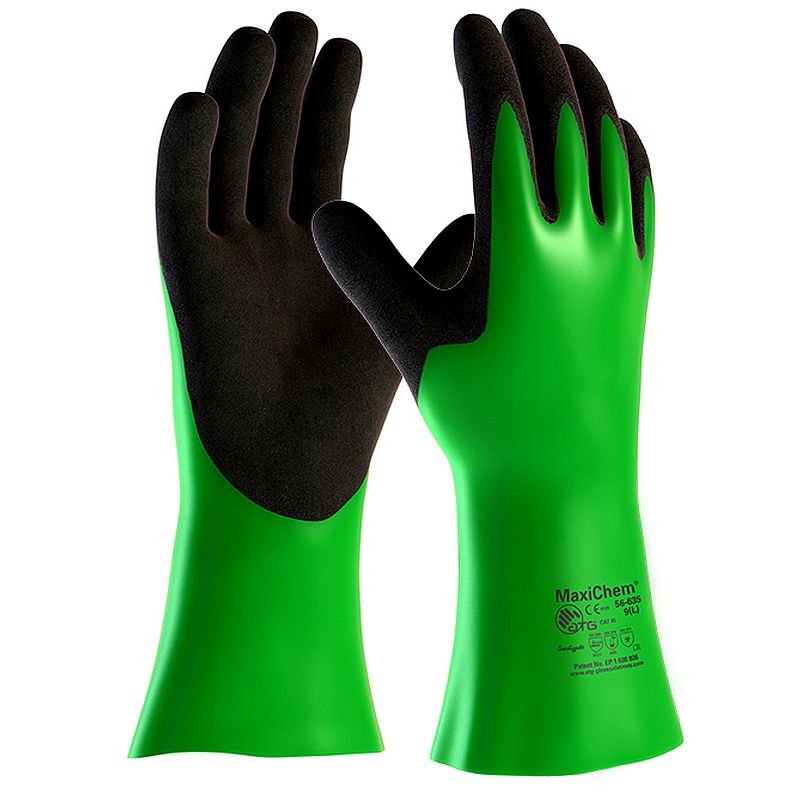 MaxiChem Chemical Resistant Gloves
This glove's chemical protection comes from LiquiTech technology, which stops liquids and chemicals from clinging to the glove. This gives the glove great chemical resistance for those using harsher chemicals for longer and its micro-cup non-slip grip finish gives you a fantastic level of grip on whatever you're holding. This makes it great for carrying bottles and vials of chemicals.
Shop Now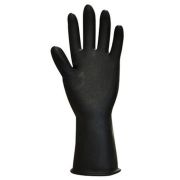 Polyco Chemprotec Unlined Heavyweight Chemical Resistant Gloves
These gloves are designed to be as comfortable as possible. Because the glove has no underlining, you can wear an underglove underneath it, so you can get the most comfortable fit possible and even greater levels of protection. This also makes the glove easier to don and remove.
The smooth outer surface prevents the glove from sticking to items, and it offers a fantastic level of chemical protection: it would take a 96% Sulphuric Acid solution over 4 hours of continuous contact to break through the glove.
Shop Now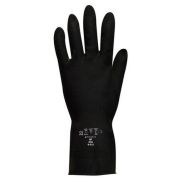 Polyco Jet Heavy Duty Chemical Resistant Gloves
These gloves specialise in dexterity and fit. The Polyco Jet Heavy Duty Chemical Resistant Gloves are ergonomically made and feature an enhanced pattern grip to ensure that you can keep hold of what you're carrying.
The glove has also been chlorinated, which not only makes the glove more durable but also makes them easier to put on. This eliminates the need for the inside of the glove to be powdered, which can pose a risk of contaminating samples, and the beaded cuff helps prevent liquid rollback.
Shop Now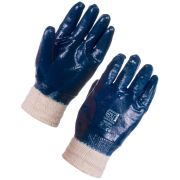 Supertouch Nitrile Heavyweight Full Dip Knit Wrist
These are made from heavy-duty nitrile, which is often used as a tougher replacement for latex. Because of this, the Supertouch Nitrile Heavyweight Full Dip Knit Wrist is fantastic at reducing the chance of a cut or abrasion in the glove developing. The heavyweight nitrile coating ensures that the gloves are equally as resistant to chemicals as they are to physical threats.
They also feature a soft cotton liner, which means that despite the thick outer coating the gloves are soft and comfortable to wear.
Shop Now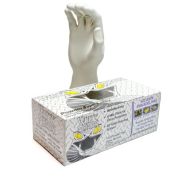 White Mamba Disposable Latex Gloves
These are some of the toughest disposable gloves available on the market today, which makes them a fantastic disposable alternative to the normally reusable chemical resistant glove. Despite the fact that they are incredibly thin, they offer a level of chemical resistance which is great for dealing with oil and lubricants.
Due to the thin construction of these gloves, they offer an incredibly high level of sensitivity that makes it easier to hold smaller items or parts.
Shop Now
We hope that this selection of the best chemical gloves makes your purchasing choice easier, but if you'd like to see a wider variety of chemical resistant gloves you can always head over to Safety Gloves and check out our full range of Chemical Resistant Gloves.
Price is per pair of gauntlet gloves
Offers resistance against oils, liquids and chemicals
Ideal for outdoor, pharmaceutical and industrial work
Designed at 35cm long to protect fingertips to elbows

| | | |
| --- | --- | --- |
| | | In stock now |

Price is per pair (Special offer on selected sizes)
Provides protection against a wide range of chemicals and cleaning agents
Excellent abrasion and tear resistance
Unlined for easy donning

| | | |
| --- | --- | --- |
| | | In stock now |

Price is per pair of chemically resistant gauntlet gloves
Ideal for heavy-duty chemical exposures like agricultural work
Unrivalled affordability for the protection provided
Heavyweight glove designed to withstand rubbing and scuffing

| | | |
| --- | --- | --- |
| | | In stock now |

Price is per pair of gloves
Ideal for engineering and maintenance work
Full dip of heavyweight nitrile for superior grease resistance
Protects well against abrasions and scuffs

| | | |
| --- | --- | --- |
| | | In stock now |

Price is per box of 100 gloves
Performs against chemicals which nitrile gloves may fail to combat
Ambidextrous & EZ-Glide donning system
One of the toughest disposables on the market; over 8.0 mils in thickness

| | | |
| --- | --- | --- |
| | | In stock now |