Best Oven Gloves
17 July 2015 | John
Because oven gloves are such a vital aspect of kitchen safety and an integral part of everyday life, we know how important it is that you get the right one to fit your needs. While every manufacturer will claim that their gloves are the "best oven gloves", it can be difficult to know which ones are actually best for you. Don't worry because here are the best 5 oven gloves as chosen by our glove experts over here at Safety Gloves.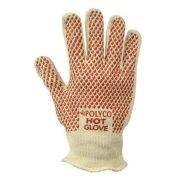 Polyco Hot Glove Heat Resistant Glove
The Polyco Hot Glove Heat Resistant Glove is fantastic for those who need a little extra grip from their oven gloves. Alongside being able to withstand up to 250°C (perfect for most home ovens), it also has a nitrile grip pattern to increase your grip on trays and pans. If you find a normal oven glove isn't giving you the hold you need, this is the glove for you.
It also features good cut and tear resistance, which increases the lifespan and safety of the glove. This means that you can use the glove again and again without having to worry about a reduction in the level of quality you are receiving.
Shop Now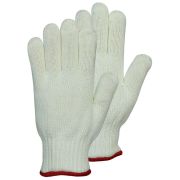 Coolskin Heat Resistant Oven Gloves
If you need more dexterity and flexibility from your glove, the Coolskin Heat Resistant Oven Gloves are the ones for you. Because the outside of the glove is made from a strong and very heat resistant synthetic fibre, they are not only flexible but they can also withstand temperatures up to 350°C.
The gloves are ambidextrous so you can put them on either hand, which makes them fast to put on in case of a culinary emergency.
Shop Now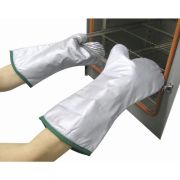 Polyco Teflon Mitt Silver Teflon Heat Resistant Glove
These gloves are made to ensure that food and oil don't stick to them. This is because of the Teflon construction and makes them very easy to clean and maintain. In addition, the gloves are available with a different coloured band on the cuff, which makes it much easier to avoid the risk of food contamination between raw and cooked food.
The extra long sleeves also give additional protection to the wrists to reduce the chance of accidental contact with hot surfaces.
Shop Now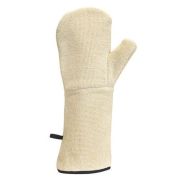 Polyco Bakers Mitt Heat Protection Gloves
This glove not only provides protection against heat and steam, but also against liquids. This makes it great for handling pans of boiling water or hot sauces. The liquid protection comes from the integrated PVC barrier which keeps water off your hands.
These also have a terry cloth shell which helps protect against cuts and abrasions, meaning the oven glove can last longer.
Shop Now
We know how important it is that your hands stay as safe as possible while cooking, so we hope that this selection helps make your choice easier. However, if you'd like to see more oven gloves you can visit Safety Gloves and check out our range of Oven Gloves.
Pair of EN 388 mechanical and contact heat resistant gloves
Provides protection up to 250°C when handling material
Double layered cotton enhances comfort and protection
Raised nitrile grip pattern enhances grip for safe handling

| | | |
| --- | --- | --- |
| | | In stock now |

Price is per pair
Meta Aramid fibre ensures heat resistance up to 250°C
Perfect for use in domestic and professional environments
Designed to last for years, the gloves are machine washable

| | | |
| --- | --- | --- |
| | | In stock now |

Pair of heat-resistant mittens with Teflon coat
Suitable for use with ovens and kilns
Designed for contact-heat protection up to 250°C
Colour-coded cuffs help to minimise risks of cross-contamination

| | | |
| --- | --- | --- |
| | | In stock now |

Pair of 250°C contact-heat resistant bakers oven mitts
Ideal for bakers, oven workers, kilns and food preparation
Innovative design resists steam and liquid
Heavyweight material runs 40cm up the arm for excellent protection

| | | |
| --- | --- | --- |
| | | Currently unavailable. Please check back soon |