Best Kevlar Gloves
Wednesday, 18 March 2015 | Admin
Safety Gloves offers a wide range of gloves, with numerous varieties represented. One the most popular type of glove we offer is the Kevlar glove. Customers are going wild for these right now and it is easy to see why, as they be suitable for copious amounts of tasks. Kevlar gloves are also widely searched for on google, demonstrating their growing popularity.
I am going to talk you through a few different Kevlar gloves and hopefully it will become abundantly clear why these items are so desired.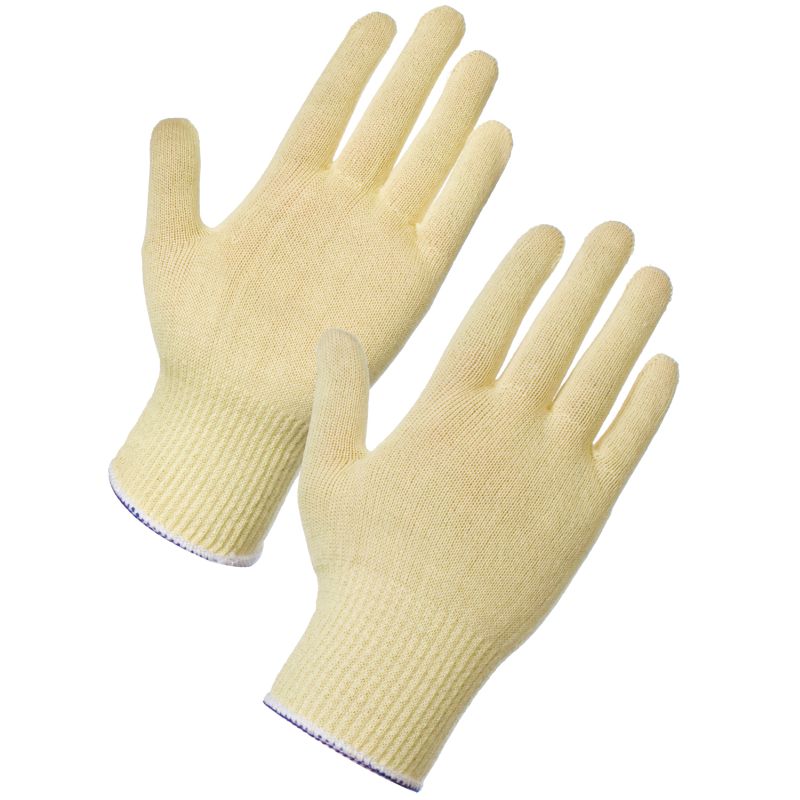 Supertouch Kevlar Gloves
Being made from durable fibre and being washable makes the Supertouch Kevlar Gloves well liked. The cut resistance aspect of these Supertouch gloves makes them great for a wide range of tasks, from plastics cutting to glass handling to car manufacturing and more inbetween. The exceptional tear resistance will give you
These Kevlar gloves are available in the following gauges: 7, 10 and 13. The higher the gauge, the more dexterity and less protection. The lower gauge gloves offer less dexterity but more protection. This means you should easily be able to find the right gauge for you.
Shop Now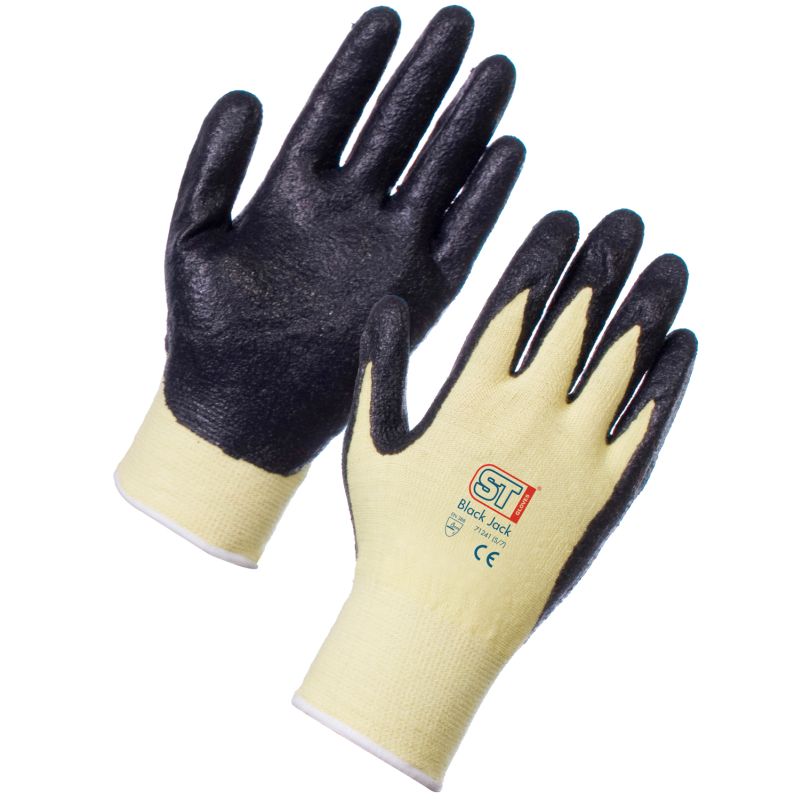 Supertouch Black Jack Kevlar Gloves
The Supertouch Black Jack Kevlar Gloves are perfect for a variety of tasks, such as light manufacturing, assembly, maintenance and transportation. This is thanks to the stone textured grip and the nitrile palm coat, and the elasticated knit wrist provides great flexibility. This is a strong yet flexible glove which will keep you protected during the job at hand.
Shop Now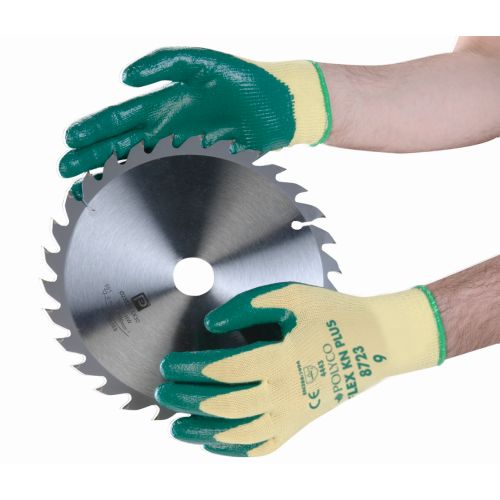 Polyco Reflex KN Plus Kevlar Cut Resistant Gloves
The Polyco Reflex KN Plus Kevlar Cut Resistant Gloves offer fantastic cut resistance and feature a seamless knitted Kevlar liner with a flexible nitrile coating.
The Polyco Reflex KN Plus Kevlar Cut Resistant Gloves are heavy duty safety gloves with their performance enhanced by the durable and puncture resistant coating. The flexible nitrile coating helps the glove achieve better sensitivity and feel.
Polyco products are engineered and manufactured to provide users with the highest levels of protection in areas where risk is greatest. Polyco products are made and quality control checked to the highest standards and introduce innovation to engineering of safety glove products.
Shop Now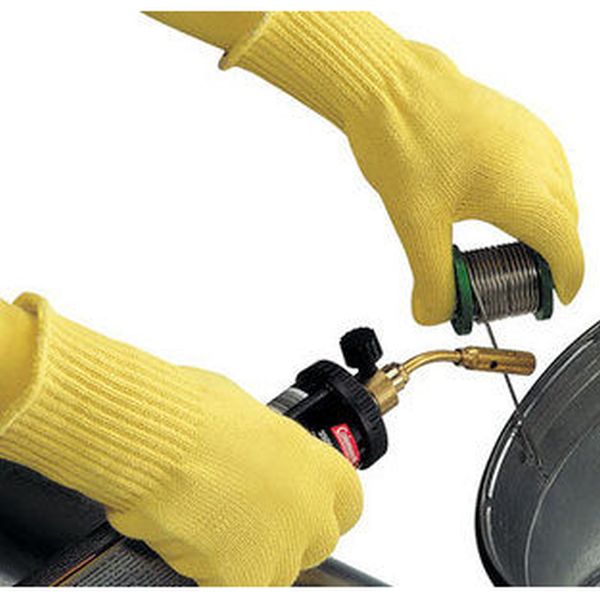 Polyco Volcano Heavyweight Kevlar Heat Resistant Glove
I have mentioned this glove in a blog before and that's because of how passionate I am about it. This Kevlar glove has numerous uses, such as: Glass Manufacturing, Steel Handling and Bakery Work. Heavyweight Kevlar gloves are very popular at the moment and this glove demonstrates why; it is the ideal choice of glove in industries where there is a risk from both cut and heat injuries. Extra-long, heat and cut resistant as well as being comfortable- this glove has it all!
Shop Now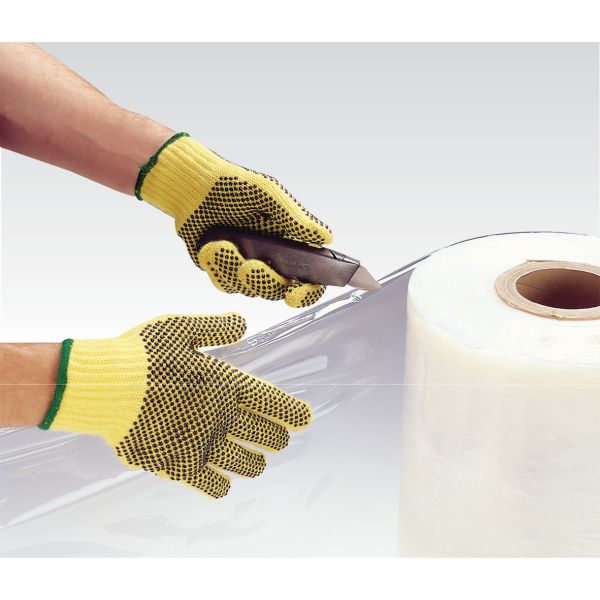 Polyco Touchstone Grip 100% Kevlar Cut Resistant Gloves
This glove has 100% Kevlar which offers increased heat resistance. Kevlar provides increased protection against cuts, slashes and abrasion, whilst maintaining a high degree of dexterity for the wearer. The glove allows hands to breathe and the great construction will not irritate hands, even if the Touchstone Grip is worn for long periods. The PVC dots covering the entire hand also add a degree of grip. The strength of the Kevlar provides cut resistance and performs fantastically well in various roles, such as steel handling, glass manufacture and glazing.
Shop Now
I hope I have demonstrated how great Kevlar gloves are. This is just a sample, there are plenty of Kevlar gloves available, so you're sure to find the right one for you.