Best Touchscreen Gloves
13 February 2018 | Eugene
The world of work is constantly changing, along with the equipment you need to do the job properly. While your protective equipment still needs to be robust and comfortable, it also has to be able to adapt to the demands of the modern workplace. This includes the use of digital devices and touchscreens, so you need gloves that are going to allow you to use all the devices you need without interrupting your work. Luckily, some manufacturers now make gloves that are touchscreen compatible, allowing you to go from task to task without a change of equipment.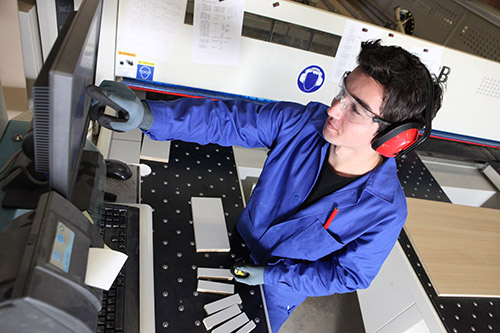 Touchscreen gloves can make your workplace safer and more efficient
Our Best Touchscreen Gloves
While there are plenty of gloves out there that claim full touchscreen sensitivity, all gloves are not created equal, which is why we're here to help. At SafetyGloves.co.uk, we know a thing or two about gloves, so we've selected some of our very favourite touchscreen gloves that will provide you with both protection and functionality. These gloves vary in their resistances, but the one thing they all share is that they allow plenty of dexterity so you can use your phone, tablet or other device without losing any time or protection. Read on to learn about some of the best touchscreen work gloves we have to offer.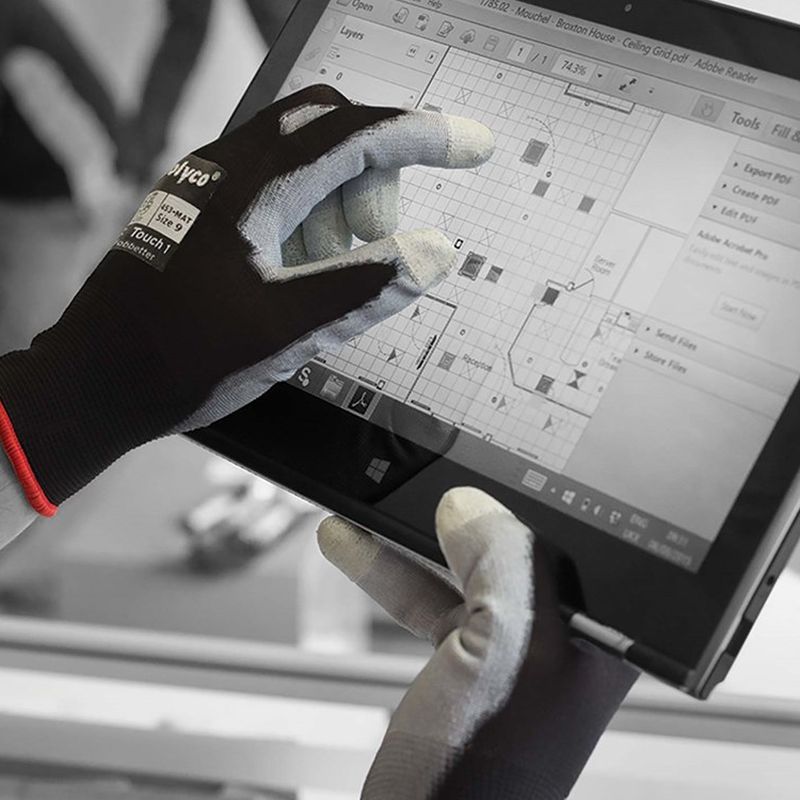 Polyco Matrix Touch 1 Touchscreen Work Gloves
We'll start off our list with a versatile pair of gloves that's been designed for precision, dexterity and comfort in the modern workplace. The Polyco Matrix Touch 1 Touchscreen Work Gloves are made with a seamless knitted liner with a polyurethane-coated palm, providing full comfort and a solid grip. With touch sensitive fingertips, you'll be able to step away from your task to use your touchscreen without any interruption, maximising productivity and minimising frustration.
Boasting Level 3 resistance from abrasions and tears along with Level 1 resistance from cuts and punctures, these gloves are as protective as they are convenient. Suitable for everything from electronic work to light engineering, these gloves are ideal for anyone who values the freedom of their hands while they work.
Key Features: Level 3 abrasion and tear resistance, excellent comfort and dexterity.
Shop Now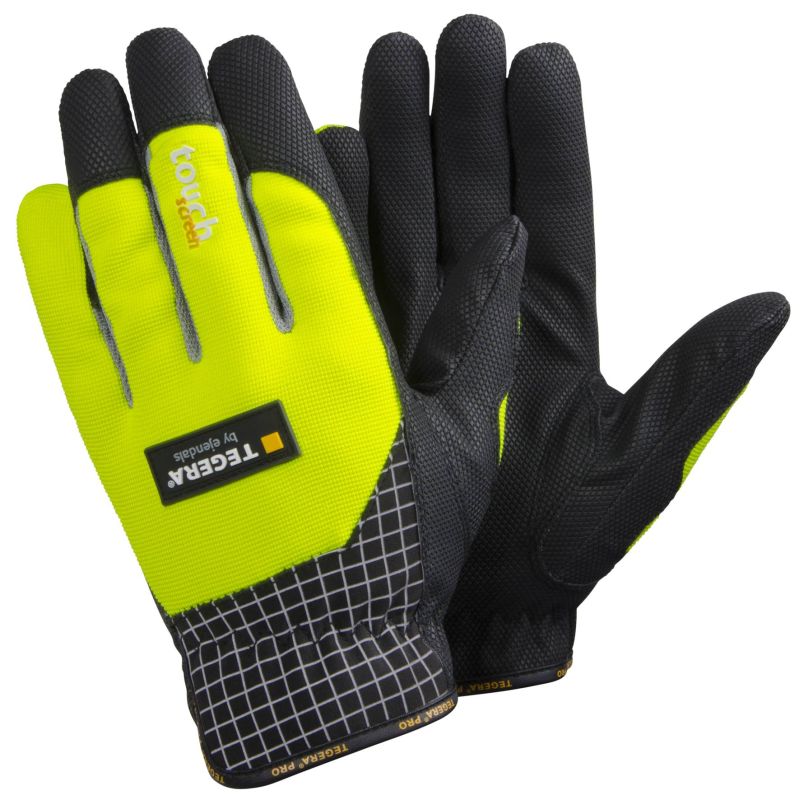 Ejendals Tegera 9123 High Visibility TOuchscreen Work Gloves
Just because gloves are touchscreen sensitive doesn't mean they can't be tough and rugged as well. The Ejendals Tegera 9123 High Visibility Touchscreen Work Gloves prove this point with their diamond grip pattern and seamless fingertip sensitivity. An excellent on-site timesaver, these gloves provide excellent dexterity and a super-strong grip, ensuring safety isn't compromised in the name of efficiency.
These gloves also feature a hi-viz portion on the back of the hand, making them perfect for night-time work. With these gloves, you'll be fully visible and touchscreen ready in any light and any conditions.
Key Features: Rugged with a strong grip, hi-viz backing for extra safety.
Shop Now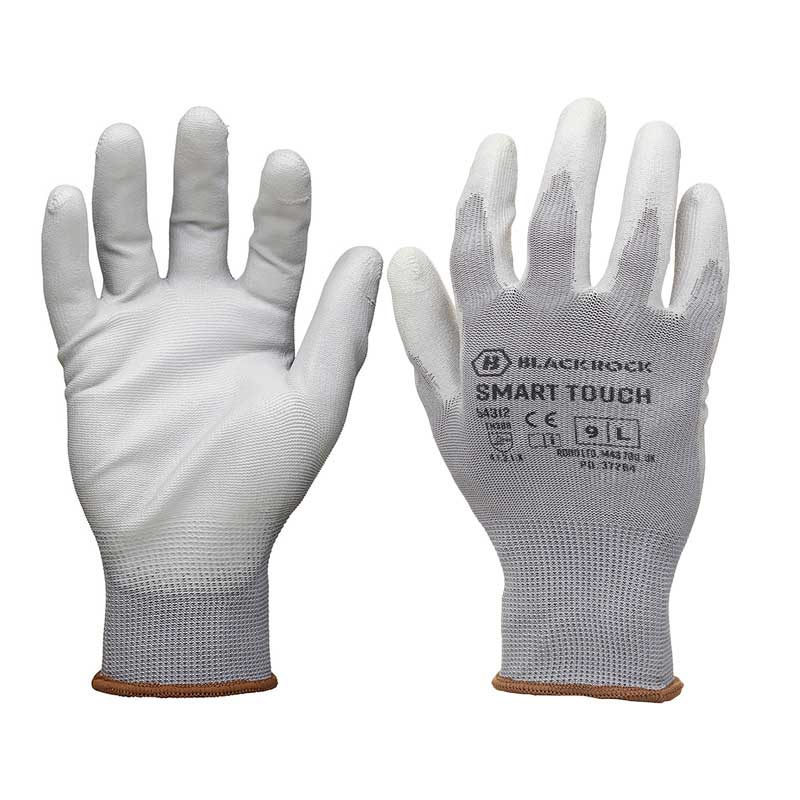 Blackrock 54312 Smart-Touch PU Gloves
Our next pair of gloves are manufactured with an especially intelligent design, using the conductive power of copper fibres to make use of touchscreens simple. The
Blackrock 54312 Smart-Touch PU Gloves
are excellent for any industry where touchscreens are frequently used, such as warehousing, as they provide a strong grip for precision handling and high levels of abrasion resistance.
These gloves feature a 13-gauge liner with a PU coating on the palms, providing excellent comfort and a sure grip. Designed for use with all sorts of industrial monitors, smartphones and tablets, these gloves will prove an excellent tool for anyone looking to avoid the annoyance of taking gloves on and off every time they need to use a device.
Key Features: Level 4 abrasion resistance, copper fibres in fingers and palms for touchscreen sensitivity.
Shop Now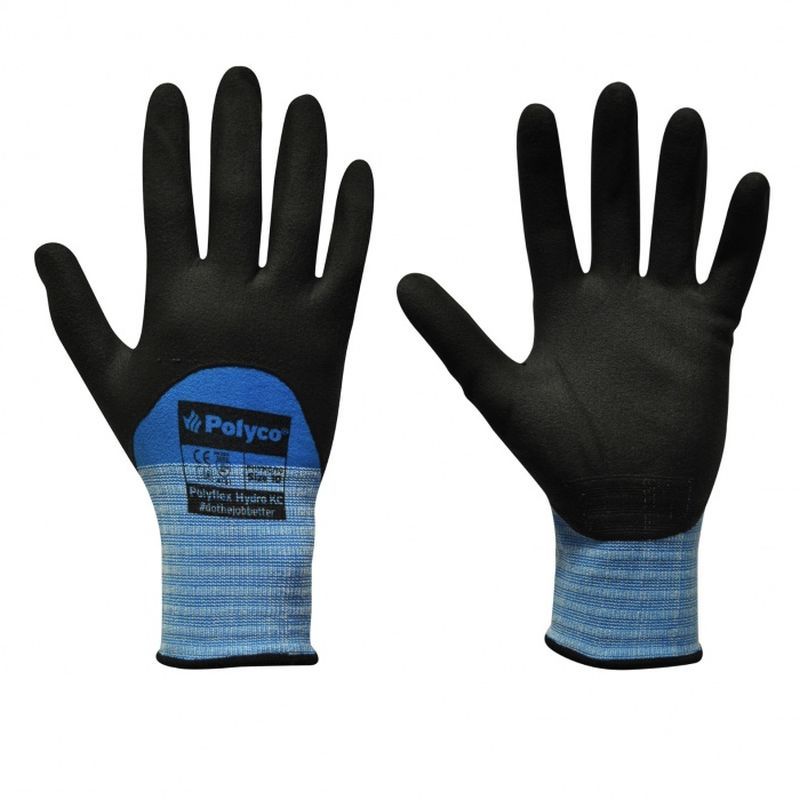 Polyco Polyflex Hydro KC PHYKC Safety Gloves
For tasks such as construction and engineering, we would recommend the Polyco Polyflex Hydro KC PHYKC Safety Gloves, as they use a water repellent, hydrophobic solution that not only keeps your hands dry, but allows you to use touchscreens in the wet. These comfortable and durable gloves are perfect for outdoor, hard-going tasks, with their durable level 4 abrasion resistance suitable for standing the test of time.
They are ideal for working in wet weather, then jumping on your tablet to enter crucial information. Despite their thick warmth, they retain flexibility too, making them suitable for more intricate tasks around the work site.
Key Features: Feature touch-sensitive fingertips, are resistant to water; good all-round gloves for construction tasks.
Shop Now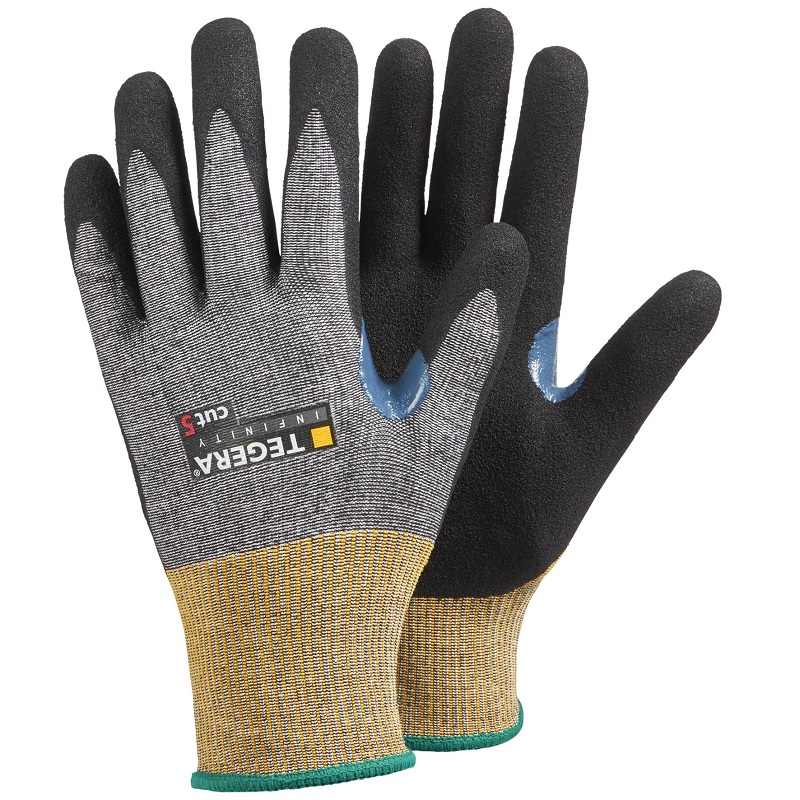 Ejendals Tegera Infinity 8807 Level 5 Cut Resistant Work Gloves
Plenty of building sites, factories and more, require you to use an tablet or smart phone while at work, which is why touchscreen work gloves can save you a lot of time and money. The Ejendals Tegera Infinity 8807 Level 5 Cut Resistant Work Gloves are fantastic for this line of work, because they combine their touch-resistance with fantastic all-round mechanical protection, including an amazing level 5 cut resistance.
Carbon planted into the fingertips makes scrolling phones easy, while CRF technology provides outstanding all-round protection. This means that you can go from using work tools and equipment one minute, to using your tablet the next.
Key Features: Carbon fingertips for touchscreen capabilities, fantastic level of cut resistance; well suited to high risk, outdoor work.
Shop Now
Which Pair is Best for You?
These are some of our favourite gloves with touchscreen capability, but they may not all be ideal for your applications. Review the gloves we've chosen, weigh up the strengths of each, and chances are the perfect glove for you is there for the taking. Whether you're looking for protection, comfort, dexterity or anything else, we're confident our touchscreen gloves will get the job done.
Not convinced, or want to take a look for yourself? Check out our entire range of Touchscreen Work Gloves!
Have any questions, or anything to add? Tell us in the comments below, or find us on Facebook and Twitter!