What Are Tattoo Gloves?
6 November 2018 | Eugene
Tattooing is all about skill, fine detail and artistic expression – but before all that comes in to play, the right equipment is needed to get the job done. Aside from needles and sterilisation supplies, this means gloves, as the right glove can give your hands the freedom to do their best work, while the wrong glove can be inconvenient, or even dangerous. The best tattoo gloves are essentially medical-grade examination gloves that help to ensure the artist is protected from fluids, but what makes a great pair of tattoo gloves, and what should you be looking for? We've had our experts at SafetyGloves.co.uk provide a short breakdown, along with some suggestions that have served our customers well.
How Important are Tattoo Gloves?
In short, the answer to this question is: very. First and foremost, tattoo gloves are incredibly important to ensure that tattoos are applied safely and hygienically. They provide a barrier which not only protects the customer, but also you, the tattoo artist. Due to the intimate nature in which tattoos are applied, there is a significant chance of a tattoo artist infecting their customer and vice versa. Since getting a tattoo is essentially having a needle jabbed into your skin repeatedly, they tend to leave your skin more susceptible to infection, so it's especially important to take care, and make sure you're using a high-quality glove. The use of gloves helps minimise this risk and makes the situation safer and more hygienic for everyone involved.
How Should a Tattoo Glove Fit?
At the end of the day, the artistic aspect of a tattoo is why we're here, so it would be crazy to overlook a glove's ability to let the artist do their best work. A tattoo glove should provide a snug and comfortable fit that does not constrict your movement. This is of paramount importance because if the glove is too tight, it can tear when you flex your hand and limit your dexterity, decreasing the quality of your work. Too loose a fit can be just as bad because it becomes much easier to pierce the glove by accident and prevents you from having the fine motor control that is necessary to do good work.
Keeping these points in mind, it's important to know that transparent polythene gloves should not be used for tattooing, as they are too loose-fitting. These gloves can also be more susceptible to tears and punctures, which can be a recipe for disaster. At this point we can't stress enough that if for whatever reason your glove does become perforated or torn, it is important to replace it immediately!
What Are the Best Tattoo Gloves?
To put it simply: tattoo gloves are any disposable gloves that are marked for use with biological agents. This ensures that they offer the correct amount of protection against bacteria and germs, but is only part of the story when it comes to choosing the right tattoo glove for you and your style. In our opinion, the best gloves for tattoo artists are made of nitrile, as it offers all the feel and strength of other materials without any allergy risk.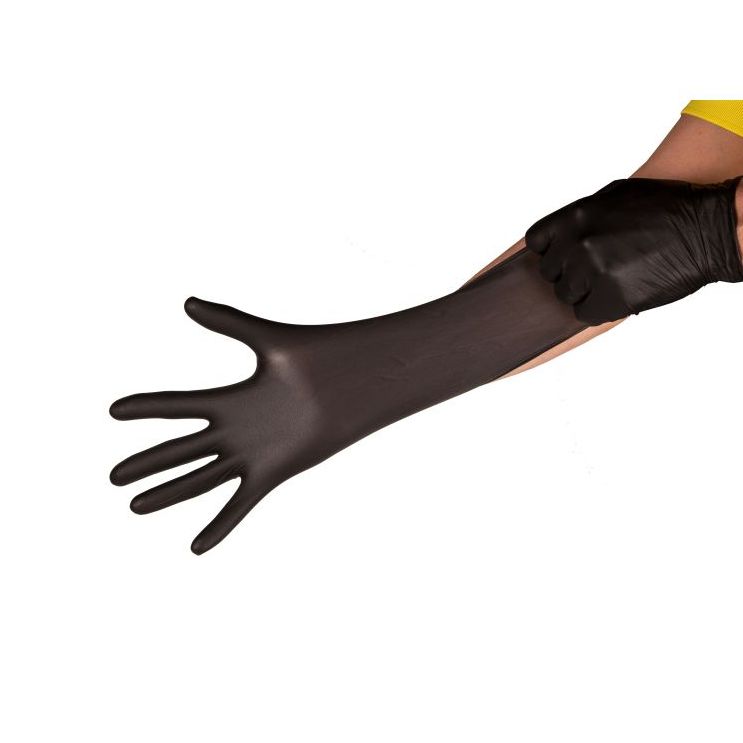 Nitrile Tattoo Gloves - Strong and Reliable
An increasingly common material when it comes to tattoo gloves, nitrile is a great choice as it offers remarkable strength and puncture resistance, without providing much of a deficit in any area. Nitrile gloves are similar in appearance and feel to latex gloves, but they contain no latex, which makes them perfect for those with an allergy. Since they are harder to tear they are the safest gloves around, providing plenty of protection and comfort.
A great nitrile tattoo glove, and one of our most popular disposable gloves in general, are the Black Mamba Disposable Nitrile Gloves BX-BMG. Aside from their great puncture and tear resistance, these gloves offer protection from a number of chemicals, making them ideal for all tattooing tasks. With two-ply strength for protection and comfort and a strong grip, the Black Mambas are high on our list of the best and most reliable gloves on the market.
Shop Now
It's only natural that tattoo artists are very particular about the gloves they use, as not only will they be worn for long hours, they have a direct effect on the quality of work that gets done. Whether you're looking for durability, a fine touch, or some combination between the two, we're sure the gloves we've mentioned here will serve you well, as they've done for our other customers. If you're unconvinced, and would like to take a look around, you can browse our entire range of Tattoo Gloves, filled with countless options that should suit every tattoo artist's style.
Have any questions about tattoo gloves, or anything to add? Tell us in the comments below, or find us on Facebook and Twitter!
Super strong disposable gloves for mechanical, chemical and automotive use
Offer three times the chemical resistance of latex and vinyl
Made to grip and protect with high sensitivity and dexterity
Price is per box of 100 gloves

| | | |
| --- | --- | --- |
| | | In stock now |

Price is per box of 100 gloves
Nitrile constructed gloves for added protection and strength
Black design with micro-texture for secure grip
Latex-free, ambidextrous gloves

| | | |
| --- | --- | --- |
| | | In stock now |