How to Measure Your Hands for Gloves
2 Comments
Tuesday, 27 November 2018 |
Eugene
When selecting the right gloves for you, your main consideration should be the protection they provide, and how well they're suited to your particular application. It doesn't end there, though, as perhaps the most important thing to do when buying your gloves is to make sure you've selected the right size. While we try to make this as simple as possible here at SafetyGloves.co.uk, we thought we'd provide a quick breakdown in case you'd like a little more clarification.
Why Is Glove Sizing So Important?
Many of us feel that there's no problem wearing a pair of gloves that's one size too large or small, but the size of your glove can actually have an important effect on how they work for you. Here's what a perfectly sized glove can do for you:
Better Protection – Many safety gloves and work gloves are designed to provide better protection with reinforcement on particular parts of your hands. If you select the perfect glove size, you'll know that you're protected where you need to be.
Better Grip – The grippy areas of your gloves are placed where they are for a reason, and these areas can often be targeted to small regions of your fingers and palms. With the right size of gloves, you'll be able to grip what you need to, when you want to.
Better Feel – Many handling gloves, including disposable gloves, are designed to provide a fine touch with close control. If your gloves are overly baggy or tight, you won't benefit from the same effortless feel.
Better Fit – This one seems obvious, but it's important enough to mention. A loose-fitting glove may slip around on your hand, and can even risk falling off at the most crucial moment. A properly fitting glove will stay on your hands, without any loose fabric that could get caught on errant objects and corners.
How Do I Measure My Hands for Gloves?
While glove manufacturers will often vary in their specific sizing, almost all will require you to take the same measurements of your hands. These measurements are:
Circumference - To obtain this measurement, measure the distance around your knuckles with your hand open and fingers together, excluding your thumb. This is best done with a tailor's tape, though a flexible measuring tape should do the trick. You can also use a piece of string, wrap it around your hand, and then measure the length of string with a ruler.
Length - This measurement is a little easier, as it is the length of your hand from your wrist to the tip of your middle finger. This can be done with most measuring devices, though a tailor's tape is usually best.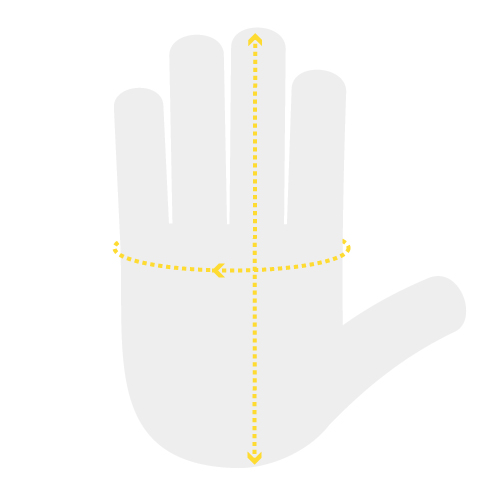 This diagram shows the important measurements you need for most gloves. The horizontal line shows the circumferential measurement, while the vertical line shows the length measurement
A Glove for Every Hand
At SafetyGloves.co.uk, we try to make it as easy as possible to choose the perfect glove size for you. Almost all of our gloves feature a sizing chart, showing you which size to select based on the two measurements we've outlined above. If you're having trouble finding a glove for your hands and requirements, don't hesitate to contact our Customer Care Team at 020 7501 1104, where we'll be happy to provide you with a recommendation.
Have any questions about our glove sizing, or anything to add? Let us know in the comments below, or find us on Facebook and Twitter!