Best Gardening Gloves
Tuesday, 14 July 2015 | John
Here at Safety Gloves we offer a variety of gardening gloves to fit your needs. However, we know that such a wide range can be daunting and we know that you want to get the best gardening gloves possible. To make sure you're getting the most from your money, we've selected what we think are the best gardening gloves on offer at the moment.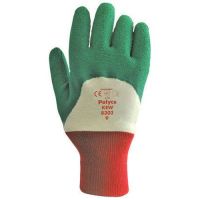 Polyco Kew Gardening and Outdoor Gloves
These are a great all-round pair of gardening gloves and are good for people who are just getting into gardening. The latex coating gives good grip in both wet and dry conditions, and the cotton interior ensures that the glove is comfortable to wear.
The glove has fantastic resistance to tearing and is great for dealing with brambles and for landscape gardening. Whether you gardening is a profession or just a hobby, using the Kew Gardening Gloves will benefit you greatly and improve your horticulture.
Shop Now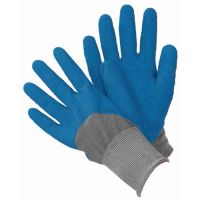 Briers All Seasons Gardening Gloves
The Briers All Seasons Gardening Gloves are designed to give a fantastic level of dexterity, meaning you have full control over your green fingers as you tend to your garden. Many gardening gloves can have a tendency to swamp your hands, reducing the level of control that you have over fine motions and preventing you from making the most of your garden. This is not true of the Briers All Seasons.
Even though they are designed for dexterity, All Seasons gloves still offers superlative protection against the threats that your hands face when gardening. The knitted cuff helps stop dirt from getting inside the glove, and the ripped latex coating not only improves grip but also makes the glove more water resistant. Rain or shine, these gloves will allow you to be out in your garden
Shop Now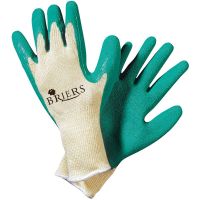 Briers General Gardening Gloves
These gloves are another good all-purpose product that have an excellent level of thorn resistance, making dealing with bushes and brambles easier and safer. The Briers General Gardening Gloves also contain a breathable back, reducing excess sweat to make the gloves more comfortable and hygienic. This means the Briers General Gardening Gloves can be worn for longer periods while keeping your hands comfortable.
Briers is one of the biggest names in the gardening gloves industry and it is easy to see why. Even these, there general gloves, have been crafted with a high level of quality to ensure that you can perform gardening tasks with the least amount of trouble.
Shop Now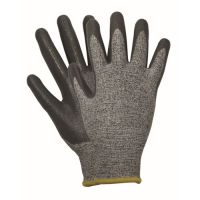 Briers Professional Cut Resistant Gloves
If you want the best from your garden, you need to use the best gloves. Briers Professional Gloves are designed for advanced gardeners who want more protection from their gloves. These gloves have some of the highest levels of cut, tear and puncture protection available in a gardening glove, while still providing the dexterity gardening needs, and the comfort and grip you require.
These gloves are ideal for groundskeepers, landscape artists and all other professional gardeners. They are also great for amateur horticulturalists who want to add that little extra to their garden.
Shop Now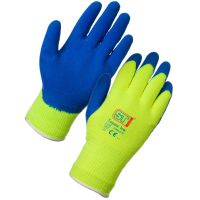 Supertouch Topaz Ice
The Supertouch Topaz Ice is designed to be as multifunctional as possible. As well as being great for standard gardening work, these gloves are fantastic for DIY and maintenance work, thanks to the textured latex palm giving the extra grip these tasks demand.
The main feature of the Topaz Ice gloves is that they have an excellent level of resistance against cold temperatures. You have to look after your garden no matter what the weather but with the Topaz Ice at least you can be comfortable when you are working out in the cold!
Shop Now
We hope this makes your gardening glove choice easier, however if you'd like to see a wider range of gardening gloves feel free to visit Safety Gloves and check out our full range of Gardening Gloves.
Price is per pair
Flexible coating to provide good dexterity
Reinforced for working with abrasive materials
Cut resistance level 5 for reliable protection
| | | |
| --- | --- | --- |
| | | In stock now |