Our Best Blue Disposable Gloves 2021
Wednesday, 2 December 2020 | Sean
Blue disposable gloves are common throughout the healthcare and food professions. Their lighter appearance is ideal for spotting dirt or contamination on the gloves, while their aesthetic appearance is less threatening than a darker glove which is ideal for a healthcare environment. Ranging from latex to nitrile to vinyl, we have a wide range of blue disposable gloves suitable for a wide range of industries.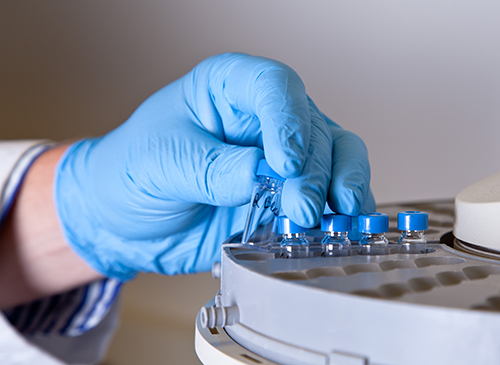 Blue disposable gloves are popular within the healthcare industries
We understand that with such a wide variety of gloves available, it can be hard to make an informed decision when there is so many different types of glove available. To help you make that decision, and taking into account things such durability, flexibility, uses and appearance, we have asked our experts and collated this list of the gloves that we believe are Our Best Blue Disposable Gloves.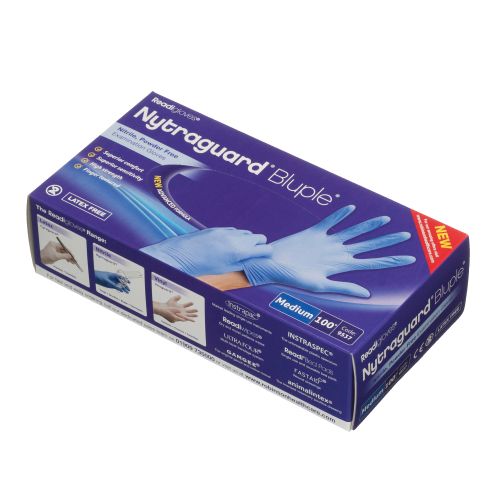 Readigloves Nytraguard Bluple Nitrile Gloves
Lightweight and comfortable, the ReadiGloves Nytraguard Bluple Nitrile Gloves are high performance and innovative gloves that are highly popular in the medical and healthcare industries. Lightweight and comfortable, the high tensile strength on these gloves allow users to handle tasks with outstanding sensitivity and dexterity. Their powder-free design reduces the chance of skin irritability, while the durable acrylonitrile butadiene construction is perfect for use in medical examinations, routine patient care, and care for the elderly.
Key Features: Powder-free design reduces chances of irritability; well suited to the healthcare industries; nitrile construction ensures strength, sensitivity and durability.
Shop Now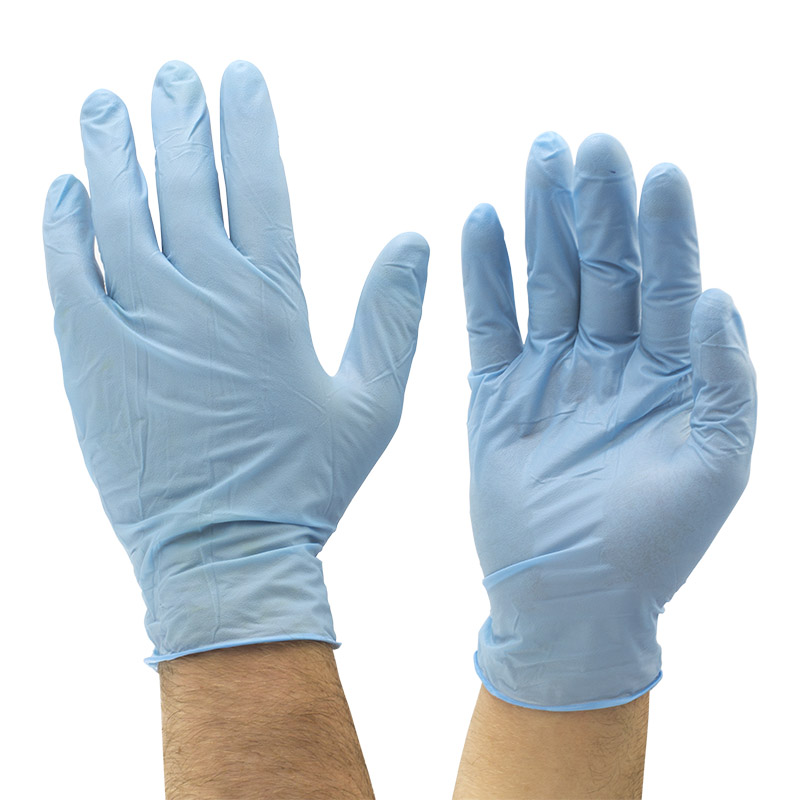 Blue Mamba Disposable Nitrile Gloves BX-BLU
Black Mamba's are known for their high tensile strength in tough, industrial environments, and the new blue version of Black Mamba are no different. Named the Blue Mamba Disposable Nitrile Gloves BX-BLU, they provide the same outstanding durability, thickness, chemical-resistance and comfort as their originals, while their aesthetic, blue design makes it easier to see chemicals and dirt on the glove. With a longer cuff for extra protection, these tough gloves ensure protection in laboratories, pharmaceutical environments and healthcare industries.
Key features: Offer excellent durability and strength; provides resistance to a wide range of different chemicals; special Grip Rite finish enhances grip.
Shop Now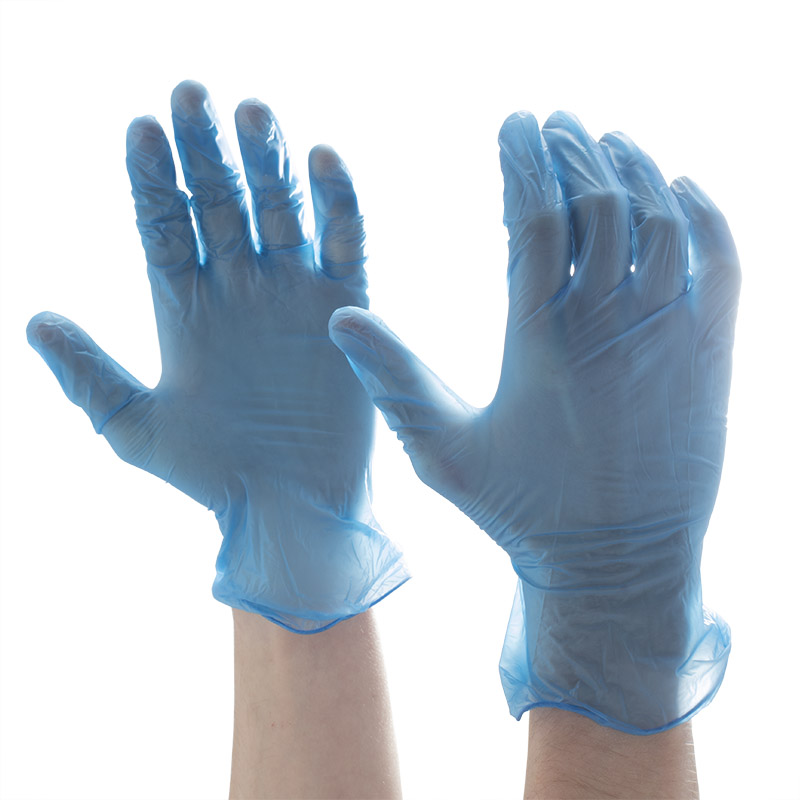 Aurelia Delight Blue PF Vinyl Gloves 38995-9
Blue disposable gloves aren't just useful in the healthcare industries, but the food industries too. The food safe Aurelia Delight Blue PF Vinyl Gloves 38995-9 use a thin vinyl material to offer exceptional sensitivity and dexterity that ensures that the user has total control. Highly soft and supplied with a beaded cuff to provide a secure fit, these ambidextrous gloves are supplied glueless, powder-free and free from thiurams.
Key features: Well suitable for use with food; powder, glue and thiuram free; smooth finish ensures sensitivity and dexterity.
Shop Now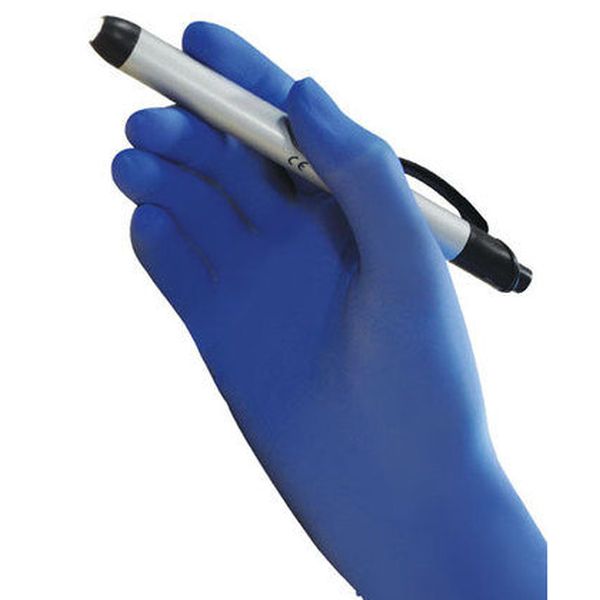 Polyco Gl890 Bodyguards bLue Nitrile Disposable Gloves
An industry favourite, the Polyco GL890 Bodyguards Blue Nitrile Disposable Gloves are powder-free gloves that offer exceptional resistance to chemicals such as hydrochloric acid, ethidium bromide and sodium hydroxide. Suitable for use with food and complete with an AQL rating of 1.5, these disposable gloves are suitable for industries as wide ranging as pharmaceuticals and lab work to food manufacturing and food retail. These gloves are among the best because they combine dexterity, strength and comfort, making them a safe choice across many applications.
Key Features: Fitted with a beaded cuff that prevents liquid roll back; offers outstanding sensitivity, dexterity and flexibility; despite being strong provides a soft and comfortable fit.
Shop Now
Look Professional in Blue
Blue disposable gloves are popular because they look professional, are aesthetically pleasing and make it easier to spot dirt or contamination risks. If you haven't found what you are looking for here, then don't hesitate to call our customer care team on 020 7501 1104. Alternatively, you can look for yourself in any of our disposable gloves categories, and find the blue gloves that suit you.
Have any questions, or anything to add? Tell us in the comments below, or find us on Facebook and Twitter!
Available in boxes of 100 or 200 gloves
Designed for medical and healthcare applications
Thinner and more dexterous than most vinyl gloves
Textured finger tips for increased grip

| | | |
| --- | --- | --- |
| | | In stock now |

Price is per box of 100 gloves
Tough disposable nitrile glove
6 mil-thick patented Nitrex polymer
Grip Rite finish for extra grip

| | | |
| --- | --- | --- |
| | | Currently unavailable. Please check back soon |

Price is per box of 100 gloves
Designed for high sensitivity due to thin and soft construction
Glueless and free of thiurams for safety and hygiene
Approved as being food safe

| | | |
| --- | --- | --- |
| | | This product has been discontinued. Please contact our team for details of the latest release. |

Medical grade disposable gloves for virus protection
Designed for medical, food and care industries
Certified to EN 455 and virus certified to EN 374
Price is per pack of 100 disposable gloves

| | | |
| --- | --- | --- |
| | | In stock now |