Dog Bite Gloves
Ideal for people that are dealing with dogs on a regular basis, the Safety Gloves range of
Dog Bite Gloves
ensure that your hands are well protected against damage. Suitable for a range of users, our
Dog Bite Gloves
are suitable for situations such as training dogs (for example police dogs), handling stray or dangerous dogs, and for general protection against pets. If you would like any more information about our
Dog Bite Gloves
, you can contact our team of product experts on 020 7501 1104 or via our "Contact Us" page.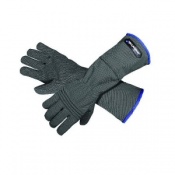 Price is per pair
Protects against dog bite penetration
Silicone palm coating provides better grip
All over hand and wrist gauntlet protection
| | | |
| --- | --- | --- |
| | | In stock now |
If you've been bitten by a dog in the past, you will understand the damage that can be done and the pain inflicted. Depending on the dog, even bites to the hands and arms can have severe consequences including a loss of sensation and nerve damage. At Safety Gloves, we emphasise protection over everything else and with our Dog Bite Gloves you can make sure that your hands remain as protected as possible.
To ensure that you have the protection necessary, we have collaborated with top glove manufacturers to find the products that provide padding and puncture prevention that can keep you safe. Our gloves are manufactured and tested to the very highest standards, providing you with a guarantee that when you order Dog Bite Gloves from Safety Gloves, you're getting a pair of protective gloves that do what they say.
To ensure that your gloves perform as you need them to, we offer the majority of our products in multiple sizes. This allows you to select a pair of gloves with a great fit that will allow dexterity without lessening the protection you receive. Ill fitting gloves are inadvisable as they can cause a number of issues including decreasing the lifespan of your products and offering protection that is less than optimal.
If you would like any more information about any of our Dog Bite Gloves, Safety Gloves has a knowledgeable team of customer carers ready to help you. To contact a member of our team, please call us on 020 7501 1104 or send us a message via the "Contact Us" page and we'll get back to you as soon as possible.