Best EN 455 Medical Safety Gloves
Thursday, 13 August 2015 | Admin
It's safety first at Safety Gloves, where we don't settle for anything less than your total protection. If there's one group of people that you want to make sure are using the proper precautions, it is your doctors and nurses. With people's lives literally in their hands, medical professionals need gloves of the highest quality and EN 455 ensures that they get them.
Not just any throw-away glove, sterile medical gloves have to go through EN 455 Standard Testing that challenges everything from their water resistance to their general strength. So if you're ever unsure which glove is best when met with a range of identical white rubber models, just go for the one displaying the EN seal of approval. If you want, to make things even easier, though, you can just consult our list of top picks.
Safety Gloves' Top 5 Best EN 455 Medical Gloves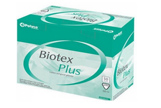 Polyco Biotex Plus Sterile Latex Gloves
We're not alone in our love of Polyco, the whole country agrees, which is why they're the leading brand in PPE for everything from medical to mechanical to maintenance. These latex gloves aren't any different in their high performance, and are as caring to the wearer as the patient they're treating. Made from soft, extra-pliable latex and completed with a surface treatment to allow for greater grip, these gloves give a second-skin fit that acts even better than the skin you were born with! Add to that their unique curved-finger shape to lessen fatigue after long periods of wearing and you've got all the reasons why these gloves are some of the best.
Shop Now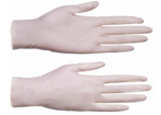 Supertouch Powder-Free Latex Gloves - Medical Grade
Powder-free, a barely-there fit and feel and a smooth finish have all led to these gloves landing a spot in our Top 5. Made from high quality low-allergen latex, these micro-textured gloves are a popular choice when it comes to single-use protection. Supertouch know what you demand from your disposables and the importance of your medical-grade PPE, which is why this brand makes the distinction between industry-grade and medical grade disposable gloves. Perfect for any sensitive task whether involving food or first aid, these disposables are an indispensable addition to your home or office PEE collection.
Shop Now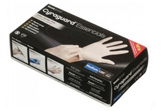 Readigloves Cyraguard Essentials Latex Gloves
Readigloves are ready when you are, and with 100 gloves per box, they'll always be raring to go. A thinner gauge of latex than other models in the range allows for these single-use gloves to give excellent dexterity for even the most delicate of tasks and makes them ideal for those who want a lighter, thinner fit from their rubber gloves. Not sacrificing sensitivity for safety, Readigloves keep you protected without detracting from the fingertip flexibility you need to complete the task at hand.
Shop Now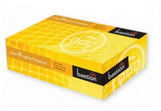 Bastion Latex Lightly Powdered Smooth Gloves
Do it right – or left – with these ambidextrous gloves. Made from tough latex, these gloves had been formulated to be silicon-free and keep the risk of allergic reaction to a minimum. With a fantastic range of throw-away gloves for a variety of applications and industries, Bastion is yet to let us down when coming up with high performing safety gloves. Water resistant, lightly powdered to let you slip them on with ease and puncture-resistant material making sure your hands are totally safe, this protection has you covered whether in the wet or dry.
Shop Now
Visit Safety Gloves for our full range of EN 455 Gloves.
Price is per dispenser of 100 gloves
Ideal for use in clean medical environments
Fantastic sensitivity and dexterity for superior handling
Powder-free for reduced contamination
| | | |
| --- | --- | --- |
| | | In stock now |