Best Household Cleaning Gloves: Our Top 5
1 Comment
Tuesday, 23 May 2017 |
Eugene
Most people will do everything possible to avoid cleaning their house, from walking the dog, to inventing new errands or good ol' fashioned procrastinating. When the time comes though, we all know it needs to be done. That's why, if you're going to do it, you may as well do it right, and keep yourself well protected in the process.
As the authority on all types of gloves, we at SafetyGloves.co.uk are here to help. We've compiled a list of some of our favourite gloves: tried, tested and trusted to help you get the job done as quickly and as safely as possible. These gloves have worked time and time again for us, so we're sure they'll be able to do the same for you.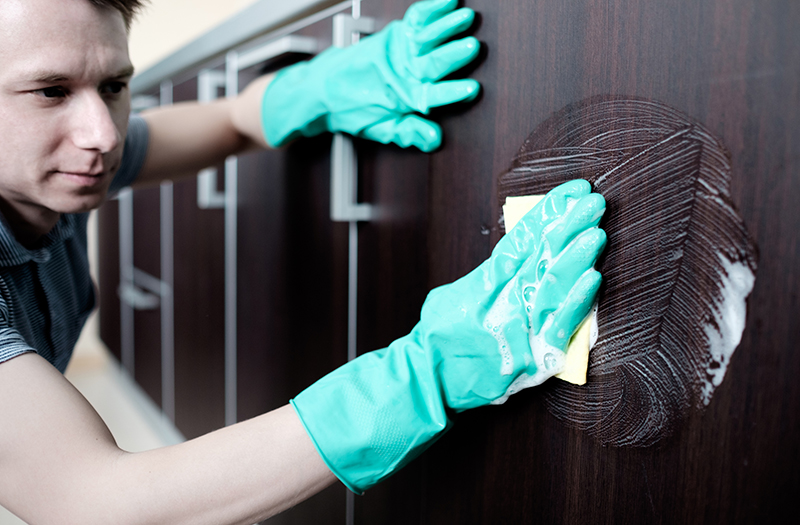 What to Look For
It's all well and good for us to provide you with a list of gloves, but that isn't much good if you don't know what you're looking for. After plenty of trial and error, we've broken it down into three categories for you to look out for:
1) Protection
Probably the most important aspect in choosing any type of glove is the protection it provides to your hands. Household chemicals are laden with skulls and other warnings for a reason: they can be dangerous. The chemicals can leave your skin irritated and eyes watering, or even lead to more serious repercussions, so for us, protection has to be number 1.
2) Grip
When you're sifting through the multitude of household jobs that need to be done, you need to be able to grip your brush, tap, cloth or anything else with authority. The last thing you want is something to fall down a drain or back into the dirty sink or bucket, so a firm, reliable grip is a must.
3) Comfort
Household cleaning jobs can be miserable enough without having to worry about uncomfortable, abrasive or sweaty gloves. That's why comfort should never be overlooked; when you feel better, you'll clean better and have a better time doing it.
Now that you have a better idea of what you're looking for, you can judge our picks for yourself. Designed for a variety of jobs around the house, we've put our confidence in these gloves, and we can guarantee you'll love them as well.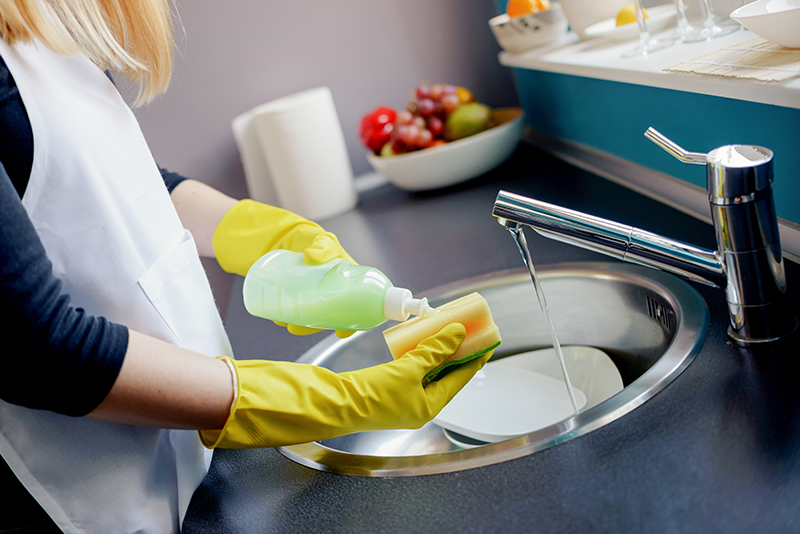 Black Mamba Disposable Nitrile Gloves BX-BMG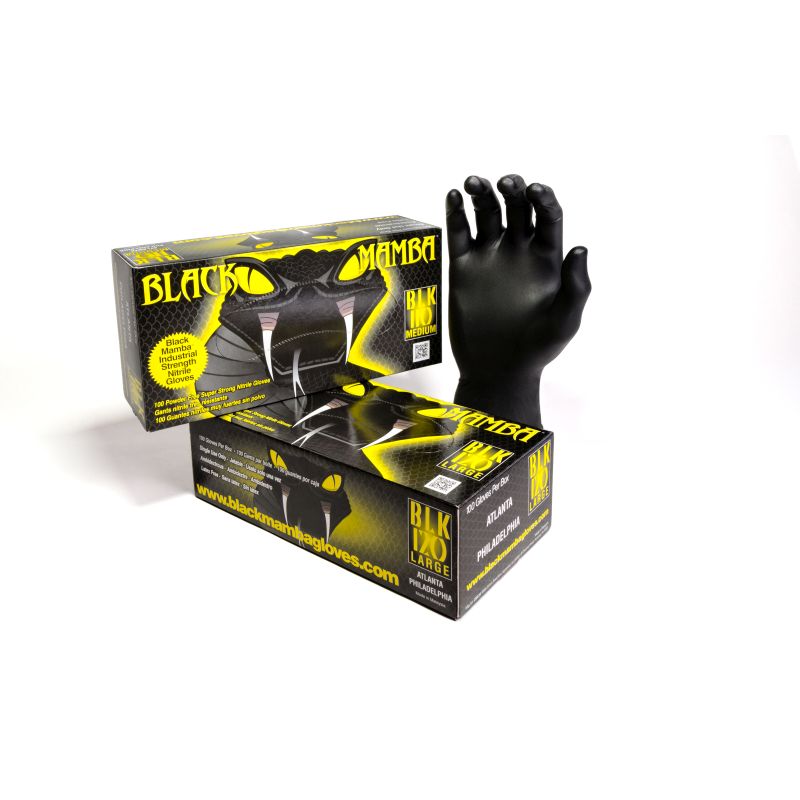 A great place to start on any list of our favourite gloves, the Black Mambas are world renowned for their versatility and protection through a wide range of applications. Used in situations ranging from kitchen cleaning to chemical work to the oil industry, you can be sure that these gloves will provide you with enough chemical resistance for even the toughest cleaning jobs.
Boasting superior tear resistance, these gloves are fully textured with a Grip Rite finish, meaning they will provide you with a great grip along with excellent tactile sensitivity. Made with a Two-Ply Fusion Strength process, the Black Mambas feature an added polymer, making slipping them on simple and providing all-day comfort and breathability.
Polyco Deep Sink Extra Long Rubber Gloves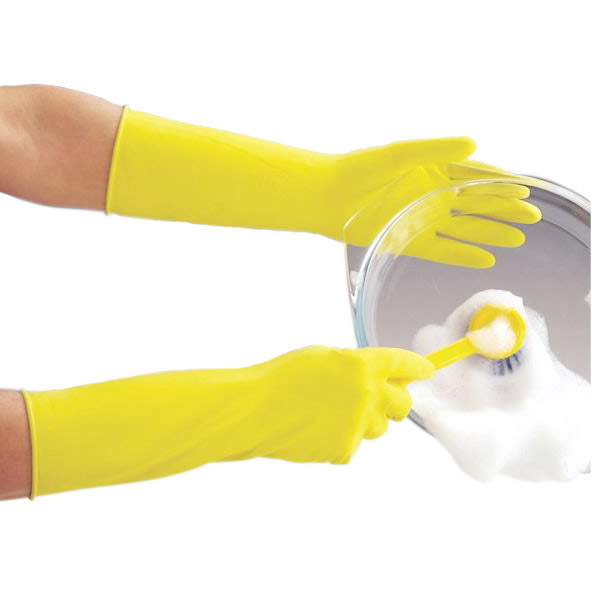 For those who don't need the ultra-tough protection offered by the Black Mamba gloves, the Polyco Deep Sink provide a more traditional look and feel when it comes to household and domestic cleaning gloves. With 38cm in length, these gloves provide excellent protection to your forearms, great for when you really need to get stuck in deep in a task.
Designed to protect against regular detergents, hot water and other things that may come up in a regular housekeeping session, these gloves will keep your hands safe and dry while you scrub up. A slip-resistant pattern on the gloves ensures good grip in all conditions to make cleaning tasks safe and simple. Finally, these gloves have comfort covered, with a soft cotton lining to absorb perspiration and keep hands cool.
Polyco Optima Rubber Chemical Resistant Gloves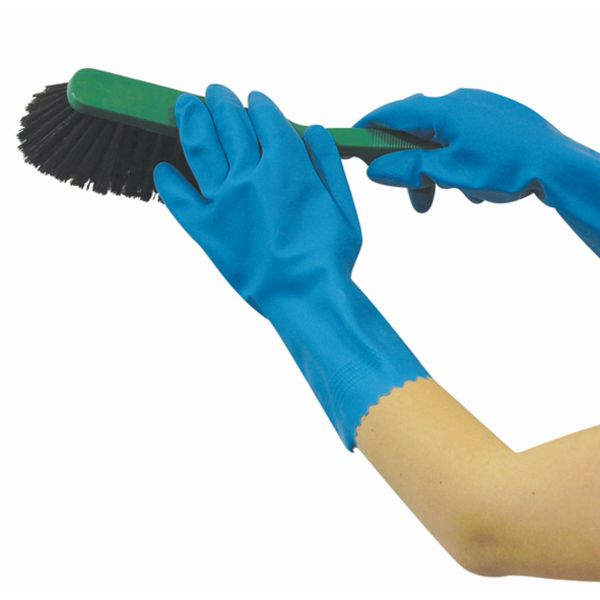 The most affordable glove on our list, the Polyco Optima Gloves are perfect for lighter tasks around the house where acids, alcohol and other chemicals will be used. These gloves are medium weight in construction, meaning that they provide a good level of protection while still allowing excellent dexterity and flexibility. This makes them excellent for use during tasks where fine motor skills and small parts are involved.
Anatomically shaped for a comfortable fit, these gloves minimise hand fatigue and feature a soft cotton lining, making application easy and keeping hands dry, cool and comfortable. They feature a slip-resistant pattern on the palm for a reliable grip, making them great for use in wet conditions. As an added bonus, these gloves are available in five colours, which is useful for the dirtier jobs where avoidance of cross-contamination is a must.
Polyco Pura Medium Weight PVC Gloves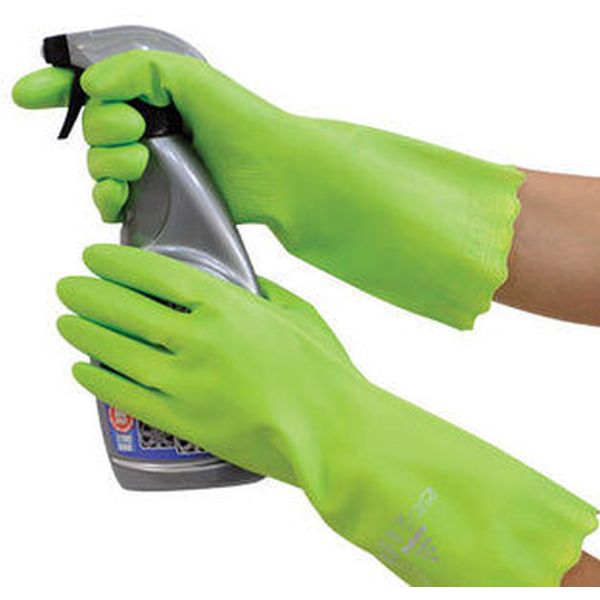 Last, but certainly not least on our list, the Polyco Pura PVC Gloves are designed for general purposes, and are suitable for most household cleaning jobs that life will throw at you. For those with sensitive skin, these gloves are an excellent choice, as their PVC construction makes them a great alternative for people who are allergic to natural latex proteins or sensitive to the chemical accelerators used in rubber gloves.
They are anatomically shaped and flock lined, meaning they will provide you with comfort, be easy to apply and absorb perspiration to keep your hands dry and comfortable. A non-slip, textured pattern on the palm ensures that your grip will be strong in both wet and dry conditions, giving you peace of mind that you'll have full dexterity and control of all your cleaning implements. They're also available in five different colours, making avoidance of cross-contamination simple and foolproof. Simply put, these gloves are the best choice for those with latex allergies looking to get down and dirty with some household cleaning.
The Final Verdict
Now that you've seen some of the gloves that have served us well over the years, it all comes down to what you need them for. If you're looking for some really tough gloves to provide you with protection for the toughest jobs, and stand up to any challenge, you can't beat the Black Mamba Gloves. For outdoor, really dirty jobs, the Briers Pond and Drain are your best bet. For affordability, you can't beat the Polyco Optima, while the Deep Sink are best for indoor jobs where you'll need to plunge into deep sinks and buckets. Finally, for the latex-sensitive, we heartily recommend the Polyco Pura Gloves. At this point, we've pointed you in the right direction, but it's up to you to take the next step. These gloves are all available from SafetyGloves.co.uk, with free UK delivery on all orders over £40.
Not convinced yet? Check out our extensive full range of household cleaning gloves!
Have any questions, or anything to add? Tell us in the comments below, or find us on Facebook and Twitter!