Best Ladies Gardening Gloves
Tuesday, 20 February 2018
There are few things more therapeutic than gardening, as the soothing sounds of nature and fresh air of the outdoors combine to keep both the body and mind relaxed like nothing else. Gardeners know that it isn't all sunshine and roses though, with less-than-ideal weather and tough tasks making some days less idyllic than others. Luckily, these hazards can often be overcome by the right equipment and preparation, and at SafetyGloves.co.uk, we're here to help. We've laid out a short list of our Best Ladies Gardening Gloves, providing you with all the comfort and protection you need for a pleasant and fruitful day in the garden.
What Should I Look for in a Gardening Glove?
The perfect gardening glove is different for every gardener. While some may be looking for a glove to keep their hands warm through the colder months, others may be in search of protection to tackle those thorny bushes and tougher weeds. Judging from our own experience of gloves and gardens, we've boiled it down to three main features to consider in a gardening glove:
1) Comfort
Gardening enthusiasts can often spend long hours tending to their plants, so long-lasting comfort is a must. Flexibility is often key to comfort, but in most cases comfort comes down to insulation and breathability. In the summer, a breathable glove will prevent sweating, overheating and fatigue. In the winter, an insulated glove will keep your hands warm, nimble and ready to work.
2) Protection
Every gardener knows the feeling of gripping an unexpected bramble and thorn, and it isn't one we'd like to experience again. For the toughest jobs, choose a glove that's thick and protective. This includes water-resistance, as nothing makes garden work less enjoyable than wet, painful and cold hands.
3) Grip
Dirt, water and other hazards outside can make getting the right purchase on tools and plants a pain. Choosing a glove with the right grip will make your life much easier, as all your energy and strength will be directed to the right place.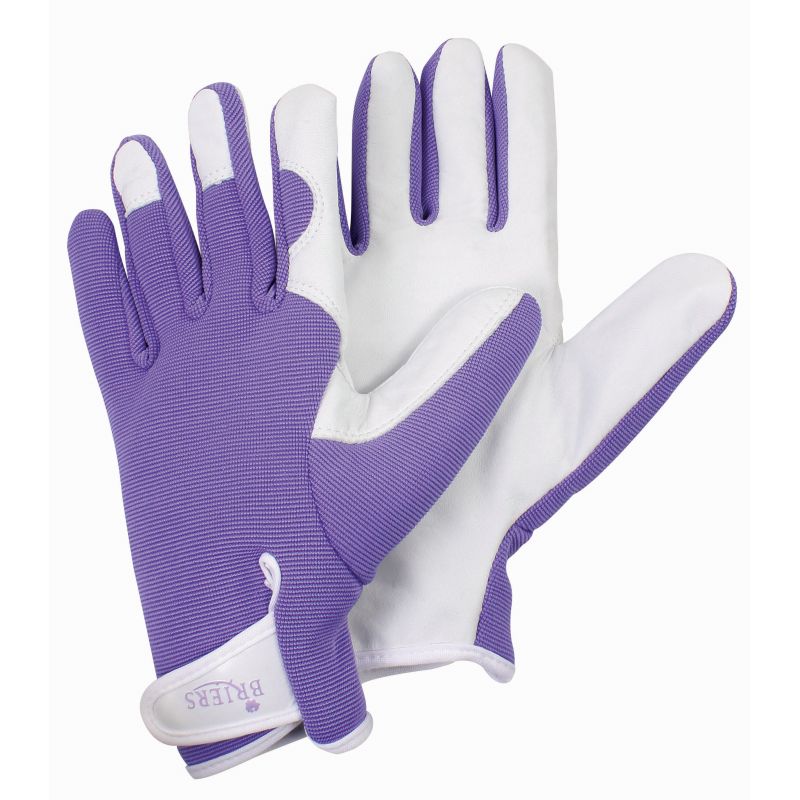 Briers Ladies Leather Gardening Gloves
We start off our list with an excellent all-round gardening glove that's good for pretty much anything. The Brier's Ladies Leather Gardening Gloves are a great heavy duty glove that is still lightweight enough to allow full dexterity, making it a perfect middle ground between protection and comfort.
Made from high quality soft leather, these gloves move with the hands, and include a Velcro wrist strap to ensure all debris stays on the outside. Featuring extra protection across the palms and fingertips, these gloves are perfectly suited to tough jobs as well as leisurely upkeep.
Key Features: Lightweight, made with soft leather, Velcro wrist strap, reinforced palms and fingertips for protection.
Shop Now
Keep Your Hands Happy in the Garden
Time in the garden should be relaxing and fun, so let's keep it that way. These gloves will make all of those painful and uncomfortable gardening hazards a thing of the past, keeping your hands comfortable, dry and ready to get to work. Weigh up the factors that are most important for your gardening regimen, review the strengths of our gloves, and find the best option for you!
Not convinced, or want to take a look for yourself? Check out our entire range of Ladies Gardening Gloves!
Have any questions, or anything to add? Tell us in the comments below, or find us on Facebook and Twitter!