Best Mandolin Gloves 2023
16 May 2023 | Sharman
Whether you're a Michelin star chef or just a passionate home cook, a mandolin is a fantastic kitchen tool for making light work of a lot of vegetables. On top of being quick, their fine blades allow for uniform and impressive-looking cuts in a variety of shapes that most people simply couldn't get with a kitchen knife. The only issue is that towards the end of cutting a vegetable, your hand can get dangerously close to the blades, so protection is vital.
In our Best Mandolin Gloves guide, we'll go over three different cut-resistant, food safe gloves at three different price points, to help you find the best glove for you.
What Does this Guide Cover?
Best Mandolin Glove for Casual Use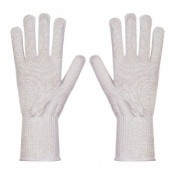 Food-safe liner glove with maximum cut protection
Use alone or underneath a disposable glove for hygiene
Flexible 10-gauge liner is durable but retains dexterity
Supplied as a single glove with ambidextrous fit
| | | |
| --- | --- | --- |
| | | In stock now |
Editor's Verdict: Made of a steel and polyester mesh, the Portwest A657 Glove gives you the highest level of cut resistance in its class, for sturdy protection at a fantastic price. The 10-gauge liner is thick enough to trap a mandolin blade, while remaining seamless for comfort and flexibility. It's been tested for effectiveness after twenty washes at 93°C, but its life can be further extended by wearing disposable gloves on top.
Best Mandolin Glove for Everyday Use
Price is per single glove
Food approved safety glove for domestic and professional use
Use of Dyneema technology for uncompromised dexterity
Available in black and blue
| | | |
| --- | --- | --- |
| | | In stock now |
Editor's Verdict: Our mid-range choice is anything but average. The uses Polyco Bladeshades glove uses Dyneema knit technology to provide robust cut protection, while remaining incredibly lightweight and dextrous, ideal for extended use. On top of being cut-resistant, it also boasts strong resistance to abrasions and punctures, for a seriously versatile kitchen glove.
Customer's Verdict:
I bought a level 5 cut resistant glove for use with a mandolin slicer in the kitchen. The website is excellent, one of the best I've used, so finding out what to buy, and what size to choose, was easy. The glove is comfortable and gives a feeling of reassurance when using this hazardous device -
Julian
★★★★★
Best Mandolin Glove for Professional Use
Single glove with incredible dexterity and EN 388 protection
Essential wear for food preparation professionals
Coretek fibre keeps hands cool, odour free and breathable
Superior protection without compromising accuracy and dexterity
| | | |
| --- | --- | --- |
| | | In stock now |
Editor's Verdict: The choice for chefs, kitchen assistants and the most passionate home cooks, the HexArmor NXT 10-302 combines comprehensive protection with a lightweight, thin and dextrous design. It's also highly durable for a long shelf life and machine washable, even in industrial dishwashers. The elegant white and silver design offers a professional, distinguished look, that wouldn't be out of place in a French kitchen.
Combine with Disposable Gloves for Easier Hygiene
Maintaining hygiene is easy and safe with these cut-resistant kitchen gloves, as they can all be worn underneath food-safe disposable gloves. Simply change your disposables when there is a risk of cross contamination, and remember that all three gloves are food-safe too, so even if the glove breaks or tears, you don't have to worry.
Have a look at our range of food service gloves for boxes of food safe disposables that you can wear over your mandolin gloves.
Why Just One Glove?
All three gloves we feature in this guide are supplied as a single glove and you might be wondering why. Well, usually when using a mandolin or knife, only one hand is at risk, so the other can be ungloved (or wearing a disposable glove), to maintain its full dexterity. The gloves above are also all ambidextrous, so they can be worn on whichever hand you prefer.
Less Waste Than Using a Guard
Some mandolins come with a handy guard that inserts into the piece of fruit or veg you're cutting, so your hands aren't at risk of direct contact with the sharp blade. While this is great for safety, it does result in the last few centimetres of everything you cut being wasted. Wearing a mandolin glove, you can safely get down to the very end of whatever your cutting - no waste, no fear!
Why Even Use a Mandolin?
After seeing how cut-proof and robust these mandolin gloves are, you might be thinking that you'd rather stick to your trusty kitchen knife and not need such a high level of protection. Well, what sets a mandolin apart from a knife is how quickly and precisely you can cut up a lot of food. This could make it easier to get more vegetables into your weeknight dinners, or speed up hours of prep in a professional kitchen.
Great for Graters Too!
Not just for mandolins, the same slicing protection makes al three gloves brilliant for using with cheese graters. Parmesan is expensive, so grate it right down to the rind without worrying about grating off a bit of your finger.
Just a Slice of What We Have to Offer...
We think that the gloves above are brilliant and will leave you feeling like a mandolin maestro, but we understand if you want to keep looking. Why not have a look at our Mandolin Gloves category, for even more super-safe kitchen gloves.
Have any more questions about mandolin gloves or other gloves for the kitchen? Let us know in the comments below or reach out on Facebook and Twitter.