Find Your Perfect Gloves Today
Wednesday, 20 February 2019 | Alex
At SafetyGloves.co.uk, we offer over 2000 different types of gloves and with all of this choice it can be hard to find the perfect pair for your needs. To help with this, we have created a product finder that allows you to find the perfect gloves for your needs simply by asking a couple of questions.
Find Your Perfect Gloves
To start, simply choose the use and style of your desired gloves.
How Does the Product Finder Work?
The product finder has been designed to be as simple as possible to use. Simply select the use of your gloves (for example "Construction" or "Thermal Protection") and then select the style that you would like for your gloves (for example "Fingerless" or "Grip"). This will take you to a new page with recommendations of the best suited gloves for your query.
Why Can't I Find My Use/Style Listed?
While we are trying to make the Product Finder as comprehensive as possible, it's possible that there are some oversights. If you can't find any suitable options for your needs, please get in touch at helpdesk@safetygloves.co.uk and we will strive to provide you with the information that you need.
How Are the Product Finder Gloves Chosen?
To ensure that the Product Finder is as easy to use as possible, it is designed only to show the most relevant results for your needs. If you would like a wider selection of gloves to choose from, we would recommend having a look at the relevant industry category by checking the navigation at the top of every page.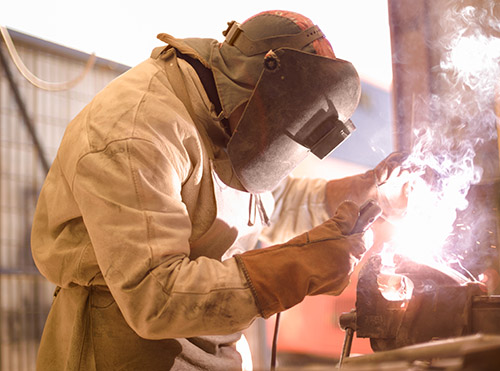 Welding is one of many industries for which we cater
To find the most relevant gloves, we have consulted both our product experts and the user feedback received for gloves to find gloves that are a perfect fit. By doing this, you can trust the results that you see – each one should be well suited to your needs.
Are the Gloves Listed from Best to Worst on the Results Page?
Once you have finished your search, you will be taken through to a results page. On this page, the results that you see are listed alphabetically by title. You can change the way that the gloves are listed by using the "Sort By" box in the top right hand corner of the page.