Introducing Bladeshades: Colour Co-ordination for Your Professional Kitchen
Thursday, 5 July 2018 | Admin
Anyone who works with food, whether it be a chef in a professional kitchen, a member of staff in a fast food restaurant, or someone at home cooking for guests, shares a common enemy: food contamination. As well as having to prevent the spread of harmful bacteria, it's more and more common to cater for people who are pescatarian, vegetarian or vegan and they will want to be assured that no meat has touched their food. Thankfully a brand-new, innovative and versatile product from Polyco has hit our shelves, and these gloves promise to make the problem of food contamination a thing of the past.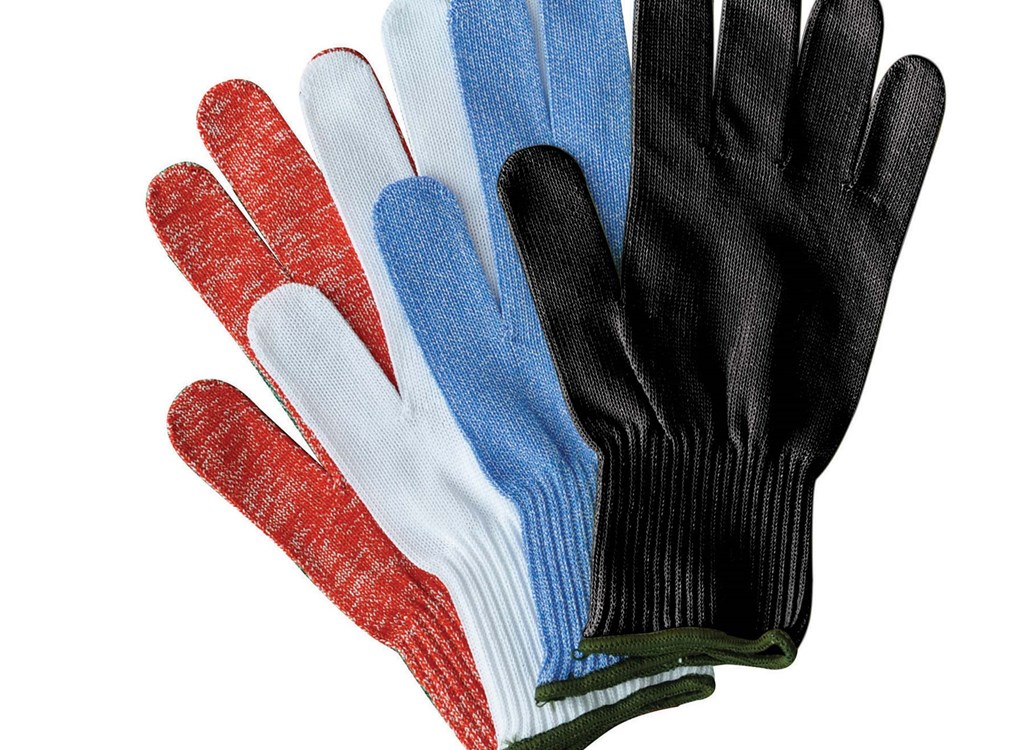 Bladeshades are perfect for preventing food contamination
Introducing Bladeshades - level 5 cut-resistant gloves that come in four different colours, perfect for food preparation. By being available in single versions of separate colours, the user can separate the gloves by food type, ensuring that no bacteria, dirty food or meat can touch the wrong type of food. We have created this short article to demonstrate the usefulness of Bladeshades, allowing you to bring a professional kitchen to your home!
Bladeshades - A Must in Any Busy Kitchen
Polyco Bladeshades are not just your 'any food' preparation gloves. They are level 5 cut resistance making them perfect for use with knives, with Dyneema technology to ensure total dexterity making them ideal for handling and performing tricky food tasks.
They are colour co-ordinated, allowing you to separate your gloves by food, ideal for preventing contamination. Once you've received your Polyco Bladeshades Gloves, we understand that you'll probably want to get cooking, so to save you time we've created this chart to help you decide which colour is best for which food.
BLUE
To keep it simple, we would recommend that you use blue for meat. This way, you know that if you're cooking for any vegetarians to keep the blue glove in the cupboard! These gloves can be washed too, so once you've held uncooked meat with the gloves you can wash them to remove any harmful bacteria.
We would also recommend using the blue gloves for unwashed and dirty foodstuffs - meat only - to ensure that any cleaner foods such as dairy and vegetables don't become dirty and contaminated.
Best Suited For: Using with meat products; filleting meat; butchering and slaughterhouse work; use with dirty food; cleaning dirty food.
Red
For the red gloves, we say stick to fish. You can fillet, debone and handle fish with these gloves while keeping them separate to any vegetables that you will be preparing alongside. Polyco Bladeshades are perfect for using with fish because they are highly dexterous and offer some of the best cut resistance on offer.
Best Suited For: Using with fish; deboning and filleting fish; oyster shucking; ideal for vegetarians.
White
For the Bladeshades that come in the white colour, we would recommend using vegetables, fruits, nuts and any other foods that are suitable for vegans. If you focus on using the white gloves only on vegan foods then you should not have any problem when it comes to food contamination. The gloves promise to excel in applications such as vegetable preparation, because they offer excellent dexterity and high cut resistance.
Best Suited For: Vegan use only; vegetable preparation; washing dirty vegetables.
Black
For black gloves we would recommend sticking to dairy products. This way you can separate food for vegetarians and food for vegans, as well as ensuring that no dirty food is included in cleaner foods. It is still suitable to use these gloves with vegetables if you're cooking a vegetarian meal, and remember that these gloves are machine washable which ensures high hygiene control.
Best Suited For: Vegetarian cooking; use with dairy products and any other non-vegan vegetarian foods; clean vegetables.
Make Your Kitchen Professional
Make your kitchen professional with Polyco Bladeshades, helping to prevent the cross contamination of all the major food groups including meat, fish, vegetables, vegan and vegetarian food. If you have an enquiry, or anything to add, please either leave a comment below or call us on 020 7501 1104. Finally, if Polyco Bladeshades doesn't satisfy you, take a look at our wide range of Food Preparation Gloves, where you're sure to find the gloves you are looking for.