Our Top 5 Gloves for Painting and Decorating 2022
Thursday, 2 December 2021 | Admin
Painting and decorating can be dangerous for your hands if you're not careful. Aside from getting paint on your hands, coarse wood, splinters and more can all cause minor injuries. Painting and decorating gloves are a fantastic way to protect your hands from risks while keeping them nice and clean.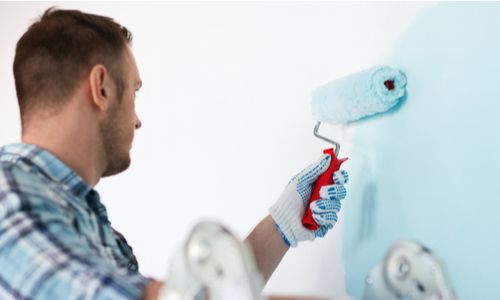 Painting and Decorating Gloves Can Make Your Job Easier
Here at SafetyGloves.co.uk, we sell a wide range of painting and decorating gloves that do just the job. Whether you want some simple cotton gloves for painting, or something with a bit more protection for those rough surfaces and tool use, we should have the gloves that are just right for you. The guide below gives you an introduction into five of our top painting and decorating gloves.
Our Top 5 Painting and Decorating Work Gloves
EJendals Tegera 867 Palm Dipped Fine Assembly Gloves
The Ejendals Tegera 867 Palm Dipped Fine Assembly Gloves are water and oil repellent while offering level four abrasion resistance, meaning that these gloves are extremely versatile. It means that you can use them interchangeably for a range of jobs, including painting, decorating and jobs that demand a little more protection such as woodwork. Despite offering a good level of protection, they are thin and dexterous, proving perfect for tricky and tactile tasks too.
Key Points: Suitable for use with paint; white colour perfect for decorating; abrasion resistant for woodwork; flexible and thin for tactile tasks.
Shop Now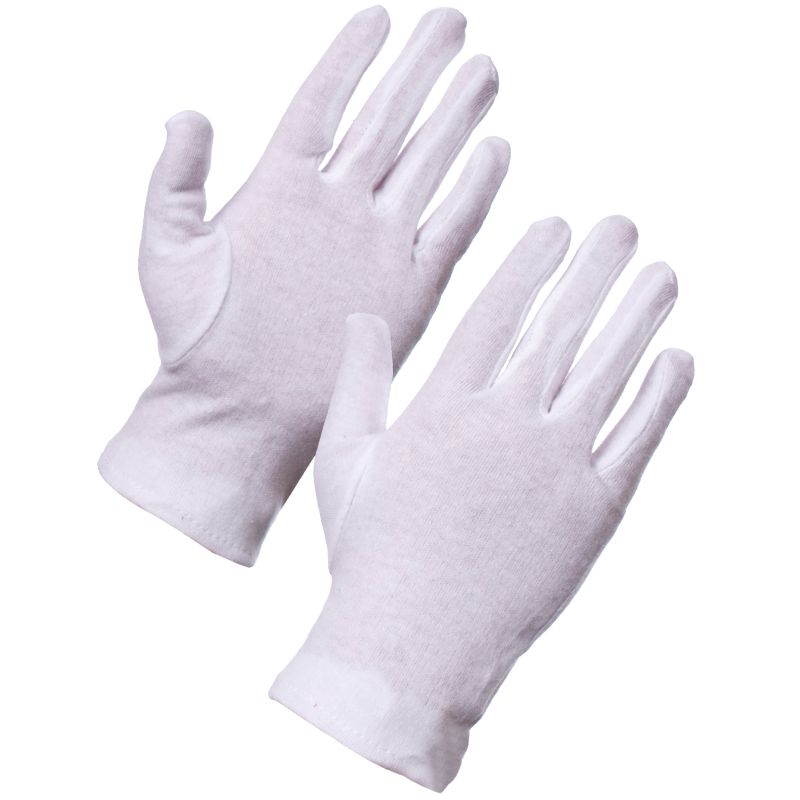 Supertouch White Cotton Gloves Forchette 2550
The Supertouch White Cotton Gloves 2550 are your classic painting and decorating gloves, and have quickly becoming top sellers within this sector. They are cost effective, thin, flexible, sensitive and suitable for low-risk tasks, everything you can possibly need for putting up wallpaper and painting your wall. They are designed to increase sensitivity and are so soft to touch that they are even used to handle photographs and expensive paintings!
Key Points: Highly sensitive (used for handling paintings); extremely thin and flexible; white for painting; cost-effective and lightweight.
Shop Now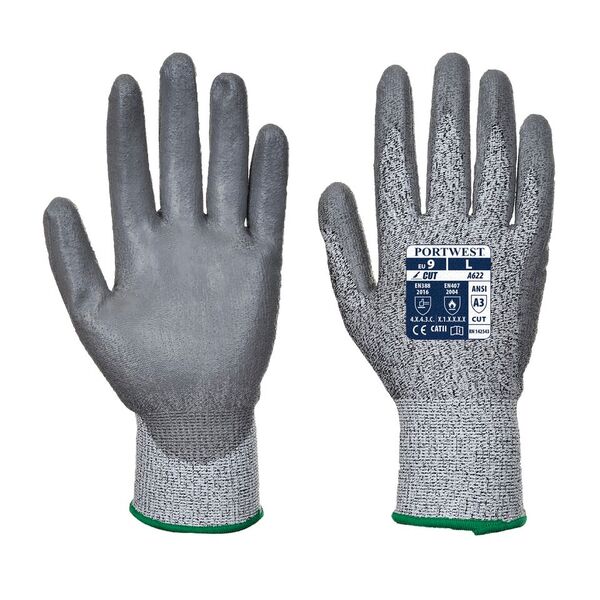 Portwest A622G7 Level 5 Cut PU Coated Gloves
Moving away from low-risk gloves, the Portwest A622G7 Level 5 Cut-Resistant PU Coated Gloves offer the same lightweight and flexibility however come with exceptional level 5 cut resistance, 100°C heat protection and fantastic grip. While you can use these gloves for painting, they might be better suited to tasks that require a little protection such as woodwork. As these gloves offer the same dexterity as the lightweight white cotton gloves, they won't go amiss while moving between jobs in the house.
Key Points: Fantastic level 5 cut protection for tougher tasks; offer heat resistance for tasks with heat risk; fantastic dexterity ensures tactile use.
Shop Now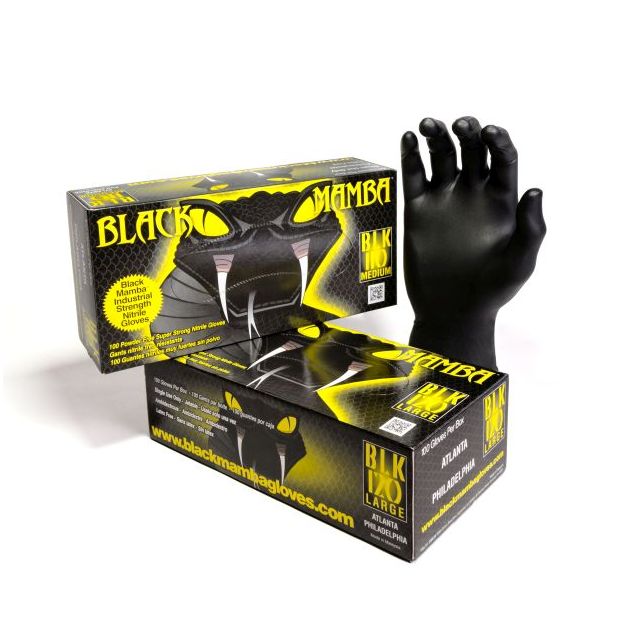 Black Mamba Disposable Nitrile Gloves BX-BmG
The Black Mamba Disposable Nitrile Gloves BX-BMG are our only disposable gloves that make the list, because we really couldn't leave them out. Aside from protecting you against dirt and paint, these gloves are super strong with it being common for workers to use them all day without needing to replace them. They are chemical resistant for working with paint, bleach and other chemicals, and offer the same dexterity and sensitivity as other disposable gloves.
Key Points: Disposable gloves that are super strong; protect the hands from paint and chemicals; offer fantastic dexterity and sensitivity.
Shop Now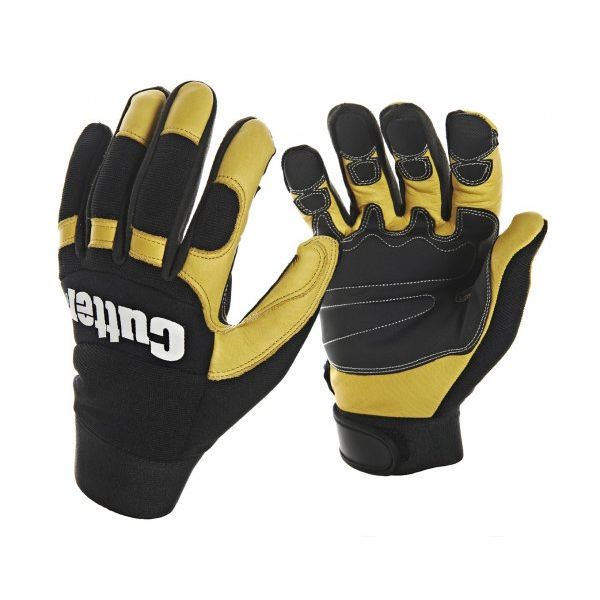 Cutter CW800 Leather Men's Ultimate Utility Gloves
The last gloves that make the list are the Cutter CW800 Leather Men's Ultimate Utility Gloves and while you won't want to use them for painting, they are perfect for plenty of other tasks around the house. Their thicker, protective design means that if you need to use a hammer or anything else, then these gloves should really be your first port-of-call. Aside from this, they offer superb grip, comfort and are reinforced for your protection, perfect for plenty of indoor decorating jobs.
Key Points: Ideal for manual, heavy-duty indoor work tasks; protective design ideal for protecting against impact, knocks and scrapes; offer superb grip for manual use.
Shop Now
Start Painting and Decorating Tomorrow!
We hope that this guide has given you all the information that you require for getting started on your painting and decorating job. If you haven't found the gloves that you're looking for here, take a look at our DIY Gloves category, where you'll find special sections for painting, decorating and more.
Have any questions, or anything to add? Tell us in the comments below, or find us on Facebook and Twitter!