Skytec Argon Gloves vs Ejendals Tegera 295 Gloves Comparison
23 January 2019
The Skytec Argon Waterproof Thermal Gloves and the Ejendals 295 Waterproof Thermal Gloves are certainly causing ripples across the thermal gloves market, with both pairs leaping to the top of the bestselling glove charts. Both can protect your hands from the cold and wet, keeping your hands warm and snug, and offering enough protection that you can work on outdoor tasks with your hands safely protected inside your gloves.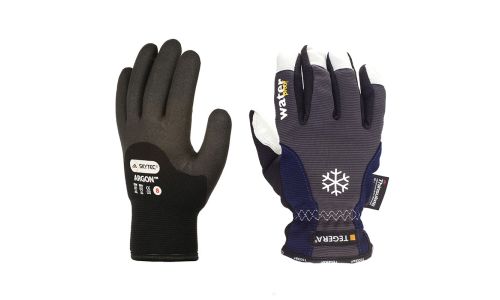 Choosing which glove depends on what you want from your thermal gloves
Despite their similarities there are a few differences here and there too, and these small differences could make a big difference at work. If you're in the group of people wondering which one of these top selling gloves to buy, then this comparison guide will hopefully shed some light.
Skytec Argon vs Ejendals 295 At A Glance
If you're in a rush and you want the lowdown nice and simple, take a look at the following chart, a visual display outlining the main differences between the two gloves.
What Offers What?
| Feature | Skytec Argon Gloves | Ejendals 295 Gloves |
| --- | --- | --- |
| Cold Resistance | ✔ | ✔ |
| Fully Waterproof | ✘ | ✔ |
| Partially Waterproof | ✔ | ✘ |
| Grip | ✔ | ✔ |
| Dexterity | ✔ | ✔ |
| Durability | ✔ | ✔ |
| Wrist Protection | ✔ | ✘ |
| Suitable for Food Use | ✔ | ✘ |
| Latex Free | ✔ | ✔ |
| Reusable | ✔ | ✔ |
| Machine Washable | ✔ | ✔ |
Number Crunching
| Feature | Skytec Argon Gloves | Ejendals 295 Gloves |
| --- | --- | --- |
| Temperature Resistance | -50°C | -30°C |
| Water Permeability | Only partially waterproof | Dry hands after 30 minutes in water |
| Abrasion Resistance | Level 3 | Level 2 |
| Cut Resistance | Level 2 | Level 1 |
| Tear Resistance | Level 3 | Level 2 |
| Puncture Resistance | Level 1 | Level 1 |
| Convective Cold Resistance | N/A | Level 1 |
| Contact Cold Resistance | Level 2 | Level 2 |
| Water Permeability | N/A | Level 1 |
| Price | £4.29 | £12.00 |
The Key Points
Selecting which waterproof and thermal gloves that you want depends on what you want the gloves for and what qualities you want from your gloves. The differences between the two gloves are marginal, but often the devil is in the detail and choosing the right glove can improve safety, comfort and productivity.
Waterproof
Both gloves are waterproof, however it's the Ejendals Tegera Gloves that offer a total waterproof fit that stretches across the entire hand. One way to test a glove's waterproof ability is through the bucket test. By placing your hand in a full bucket of water, you see if your fingers remain wet or dry once you've taken your hands out.
The Bucket Test
If you place the Skytec Argon Gloves into a bucket of water, their waterproof palm, fingers and lower back will ensure total dryness. However the cuff and higher back (nearer the wrist) is designed to be water resistant and repel water from the gloves, however in a bucket of water this material will eventually soak all the way through. Alternatively the Ejendals 295 Gloves are designed with Thinsulate that stretches from the fingertips to the wrist, ensuring that every part of your hand will stay dry if lowered into a bucket of water.
Verdict: Ejendals Tegera 295 Gloves
Warmth
Both gloves are incredibly snug and feature a fleece inner lining that prevents your hands from becoming too cold. The Thinsulate and fleece lining within the Tegera 295 Gloves is highly comfortable, which is perfect for those winter environments. Similarly the Skytec Gloves are also incredibly warm, with their double HPT foam lining helping to keep you comfortable and warm.
Verdict: Tie
Cold Resistance
Again both gloves are strong in this category, with the Tegera Gloves using a Thinsulate lining to offer excellent protection from the cold. Instead of Thinsulate, the Skytec Gloves use a double insulated thermal layer that can provide warmth even in the coldest of environments. As the Ejendals can protect against -30°C, and the Skytec can protect against temperatures at -50°C, the Argon Gloves just edge it.
Verdict: Skytec Argon Gloves
Dexterity
The Ejendals Tegera 295 Gloves are a top seller probably because of their Thinsulate lining, which means that they can combine cold resistance with incredible dexterity. This thin and flexible design is perfect for handling and gripping tools, even when the materials that you are handling are frozen.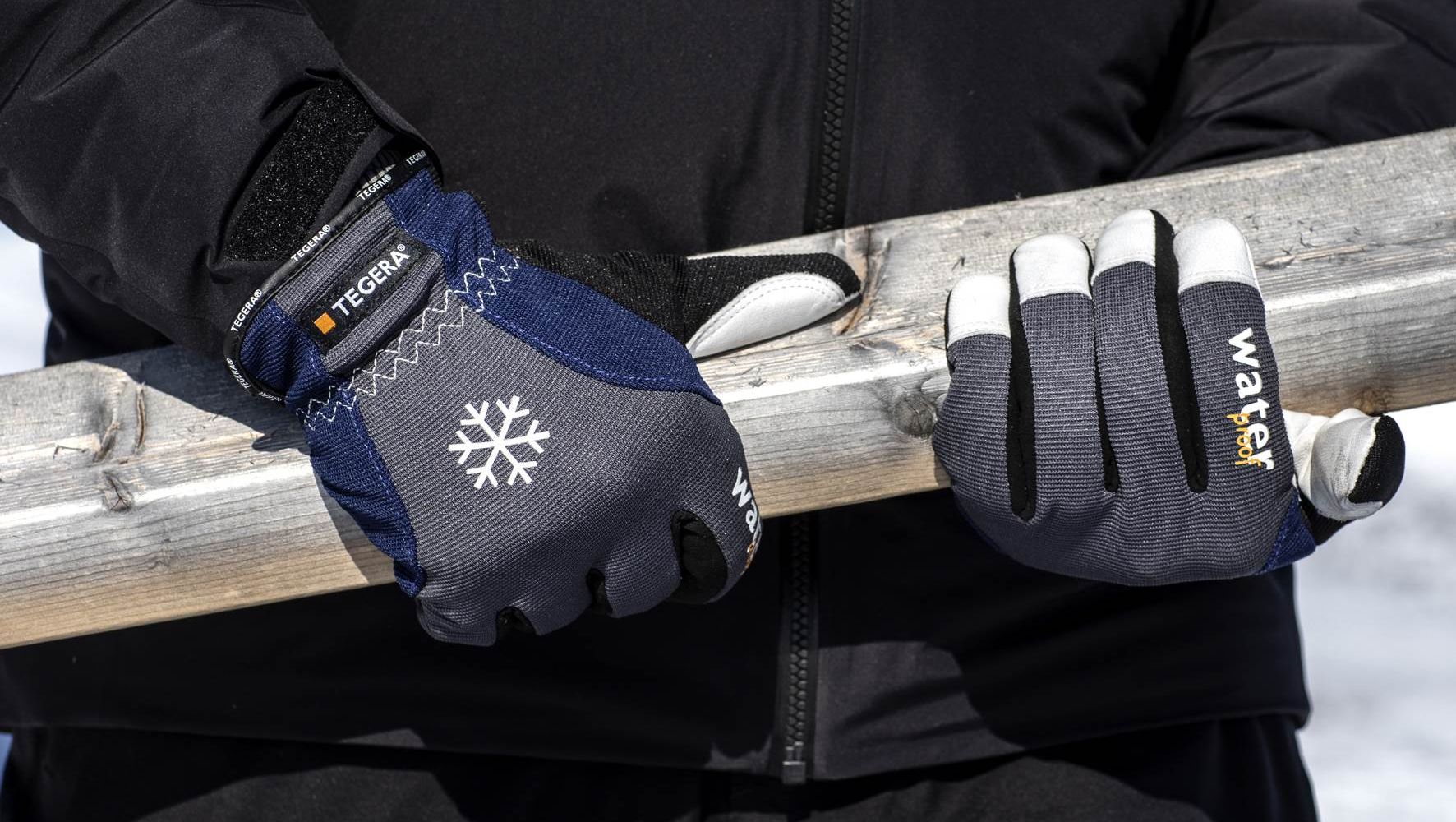 The Ejendals Tegera use Thinsulate to improve dexterity
Alternatively the Skytec Argon Gloves use a thicker fleece lining that compromises dexterity a little. If you were to handle small items and undertake tasks that require more tactility, then we would choose the Ejendals every time. For dexterity, it goes to Ejendals 295 Gloves.
Verdict: Ejendals Tegera 295 Gloves
Grip
There is little between the Ejendals 295 Gloves and the Skytec Argon Gloves when it comes to grip. The Ejendals Tegera 295 Gloves feature a leather palm that although grippy, can become a little slippery should the weather conditions get a little too adverse.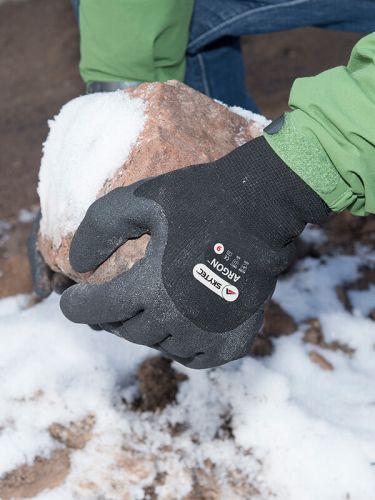 Coarse material underneath the Skytec Argon Gloves ensures grip
On the other hand the Skytec Argon Gloves are fitted with a coarse leather on the palm and back of the gloves that can provide excellent grip even when handling icy and slippery materials. As the Skytec Argon Gloves offer such top of the range grip, they win grip.
Verdict: Skytec Argon Gloves
Suitability and Versatility
We can't see the difference in versatility between the two gloves, as both offer excellent performance across such a wide variety of industries. While the Skytec Gloves are suitable for use with food, which makes them perfect for use in the freezer, the thin and dexterous design of the Ejendals means that they are perfect for most outdoor environments.
Skytec Argon Gloves
The Skytec Argon Gloves are a little thicker than the 295 Gloves and as a result offer less dexterity but more mechanical resistance. As a result we would recommend these gloves for more heavy-duty applications that can maybe take a higher toll on the hands. Their lower dexterity too means that you may want to choose the Ejendals for any application that requires a little tactility.
Ejendals Tegera 295 Gloves
As the 295 Gloves are extremely thin and dexterous while offering outstanding cold resistance, they are well suited to picking up and handling tools and equipment that require a little more dexterity. This means that they can handle most outdoor work that comes with a low to medium level of risk.
Verdict: Tie
Mechanical Protection
If you're at work and work in an industry, then it's important to know what gloves protect against what. Again, the difference is marginal however by looking at the two EN scores from the two gloves you can see a minor difference. The Ejendals Tegera score 2121, while the Skytec Argon Gloves score a 3231, meaning that if you are after some slightly tougher gloves, then the Argon Gloves are your best bet.
The Skytec Argon Gloves offer slightly better abrasion, cut and tear resistance, which means that in those higher risk environments the Skytec Gloves will probably protect your hands a little better. The Ejendals Gloves aren't flimsy and will still protect your hands however the Skytec Gloves are marginally ahead on this one.
Verdict: Skytec Argon Gloves
Comfort and Fit
Both the Skytec Argon Gloves and the Ejendals Tegera 295 Gloves feature a fleece like lining that is incredibly comfortable to wear. Users report a tight fit with both gloves, but this is to ensure maximum dexterity and total control when handling materials. For comfort and fit the two gloves are too close to call.
Verdict: Tie
Overall Verdict
Both gloves are fantastic thermal waterproof gloves and choosing which glove you want really depends on the qualities that you want. The Ejendals Gloves offer probably some of the best combination of dexterity and cold resistance available, but the Skytec Gloves provide that little bit extra grip and mechanical protection. Really, we couldn't choose one glove over the other, as both have qualities that are unparalleled in the glove world.
| | |
| --- | --- |
| | Ejendals Tegera 295 Waterproof Thermal Work Gloves |
Purchasing Your Thermal Waterproof Gloves
If you've chosen what gloves you want to buy, then you can head over to our Skytec Argon Gloves and Ejendals Tegera 295 Gloves on our website. If you still can't make your mind up and want to speak to an expert, try contacting our customer help line on 020 7501 1104.