The Top Disposable Gloves for Salons – Which Gloves to Go For?
1 Comment
Thursday, 23 July 2020 |
Admin
If you are a salon owner or work in the hair and beauty industry, you'll be familiar with the importance of wearing disposable gloves while you work. Did you know that there is actually a wide range of different types of single-use gloves, with some more suited to certain applications than others?
To help you to discover the perfect type of disposable gloves for the beauty services you provide, we've sorted through our extensive range of products to identify the best latex-free, powder-free, chemical-resistant, and extra-sensitive gloves available. We know that there are many different types of salon applications, so if you've still not found exactly what you're looking for, please get in touch, and we'll be delighted to help you. In the meantime, we hope you will find some of the following suggestions useful!
Best Barbering and Hairdressing Gloves
NITREX Extra Sensitive GN01 Nitrile Gloves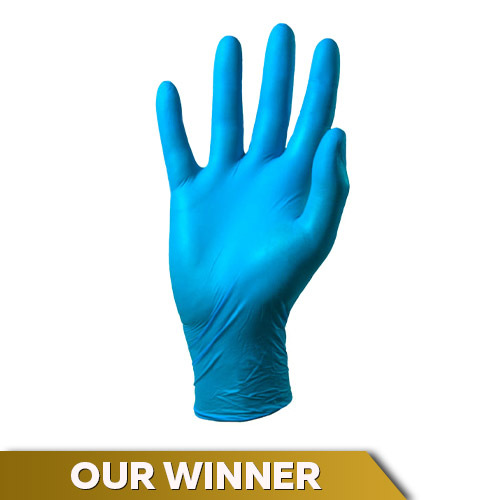 Why We Love It...
✔ Great sensitivity for accuracy when cutting hair
✔ Powder free to reduce skin or scalp irritation
✔ Micro-textured fingertips for securely holding onto tools
Ideal For...
✔ Cutting and styling hair
✔ Shaving and trimming beards
✔ Sweeping and gathering hair after cuts
Editor's Review: The NITREX GN01 Gloves offer the perfect combination of sensitivity and grip, allowing you to feel hair in between your fingers for more accurate cutting, while still maintaining control over scissors and combs. The single-use gloves are also certified for resistance to viral penetration (F1671) for improved hygiene.
Best Hair Dye Gloves for Colouring
Black Mamba Disposable Nitrile Gloves BX-BMG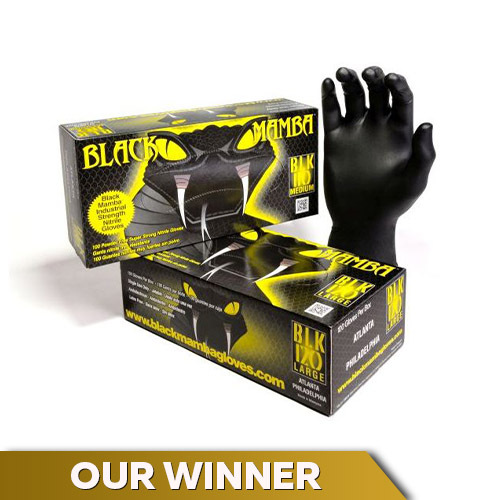 Why We Love It...
✔ Chemical resistant to protect against dye chemicals
✔ Extra strong to reduce the risk of tears and rips
✔ Highly dexterous for precise application of dye
Ideal For...
✔ Applying all-over hair dye or root touch-ups
✔ Applying highlights and lowlights
✔ Removing hair foils before washing
Not the Best For...
✘ Cutting dark hair as strands are harder to see (our solution)
Editor's Review: Providing both chemical resistance and durability, the Black Mamba Disposable Nitrile Gloves are ideal for protecting your hands while applying hair dye. The dexterous design allows for precise applications, ideal for lowlights, highlights, root touch-ups, and colouring tips.
Best Tanning Gloves
Ansell TouchNTuff 92-600 Powder-Free Nitrile Gloves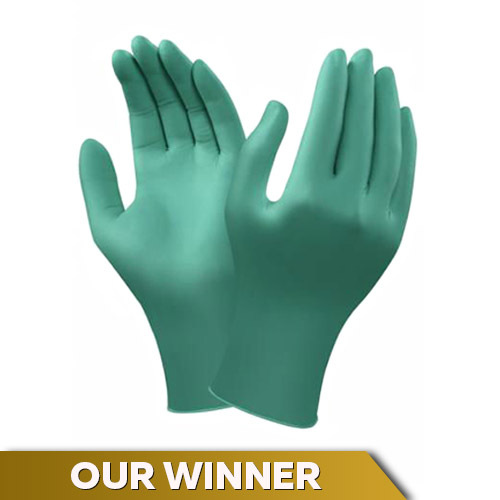 Why We Love It...
✔ Splash resistant to protect against tanning spray
✔ Beaded cuffs prevent the gloves from slipping down
✔ Antistatic design ideal for use with tanning mitts
✔ Powder-free design won't ruin an even tan
Ideal For...
✔ Spray tanning applications
✔ Applying tanning lotion
Editor's Review: Whether you're applying a spray tan or a tanning lotion, the Ansell TouchNTuff Powder-Free Gloves offer enhanced protection with splash resistance and beaded cuffs. The antistatic design ensures you can safely use a range of tanning mitts, and the powder-free design won't get in the way of an even tan.
Best Waxing and Hair Removal Gloves
Polyco GL890 Disposable Gloves for Virus Protection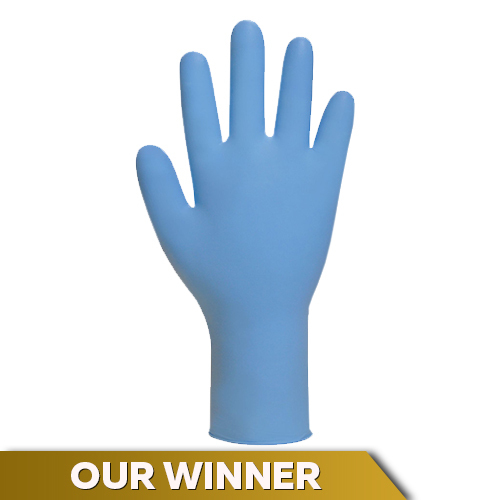 Why We Love It...
✔ Virus protection ideal for removing hair at the roots
✔ Powder free to reduce skin irritation for clients
✔ Extra-strong nitrile construction for reliable wear
Ideal For...
✔ Plucking hair such as eyebrows
✔ Waxing and hair removal
Editor's Review: When removing hair, especially from the roots, the skin can become more exposed to risks of viruses and infections. The Polyco GL890 Gloves offer virus protection, while also preventing skin irritation with a powder-free construction.
Best Cosmetics and Makeup Application Gloves
Supertouch Nitrile Powder-Free Gloves 1261/1269/1267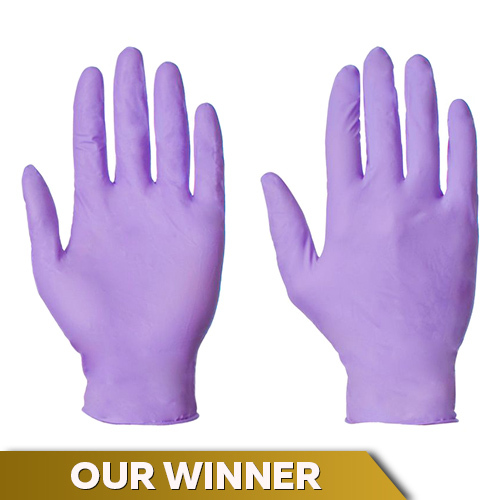 Why We Love It...
✔ Good grip for handling makeup tools and brushes
✔ Free from latex and powder for safer close-up facial application
✔ Available in attractive pastel colours to match your salon
Ideal For...
✔ Makeovers and makeup application
✔ Priming and moisturising the face
Not the Best For...
✘ Working with chemical-based products (our solution)
Editor's Review: Working on a client's face requires both precision and hygiene. The dexterous Supertouch Nitrile Powder-Free Gloves allow you to grip firmly onto cosmetic tools while reducing the risk of irritation otherwise caused by latex or powder.
Best Nail Technician Gloves
Aurelia Bold Black Nitrile Gloves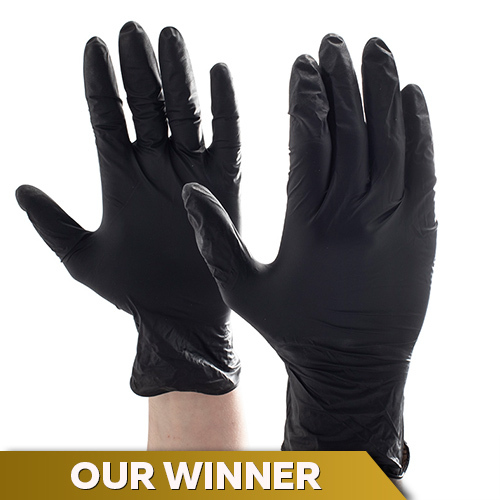 Why We Love It...
✔ Good grip and dexterity for precise nail painting
✔ Free from latex for safer handling of clients' hands
✔ Dark colour ideal for masking nail varnish marks
Ideal For...
✔ Varnishing and painting nails
✔ Manicures and pedicures
✔ Nail art
Editor's Review: Nail technicians work closely with clients' fingers, and the latex-free nature of the Aurelia Bold Gloves makes this process safer and kinder to skin. The gloves offer good grip for handling bottles and brushes, while the dark colour is ideal for masking any accidental nail varnish marks.
Best Salon Assistant Gloves
Hand Safe GN560 Pink Disposable Gloves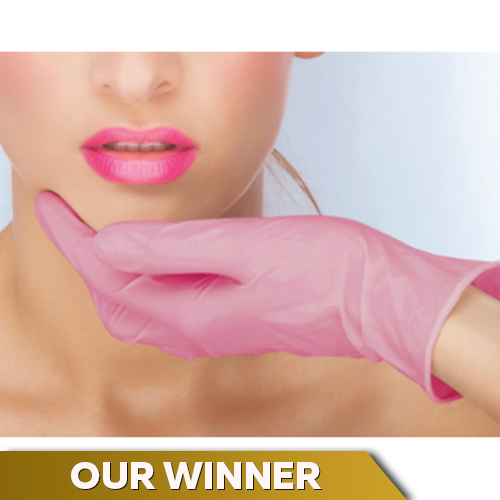 Why We Love It...
✔ Protects hands when sweeping and handling cash
✔ Extra strong to reduce the risk of tears and rips
✔ Stylish pink colour coordinates with a pink salon uniform
Ideal For...
✔ General duties in a salon
✔ Sweeping up loose hairs
✔ Handling cash at the till
Not the Best For...
✘ Salons without a pink theme (see the Aurelia Bold for a sleek and versatile alternative)
Editor's Review: If your salon has a pink colour theme or a pink uniform, then the Hand Safe GN560 Pink Disposable Gloves are ideal for coordinating with your style without compromise to protection. They provide all-round general protection, making them ideal for salon assistants or trainee beauticians.
Best Biodegradable Gloves for Eco Salons
PowerForm S6 EcoTek Biodegradable Nitrile Gloves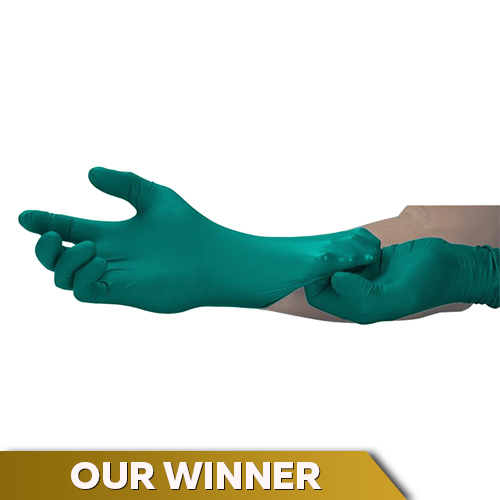 Why We Love It...
✔ Biodegradable glove certified by the Skin Health Alliance
✔ Powder free for reduced contamination and improved comfort
✔ Suitable for working with oils and during oil-based treatments
Ideal For...
✔ Eco-conscious salons
✔ Hairdressers, nail technicians, makeup artists, and more
Editor's Review: People are becoming increasingly conscious of their carbon footprint, and the PowerForm S6 EcoTek Biodegradable Gloves are ideal both for protecting the environment and for providing clients with the peace of mind that your salon is taking measures to be kinder to the environment.
Still Not Sure Which Gloves to Choose?
We know that kitting out an entire salon with the right disposable gloves isn't a decision to be taken lightly, so if you're still not sure about which gloves you should go for then we'd love to hear from you. We'd be happy to discuss your requirements with you to help you find the perfect pair of disposable gloves for your needs and those of your staff and clients. We also sell other protective clothing, such as Rolls of Disposable Aprons, and if you wish to find out more you can reach our dedicated Customer Care team at helpdesk@safetygloves.co.uk.
What kind of services does your salon provide? Let us know in the comments, or find us on Twitter or Facebook!