Why Choose Thermal Builders Gloves
Thursday, 5 July 2018 | Admin
Working through the winter in cold conditions increases the risk of injury and illness, and may lead to a major loss in productivity. This ultimately will cost you money, either through unfinished projects, time spent off work or through the loss of a job. Thankfully we have a wide range of gloves that are used specifically for building in cold, wet conditions.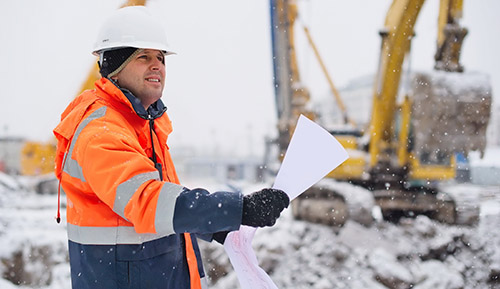 Thermal Builders Gloves boost performance in wintry conditions
You might be content with your gloves that are built for building, with their high dexterity and mechanical protection. You might not want to sacrifice this high level of safety and grip over a glove that offers warmth. If you are wondering Why Choose Thermal Builders Gloves, we've created this short article to demonstrate the pros and cons of thermal builders gloves, which ones we consider to be the best, and show you why they should be an essential item in any builder's toolkit.
Why Thermal Builders Gloves
Boost Productivity
The main reason to buy some thermal builders gloves is simply to boost your productivity. Cold conditions can make your hands painful, slow down motor control and make you shiver. This isn't good and can lead to you dropping something heavy, taking you longer to complete tasks and negatively impacting your moral. If your hands are warm and comfortable, then you're likely to be enjoying your job a little bit more, and doing your job quicker.
Ensure Safety
Having cold hands is a threat to yourself and others and can lead you to drop objects. It isn't true that thermal gloves lack the grip or mechanical protection of non-thermal gloves; after all, they are built for work in tough, wintry conditions. Plenty of our wide range of building thermal gloves have impressive EN 388 scores that can rival any other non-thermal glove. Furthermore, flexibility and dexterity are qualities to which thermal gloves are well accustomed, ensuring that you can carry heavy materials easily and safely.
Stay Comfortable
Comfort is crucial in dark, cold and wet conditions, and our builders thermal gloves offer waterproof designs with fleece interior linings to ensure that your hands are cushioned with warmth. Ideal for wintry work, thermal builders gloves offer exceptional comfort during work, and if you're comfortable you're probably working harder too. Safer, more comfortable and productivity boosting, thermal builders gloves are a must have during winter.
Our Top Picks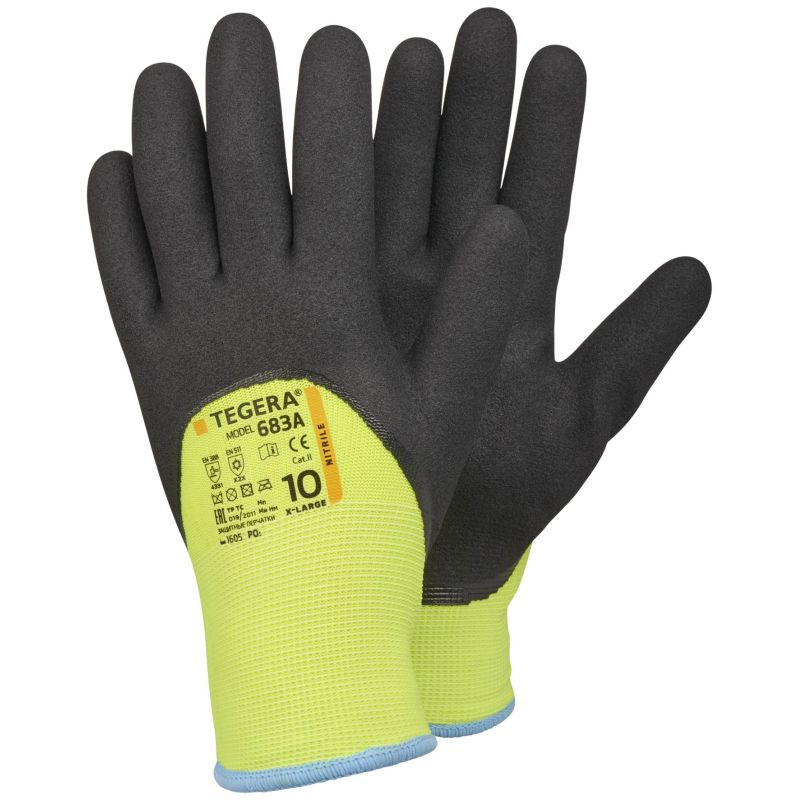 Ejendals Tegera 683A High Visibility Heavy Work Gloves
The Ejendals Tegera 683A High Visibility Heavy Work Gloves are the very best of thermal building gloves, with waterproof properties in the palms that keep you dry, strong abrasion, cut and tear resistance to keep you safe, and an arcylic and nylon lining that keeps you warm. A high-vis yellow back is ideal for darker or wintry conditions, and a 3/4 dipped nitrile coat can provide the grip needed to handle tools and equipment. These gloves are perfect for winter, building work, with their entire design fully equipped for harsher weather.
Key Features: Acrylic and nylon liner keeps you warm; waterproof palms keeps you dry; EN 388 score of 4331 ensures hand protection and longevity; hi-vis liner keeps you visible.
Shop Now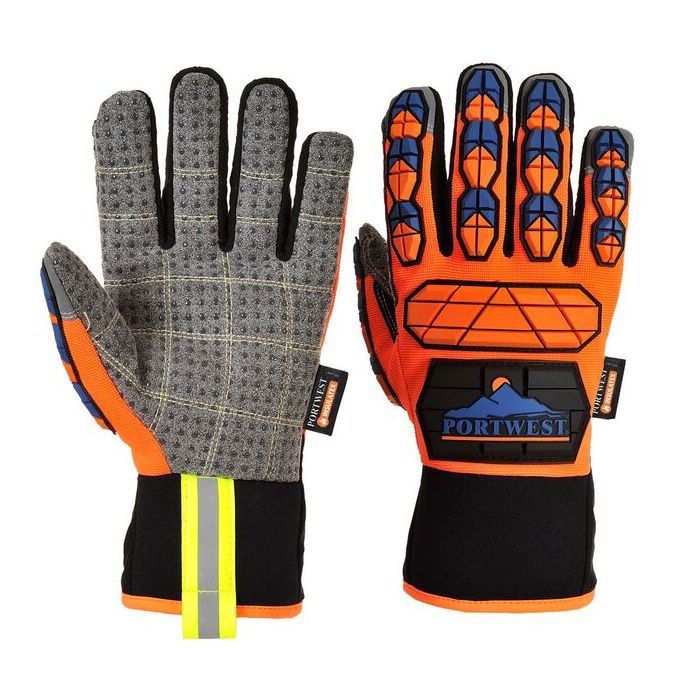 Portwest Anti-Impact Thermal Gloves A726
These gloves offer a little bit of everything. Impact resistance, high mechanical protection all-round special Insulatex for long-lasting warmth and comfort and they can resist water, wind and the cold. This makes the Portwest Anti-Impact Thermal Gloves A726 perfect for building in the winter where the TPR protective pods on the back of the hand can protect against mechanical risks. High dexterity is supported by high grip, meaning that there aren't many better gloves on the market that offer the strengths for building than the Portwest Anti-Impact Gloves.
Key Features: TPR protective pods protect against impact; patented Insulatex protects hands from water, wind and the cold; high dexterity and mechanical protection is supported by excellent grip.
Shop Now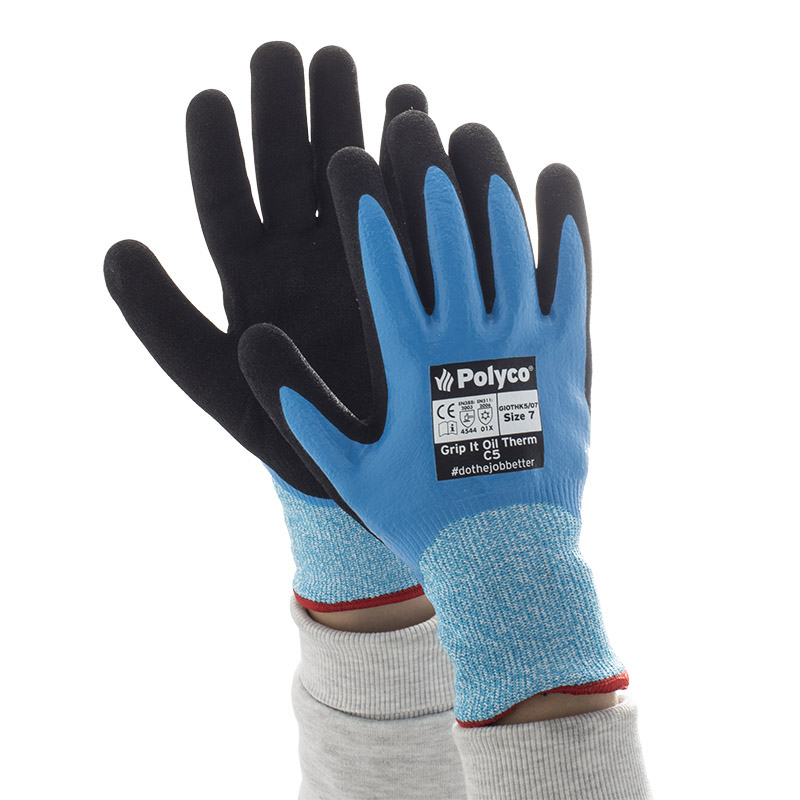 Polyco Grip It Oil Therm C5 Gloves GI0THK5
The last gloves on our list are the Polyco Grip It Oil therm C5 Gloves GI0THK5, which use two layers of nitrile coating to offer some of the best grip around. Along with grip, these gloves are resistant to cold weather, while an EN 388 score of 4544 means that you can use these gloves for high risk tasks safe in the knowledge that they will protect your hands when the time comes. Super warm, super comfortable and super protective, these gloves are a must have for the building site.
Key Features: Fantastic 4544 EN 388 score; offer resistance in temperatures as low as -10°C; double nitrile coating offers superb grip, even in wet conditions.
Shop Now
prepare for Winter
Prepare for winter with Thermal Builders Gloves, designed to boost your performance when you're working in cold, harsh winters. If you're just after Thermal Gloves or Cold Weather Gloves take a browse of our wide selection, you're sure to find the gloves for you. If you have an enquiry, don't hesitate to leave a comment below or call us on 020 7501 1104 where one of our experts will be delighted to help.