Best Oven Gloves with Fingers
Tuesday, 10 July 2018 | Eugene
Burns: we're all familiar with them, and we all understand why we need to avoid them. Despite this, they remain one of the most common kitchen injuries, and one that we seem to be unable to cut out of our lives. Oven mitts are clumsy, while heat-resistant pads or towels can often can slip around and leave parts of your hand uncovered. Luckily, there's a better way, and it's simpler than you think. Home cooks and chefs alike are increasingly turning to Oven Gloves with Fingers for their hand-protection needs in the kitchen, with consistently great results. This type of glove provides the same (and often better) protection as your standard oven mitts do, while leaving your fingers free to provide you with the best grip, and most dexterity possible.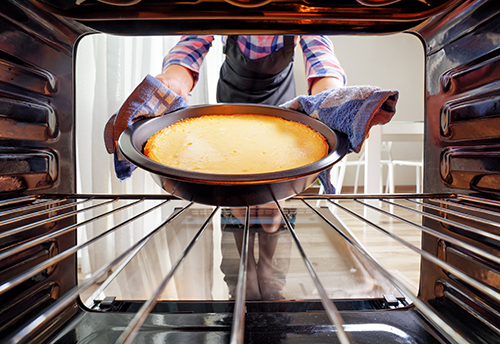 Oven mitts, heat-resistant pads and tea towels leave much to be desired for kitchen heat protection
Here at SafetyGloves.co.uk, we're the authority on the best gloves around, so it's natural that we stock the most protective and easy-to-use five-fingered oven gloves available. We've taken the liberty of selecting a few of our favourites that have been tried and tested to provide you with the peace of mind in the kitchen that you crave. With different features and strengths, we're sure that among these gloves is the perfect pair for you, so read on, and decide for yourself.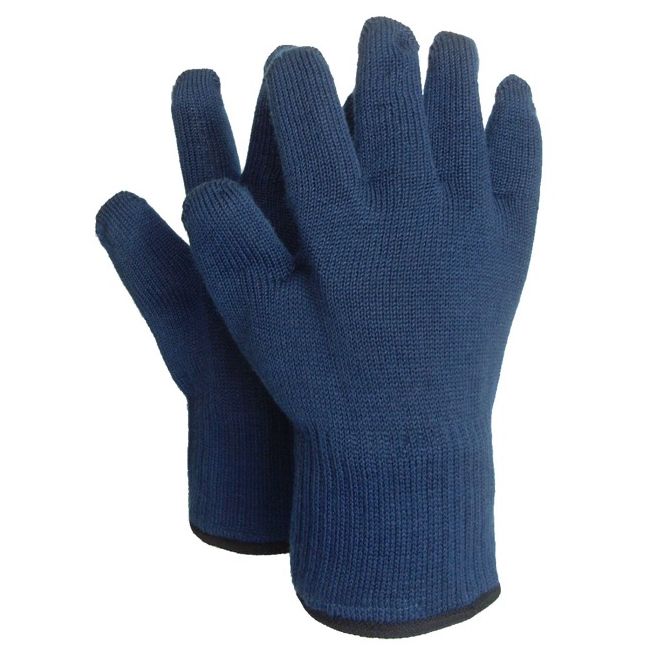 Coolskin Steam Oven Gloves
What better way to start off our list than with one of the most trusted names in heat-resistance: Coolskin. They've been creating high-quality gloves for years to keep your hands free from burns, and the Coolskin Steam Oven Gloves are no exception. Perfect for use by the casual home cook and professional alike, these gloves provide exceptional heat-resistance up to 350°C, more than enough to deal with your common household oven or stove. Resistant from both steam and heat, Coolskin back these gloves against heat from ovens, AGA cookers, solid fuel stoves, microwaves and barbecues.
Protecting your hands and wrists with 27cm of length, these gloves use the power of Nomex (a strong synthetic heat-resistant fibre), to keep the heat where it belongs: outside your gloves. Comfortable and flexible, the Steam Oven Gloves features an additional cotton liner with a cotton-lined latex layer to protect you from heat, steam, and any other type of heat your kitchen can throw at you.
Key features: Protect you from both contact heat and steam; protect your wrists and hands with powerful Nomex fibre.
Shop Now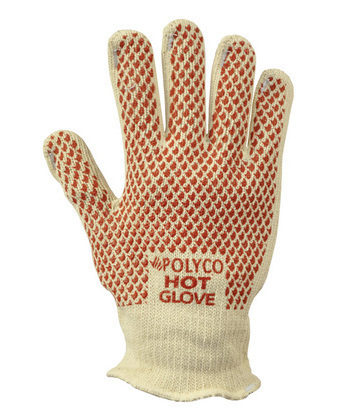 Polyco Hot Glove Heat-Resistant Gloves
For those looking for a glove that will provide heat-resistance while enhancing their grip in the kitchen, you need look no further than the Polyco Hot Glove Heat-Resistant Gloves. With the capacity to withstand temperatures as high as 250°C, these gloves are resistant enough to protect your hands from the heat of household ovens and other home-cooking appliances.
Where these gloves really shine is in the enhanced grip they can provide you while moving hot pans and trays from the oven or stove to other surfaces. Their nitrile grip pattern gives you an iron grip on whatever you're holding, making slipping pans and nervous cooks a thing of the past. Able to be worn on either hand, this glove can function as a single glove, or with two for foolproof protection. As an added bonus, the double-layered cotton construction makes them durable enough to work for you for a long, long time.
Key features: Provide excellent grip with a nitrile grip pattern; ambidextrous, durable and reliable.
Shop Now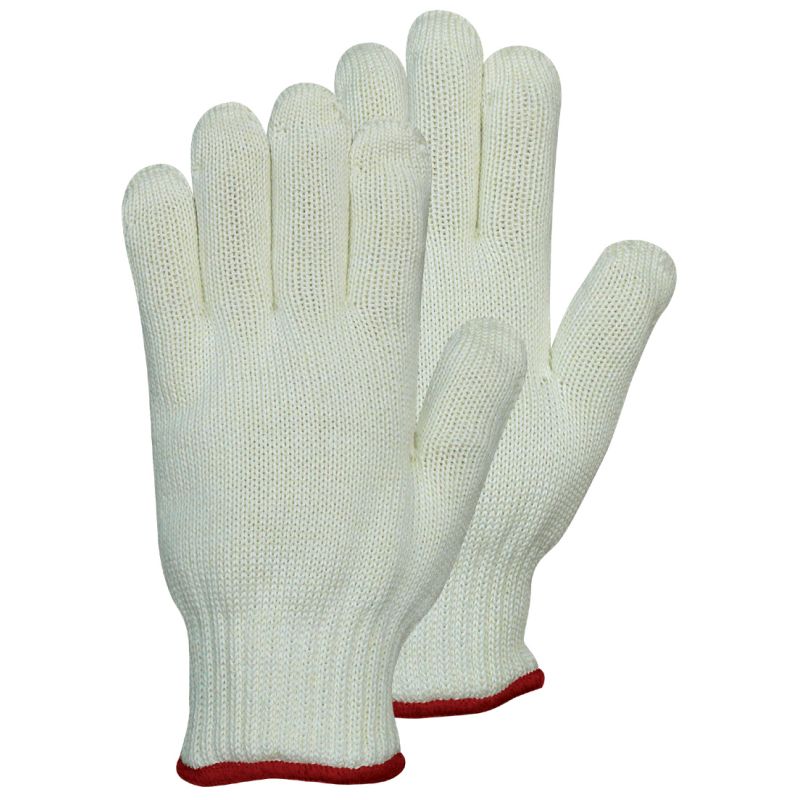 Coolskin Heat Resistant Oven Gloves 375
It makes sense that any list of heat-resistant gloves would begin, and end, with Coolskin. They've come up big again with their Coolskin Heat Resistant Oven Gloves 375, made with Meta Aramid (a strong heat-resistant fibre), helping them to achieve reliable heat resistance up to 350°C. Designed to combine comfort and protection, these gloves are made with a duplex knitted structure and a 'glove within a glove' design. This means that the inner glove wraps around you hand and fingers to provide great comfort and a perfect fit, while the tough outer-layer absorbs the heat and protects you from burns.
With enough comfort and flexibility to be worn for a long period of time, you can happily go about your work in the kitchen without having to take them off to give your hands a break. Since these gloves are ambidextrous, either glove can be worn on either hand, making putting these gloves on as simple as they are to take off. Specialising in protection from dry-contact heat, these gloves are a perfect option for those who like to be comfortable while they cook, and are ideal for wearing when using ovens, AGA cookers, solid fuel stoves, microwaves and barbecues.
For extra protection for your wrists and forearms, these gloves are also available in an Extra-Long Gauntlet Version.
Key feature: Provide extra comfort with 'glove within a glove' design; ideal for providing cool comfort as you work in the kitchen.
Shop Now
Now it's Up to You
After laying out where each of these gloves excel, it's time to decide for yourself. Our customers have found a multitude of uses for all of these gloves, and have provided some extra info for you in the reviews. Whether you're looking for versatility, grip, or comfort, the perfect glove for you is there for the taking. So think about what YOU will be using these gloves for, weigh up the pros and cons, and get ready to enjoy cooking with more dexterity than you've ever had before in the kitchen. Throw out those old, cumbersome oven mitts, leave the tea towels to do what they do best, and join the ranks of the smart and safe cooks here at Safety Gloves.
Not convinced, or want to take a look for yourself? Check out our entire range of Heat-Resistant Gloves!
Have any questions, or anything to add? Tell us in the comments below, or find us on Facebook and Twitter!
Price is per pair
Nomex fibre ensures heat resistance up to 250ºC
Longer length glove to provide added wrist protection
Latex layer is steam and grease resistant for use in domestic and professional environments

| | | |
| --- | --- | --- |
| | | This product has been discontinued. Please contact our team for details of the latest release. |

Price is per pair
Heat resistant gloves tested to 250°C
Double layered cotton for extra protection
Nitrile grip pattern for safer grip handling

| | | |
| --- | --- | --- |
| | | In stock now |

Price is per pair
Meta Aramid fibre ensures heat resistance up to 250°C
Perfect for use in domestic and professional environments
Designed to last for years, the gloves are machine washable

| | | |
| --- | --- | --- |
| | | In stock now |