Our Best Warehouse Gloves 2023
7 January 2023
Warehouse picking can leave your hands covered in small cuts and abrasions, with sharp, heavy or uneven packaging damaging the surface of your skin. Work gloves are a solution to this problem, with their material protecting your hands against these risks. Gloves can even make warehousing easier, with grippy coatings and thin, dexterous materials making picking a far more comfortable process.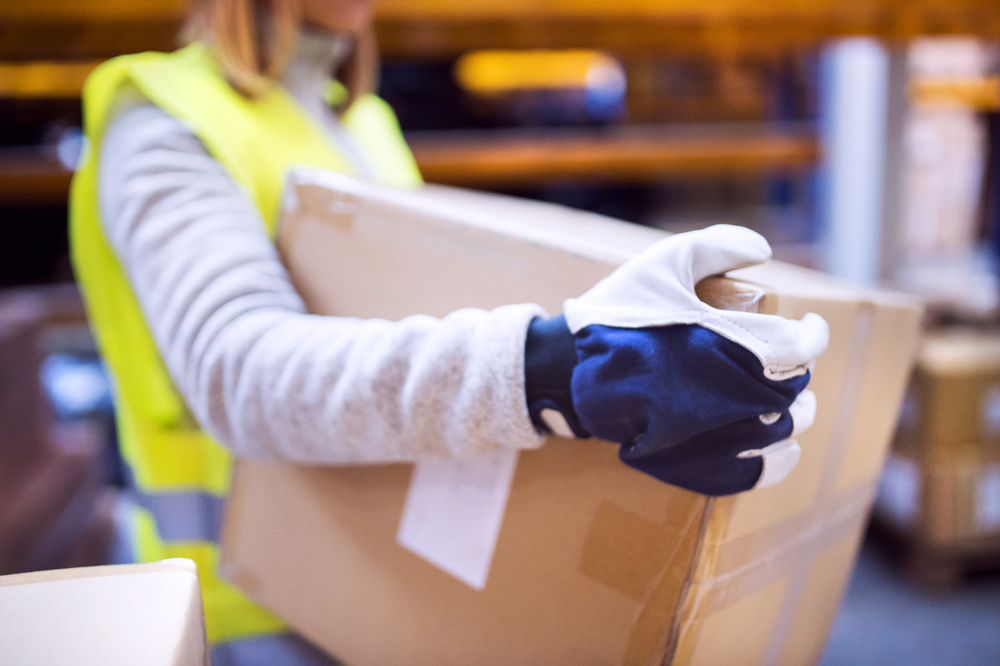 Work gloves can protect your hands against sharp corners, rough edges and slippery surfaces
Warehousing isn't just picking, and you might be stuck wondering which gloves are best suited to your task. We've put together this small selection of warehousing work gloves, in the hope that some will be perfect for your needs. Taking into account the different risks associated with warehousing, we've made sure to include a range of our favourite brands, materials, coatings and types.
Find the Best Gloves for You
To help you find the best work gloves for you, we've made sure to include different types of work gloves suitable for different kinds of warehouse work. Our choices include: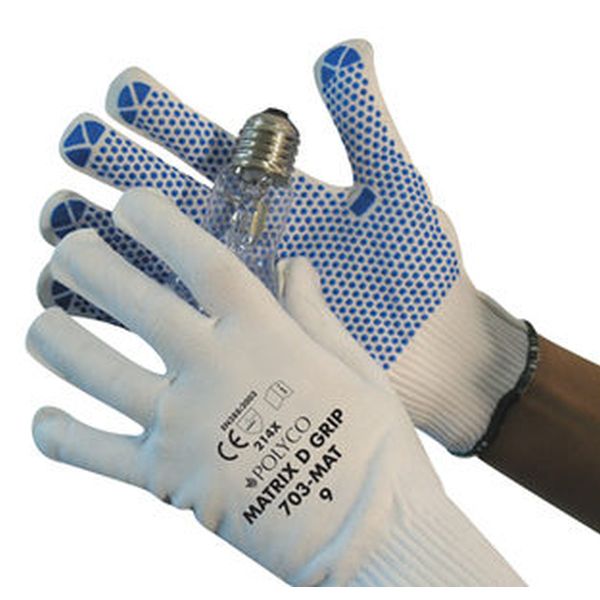 Our Best General Handling Warehouse Picking Gloves (Perfect for Bulk Buying)
General warehousing requires the low risk picking of parcels, packages and other similar materials. The Polyco Matrix D Grip Work Gloves are the best gloves in the land for these low risk run-of-the-mill warehousing tasks, with a PVC dot palm coating providing much needed grip and level 4 tear resistance meaning that the gloves won't break during use.
The thin seamless knitted shell protects the hands against rough or coarse edges too, meaning that they are well suited to all-day handling while protecting your hands from injury. Finally, their thin, dexterous nature means that your handling skills are second to none, only improved by the extremely grippy coating.
Key Points: Perfect for bulk buying; PVC dot palm for grip; thin and dexterous for handling; abrasion and tear resistance protects hands; touchscreen compatible.
Shop Now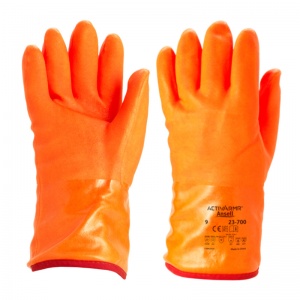 Our Warehouse Gloves for Cold Stores and Freezers
Freezer and cold store work is still warehouse work, and the requirements of grip and protection against edges and corners still applies. The task is made more difficult because of the cold, and you'll find that the majority of thermal warehousing gloves are still fairly thick. The Ansell Activarmr 23-700 Thermal Work Gloves are thin enough for you to handle boxes, offer enough protection to protect your hands against sharp surfaces and will also protect your hands in low temperatures, with level 1 cold resistance.
They provide superb grip which allows you to handle items without them slipping, a small bonus if you work in a freezer with materials that may become icy. Finally, their hi-vis colour scheme is well suited to warehouses where high visibility is a requirement.
Key Points: Resistance in cold temperatures; thin and dexterous for handling; abrasion and tear resistance for hand safety; bright orange for easy visibility.
Shop Now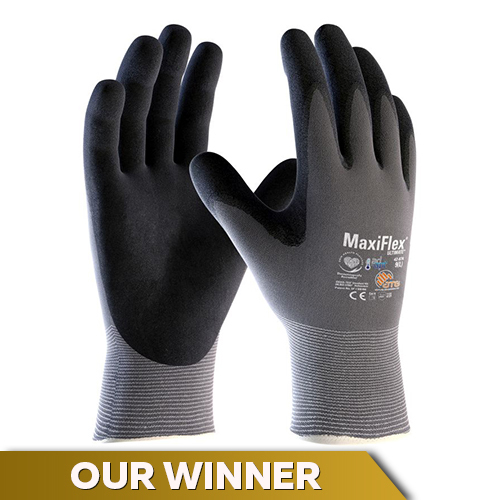 Our Best Durable Warehouse Gloves
If you're buying work gloves for yourself and you want gloves that will last, then we'd recommend that you take a look at the MaxiFlex Ultimate Palm Coated Handling Gloves 42-874. Despite being very affordable, the nitrile coating and nylon and Spandex liner offers superb durability, allowing you to handle items for months and months without the gloves showing wear and tear.
These gloves are seriously thin, giving you the sensitivity and dexterity that you need when it comes to handling the smaller items. They are comfortable too, and a grippy palm coating reduces chances of you dropping the item that you are handling.
Key Points: Durable gloves for extended use; extremely thin and sensitive; grippy palm coat for handling; abrasion resistance protects the hands.
Shop Now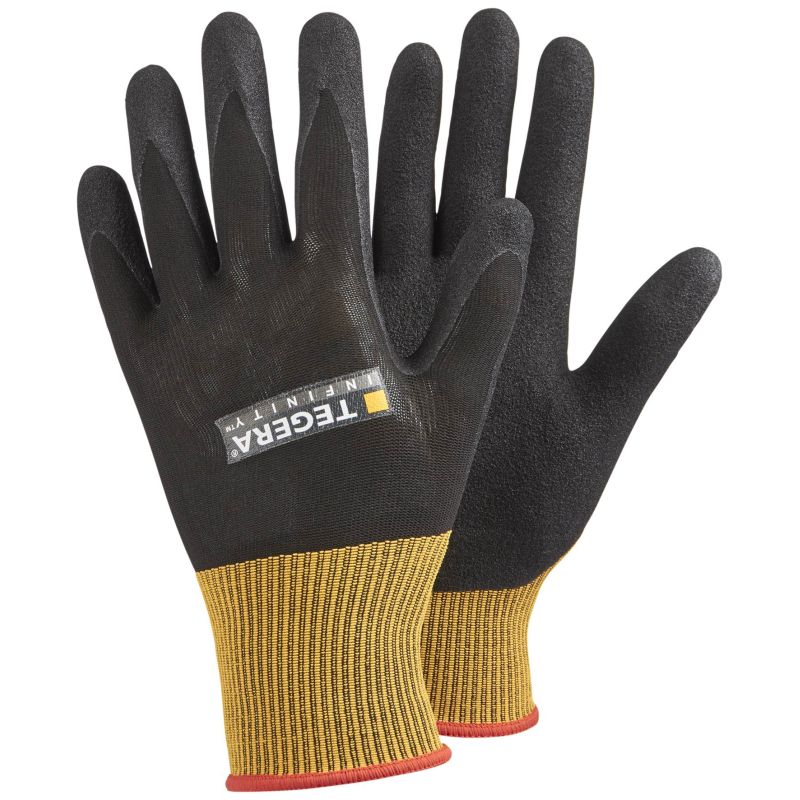 Our Best Warehouse Gloves for Comfort
If you spend all day long handling parcels and packaging, it can cause hand fatigue and plenty of discomfort. The Ejendals Tegera Infinity 8801 Palm Dipped Handling Gloves manage to combine their dexterity and longevity, with an impressive level of comfort, with their anatomical design fitting snugly around the hand during use.
Comfort isn't all these gloves offer, with strong heat-resistance, water and oil resistance and their flexible design making handling tasks a far easier process. They aren't overly thick, yet are thick enough to prevent splinters and sharp corners from causing injuries to your hands. If you suffer from discomfort during your warehousing job, then we would always recommend Infinity 8801.
Key Points: Combine comfort with dexterity; offer excellent water and oil resistance; can protect against splinters and sharp corners.
Shop Now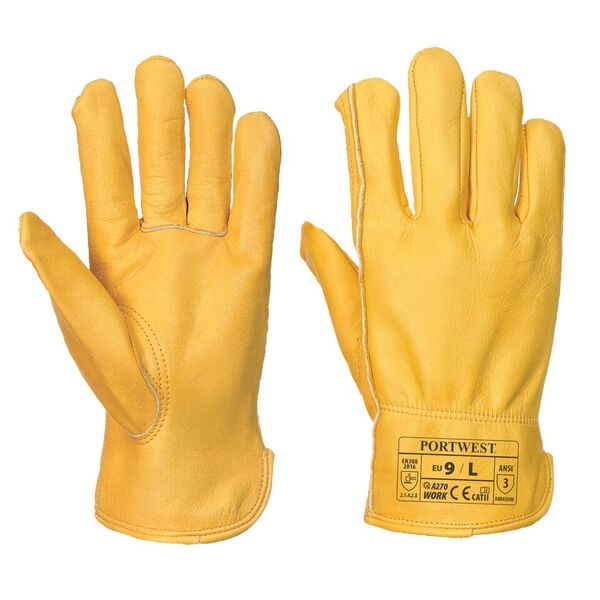 Our Best Warehouse Gloves for Driving Forklifts
Larger warehouses require forklift trucks to reach pallets that are several stories high. This kind of work requires not just picking, but also the ability to drive a forklift truck in a tight space with high risk of accident. For this line of work, we would recommend grippy driving gloves that have enough dexterity to handle items.
The gloves that immediately stand out are the Portwest Classic Driver Leather Gloves A270, which provide the grip and dexterity needed for forklift driving, and the mechanical protection needed for grabbing boxes, pallets and packages. The gloves are extremely comfortable too, with a micro-foam liner offering superb warmth in chilly workplaces.
Key Points: Foam nitrile coating for gripping items; dexterity for forklift truck handling; comfortable liner for all-day use; mechanical resistance for rough edges protection.
Shop Now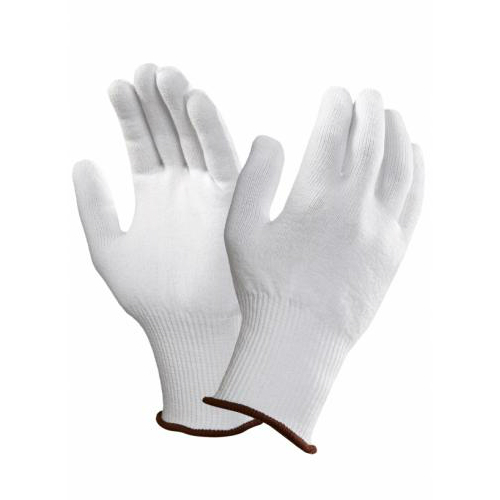 Our Best Warehouse Gloves for Picking Food
Picking isn't always packaging and parcels, and sometimes you'll be expected to handle frozen and chilled food too. For these tasks you should look no further than the Ansell ProFood 78-110 Thermostat Knitted Thermal Gloves, which are certified for use with food, for use in freezers and for handling items that have a temperature of up to 100°C.
If you work in a food warehouse then these gloves are perfect. They are thin and dexterous for handling items, while also providing good abrasion and tear resistance for grabbing boxes. Flexibility improves your handling skills, and the silicone-free design reduces contamination risk.
Key Points: Food, cold and hot certified; ideal for handling food; thin and dexterous; highly grippy; good resistance to abrasion and tears.
Shop Now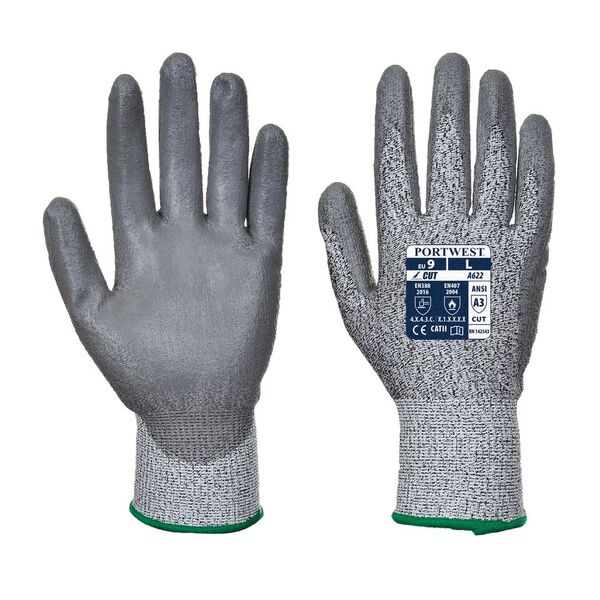 Our Best Warehouse Gloves for Picking Sharp Packages
Next, we have the Portwest Level 5 Cut-Resistant PU Coated Gloves A622G7. These gloves achieve Level C for cut resistance, which means that although this isn't the highest available, the gloves should protect well against particularly sharp corners, sharp boxes and sharp edges.
They are extremely dexterous and durable, with their HPPE, glass and PU blend yarn ensuring that your hands will stay protected from the start of your shift until the end. Superb mechanical protection is what makes these gloves perfect for warehouse work on the higher risk side of the scale. Don't be fooled by their protection though, they still offer the grip, thinness and dexterity needed for handling tricky items.
Shop Now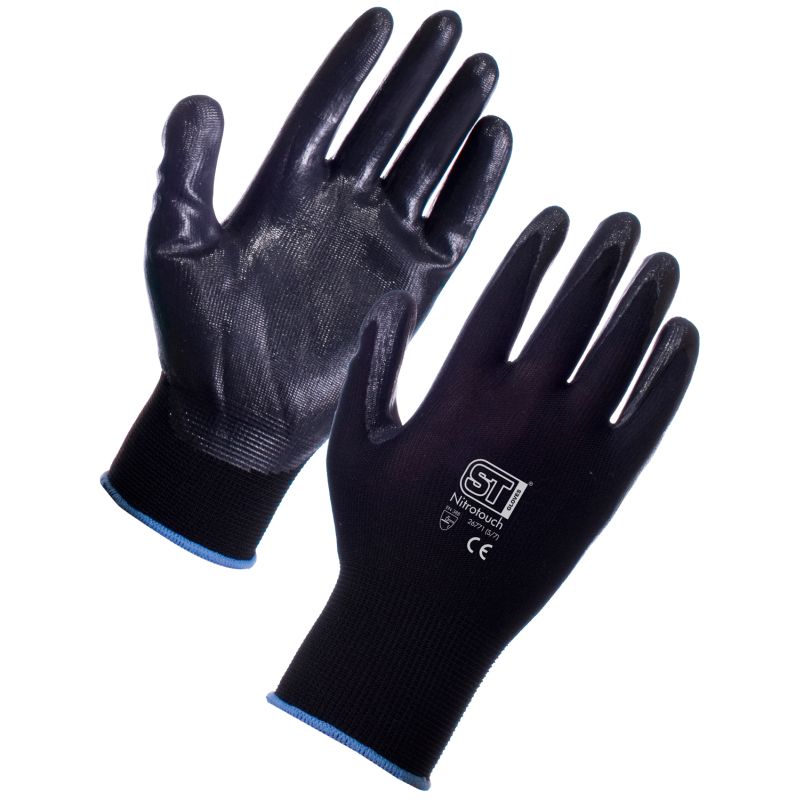 Our Best Affordable Warehouse Gloves
The last gloves on our list are the Supertouch Nitrotouch Handling Gloves 2676/2677/2678s. These gloves are highly popular for the warehouse industry, because of their affordable, lightweight, grippy nature, making them perfect for jobs needing total precision.
We love that these gloves are suitable for use during quick tasks and long, heavy ones - and this is mainly due to their extremely comfortable interior - making them as versatile as they are affordable! Anatomically designed, these gloves allow you to handle equipment pressure and pain-free, reducing hand fatigue and strain for total ease of wear.
Shop Now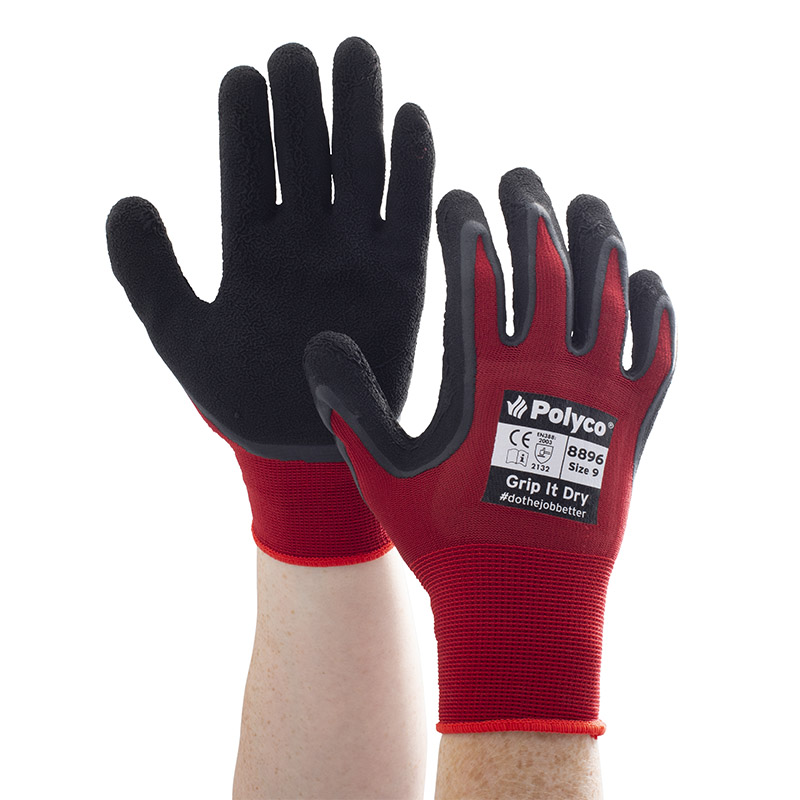 Best of the Rest! THe Other Top Warehouse Picks
Two final gloves that we think stand out are the:
First up we have the Grip It Dry Gloves (pictured), which make our list because of the impressive dexterity brought by their seamless liner, and the impressive grip brought by the sponge latex coating. High dexterity is perfect for handling tricky materials, while good all-round resistance means that the gloves will last for an extended period of time before breaking up. Extremely cost-efficient, these gloves are perfect for buying in bulk.
Secondly, we have the Polyco Polyflex Ultra Gloves, which are slightly thicker than the Grip It Dry Gloves and come with oil resistance too. They are extremely grippy thanks to their polyurethane and nitrile coating, while the dexterity provided reduces the chances of you dropping an item. Finally, their high level of grip, dexterity and protection makes them one of the most versatile work gloves on the market.
Look After Your Hands at Work
Warehousing can cause plenty of damage to your hands if you don't look after them. We have plenty of gloves available, and if you haven't found the gloves that you are looking for here, then take a look at our Warehouse Gloves category for our full range.
Have any questions, or anything to add? Tell us in the comments below, or find us on Facebook and Twitter!