Top 8 Gloves For Winter Window Cleaning 2021
Friday, 1 January 2021 | Sam
Winter weather is something we all have to prepare for, but some professionals have a greater necessity for warm, waterproof and dexterous gloves. Window cleaners put themselves through great lengths in order to keep our windows clean, and with plummeting temperatures, their need for stronger and more resistant gloves is more important than ever.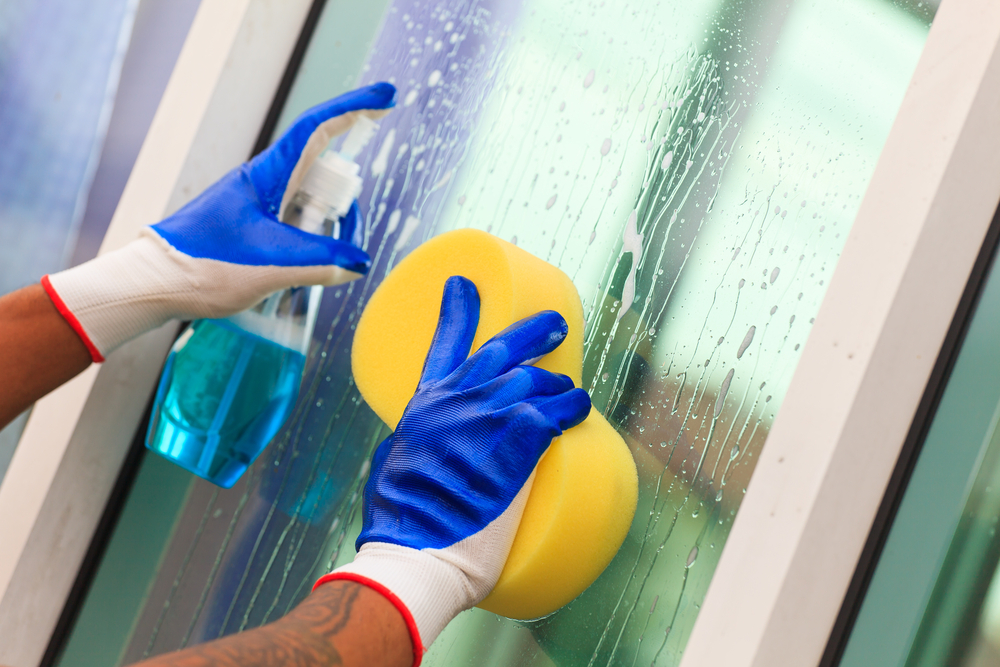 Work gloves can protect your hands from irritant chemicals and keep you warm
Winter work gloves aren't just about staying warm. Window cleaners work with industrial cleaning chemicals in harsh freezing conditions all day long, so their gloves need to be both resistant to chemicals, be water resistant with 360° cuffs, and be highly insulated without affecting their dexterity. To save you the trouble, we've consulted our experts here at SafetyGloves.co.uk, and compiled a list of the Top 8 Gloves For Winter Window Cleaning.
Our Top 8 Gloves for Window Cleaning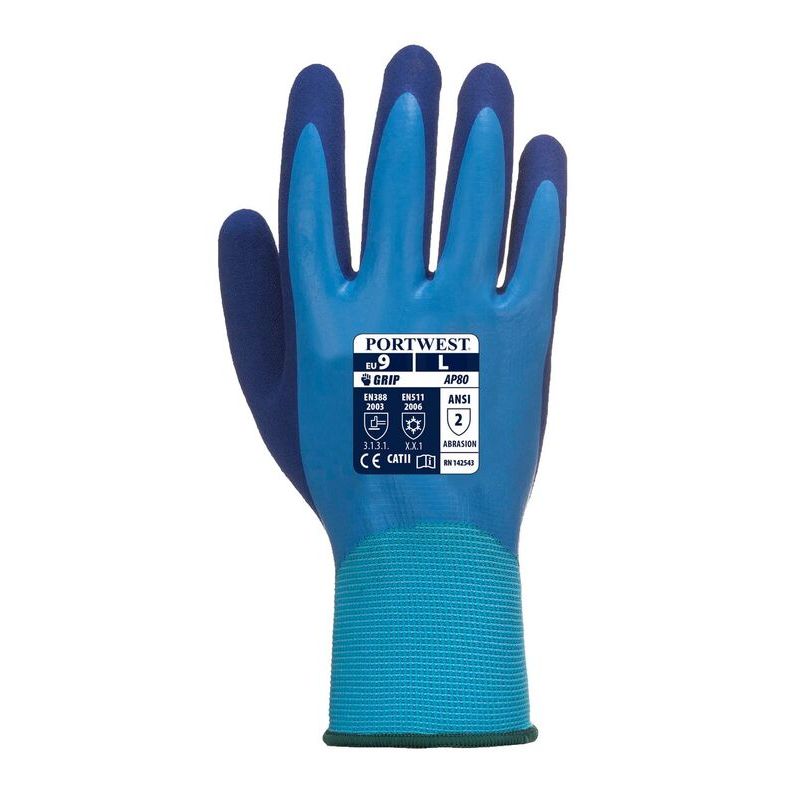 Our Best All-Round Waterproof Window Cleaning Gloves
The Portwest Liquid Pro Latex Foam Gloves AP80 use brand new double coating technology that provides outstanding grip while also preventing water from reaching your hands. This special foam coating provides outstanding grip, while also preventing any cold air from getting through the gloves and making your hands cold. Combined with the dexterity, protection and comfort, this makes the gloves the perfect gloves for outdoor, winter window cleaning tasks.
Key Points: Double coating for superb water protection, special foam keeps the hands nice and warm, dexterous enough for handling tools during window cleaning.
Shop Now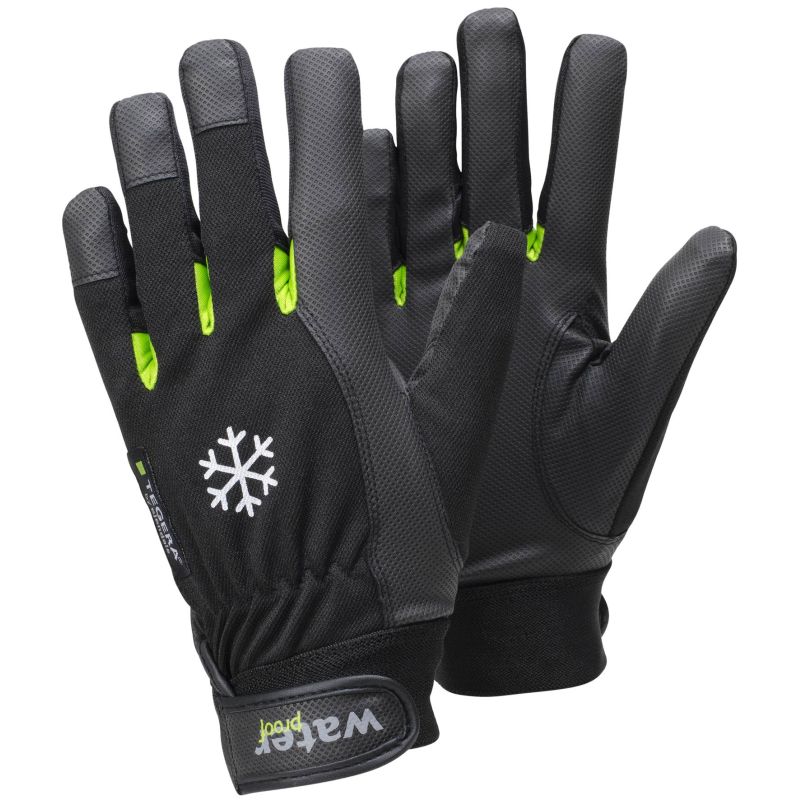 Our Best Dexterous Window Cleaning Gloves
The Ejendals Tegera 517 Insulated Waterproof Precision Work Gloves are among our most popular gloves for winter work, and this extends to window cleaning. These gloves feature a 100% waterproof liner, can offer protection against -10°C temperatures, and provide excellent resistance to wind. The gloves main feature is their dexterity and sensitivity, proving perfect for all winter window cleaning tasks.
Key Points: Are completely waterproof, offer protection against cold weather, are stylish and trendy, offer superb dexterity and flexibility.
Shop Now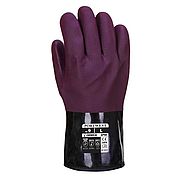 Our Best Chemical Resistant Grippy gloves
Thermal warmth and chemical protection are key to protecting your hands from undesirable rashes and cold. The Portwest Chemtherm PVC Gloves AP90 offer exceptional warmth and chemical protection, as well as allowing for superior grip in wet and oily conditions with their rough palm finish. Moreover, these gloves are treated with a PVC liner which makes them tougher against abrasions and tears, scoring Levels 4 and 2 respectively.
Key Points: Chemical resistant, waterproof, firm grip, level 4 abrasion resistance
Shop Now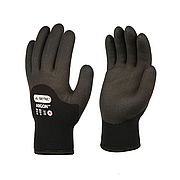 Our Best Thermal Waterproof Gloves
Designed for use in temperatures lower than -50°C, the Skytec Argon Waterproof Thermal Gloves offer insulating thermal properties whilst maintaining a highly functional grip, ideal for grabbing tools and supplies. These gloves designed are for freezing temperatures with an inner fleece, allowing you to continue work in the worst of weathers. Moreover, these gloves have superb resistances against abrasions and tears with Level 3 EN388 ratings in both.
Key Points: Resistance in -50°C temperatures; insulating thermal properties, level 3 abrasion and tear resistance
Shop Now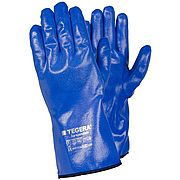 Our Best Winter Chemical Resistant Gloves
If you're looking for a pair of gloves that allow for resistances against an all-round range of risks, try the Ejendals Tegera 7350 Nitrile Chemical Resistant Gloves. Coated with chemical resistant nitrile, and featuring a winter lining for cold environments, these gloves are spectacular for the unknown risks of window cleaning. These gloves are also resistant against heat injuries, corrosive injuries, fat, oil and dirt.
Key Points: Nitrile chemical resistance, winter lining, protection against heat and corrosion, level 4 abrasion resistance
Shop Now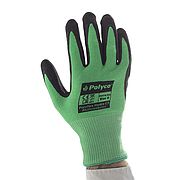 Our Best Cut Resistant Water Repellent gloves
Some buildings undergo constant construction work, whereas others are just badly built. Regardless, it is highly likely that as a window cleaner you may one day cut yourself by accident. To protect yourself, you need a pair of gloves that are both water repellent and cut resistant.
The gloves that immediately stand out are the Polyco Polyflex Hydro C5 PHYK Cut Resistant Safety Gloves, which feature a lightweight liner that provides a fantastically high level of cut, abrasion and tear resistance. Unlike other gloves the C5 are coated with a hydrophobic solution which keeps the hands dry in wet conditions. This means the gloves have more dexterity than other fully coated waterproof gloves.
Key Points: Hydrophobic solution, high dexterity, level 5 cut resistance, level 4 abrasion and tear resistances
Shop Now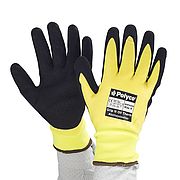 Our Best Grippy Water Resistant Gloves
Featuring two layers of nitrile for excellent protection, the Polyco Grip It Oil Therm Hi-Vis Waterproof GIOTH Gloves are a highly dexterous pair of water and oil resistant gloves. Infused with microfoam bubbles for added resistance and grip, the GIOTH Gloves are contoured in design to provide you with a more tailored fit. This allows for higher comfort and excellent tactile sensitivity for finer handling tasks. These gloves are also high-vis, allowing you to complete work in dim winter evenings.
Key Points: Water/oil resistant, infused with microfoam bubbles, high-vis for late work, extra resistance and grip.
Shop Now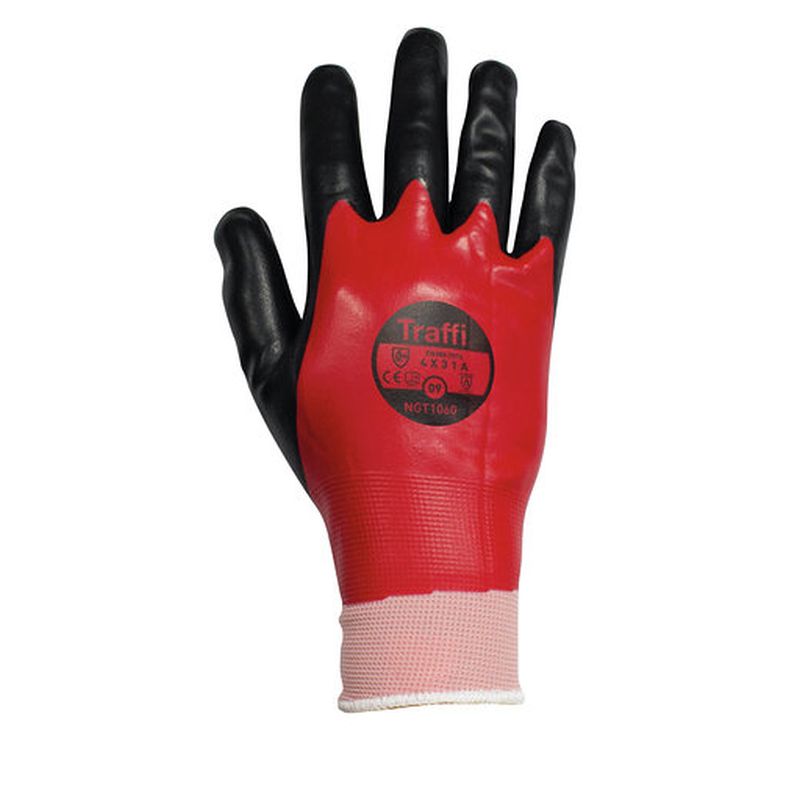 Our MOst Durable Window Cleaning Gloves
Our final option are the TraffiGlove NGT1060 Hydric Cut Level 1 Waterpoof Gloves, which use a tough X-Dura nitrile coating and an extended cuff to ensure durability, promising to last long after purchase. The nylon liner is protected by the double nitrile dip, which can also prevent water from reaching the hands. Comfortable, durable, protective and water-resistant, these gloves are a top seller in the window-washing industries.
Key Points: Extremely durable thanks to double nitrile dip, designed to repel water away from the hands, can protect hands against knocks and scrapes.
Shop Now
Look After Your Hands at Work
Wiping windows is a hard winter task and one which requires excellent waterproof gloves. If you would like to examine our other gloves, check out the Thermal Waterproof Work Gloves category for our full range.
Have any questions, or anything to add? Tell us in the comments below, or find us on Facebook and Twitter!