Our Best Thermal Work Gloves 2020
1 Comment
Tuesday, 3 July 2018
When you hear about how fantastic thermal work gloves are, you might quickly jump to the conclusion that this doesn't concern you directly, as your job doesn't involve going outdoors at all. That is, of course, unless you've ever spent any significant amount of time trying to keep your hands warm while working in a freezer, cold storage or warehouse.
Here at SafetyGloves.co.uk we know how versatile thermal gloves can be, which is why we stock them in virtually every possible material, shape and size. But that doesn't necessarily mean that finding just the right pair for you is easy. If you find all the different alternatives a bit daunting, we might be able to help you out with a few suggestions from this list of Our Best Thermal Work Gloves.
Which Thermal Gloves Are In Our List?
To help make your choice easier, we've selected gloves that we feel best represent the widest number of industries. Below you can find what we believe are:
Please note that each glove suggested isn't limited to the selected area of use. We made our recommendations based on which gloves we feel are best suited to that certain area of work.
Our Best All-Round Thermal Work Gloves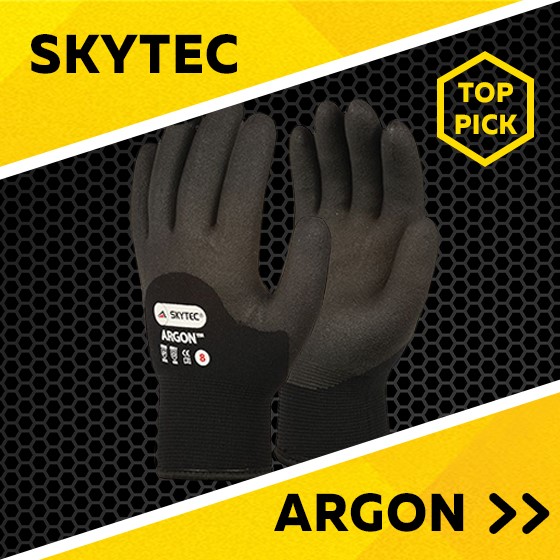 The Skytec Argon Waterproof Thermal Gloves are some of our top-selling thermal work gloves, offering protection against water, sub-zero temperatures and with plenty of mechanical resistance that protects the hands against harsh surfaces, rough edges and sharp corners. They are quite thick inside, meaning that the hand is extremely comfortable during use.
The double insulated thermal lining prevents water from entering the glove, while the foam coating offers enough grip for you to handle plenty of materials. The only downside is that they lack a little in dexterity. If you would like total dexterity from your thermal gloves, then we would recommend you take a look at glove number two in our list.
Key Points: Sub-zero and completely waterproof, thick and cushioning for warmth; protects the hands against knocks and scrapes; perfect for general cold weather and indoor cold store/freezer work.
Our Best Thermal Gloves for DIY and Outdoor Work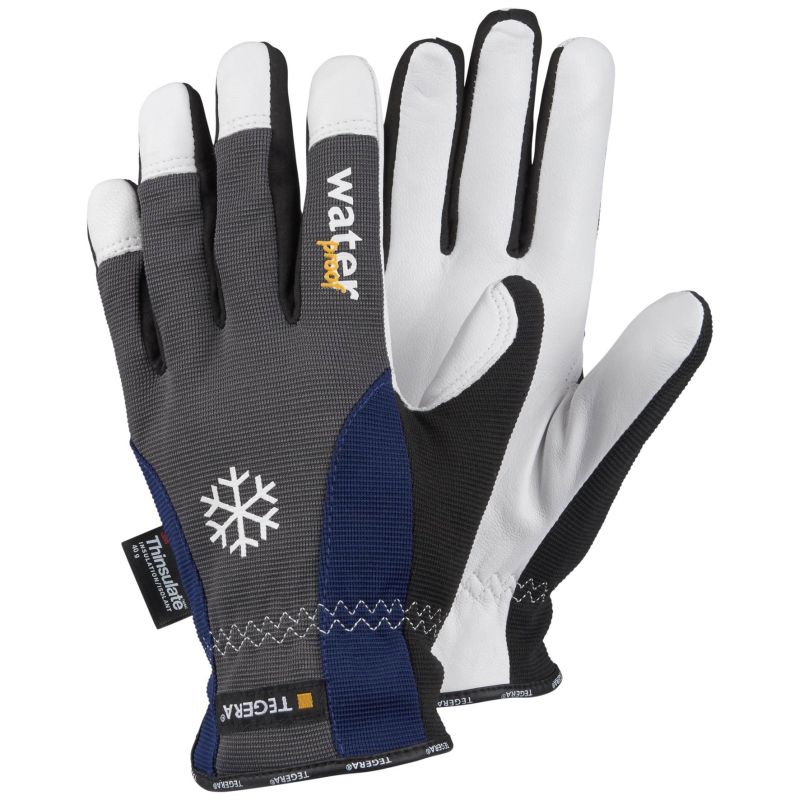 Similar to the Argons, the Ejendals Tegera 295 Waterproof Thermal Work Gloves offer excellent -20°C contact cold resistance and total protection against water (although water can get up the quite narrow cuff). Unlike the Argons, the Ejendals use a material called Thinsulate, which helps the gloves to retain a pretty impressive level of dexterity despite the water and cold resistance that they offer.
They are grippy, tight fitting, warm and comfortable, while also been durable enough to last through the winter. These are seriously popular gloves, particularly for those gritty outdoor tasks like DIY, gardening, maintenance, mucking out and more.
Key Points: Sub Zero and completely waterproof, retain a superb level of dexterity, durable enough for winter work, ideal for DIY, gritty outdoor work, maintenance and more.
Our Best Thermal Gloves for Mechanics, Automotives and Other Oily Tasks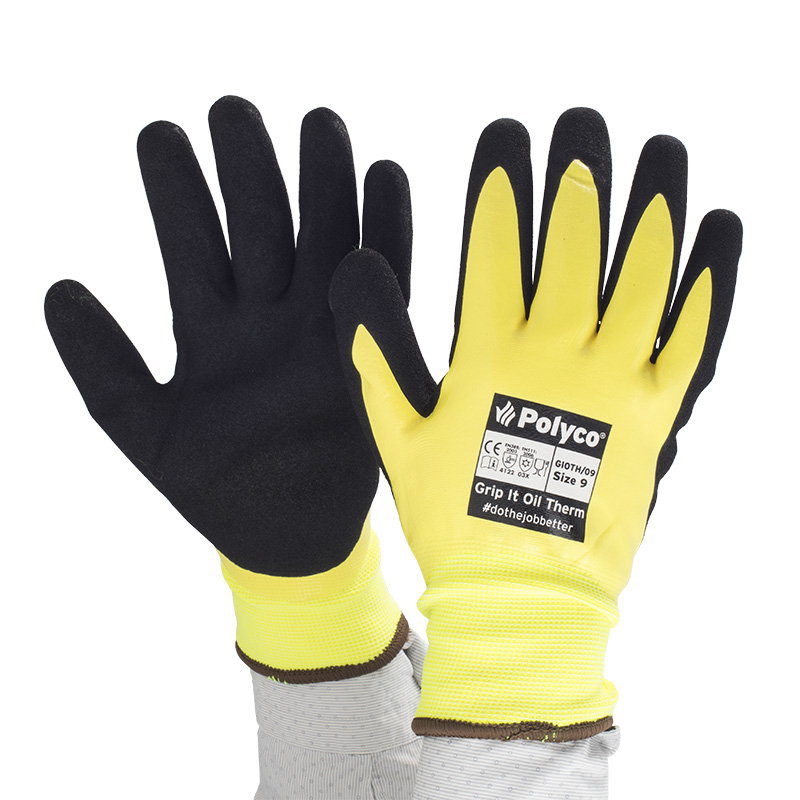 Winter can be pretty chilly for those working in mechanics; garage's can often be cold and mobile work means that you'll spend plenty of time outdoors. The Polyco Grip it Oil Therm Hi-Vis Waterproof Gloves use a microfoam coating that soaks up oil and water, while the comfortable fleece liner offers incredible warmth even in -20°C temperatures.
Despite the waterproof, oil proof and cold-resistant design, the gloves still offer a high level of grip and dexterity, proving perfect for handling tools and working with small tricky parts. With a long-life expectancy and good abrasion resistance, you can rest assured that your hands are protected too.
Top Tip: If you'd like these gloves with level 5 cut resistance, then take a look at the Polyco Grip It Oil Therm C5 Gloves!
Key Points: Water, oil and cold resistance, double nitrile coating for incredible grip, hi-vis for dark environments, fleece liner for warmth, ideal for window cleaning, mechanics, automotives and engineering.
Our Best Thermal Gloves for Oily, hot and Heavy Duty Work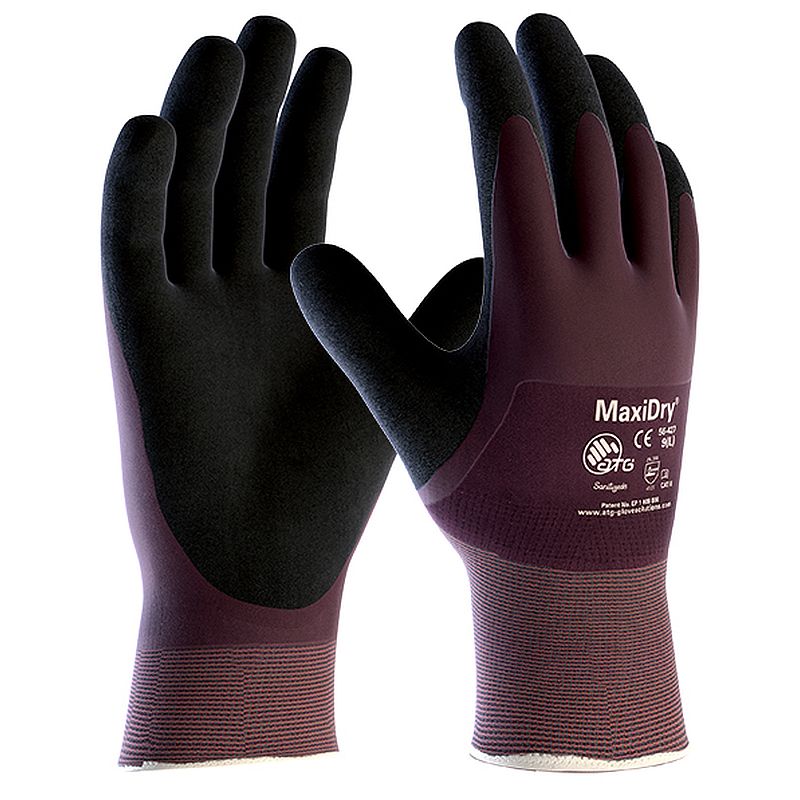 We can't pass thermal waterproof gloves without mentioning the MaxiDry Zero Thermal Waterproof Gloves 56-451. These super flexible, dexterous and comfortable gloves feature a synthetic coating combined with a seamless knit liner the provides thermal resistance for temperatures of up to -30°C, as well as innovative technology that keeps moisture away from your hands.
Moreover, the super soft coating provides ultimate flexibility even in extremely cold environments, allowing you to channel energy into the heating rather than the moving of your hand. The gloves also offer superb heat resistance, oil resistance while being thick enough to withstand plenty of knocks. These durable gloves are best suited to heavy duty thermal work.
Key Points: Water, cold and heat resistant, heavier in nature for tougher industries, abrasion and tear resistance protects the hands, well suited to hard going oily work.
Our Best Thermal Gloves for General, Sporty or Casual Wear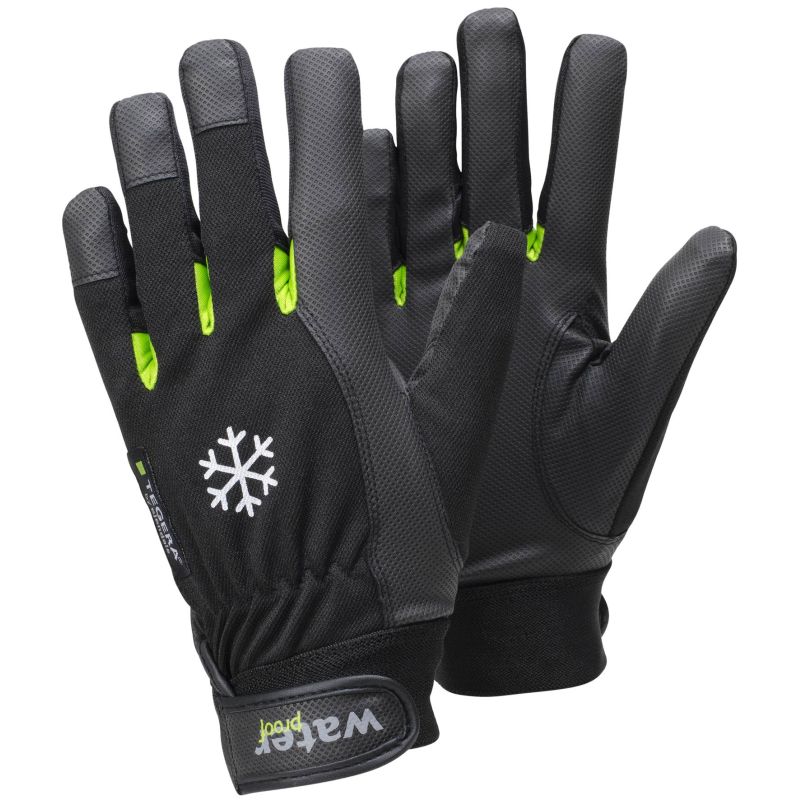 The Ejendals Tegera 517 Insulated Waterproof Precision Work Gloves are probably our most stylish work gloves, with their trendy sleek black design looking well suited on cyclists and joggers. Don't be fooled though, as these sporty gloves are highly useful, with their synthetic lining offering resistance to -10°C temperatures, total protection against water and a special windproof material that improves comfort.
The flexible design is as suitable for gripping a bikes handlebars as it is machinery or tools. Hi-vis markings improve visibility in the dark, and a grippy palm is well suited to a range of handling type tasks.
Key Points: Waterproof and cold resistant liner, stylish design for cycling, jogging and general use; flexible and grippy for handling; ideal for a range of work, casual use and leisure.
Our Best Thermal Gloves for Cold Store, Chiller and Buying in Bulk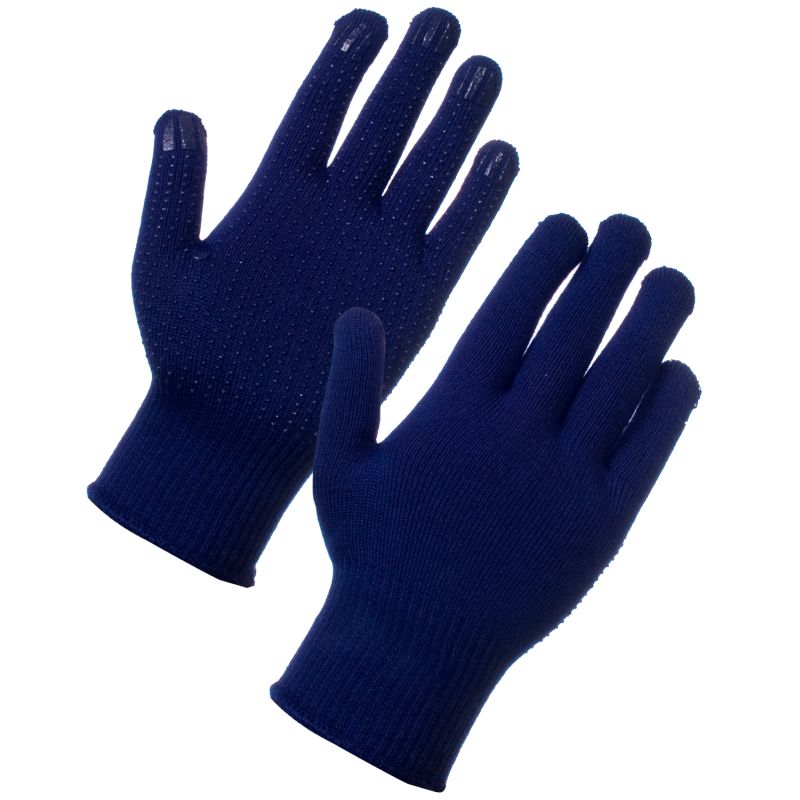 If you work in a cold store or a chiller, then we'd recommend the Supertouch Superthermal PVC Dot Gloves. In addition to the warmth added by the Thermolite and Lycra yarn, the Supertouch Gloves offer superb grip thanks to their PVC dot coating. This helps the wearer to grab crates, pallets, boxes, parcels and packages without damage to their hands.
These highly straightforward and very affordable protective gloves conform to EN 511 European standard, and are the first choice for cold store handling activities, general handling and outdoor tasks. Due to their affordable nature, we would recommending purchasing these gloves in bulk for a warehouse or factory.
Key Points: Highly affordable solution for cold store work; PVC dot coating is grippy for handling; flexible nature ideal for gripping items.
Our Best Thermal Gloves for Freezer Work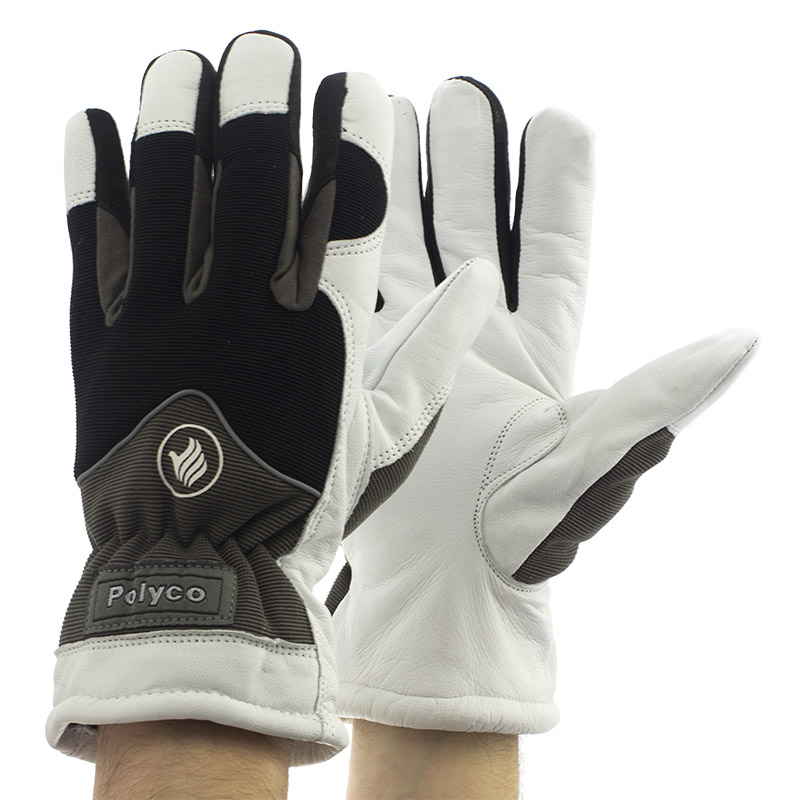 Next on our list is the Polyco Freezemaster II Cool Handling Gloves. These premium thermal gloves are pretty durable, proving well suited to a wide range of simulated indoor, working environments such as freezer and cold store work. Their extra long cuff protects your hands, while good all-round protection is perfect for most environments.
The gloves are waterproof too, meaning that you can handle frozen items without your hands becoming wet. While their thick nature isn't great at the more dexterous tasks, it is fantastic for general handling jobs around the warehouse, chiller and factory.
Top Tip: If you work in the extreme cold, then we would recommend the Freezemaster Ultra Gloves. These are suitable for lab, cold room, freezer, genetics and cryogenic work.
Key Points: Waterproof lining, added insulation keeps hands dry and comfortable, made from premium quality leather, good abrasion and puncture resistance
Our Best Thermal Gloves for Dry, Working Conditions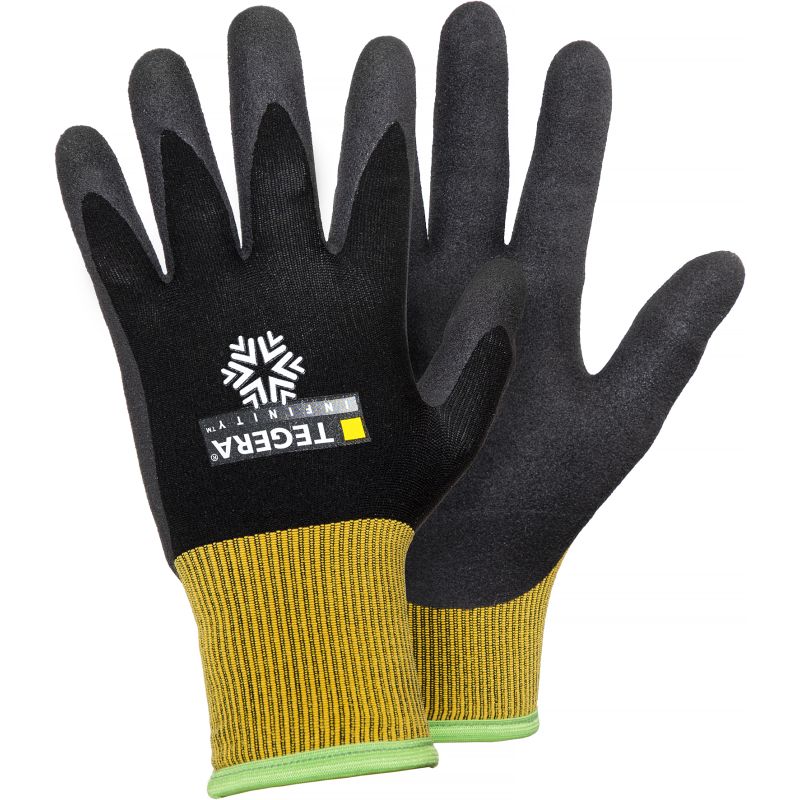 These gloves are extremely comfortable, and best suited to environments that are cold, but not particularly wet. The Ejendals Tegera Infinity 8810 Cold Insulation Gloves use an acrylic, nylon and Spandex liner to offer superb warmth, while their nitrile and PU dip coating provides superb grip when handling cold and slippery materials.
Their fleece lining ensures a high level of comfort during use too, fitting snugly around the hands keeping them nice and warm despite the cold weather. Finally, the gloves are dexterous, which means that your hands don't need to strain to work which can help to lower the chances of hand fatigue later on into your shift.
Key Points: Nitrile and PU coat offer fantastic grip in dry weather conditions; fleece lining provides superb comfort; acrylic, Spandex and nylon liner ensures outstanding warmth.
Our Best Thermal Gloves for High Cut Risks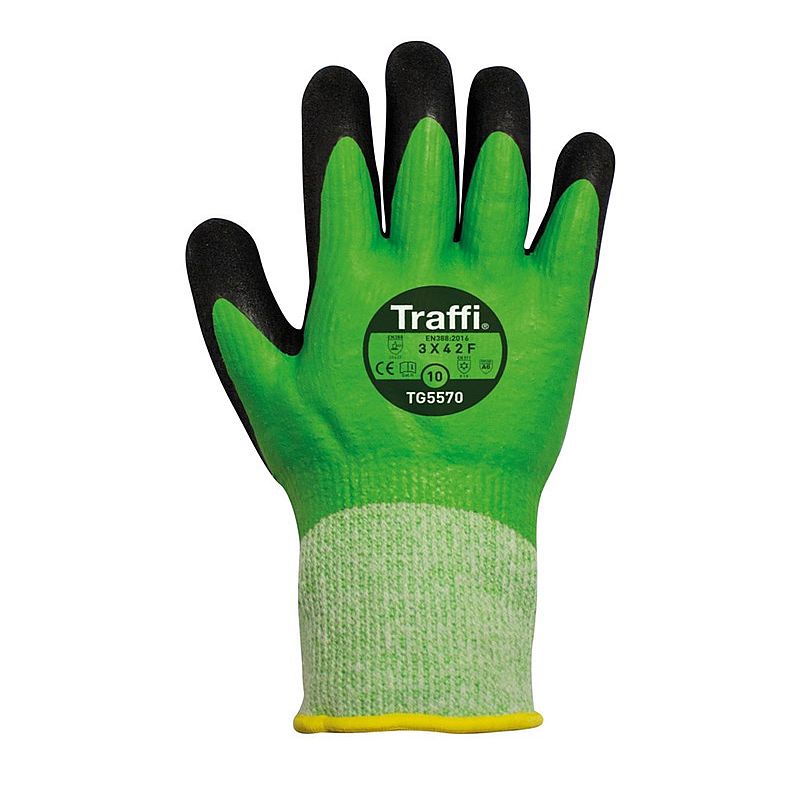 Our final gloves are water resistant (even the wrist), highly dexterous, grippy, thermal and offer exceptional level F cut resistance. The TraffiGlove TG5570 Thermal Anti-Cut Gloves are dipped in a double, X-Dura latex coat that enables a warm, cold-resistant feeling that will protect you well against the cold.
What really sets these gloves apart is their exceptional cut resistance, with the highest possible cut rating (level F) meaning that you can use these gloves for the highest risk, outdoor work places. Groundwork, construction, maintenance, DIY, loading, oil and gas and logistics are all suitable places for these gloves. For any outdoor, wet, high cut risk and cold environment, these gloves should be top of your list.
Key Points: Double X-Dura coating offers fantastic warmth; superb cut level F protection for highest risk tasks; impressive dexterity and grip for most handling tasks.
While we've tried to include some of the best thermal gloves, we realise that no two gloves are created the same, and only you know best what kind of a glove would suit you perfectly. If you haven't yet seen quite what you've been hoping for, make sure to visit our full range of Thermal Gloves or Thermal Waterproof Work Gloves.
If you have anything to add, require more assistance or simply want to ask a question, please either leave a comment below, find us on Facebook and Twitter.